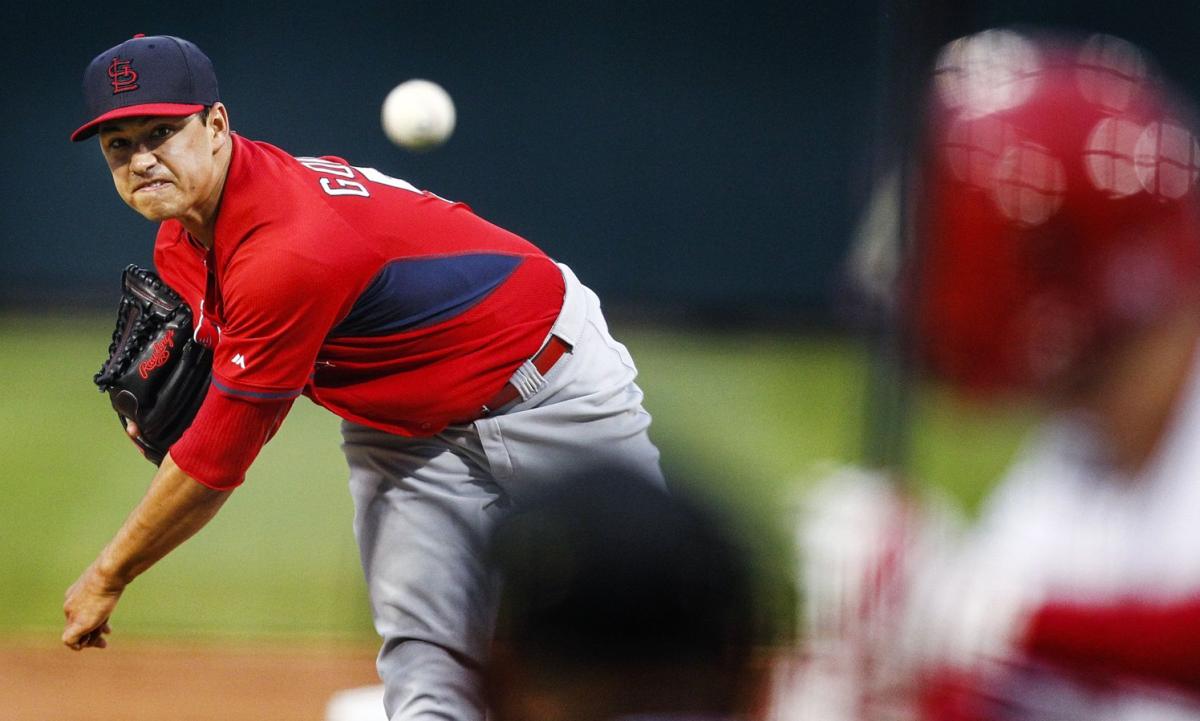 Lefthander Marco Gonzales, who is on the Class AAA Memphis roster, will be out an estimated three weeks, according to Cardinals general manager John Mozeliak, as the club deals with a shoulder impingement that has resurfaced for Gonzales.
Gonzales had an MRI exam Tuesday and Mozeliak said, "The good news is that there's no structural damage. But what we need to do is to re-think our strategy on getting strength back and his stability back."
Mozeliak said Gonzales would work with the Cardinals' medical staff for the next week to 10 days and then would be re-evaluated.
Gonzales, who was sidelined earlier in the season with a pectoral muscle issue, made three starts for Memphis after ostensibly recovering from that before having to go on the Memphis DL again.
But Mozelilak reiterated, "I think this is very good news because this is something that can be managed. There's probably a few things he needs to start doing in his daily routine to get him through this, and we'll make sure he understands that and is compliant with it.
"You need to calm (the irritation) down but you also need to strengthen around it," said Mozeliak, who added that Gonzales soon would receive a cortisone shot to help quiet the damaged area.
Gonzales, the Cardinals' top draft pick in 2013, was a postseason star in the bullpen last year, and he was 4-2 in the regular season. He is expected to remain in St. Louis for at least several days as his treatment program begins.
In his most recent start, Gonzales gave up just one run and struck out seven in six innings while throwing 84 pitches, but he hurt himself again throwing on the side a couple of days later.
"When he had that last outing, we were very encouraged that he was that depth we were looking for," said Mozelilak. "And now that's not there."
In any discussion of a potential six-man rotation, the Cardinals really don't have six right now. Mozeliak said, however, "We didn't envision necessarily going to a six-man (rotation). We talked about it but we never came up with the right solution."
MATHENY WON'T EXTEND ROSENTHAL
Manager Mike Matheny rode closer Trevor Rosenthal for two innings Monday since he had pitched just once in a week (Sunday) before that. But Matheny said this won't be a habit.
Only twice previously this season had Matheny asked Rosenthal to work more than one inning, and six outs represented his season high.
"We've done a pretty good job of staying away from that this season," Matheny said. "We don't necessarily like doing it but we're in a spot here in the eighth inning where we've got to find somebody to take over that until we get (injured) Jordan Walden back."
Matheny said that now that burly first baseman Matt Adams has established he can bunt, Matheny presumes that defenses will have to honor that threat, much as he has altered his defense when Chicago's Anthony Rizzo, among others, has bunted successfully against a Cardinals shift.
"We watch every at-bat before these guys come in and face us," said Matheny.
If opposing hitters have proven they will try to bunt and have been successful, "You've got to take it away," said Matheny.
All four Cardinals starting infielders seem easily on pace to hit double figures in home runs, with third baseman Matt Carpenter at eight, shortstop Jhonny Peralta at seven, second baseman Kolten Wong at five and first baseman Adams at four already.
"That's a rarity to have a shortstop with that kind of power," said Matheny,"and I think Kolten falls into that category as well. Those guys do add a component of power that not many teams have."
Cardinals Hall of Fame manager Tony La Russa, now chief baseball officer for the Arizona Diamondbacks, will be saluted twice Wednesday.
Cardinals Care will dedicate Tony La Russa Field on Wednesday at 9 a.m. at Ray Leisure Park, which is behind the 12th and Park Recreation Center.
"You know how I feel about Cardinals Care and what it's done to bring (the) organization into the community," said La Russa. "It's all about kids and then you have a playing field. It's the best of all worlds."
Then, La Russa will travel by air to Springfield, Mo., to have a special Missouri Sports Hall of Fame bust unveiled before returning to St. Louis in time for Wednesday night's game.