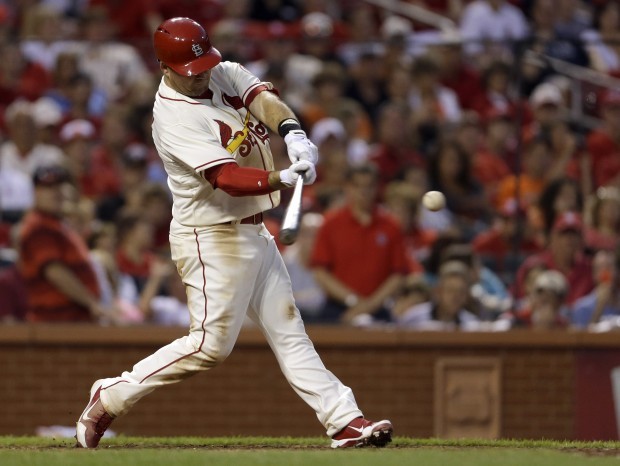 Cardinals fans won't have Ty Wigginton to kick around anymore.
The club announced today that the veteran infielder, who was batting .158 in his first year on a two-year contract worth $5 million, was given his unconditional release.
The Cardinals also purchased the contract of catcher Rob Johnson from Triple-A Memphis. He will wear uniform No. 32 and replace Wigginton on the roster for tonight's game against Houston at Busch Stadium.
Wigginton, 35, was the source of much angst among Cardinals fans. Signed in the offseason to add some punch to the bench, he appeared in 47 games and batted only .156 as a pinch-hitter.
Wigginton was 9 for 57 overall at the plate with 19 strikeouts; his last hit came on June 7.
By gaining his unconditional release, he is a free agent and can sign with any team for the major-league minimum salary. The Cardinals remain on the hook for the contract they gave him, minus whatever money Wigginton might make playing for another team. 
Manager Mike Matheny talked to Wigginton on Monday and today, in part, explaining the possibilities available, including taking an assignment to Memphis. He also told him how much he appreciated having Wigginton here.
"I just wanted to make sure he had all the information," said Matheny. "I wanted to make sure he didn't have any questions or doubts about what he was able to do for us. A lot of things that have happened around have happened because of people like Ty Wigginton.
"I know that gets people up in arms because they want to keep throwing statistics around. I don't care. I know what happens in our clubhouse. It happens because you have the right kind of people that are making an impact on other people."
General manager John Mozeliak said, "We kept trying to make it work but unfortunately he just never really got a lot of opportunities.
"Coming out of spring training, Matt Adams identified himself as someobdy we were going to have to get at-bats for. Subsequently, Ty was low man on the totem pole."
Mozeliak, who had hoped Wigginton would consider going to Memphis, said, "It wasn't an easy decision," to cut Wigginton loose. But he added, "It's about winning. And we're going to put our best 25 out there."
Wigginton said, "I don't think you ever fully expect something like this to happen, but you know it's a possibility. It's a part of the game."
Acknowledging the Memphis option, Wigginton said, "It was something that I had to consider but the way I look at it is that I'm a free agent. I wanted the chance to look around, to see what other opportunities were out there."
Asked if he felt his performance suffered from lack of playing time, Wigginton said, "I felt I could have done more had there been an opportunity for more at-bats. With those more at-bats, I'd have to believe you'd see results. That's not the way things happened."
But Wigginton had no parting shots.
"I've got nothing but good things to say about the Cardinals," he said.
Offensively, at least, Johnson is not much of an upgrade over Wigginton. He's a .201 career hitter in 245 major-league games, and was batting .236 after a slow start at Memphis. But Johnson is lauded by the Cardinals organization for his shepherding of their highly-touted   pitching prospects.
Johnson also provides insurance behind the plate in the wake of All-Star catcher Yadier Molina's problems with a sore knee. Tony Cruz has started the past two games for the Cardinals; Molina might return to the lineup tonight.
Here is our earlier story about the possibility of a transaction involving Wigginton: 
The Cardinals are considering a roster move before tonight's game against Houston that could bring clarity to veteran Ty Wigginton's role with the club and reshape the club's bench, several sources familiar with the situation confirmed.
Wigginton, 35, has hit .158 overall and .156 as a pinch-hitter this season in infrequent at-bats. The Cardinals signed the former All-Star to a two-year, $5 million deal in December to bring a righthanded bat to the bench and a veteran presence to the clubhouse.
General manager John Mozeliak declined to comment on any potential roster move or its timing when reached at the Matt Holliday Celebrity Golf Classic on Monday.
The Cardinals are responsible for the remainder of Wigginton's salary, but there are a handful of options, including a minor-league assignment, that the team wanted to explore before making a decision. 
Wigginton has the fewest starts (seven) of any position player who has been on the roster since opening day, and his 63 plate appearances are the second fewest.
"He has been such a good fit around here, and how he's invested," manager Mike Matheny said recently. "He's been really good for a guy who has been an mostly an everyday player.
"I know it was a tough transition when you're not used to that once-every-never at-bat."