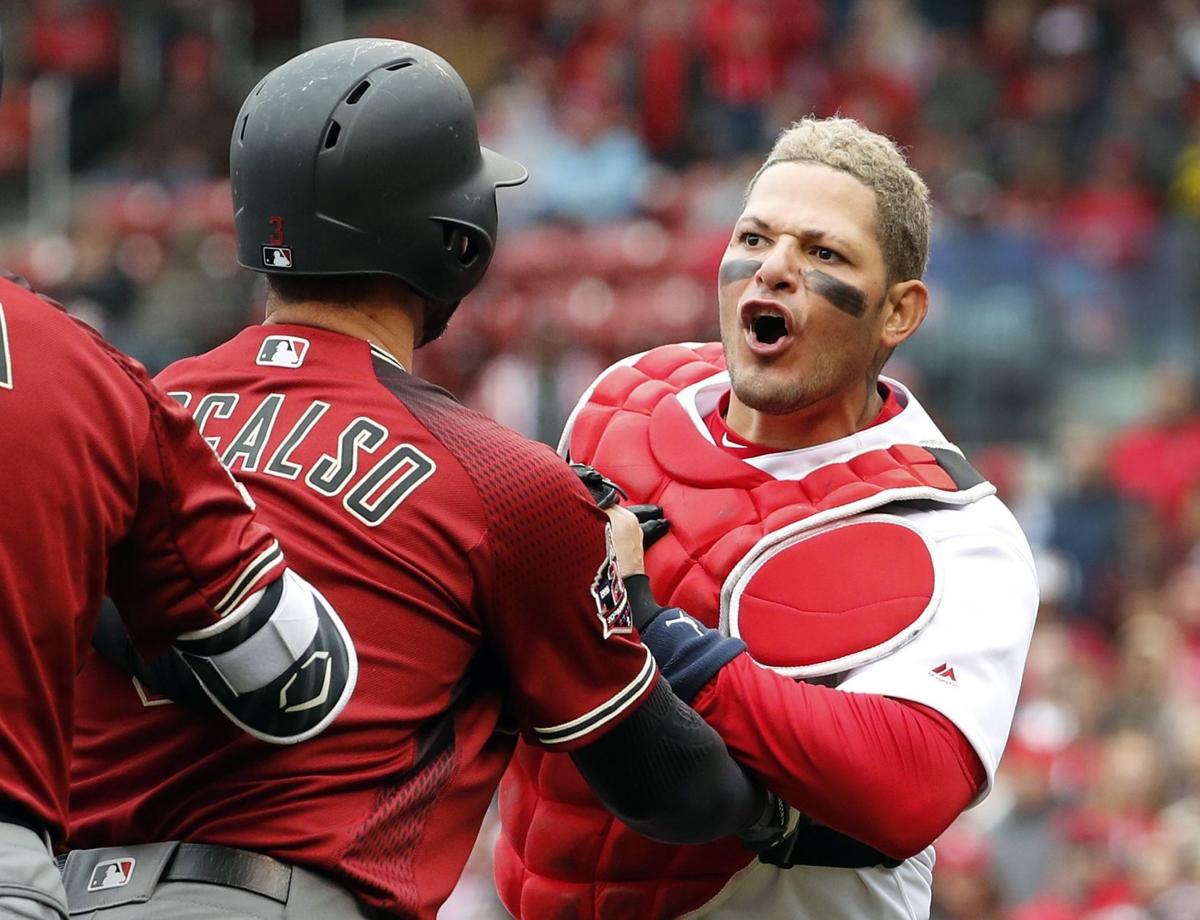 When last we saw the St. Louis Cardinals on the fields of Jupiter, Fla., an area of emphasis for the team was situational hitting, and especially those opportunities with a runner at second base and no one out.
"Looking back to last year and the things you could improve upon, that was an area of improvement," manager Mike Shildt said this past week. "Just overall situational hitting. So we've gotten even more intentional about putting a little more time to it, creating more scenarios for it."
An opportunity like that used to be earned, and will now be given in extra innings as part of a rewrite of some rules to help Major League Baseball reboot its 2020 regular season in the midst of a national crisis and global pandemic. The Cardinals will open preseason workouts at Busch Stadium on Friday and begin a 60-game geographic-based schedule — featuring 40 against NL Central rivals and 20 against AL Central teams — three weeks later. A host of changes greet players as they arrive in St. Louis, from health protocols to extra spacing in the clubhouse and new rules like every extra inning starting with a runner on second base.
In a 113-page "operations manual" that is considered a growing, living document, MLB details the shared undertaking ahead for players and clubs returning while COVID-19 cases spike in several states. Masks will be worn by all non-players in the dugout and by everyone on road trips. Pitchers can carry a wet towel in their back pocket as a substitute for licking fingers. The DH is in the NL, but spitting, fighting, tobacco, batboys and batgirls, and buffet-style food spreads are out. The manager going to his mouth as an indicator for a hit-and-run — that's out, too. Lots of ear tugs in their future.
The manual even includes graphics showing how to run drills with limited coaches, small groups of players, and physically distancing — drills like bunting and BP and ones the Cardinals have planned to get better at driving in that runner from second.
"This is a challenging time, but we will meet the challenge by continuing to work together," says the introduction of MLB's 2020 operational manual, an updated copy of which was acquired and reviewed by The Post-Dispatch. "Adherence to health and safety protocols … will increase our likelihood of being successful. We hope that resuming baseball will, in its own way … aid in recovery."
Consider this a user's guide to MLB 2020, version 2.0:
Testing
At Busch Stadium on Saturday, the Cardinals began the process of intake screening. Ballpark personnel are sorted into three tiers, with Tier 1 and Tier 2 undergoing the most in depth and recurring testing for COVID-19. Tier 1 includes players, the manager, coaches, athletic trainers, and other "essential personnel" — with a maximum 87. Tier 2 are individuals who will have interaction with players, such as front office execs, clubhouse staff, media relations, and the head groundskeeper.
The entry exam for preseason training will include a check of a player's temperature and then both a nasal swab and blood drawn to test for the virus and antibodies. After the tests, a person must self-quarantine for 24-48 hours until results are known.
The sheer quantity of people being tested — as many as 1,800 players in the coming weeks — will, mathematically, reveal new positive tests. As one veteran player said as he readied for his intake screening: "We'd be naïve to think no one is going to get this, or doesn't have it already and that we're about to find out. It's how we handle the situation."
Players will check their temperature at least twice a day, and a reading of 100.4 or higher means self-isolation. They will be tested for the virus every other day, and they have antibody tests redone about once a month. Many ballpark personnel will go through a health questionnaire before being admitted to facilities, and that includes whether they've had symptoms like difficulty breathing, fatigue, coughing, or "COVID toes," the itchy, painful lesions somewhat like frost-bite. A positive test springs team officials into action to isolate the person, trace their steps and people they had contact with, and take precautions from testing to added cleaning. A player who tests positive must have two negative tests and no symptoms to return to the game.
There is a COVID-19 injured list for players who have symptoms, have tested positive, or have a family member who has. Unlike other injured lists it does not have a minimum length of time for a player to be on it.
Training camps
The seasonally anachronistic "spring training" will consist of 21 days and three phases: small group workouts on a staggered schedule, larger groups and possibly full-team workouts, and finally exhibition games, if desired. Teams can have a maximum of three games against an opponent. The Cardinals canvassed their veteran players and are leaning toward having scrimmages, not games against another club. In spring training games, substitution rules will be relaxed so pitchers can return and innings can be ended before a third out.
Rosters
By 3 p.m. St. Louis time Sunday, all teams must designate an organization roster of 60 players. That will include all players on the 40-man roster who are not on a long-term injured list, and then the remaining spots will be filled by non-roster players under contract. For the Cardinals that non-roster group will include prospects like outfielder Dylan Carlson, catcher Ivan Herrera, and reliever Kodi Whitley. The Cardinals are considering top prospects like Zack Thompson and Nolan Gorman for spots.
Teams will start the regular season with a 30-man active roster. That will be reduced to 28 after two weeks, and then, two weeks after that, to 26 for the remainder of the season.
Teams will be allowed to travel with a taxi squad of, at most, three players to be available in case of injuries or illness. If three players are on the taxi squad, one must be a catcher, like Andrew Knizner for the Cardinals.
The players on the 60-man roster who are not active and not on the taxi squad will report to an alternate site. For the Cardinals, that's Class AA Springfield and they expect to open it in mid-July. The usual transactions will govern movement from the rosters — so players will have to be optioned off the active roster and to make room on the 40- or 60-man rosters a player must be waived, released, or traded. The COVID-19 IL does not count against the roster, and if there is an outbreak of positive tests at the alternate site, MLB has the right to allow teams to fill the open spots on the 60-man roster from minor-league players under contract or free agents.
New rules
For the first time the Cardinals will have a DH in downtown St. Louis in a home uniform. The DH will be available to every team, AL or NL, through the season and postseason. Pitchers must face a three-batter minimum or end a half inning. Games interrupted by stormy weather, whether in the fifth inning or earlier, will be considered suspended games and resumed at the precise moment of suspension.
And then there is that runner at second who didn't reach base.
During the regular season only, all half innings after the ninth will begin with a runner at second base. That runner will be the hitter who precedes the inning's leadoff hitter in the lineup. For scoring purposes, that runner is unearned on the pitcher and reached base via an error that won't be counted in the team totals.
On-field regs
In sharply worded language, MLB says it will "strictly enforce" its unsportsmanlike conduct code and that players "coming within six feet of an umpire or opposing player or manager for the purpose of argument" or altercation will be ejected immediately and face suspension. The dugout will be reserved for players active for the game, and others are encouraged to sit in the stands at a prescribed physical distance. That will also be the rule on the field — whether players are lining up for the national anthem, catchers are setting the defense, or fielders are standing apart from baserunners. The exchange of lineup cards will be done via app, not ump. Other regulations range from limiting spitting and touching faces to when baseballs will be discarded. A ball put in play and touched by multiple players will be removed, and baseballs used during batting practice will be collected and not used again for a minimum of five days.
And, players on opposing teams "should not socialize, fraternize, or come within six feet of each other before … during … or after the game." Call it the Bob Gibson rule.
Off-field regs
A team's traveling party will be tightly controlled on the road. They will be greeted at their room with disinfectant for door handles, hotel keycards, and their luggage. Visitors will not be permitted unless it's another member of the traveling party or immediate family. And any member of the traveling party will be forbidden from going to public restaurants at the hotel or outside of it. Transportation to and from the ballpark is similarly regulated.
At home, teams and players are given most of the power to police themselves, and Shildt said he'll turn to his veterans and young leaders to help set those standards. A written code of conduct must be submitted. In MLB's manual it cautions: "The careless actions of a single individual place the entire team (and their families) at risk."
Service time, trades
Players who are considered in high-risk groups can opt out of the season and they will receive full service time and full prorated pay. Otherwise, service time will be based on a prorated formula agreed upon back in March. According to that document, the 60-game, 66-day schedule means a full year of service time is 61 days on the roster. To massage service time and not lose a year of control on a young player, like Carlson, a club would only have to wait about a week and promote the player in the final days of July.
The trade deadline has been moved back to August 31, and players must be on the 60-man roster by September 15 to be eligible for the playoffs. The manual says all traded players must be added to the 60-man roster, identified as the "Player Pool."
Covering games
A limited number of media will be classified in Tier 3 and allowed at the ballpark to cover and broadcast the games. Beat writers will be among the journalists eligible for road game credentials. Clubs are permitted to have their radio broadcast teams travel. Television video feeds will be handled by the home team and must have balanced coverage. To begin preseason training and the season, all interviews will be conducted remotely, via telephone or video conference, but as standards and local health policies adjust physical distanced interviews could be introduced.
The 'great question'
And even with all that granular detail written and rewritten into MLB's 2020 plan, there remain unknowns ahead. The postseason is currently set for 10 teams — as it has been for several years — but both sides are open to discussing an expanded format to increase revenue. Fans could attend games at some ballparks while at others local governments could even impose policies to require a team to relocate.
And, according to reports this weekend, commissioner Rob Manfred can halt play if there is a concern that rosters are riddled with absences and the "competitive integrity of the season is undermined."
Dr. Alexander Garza, chief medical officer for SSM Health and incident commander for St. Louis pandemic task force, grew up a Cardinals fan in Maryland Heights, and during an interview this past week he described the difficulties facing baseball, and challenge of moving cloistered teams around or having fans trickle into the ballpark. He said he told his kids "this is going to be the lost season." Which invites a question.
"That's a great question," Dr. Garza said. "There are a couple of ways for you to think about it from a public health perspective. Is it worth it? I don't think it's worth it to really push to have fans in the stands. Even if we just watch it on TV, without any fans in the seats, from an American psyche perspective, it is something that I think we almost need — that we need in order to feel like normal again."
Keep up with the latest Cardinals coverage from our award-winning team of reporters and columnists.