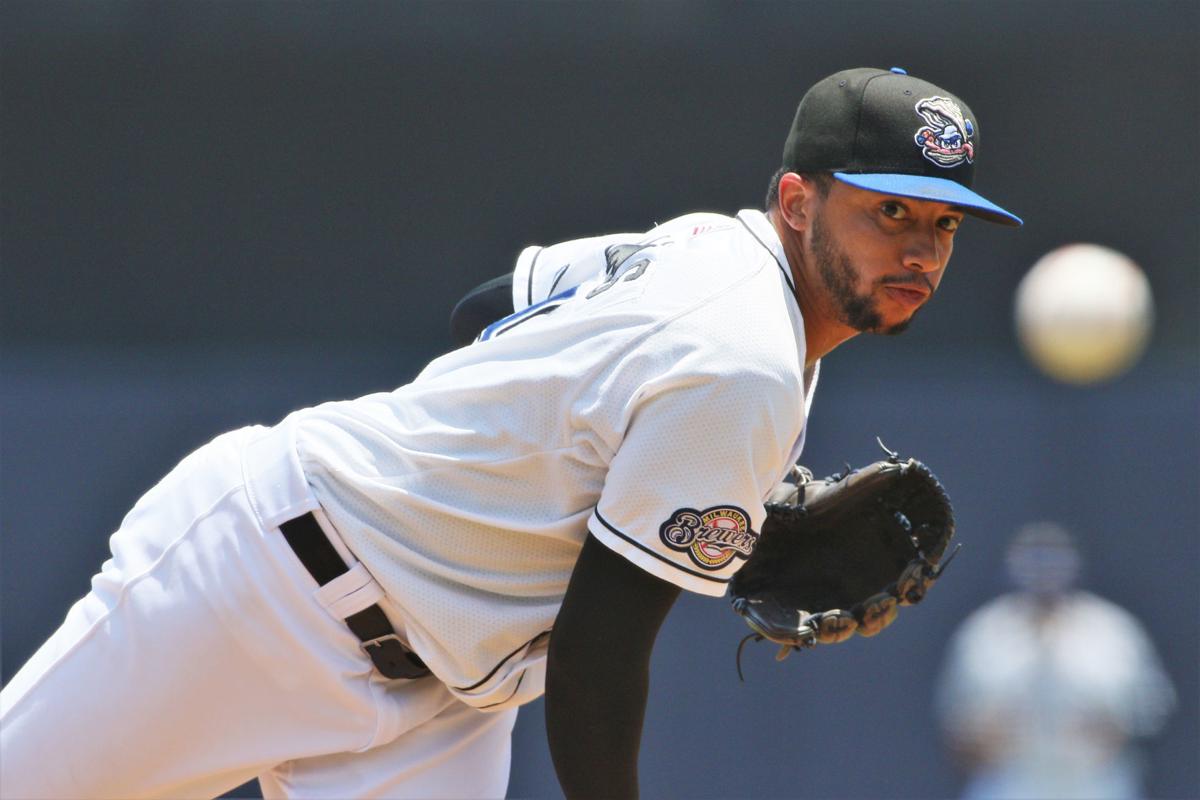 When he got the call into the manager's office at Class AA Biloxi, Devin Williams had a short walk to review the long route he'd taken to this moment and what he was sure awaited him.
Two years ago his elbow came unraveled, a year ago he wondered if his career had stalled, and in the past few months the Hazelwood West grad started this season, the defining season in his time with the Milwaukee Brewers, with a power surge that rewarded an industrious offseason and launched him as one of the minors' breakout relievers. All of this, Williams triangulated, pointed to one obvious reason the manager had asked to see him.
"No, I'm headed to Cleveland — to the Futures Game," Williams said this past week. "I was pretty shocked. I thought getting traded was far more likely to happen than going to the Futures Game. I've put myself on a good path. Oh, I'm excited. People are taking notice. And I'm heading in there with a point to prove."
Plucked by a division rival out of the Cardinals' backyard in the 2013 draft, Williams returned to St. Louis this past winter, his first offseason at home since elbow surgery, and threw himself into a regimen that reshaped who he could be as a pitcher. He turned to modern techniques for training and next-generation technology for pitching. His work was part science, part pitch craft. All Williams. Asked if he felt his injury left him forgotten as prospect, Williams pivoted: "Not necessarily forgotten. I felt overlooked." One scan of the roster for Sunday evening's prospect showcase at Progressive Field illustrates the motivation the 24-year-old righthander had: He's the lone representative from the Brewers' organization and the only one of the 50 minor-league players selected not to be ranked in his team's Top 30 prospects.
The Futures Game has ditched the World vs. Team USA format and will mirror Tuesday's All-Star Game, pitting American League against National League. Williams, a Florissant native, will share a clubhouse with the Cardinals' two representatives, outfielder Dylan Carlson and infielder Nolan Gorman. Next to their names on MiLB.com's Futures Game roster it lists their rankings in the Cardinals' organization (No. 2 and No. 1, respectively), and their ranks in MLB Top 100 talents (No. 88 and No. 30, respectively). Next to Williams' name, it reads: "unranked."
Unheralded, sure. Unanticipated, too.
But no longer unnoticed, and now poised to be unleashed into the National Central Division race by September as another in the Brewers' mix of multi-inning, high-speed relievers.
"It's exciting to see what has come from all the work he's done, what he's set out to prove," said Bob Milacki, the former big-league pitcher and now the pitching coach at the Brewers' Class AA affiliate in Biloxi, Miss. "He's really developed into an adult and he's developing into a pitcher. It's been neat to see that all come together. You could see it in spurts. Now it's all starting to click."
A few weeks before the 2013 draft, Williams sat on a brick wall behind home plate at Busch Stadium and explained how, moments earlier in a tryout for the Cardinals, he had hit 96 mph with his fastball. "Probably adrenaline," he said, at 18. Buzz was building around the athletic, strong-armed prep pitcher, and the first-round seemed possible. The Cardinals were intrigued. In 2013, the Brewers didn't have a first-round pick — they sacrificed the 17th overall selection to sign free-agent pitcher Kyle Lohse — and, as Williams recalled, "were the last team I expected to pick me." They did, 54th overall, and because they lacked a first-round choice, they could woo Williams away from a Mizzou commitment with a $1.35-million bonus.
Williams progressed steadily to High-A as a starter. In March 2017, highly rated and regarded, he let loose a fastball and felt "a hot sensation rush up my arm." His next pitch was a slider — and that's when he felt the tell-tale pop in his right elbow. Tommy John surgery followed and then 16 months of conservative rehab that included relocating to Arizona. In June 2018, 63 weeks after a piece of his hamstring was used to rebuild his elbow, Williams appeared for High-A Carolina. His starts were limited — three innings at first, no more than four later, Milacki said — and the results were mixed.
"I had trouble throwing strikes, getting used to my arm again," Williams said. "There were times when it felt really good. There were other days when it felt like it wasn't attached to my body. I had doubts because I wasn't pitching to my abilities. Everybody said, 'Hold on. Hold on. Two years. Give it two years.' I'm not very patient."
At the end of the season, he no longer had to stay in Arizona, where he had grown tired of the rehab routine and desert landscape, and could come home.
"When he came to me it was clear he was frustrated," said Stu Beath, owner of Output Performance in Brentwood and a trainer who has become friends with Williams. "Here was this super-high draft pick and now someone who had been floating around the system. You could tell that frustrated him, and he was looking for that place to take the next step."
With a tip from San Francisco farmhand and former Mizzou infielder Ryan Howard, Williams started at Output Performance from the ground up — building strength in his legs and using them as the ignition for what Beath called Williams' "extremely explosive athleticism." It was there that Williams spent time with former Cardinals' All-Star Trevor Rosenthal. The closer watched Williams throw a bullpen session and told him: "You're going to throw 100 mph."
Williams had thrown 98 mph once, in 2016.
The scoreboard at the Biloxi Shuckers' ballpark has an impish approach to velocity, sometimes reporting a pitch 3 mph to 4 mph slower, and sometimes getting it right. That was why Williams didn't grin when he looked back after a recent pitch to see the scoreboard read, "96 mph." The readings teams get is far more precise, and according to someone with access to the radar readings, Williams' average fastball increased by 4 mph since last season. The average has increased by 2 mph in the past month. That 96-mph fastball on the scoreboard, a teammate later told Williams it was actually 100 mph, per the radar.
That night, Williams texted Bueth the "100" emoji.
For the first time in his career, he's pitching at around 200 pounds and he's been able to maintain weight and strength. But there's more than muscle to his velocity, there's data.
About once a week during this past offseason, Williams would visit Rapsodo's offices in St. Louis and use the advanced tech to learn about his fastball — and shape it. Williams wanted to find a way to pitch effectively up in the zone and, with help translating the data gathered from Rapsodo's tech by employees there, he learned that increased backspin was his goal. Williams had long gripped his fastball without a finger on the seams — instead along the horseshoe of leather — and he had instructors tell him more velocity, more control, and more spin would come with a more traditional grip. Rapsodo's gear allowed him to test that notion.
His grip, off the seams, produced more spin, for him.
He had proof. Now he has results.
"He's been consistently 95-98 mph, touching 99 mph regularly," Milacki said. "It gets hot here, lots of sweat, and it's hard to get a normal grip. I don't know how he does it. It's crazy. But it works."
As part of the Brewers' development program, coaches and trainers keep in touch with prospects. Milacki talked to Williams about once every two weeks, keeping tabs on Williams' work, what he was doing, how quickly he was advancing. The next step came in spring, when the Brewers moved Williams to relief. How organizations advance and nurture pitching talent varies. Some stick with a pitcher as a starter until he's needed in relief, as the Cardinals have done with Ryan Helsley. Others limit innings by piggybacking prospects or moving them to relief. For Williams, the idea was to get him comfortable with the role he'd first have in the majors: multiple innings, late innings, as part of the one of the best and most aggressive bullpens in the NL.
Or, as he put it, "You've got to be flexible to fit in up there."
In 27 appearances for Biloxi, all in relief, the righthander has struck out 66 in 48 2/3 innings, snagged a 7-2 record with his 2.59 ERA. In June, batters had 43 at-bats against him. He allowed five hits.
All of this, the velocity, the results, and the Futures Game, comes at a pivotal time in his career. This fall, the Brewers either have to add him to the 40-man roster or he'll be a minor-league free agent. They can do that easily in September, so he can be a callup when relief reinforcements are common and velocity still rules in a pennant race. It's a low-cost move because Milwaukee won't have to option him to the minors till spring, if they need to at all. That promotion will mean another invitation to the manager's office.
It's a conversation he'll see coming, like division rivals should with him.
"I feel like it could be one step away, like it could be the next step," Williams said. "You're right there. It's always in the back of your mind, like a goal that you can almost reach. I'm in a good spot. I have to let them see what I can do. Everything is starting to fall into place."