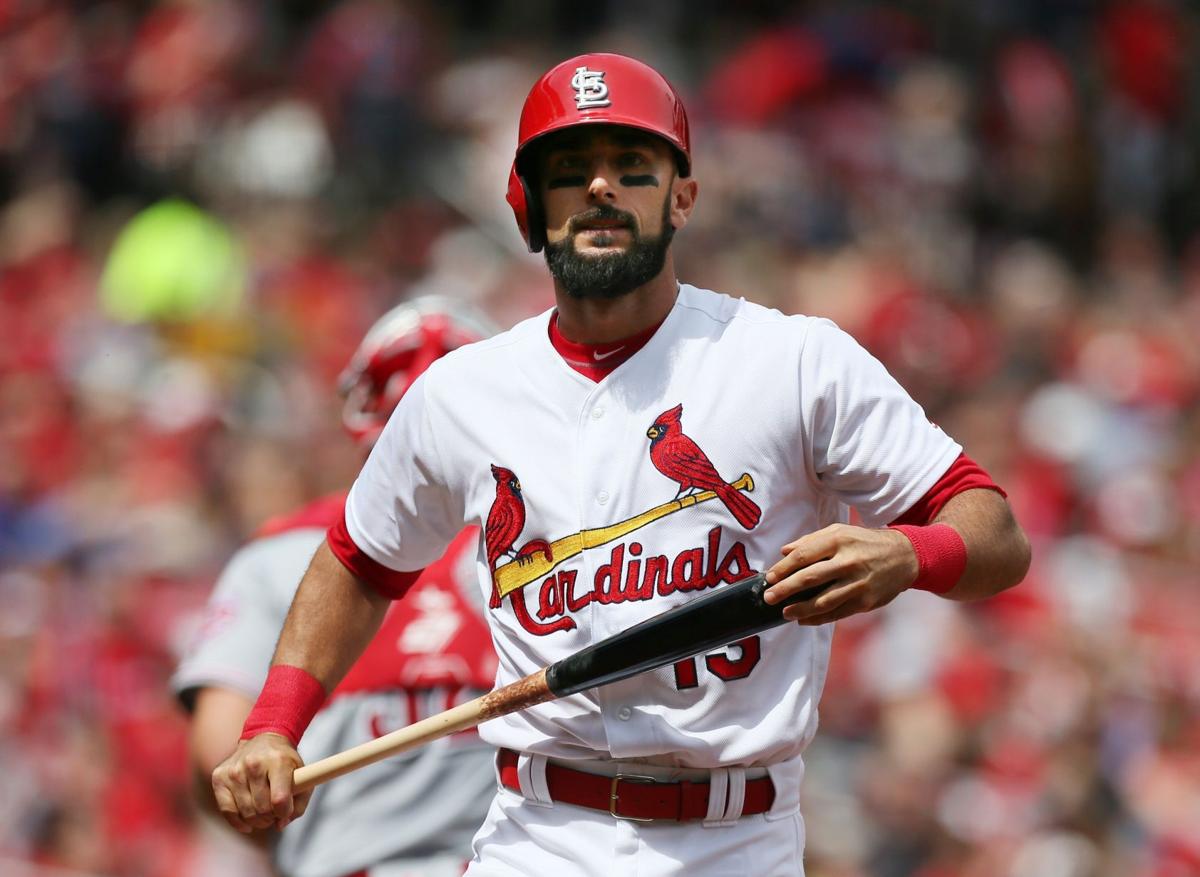 CHICAGO • In the past week, the two departed All-Stars the Cardinals have built their most successful recent lineups around have chased history and reveled in a revitalized present.
Albert Pujols with one mighty swing Saturday night became the ninth player ever with 600 career home runs, and Matt Holliday hit his 12th homer of the season and is one of the most productive designated hitters in the American League with a .889 OPS. Such gaudy numbers only hint at what two MVP-caliber hitters brought during their tenures at No. 3 in the Cardinals' lineup, but illustrate what several talent evaluators believe the current edition has yet to find.
After a power-mad 2016 and the expiration of Holliday's contract, the Cardinals purposefully restructured their lineup around a more decentralized offense for this season. They're still waiting for it to work. With two of the best leadoff hitters in the game, Dexter Fowler and Matt Carpenter, now in the same lineup, the Cardinals aimed to score with a steady pressure of baserunners, not a sporadic flex of muscle. General manager John Mozeliak referred to the plan for the first year without Pujols or Holliday as "more depth than one or two feared hitters."
They want to put opposing pitchers through a game of "Frogger," forcing them to leap and scoot out of traffic until … splat! … death by OBP.
"You will see a lot of high pitch counts, a lot of guys working the counts," LA Dodgers ace Clayton Kershaw said. "That's what you do if you don't have 'that guy.' Carpenter is that guy. (Jedd) Gyorko, the way he's swinging the bat, can do damage. But any team brings in a star-caliber player and it lengthens the lineup and it makes everybody else better. You can unburden that load. Five-hole hitters don't have to be four-hole hitters. They can be five-hole hitters. It works the way down. You lengthen the lineup when you have 'that guy' in there."
With less than two months before baseball's July trade deadline, the Cardinals must weigh whether the lineup they have can be feared or whether they can add a bat that will be. Or, as one NL scout said, "they need to find a run-producer, someone who gets attention." The lineup needs a centerpiece to emerge — or arrive.
The Cardinals managed three runs Saturday in a loss to the Chicago Cubs, and the three runs came on two hits – a broken-bat single and Yadier Molina's solo homer. For the 11th time in their past 17 games the Cardinals scored three or fewer, and they are 3-8 in those games. Opponents scored one run, combined, in those three wins. The roots of the Cardinals' offensive issues are three-pronged: the slow starts by a handful of players including igniters Carpenter and Fowler, the fact Holliday's planned replacement in left is in Class A, and the difficulty all that has caused stringing together hits. It has been almost two weeks since the Cardinals had more than two hits with runners in scoring position in a game. They've done that only once in their past 18 games.
"A slow start at the top of the lineup from Dexter, a slow start from me, and you're seeing what not getting on base and not clogging those bases with people does," said Carpenter, who is batting .216 to Fowler's .228. "Even if you don't have power, if there are guys on base and there's a good hitter coming up, things happen. Things will happen."
Said Mozeliak: "When you look at this lineup it was designed to be a team that was going to go first to third and score runs, and if we're not doing that …"
Internally, the Cardinals insist that that they will.
The three hitters the Cardinals planned to have atop their lineup — Fowler, Aledmys Diaz, and Carpenter — are all off to uncharacteristically slow first trimesters. Each has a batting average on balls in play (BABIP) that is significantly below even their career low, like .241 to .307 for Carpenter. In 2016, that trio combined for a .381 on-base percentage. So far this season, it's .319. Diaz is at .288. The Cardinals have had one of the least productive top three spots in the order in the majors. Even the grind is gone. Carpenter is fifth in baseball in pitches per plate appearance (4.44). Fowler is 50th. The only other Cardinal in the top 80 is at High-A Palm Beach, Randal Grichuk.
"If seven guys have historically low career years for themselves, then, yeah, it's not going to change," Carpenter said. "If five of the seven go back to their norms we're going to be fine."
Externally, some believe the Cardinals need to add a bat.
Just as the Cubs are expected to shop for starting pitching as the trade deadline nears to fortify their rotation, the Cardinals are seen as a team that could augment their lineup. Multiple sources said to expect more pitching to be available than bats, though two scouts and two other evaluators had a few hitters in mind who could move. The Cardinals remain reluctant to spend on a short-term rental, which could limit interest if Kansas City shops first baseman Eric Hosmer or third baseman Mike Moustakas or the White Sox deal Todd Frazier. It's possible no one appeals enough to the Cardinals to reshuffle the infield to make a fit. Cincinnati shortstop Zack Cozart is somewhat similar. A batter like Toronto's Josh Donaldson is a more attractive commodity — a former MVP with another year of control and a high salary — but the Blue Jays may not be motivated sellers.
Outfielder Marcell Ozuna has two years of control, is in the midst of a career season, and could be Miami's chip to play before a rebuild. He would draw interest, as would Christian Yelich, the Marlins' cost-controlled outfielder who Fox Sports reported could be put up for auction.
"That's not as simple as you try to make it out to be," Mozeliak cautioned Friday when asked about going outside for offense. "Obviously our offense has not been overly productive, but I think it's a little early to hit the panic button."
The question that lingers is what kind of lineup they can be.
"I think that question is a good question," Mozeliak said. "I think it's a question that is hard to answer because I don't think we've ever really seen this team click offensively."
For more than a decade, that click came from an All-Star in the middle before both found better offers and the ability to DH in the American League. From 2003 to 2016, Pujols and Holliday combined for 7,240 at-bats at the No. 3 spot. Pujols had 370 of his 599 homers there. That is enviable and rare stability. The player with the third-most home runs from No. 3 since 2003 is Carpenter, with nine. During Pujols' run, from 2003-2011, that spot in the order never ranked lower than fifth in the majors in OPS. Holliday ranked in the top 10 in his first three seasons before injuries and a fade. Last year, as Holliday missed time and struggled, the .713 OPS from the No. 3 spot ranked 27th. This year, at .749 OPS, it ranks 24th.
Such bona fide MVP-level fulcrums are few and treasured and hard to find on the market. The Cubs, who the Cardinals are chasing and facing this weekend, have two, Kris Bryant and Anthony Rizzo. Cincinnati has Joey Votto. Colorado has Nolan Arenado and a cast of thumpers.
"I think against guys who make a lot of contact — a lineup of gnats, like you said — the pitcher can miss their spots and get away with it," said Rockies first baseman Mark Reynolds. "Maybe they'll give up a base hit. Pitchers facing our lineup have to concentrate because one through eight we can take you yard. Look at (vs. the Cardinals). Single. Double. Double. (Tommy) Pham clipped one. There was traffic all night. They couldn't get the big hit to open the game up. That kind of lineup puts a lot of pressure on the defense. I think it puts a lot of pressure on the pitcher having a guy who can take you yard at any time."
The Cardinals have seen flashes of the offense they want to have. In consecutive games against LA starter Kenta Maeda, Fowler led off with a single, Pham followed with a walk, and both scored on a two-run hit by that day's cleanup hitter. Encores have been fleeting. Mozeliak mentioned the team's 6-0 road trip through Atlanta and Miami as the time the offense generated momentum. It worked like manager Mike Matheny often says: "grinding" and "relentless." They scored 45 runs in six games. And they did that without the need of adding a middle-order hitter.
That was the same trip when Pham arrived and rookie Magneuris Sierra raced up from High-A, and both brought something that spurs any lineup built for death by OBP: speed. "For me, this is a club that still is searching for what we truly are," Mozeliak said. "We're really clicking from the rotation standpoint. Will the offense support it?"
And how long can they wait on the answer?