(First published on Mother's Day 2019)
It wasn't long after Jack Flaherty arrived at his brother's little league field and found their mom that he launched into all the reasons this was it, he was done, no more baseball.
A freshman in high school, Flaherty had clashed with a coach, felt the welt of failure, or reopened some other scab of frustration and was, his mother recalls, "venting." On a field nearby swarmed a team of kids four or five years younger that he often helped coach. Jack was the big to their littles, and as they played he cataloged the reasons he no longer would. His mother, Eileen Flaherty, listened and nodded and said she was fine with that — one less direction she had to stretch in this taffy pull of raising two kids on her own — but she had two conditions. First, Jack had to call the coach. Second, he had to walk over to the younger boys and "tell them you're a quitter and it's OK to quit when the going gets tough," his mom instructed.
Jack didn't say another word.
He went to practice the next day.
"I was like … couldn't do it," said Flaherty, the Cardinals' second-year starter. "I'm thankful to her for that. Whenever times have gotten tough, whenever I've questioned myself, she could tell something was up and she would completely instill that confidence back into me. Moms are so powerful and special and they do so much for us that I don't think I'll ever be able to put enough emphasis on how much she's meant to me. She's always been a rock."
It's a sentiment several Cardinals pitchers can share because of a similarity they all have. Roommates at various levels and teammates in the majors at various times, four Cardinals pitchers were raised by single mothers. Carlos Martinez was raised by his grandmother, Marta Martinez.
Eileen Flaherty, who adopted Jack three weeks after he was born, was a champion and "relentless" advocate for him and his younger brother Grady. Austin Gomber's mom, Renee, shared her "stubbornness" and shepherded her only child through summer ball after Austin's father left when he was 10. Jennifer Hicks went to college and worked while raising young Jordan in the years before marrying. Nancy Wainwright worked multiple jobs to fit around her boys' schedules and would crisscross the bridges connecting St. Simons Island, Ga., to New Brunswick, Ga., as many as five times during games to see both Adam and older brother Trey pitch. Their father left the family when Adam was 3, and she once said her boys could never use their situation "as a crutch," and that no one would ever say, "Well, it must have been tough with a single mother."
"She was trying to make up for that by being doubly good, by being doubly present," Adam Wainwright said. "Those moms do such an incredible job of stepping up and filling all the voids. A single mom is one of the most versatile (people). A single mom has all five tools. They're the Swiss Army knives of our world. They can be teacher. They can be disciplinarian. They can be Uber driver. Show you all the love that you need and also teach you all the things you need to know, not just school-wise. Your morality. Your dignity."
At 14, Wainwright played golf using his grandmother's clubs and wanted to enter a tournament but was hesitant because it appeared to be all fathers and sons. His mother took off work, signed up, and alternated shots with her youngest. ("We did not win, but we had a good time," Adam said.) She enrolled both sons in Junior Cotillion to learn etiquette — and to waltz.
Eileen Flaherty's boys will never walk first through a door when with her. Even with his path leading toward baseball — collegiate or pro — Jack was pushed to take Advanced Placement classes because "you can, so you should," Eileen said. On her Twitter page, Eileen quotes Louisa May Alcott, with a twist. Rather than being about a "happy" son's relationship to a mom, Eileen flipped the quote to read, "Happiness is a son whose faith in his mother remains unchallenged."
"I think being a single mom of two young men you have that relationship when they have to know mom loves them, mom has their back, and there is no one who will challenge a mother's love," Eileen said. "They are the primary force in my life. They are my purpose. There has to be the secure binding that they know one parent will be there with love, faith, and it won't be challenged."
All of the mothers of sons described finding mentors, role models, and community for their sons through organized sports. And, at several turns they encountered the assumptions inherent in a game too often presented as fathers playing catch with sons.
On his first day in the majors, Gomber was asked if his parents were coming.
Eileen introduced Jack to baseball at 6 months old when she'd hold him on her lap at Dodger Stadium. She described adopting Jack as a "God-given opportunity" where "a door opened wide and I chose whether to walk through it or not, and I did. And on the other side was Jack." She named him for a close friend, and they were the inseparable dynamic duo for his first four years. When he could no longer sit on her lap at Dodgers games, he got his own ticket. At 5, they found a tee-ball team about 20 minutes from home. At 7, Jack's youth league team won a weekend tournament — and few weekends since have been free of sports. Eileen saw baseball as a chance to pay for college — a door that Jack could open and walk through.
"I told them create opportunities for yourselves," she said. "Be a strong student, be a good person, be a person of faith, and always if you can create opportunities for yourself then you can make choices instead of having choices made for you."
Talk long enough with these Cardinals about their moms, and phrases and descriptions start to overlap and echo. The choices their mothers made, the hours stretched to pack 75 minutes of things into 60 minutes of time.
And the traits they admired — and emulate.
"The value of perseverance has always been there with her," Wainwright said. "My dad left her in a bad spot. So she constantly had to work. The chips kept getting stacked against her, and she kept getting back up, every time. Perseverance has always been taught and ingrained in me just by watching her live."
"I feel like one of the traits I got from my mom is how stubborn we both are," Gomber said. "Stubborn about what we can do and to meet challenges and have tough expectations. That's helped me in baseball. That feeds into what makes me go."
"Hard work. Persistence," Hicks said. "I saw it. That's how I learned it. That's why I'm here."
"She is relentless," Flaherty said. "She will never back down from anyone. Sometimes there have been situations where she has gotten into a conversation and there are people — because she's a single mom and a woman — they think they can just say something and she will nod her head and say, 'OK.' She always knew what was best for my brother and me, and she wasn't going to just nod her head and say, 'Yeah, OK,' if she didn't believe it. She was going to stand against it. She is never going to let anyone walk over her."
There is a story that Flaherty tells about that same freshman season, that one when his mom kept him from quitting. The seniors on the team called for a voluntary practice on a Sunday morning in May, and Jack knew voluntary wasn't voluntary at all. Unable to drive or catch a ride, he had to ask his mom to taxi him the 30 minutes to practice. He was "terrified" as he did. She didn't flinch. She grabbed the keys, drove him, and waited in the parking lot until practice was over. That's when Jack tells the part of the story Eileen didn't remember.
"That's just what you did," Eileen said. "I spent my Mother's Day sitting in a car waiting for my son to finish baseball practice preparing for the playoffs. Grady was probably in the backseat. And, yeah, I would rather have been in the car in that parking lot than anywhere else because it meant being there with them. It wasn't a fancy together. It wasn't somewhere special together. We were in the best place we could be. We were together."
---
HALL OF FAME BASEBALL WRITER RICK HUMMEL MAKES THE PICKS
Manager Mike Shildt's recent declaration that the Cardinals' current roster includes five No. 1-type starting pitchers  inspired us to publish Rick Hummel's compilation of the top 50 Cardinals pitchers since the franchise joined the National League in 1892.
This list will exclude the legendary likes of 1888 St. Louis Browns sidearm righthander Charles "Silver" King, a native St. Louisan, who won 45 games and completed 64 of 66 starts, pitching 585 2/3 innings for the American Association team. And it also won't have righthander Elton "Ice Box" Chamberlain, who had a .719 winning percentage (46-18) for the 1889 St. Louis entry in that league while throwing at least one game with both hands.
But it will include "One Tough Dominican."
Find out where he ranks as we present Hummel's top 50, in descending order, and the franchise's all-time 13-man pitching staff:
50. KYLE LOHSE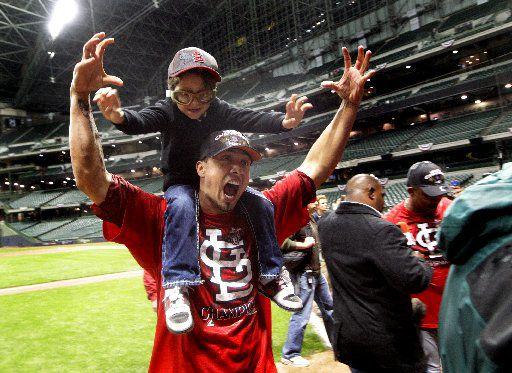 STL SEASONS: 2008-12
CREDENTIALS: Led National League in winning percentage at .824 with 16-3 season in 2012.
49. WOODY WILLIAMS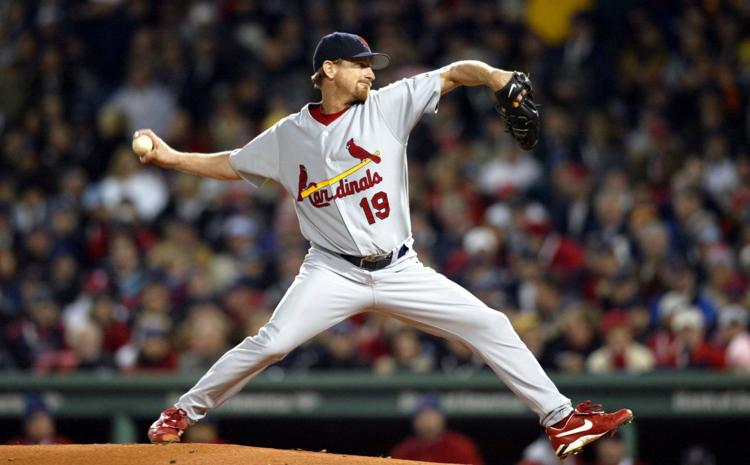 STL SEASONS: 2001-04
CREDENTIALS: Righthander had a .672 winning percentage (45-22), plus three postseason wins.
48. JASON MOTTE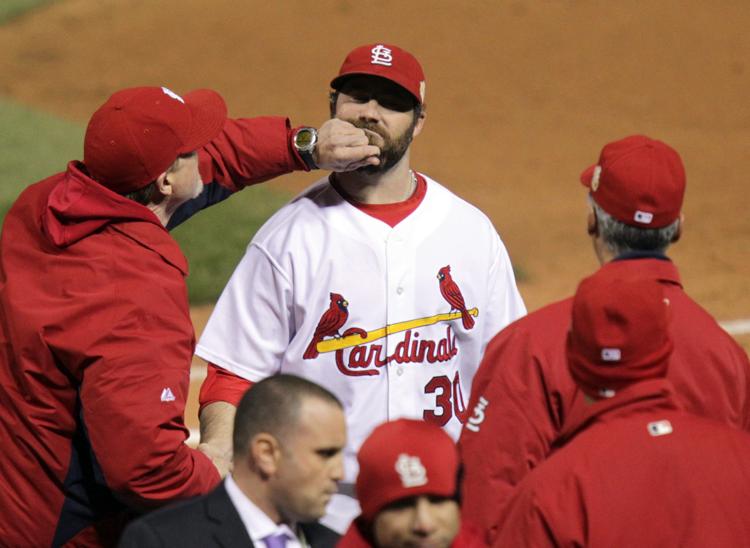 STL SEASONS: 2008-14
CREDENTIALS: Converted catcher led league with 45 saves in 2012 after getting final out of 2011 World Series.
47. MILES MIKOLAS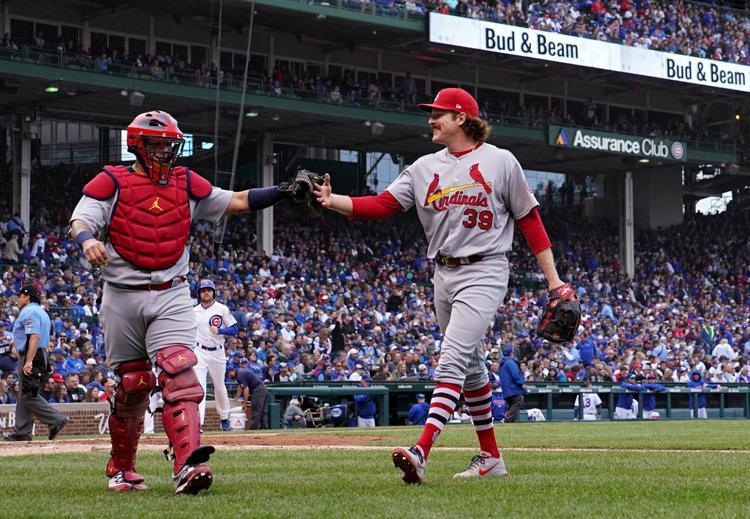 STL SEASONS: 2018-current
CREDENTIALS: Only one year as a Cardinal, but Mikolas had a brilliant 18-4 season in 2018, leading the National League in winning percentage and tying for most victories. The key: he had fewer walks (29) than starts (32).
46. TOM HENKE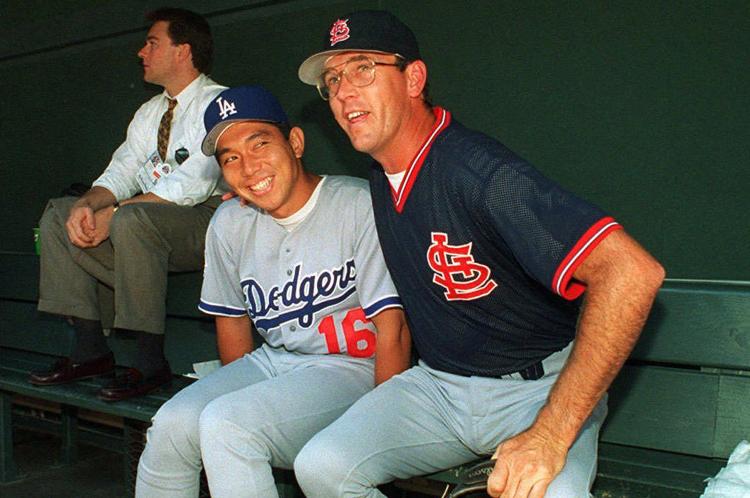 STL SEASONS: 1995
CREDENTIALS: Only one season with the club, but Henke went out with a bang in his final big-league year with 36 saves and a 1.82 ERA.
45. DARRYL KILE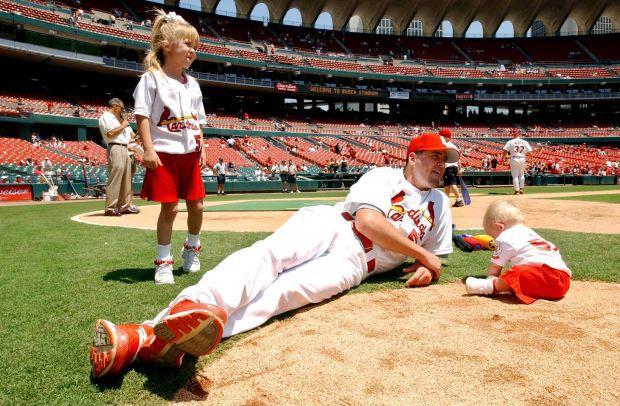 STL SEASONS: 2000-02
CREDENTIALS: Kile, whose career ended tragically when he died in a Chicago hotel room in 2002, won 20 and 16 in his only two full seasons here.
44. CARLOS MARTINEZ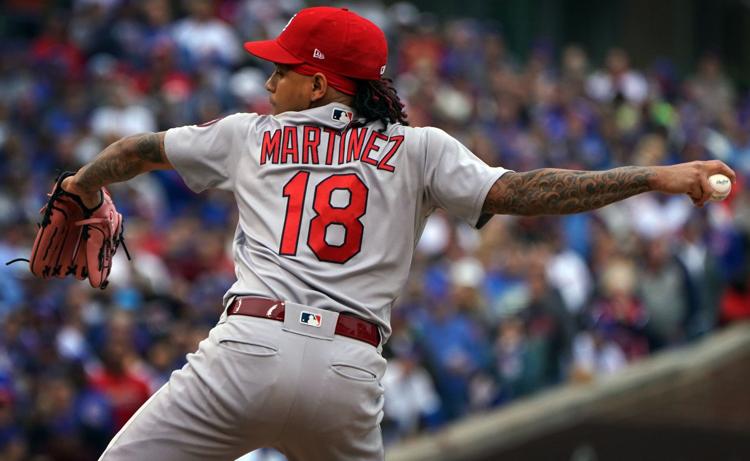 STL SEASONS: 2013-current
CREDENTIALS: He'll have time to move higher on this list, but almost anybody ranked in the top 50 would take his stuff. He's a two-time All-Star.
43. AL HRABOSKY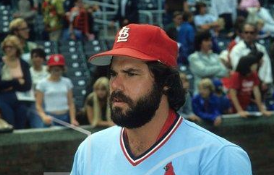 STL SEASONS: 1970-77
CREDENTIALS: "Mad Hungarian" started a long line of elite closers with his dominance in the mid-1970s, including 13-3 mark with 22 saves in 1975.
42. MICHAEL WACHA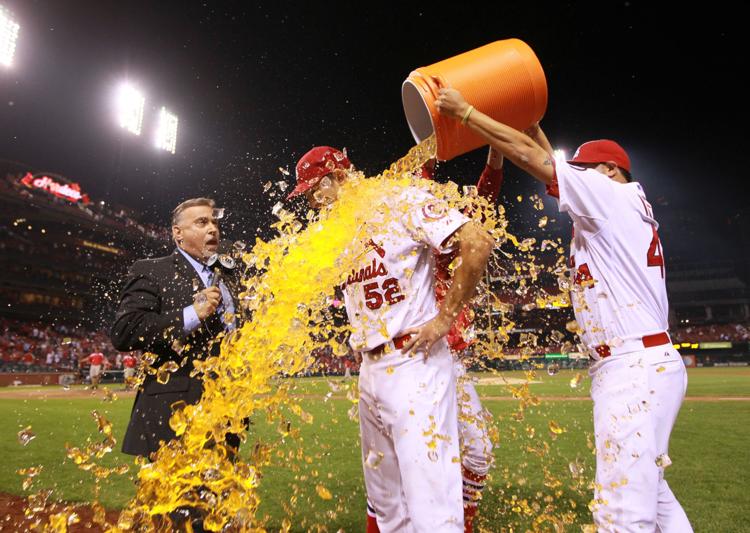 STL SEASONS: 2013-current
CREDENTIALS: Won four games in 2013 postseason as a rookie, earning MVP award in NLCS. Two years later he was an All-Star within a 17-7 season.
41. TED WILKS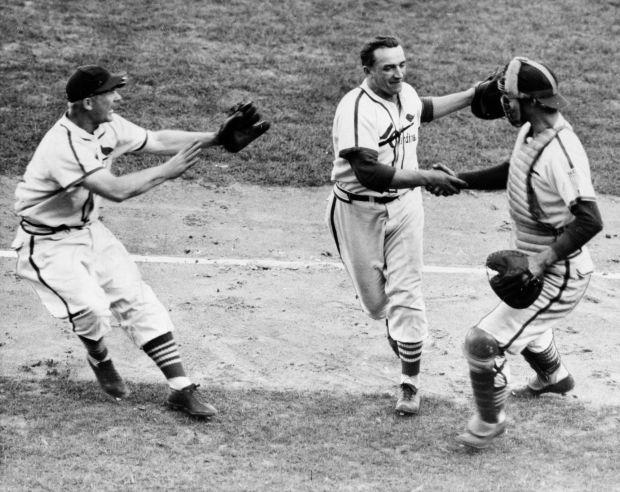 STL SEASONS: 1944-51
CREDENTIALS: Righthander was 51-20 with a 3.26 ERA for Cardinals and was a key pitcher for the 1944 and 1946 World Series champs.
40. JOE HOERNER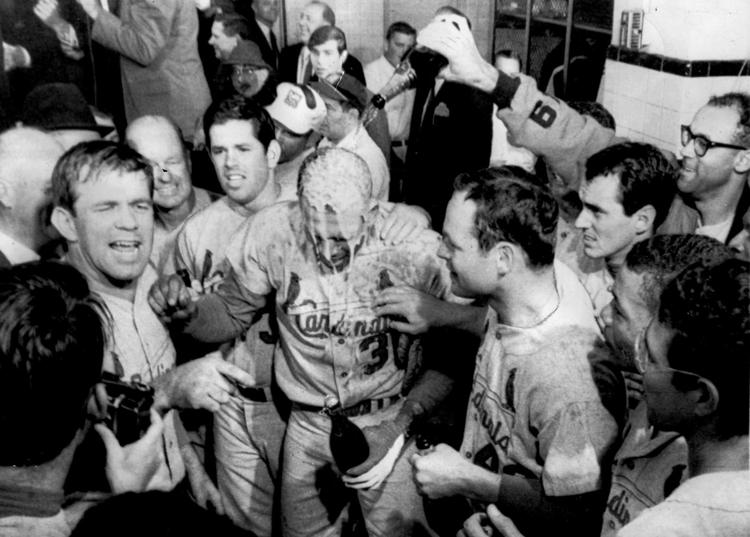 STL SEASONS: 1966-69
CREDENTIALS: Lefthanded bullpen ace was big part of NL champs in 1967-68, with a 1.47 ERA in 1968.
39. BOB TEWKSBURY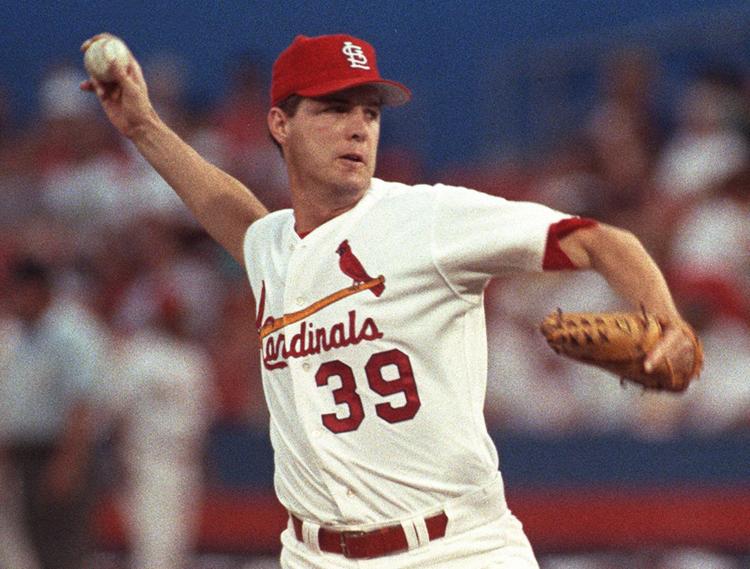 STL SEASONS: 1989-94
CREDENTIALS: Tewksbury produced five consecutive double-figure win seasons, topped by 16-5 in his All-Star season of 1992.
38. CY YOUNG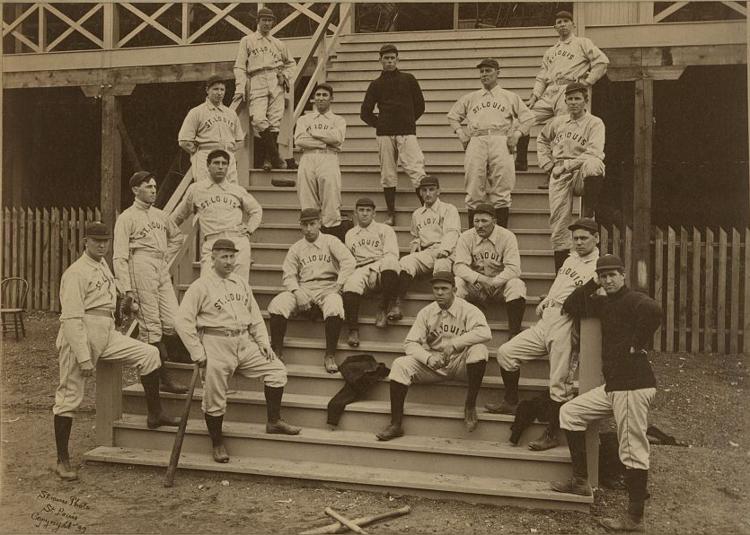 STL SEASONS: 1899-1900
CREDENTIALS: Scored only 45 of his 511 wins for the Cardinals over two seasons. But, he's Cy Young.
37. DENNIS ECKERSLEY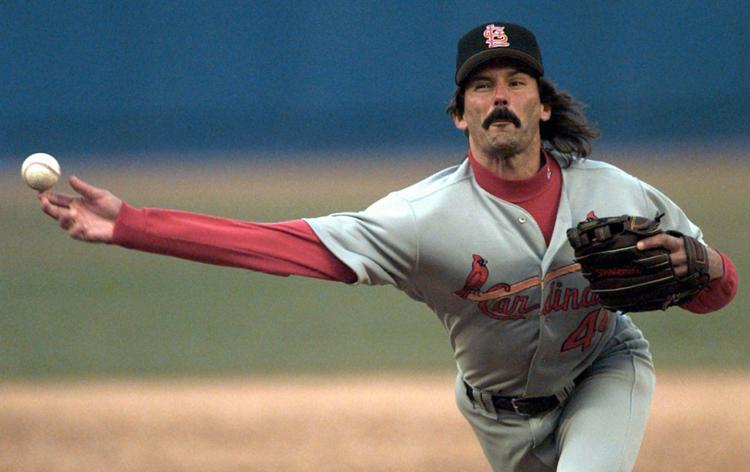 STL SEASONS: 1996-97
CREDENTIALS: "Eck" is a Hall of Famer because of what he did elsewhere but he had 66 saves when he was ages 41 and 42 here.
36. MURRY DICKSON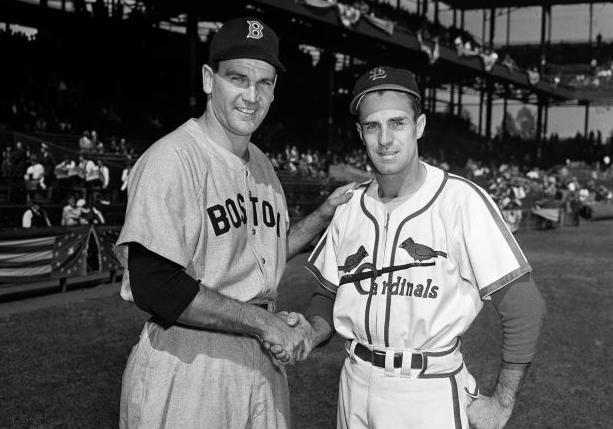 STL SEASONS: 1942-48; 1956-57
CREDENTIALS: Was 72-54 for Cardinals and pitched in two World Series in 1943 and 1946.
35. FLINT RHEM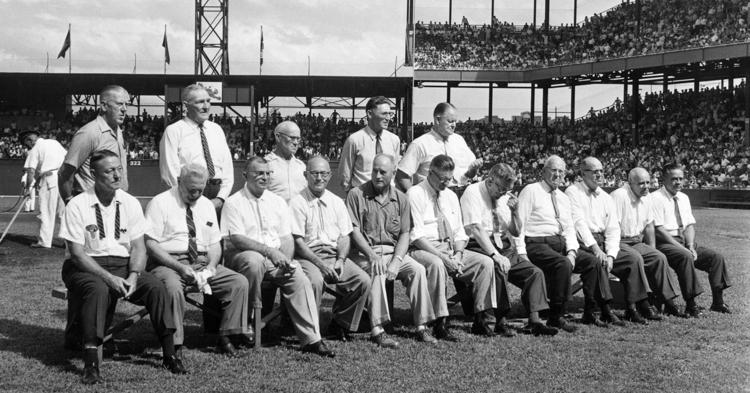 STL SEASONS: 1924-32; '34, '36
CREDENTIALS: Righthander was 81-63 for Cardinals, including 20 wins for St. Louis' first World Series champs in 1926.
34. LINDY MCDANIEL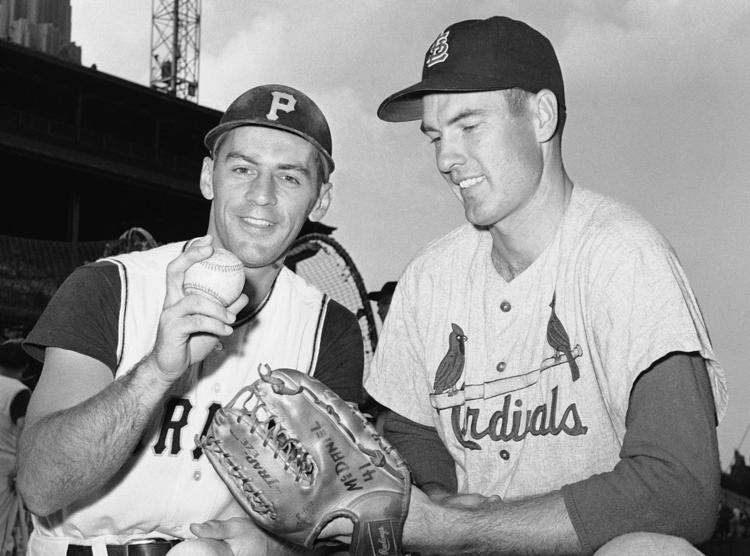 STL SEASONS: 1955-62
CREDENTIALS: Going from the rotation to the bullpen, he had 66 wins and 66 saves from 1956-62 with four double-figure win years.
33. RED MUNGER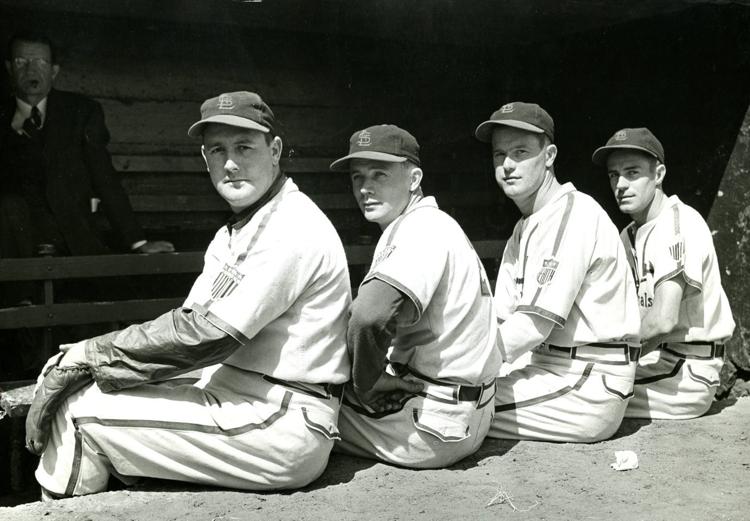 STL SEASONS: 1943-52
CREDENTIALS: Righthander was 74-49 for the Cardinals and pitched a complete-game three-hitter to win a game in the 1946 World Series.
32. CURT SIMMONS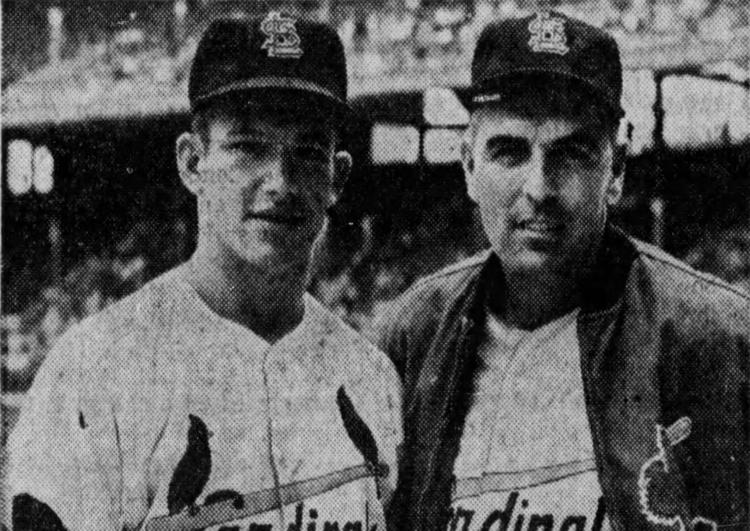 STL SEASONS: 1960-65
CREDENTIALS: Lefthander won 18 games for World Series champions in 1964.
31. RAY SADECKI
STL SEASONS: 1960-66; '75
CREDENTIALS: Southpaw won 20 for '64 World Series champions. He was good enough to get Orlando Cepeda from the Giants in a 1966 trade.
30. LANCE LYNN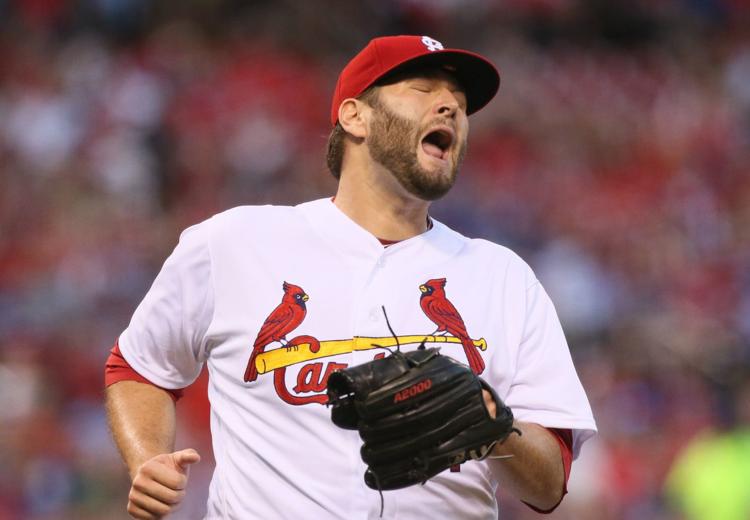 STL SEASONS: 2011-17
CREDENTIALS: Averaged 15 wins a season from 2013-17, with a high of 18 in 2012, his first full season.
29. NELSON BRILES
STL SEASONS: 1965-70
CREDENTIALS: Inserted in the '67 rotation in late July after Bob Gibson suffered a broken leg, Briles was 4-4 at the time and finished with a 14-5 record and the NL's best win percentage. He followed up by winning 19 games for the NL champs in 1968.
28. ERNIE BROGLIO
STL SEASONS: 1959-64
CREDENTIALS: Led National League with 21 wins in 1960. His 18 victories in 1963 made him an attractive enough trade chip to secure Lou Brock the next year. Sore-armed Broglio won seven games in three seasons for the Cubs. Brock wound up in Cooperstown.
27. GERRY STALEY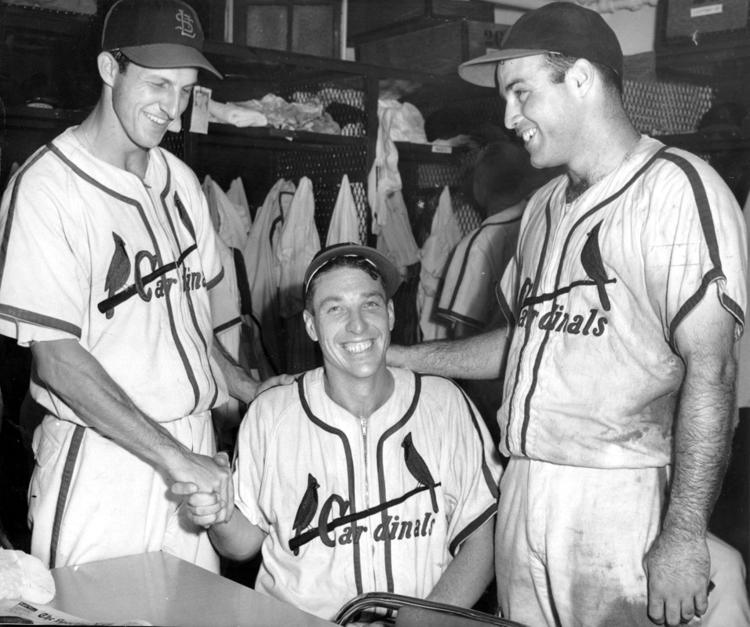 STL SEASONS: 1947-54
CREDENTIALS: Had 89 Cardinals wins and 19 saves, with five consecutive double-figure win seasons, including 19 in '51 and 18 in '53.
26. BILL HALLAHAN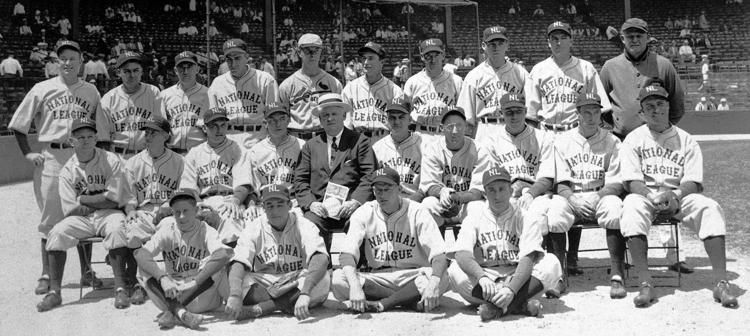 STL SEASONS: 1925-36
CREDENTIALS: "Wild Bill" won 19 games for the World Series champions in the 1931 regular season and two in the Series when he had an 0.69 ERA.
25. AL BRAZLE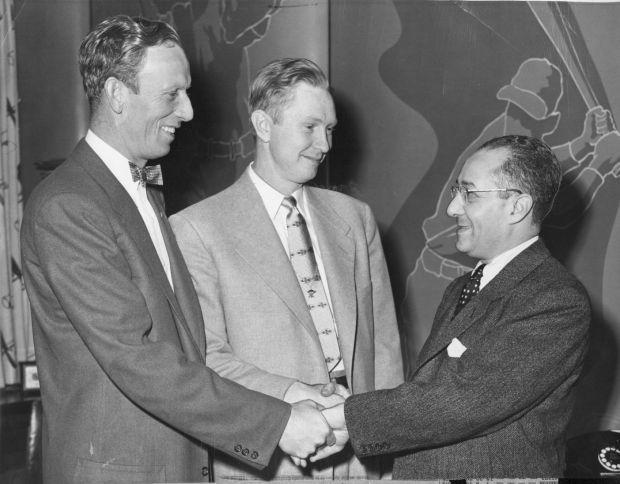 STL SEASONS: 1943, 1946-54
CREDENTIALS: A dual threat, he won 97 games and saved 59 for the Cardinals, unofficially leading the league twice in saves.
24. LARRY JACKSON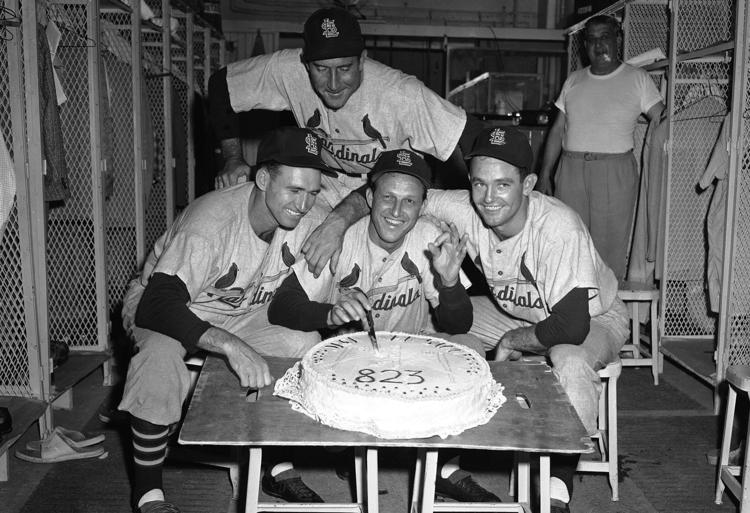 STL SEASONS: 1955-62
CREDENTIALS: Was 101-86 for Cardinals with six consecutive seasons of double-figure victories. (True story: In 1957, Jackson became the first Idaho native to make an All-Star roster. To celebrate, Idaho's governor shipped a sack of potatoes to every NL All-Star.)
23. TREVOR ROSENTHAL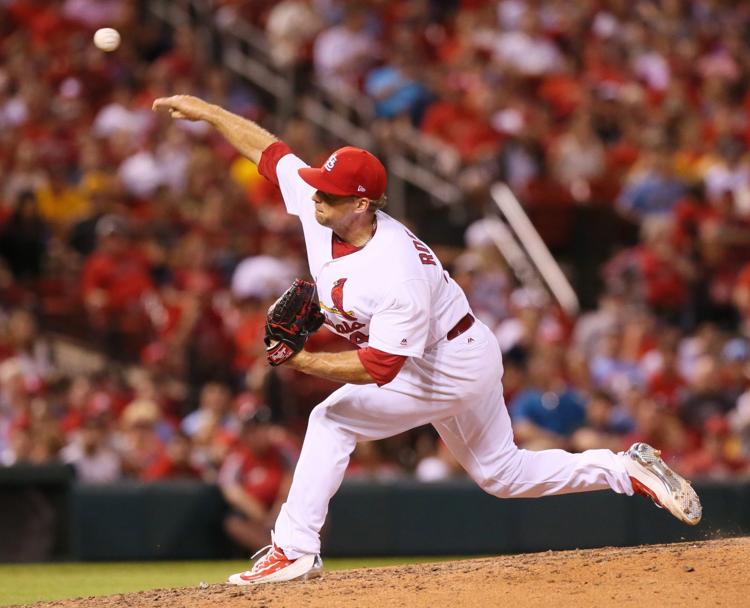 STL SEASONS: 2012-17
CREDENTIALS: "Rosey" had back-to-back seasons of 45 and 48 saves before encountering arm trouble and sitting out the 2018 season.
22. LON WARNEKE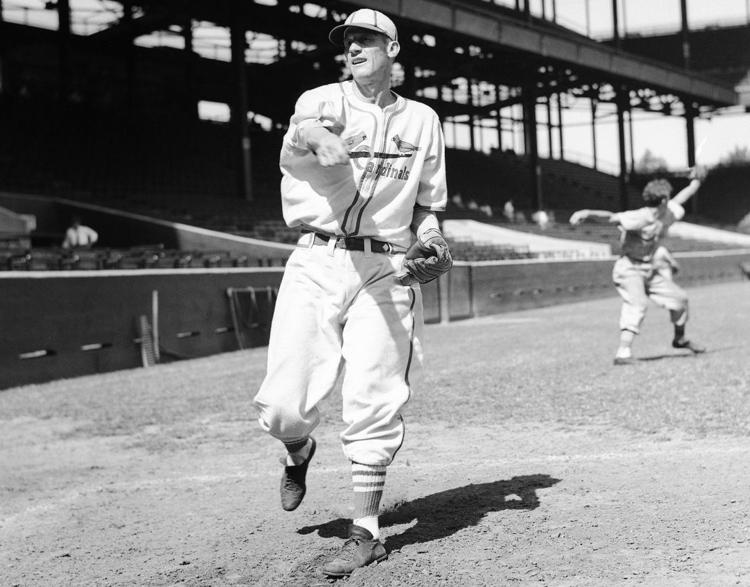 STL SEASONS: 1937-42
CREDENTIALS: Righthander had six double-figure-win years in succession, threw a no-hitter in 1941 and had a lifetime .629 winning percentage for the Cardinals.
21. TODD WORRELL
STL SEASONS: 1985-92
CREDENTIALS: Six-foot-five righthander had three successive 30-plus save seasons and won the NL Rookie of the Year award in 1986. Also made eight outfield appearances when Whitey Herzog would bring Worrell into a game to pitch, then send him to the outfield when a lefty reliever was summoned for a lefthanded batter, then bring him back to the mound. 
20. JOHN TUDOR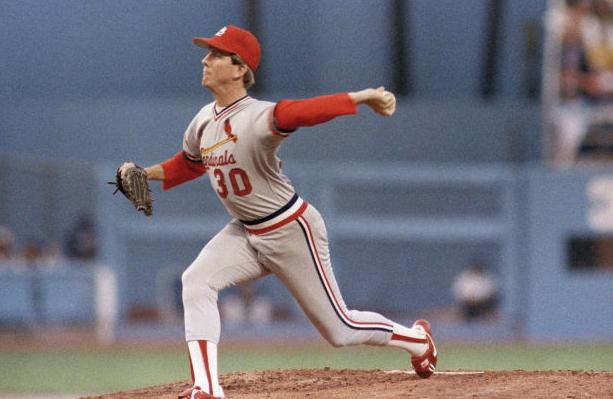 STL SEASONS: 1985-88; 1990
CREDENTIALS: Soft-tossing southpaw had .705 winning percentage and 21 wins, including 10 shutouts for '85 NL champs. Tudor started that season 1-7, then finished with a 20-1 run.
19. MATT MORRIS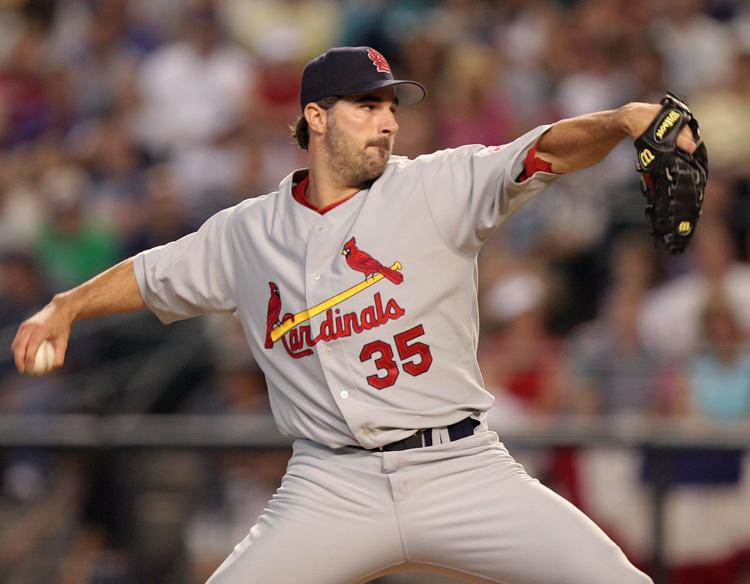 STL SEASONS: 1997-2005
CREDENTIALS: His 101 wins featured a National League-best 22 in the Cardinals' 2001 playoff season. Runner-up for Rookie of the Year in '97 and third in the '01 Cy Young voting.
18. MAX LANIER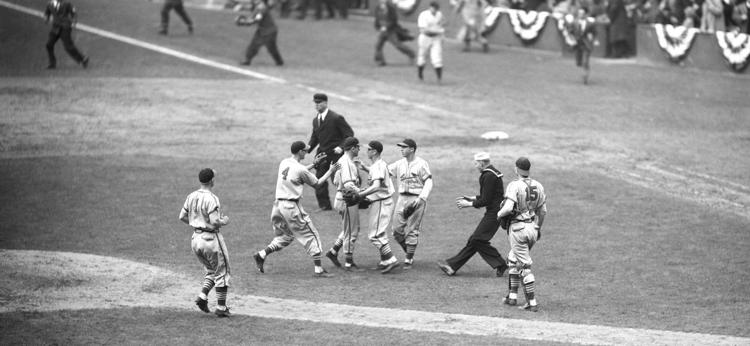 STL SEASONS: 1938-46; 1949-51
CREDENTIALS: Lefthander won 101 games for the Cardinals, 20 of them shutouts. Lanier was 6-0 with six complete games in 1946 when he jumped to the Mexican League. He was suspended from playing organized baseball in the U.S. and wasn't reinstated until 1949, when he rejoined the Cardinals. 
17. GROVER CLEVELAND ALEXANDER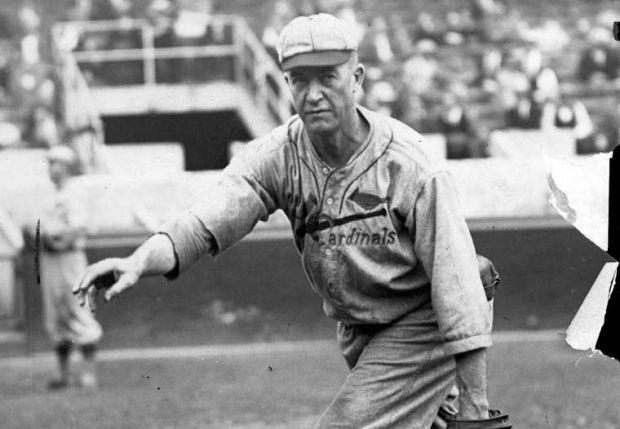 STL SEASONS: 1926-29
CREDENTIALS: "Ol' Pete" had one of the biggest strikeouts in club history, whiffing Tony Lazzeri with the bases loaded in Game 7 of the '26 Series against the mighty Yankees. Baseball's third-winningest pitcher all-time won 21 games as a 40-year-old and 16 as a 41-year-old for the Cardinals.
16. BILL SHERDEL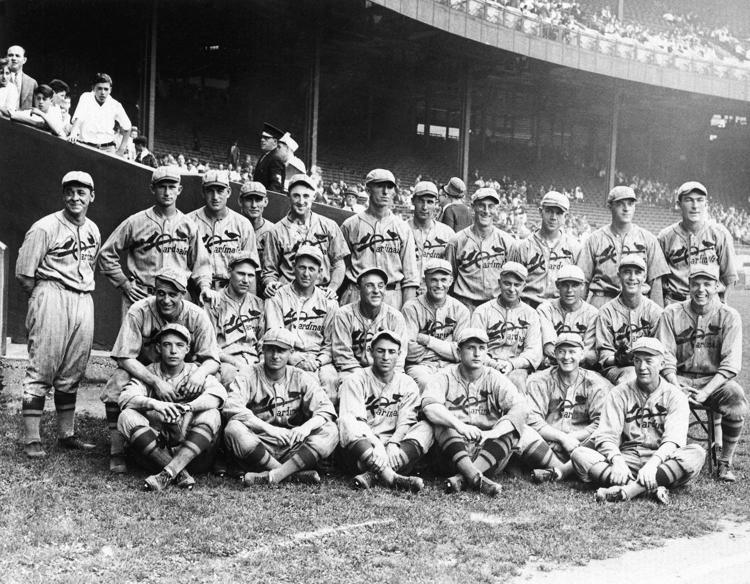 STL SEASONS: 1918-1930; 1932
CREDENTIALS: Lefthander was 153-131 for the Cardinals, winning 16 for the 1926 World Series champions and 21 for the '28 NL pennant-winners.
15. BILL DOAK
STL SEASONS: 1913-1924; 1929
CREDENTIALS: "Spittin' Bill" won 140 games for the Cardinals between 1914-23 and many of those teams were not very good. He had the NL's lowest ERA twice, including a 1.72 mark in '14.
14. STEVE CARLTON
STL SEASONS: 1965-1971
CREDENTIALS: Had five consecutive seasons of 10 or more wins for Cardinals, capped by 20 in 1971. And then he was gone. Owner Gussie Busch traded the future Hall of Famer to the Phillies after a salary dispute over $5,000.
ALL-TIME CARDS STAFF ... STARTING WITH NO. 13: HOWIE POLLET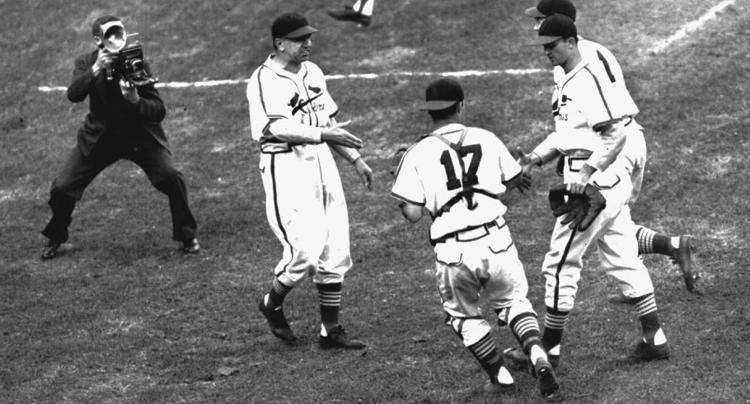 Since teams often have 13 pitchers on their staffs now, here is a version of the Cardinals' all-time staff, beginning with Howie Pollet, who ranked No. 13 in our top 50:
STL SEASONS: 1941-43; 1946-51
CREDENTIALS: Lefty had his career interrupted by World War II but returned to win 20 games for the 1946 World Series champs and 21 in 1949. Pollet Led National League in ERA in 1943 (1.75) and in 1946 (2.10). Little-known fact: He was pitching coach for Cardinals' 1964 World Series champions.
12. BOB FORSCH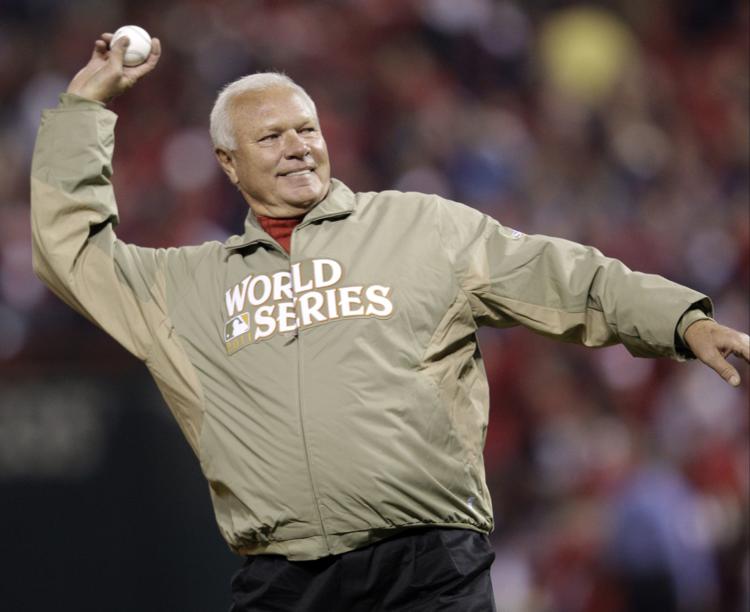 STL SEASONS: 1974-88
CREDENTIALS: Ten seasons of 10 or more wins for the Cardinals, including 20 victories in 1977. "Forschie" had two no-hitters and posted 168 victories, third on the Cardinals' career list. He turned the momentum toward the Cardinals in the 1987 NLCS by drilling "One Flap Down" Jeffrey Leonard with a pitch.
11. BRUCE SUTTER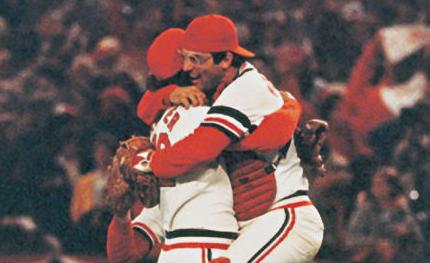 STL SEASONS: 1981-84
CREDENTIALS: Split-fingered practitioner threw a rare high fastball past Milwaukee's Gorman Thomas to end the 1982 World Series. His next biggest pitch of that season was getting Phillies' Mike Schmidt to hit into a 1-2-3 double play with the bases loaded in a pivotal pennant-race game.
10. HARRY BRECHEEN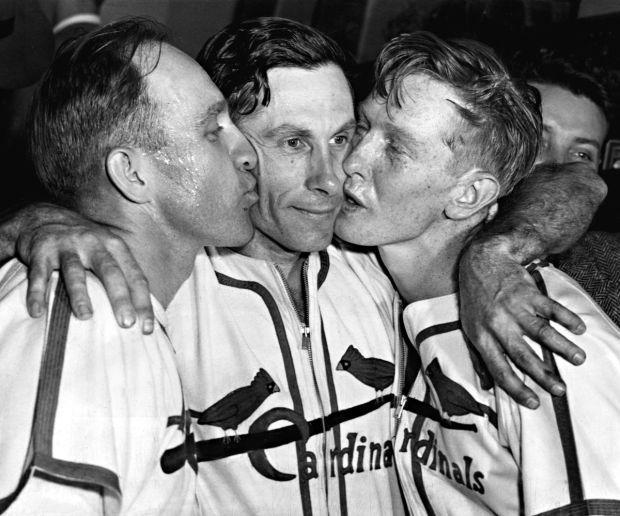 STL SEASONS: 1940; 1943-52
CREDENTIALS: Little lefthander known as "The Cat" had a 128-79 mark for the Cardinals, highlighted by a 20-win season in 1948. His modest 15-15 record in 1946 can be overlooked because he won three games in the World Series — including Game 6 as a starter and Game 7 as a reliever — with an 0.45 ERA.
9. JOAQUIN ANDUJAR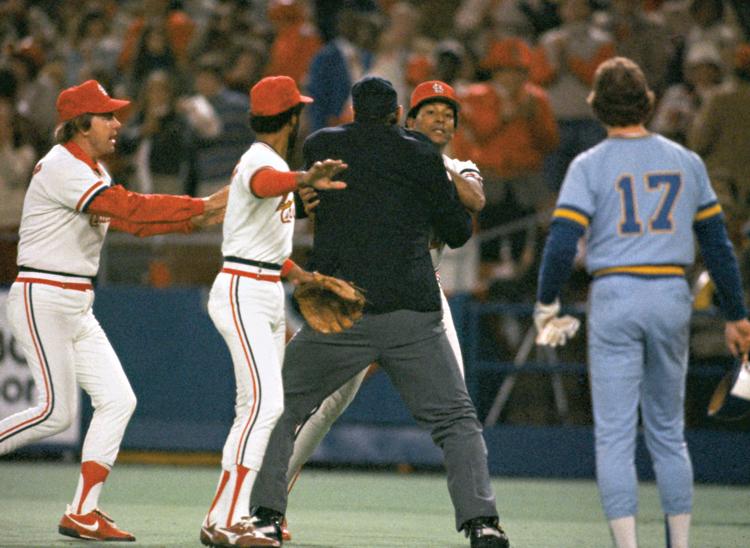 STL SEASONS: 1981-85
CREDENTIALS: The last Cardinal to win 20 games in successive seasons was "One Tough Dominican" in 1984-85. He was 3-0 in the 1982 postseason as the Cardinals won the World Series. And, if he were still alive, he would remind you of the grand slam he hit in 1984.
8. LEE SMITH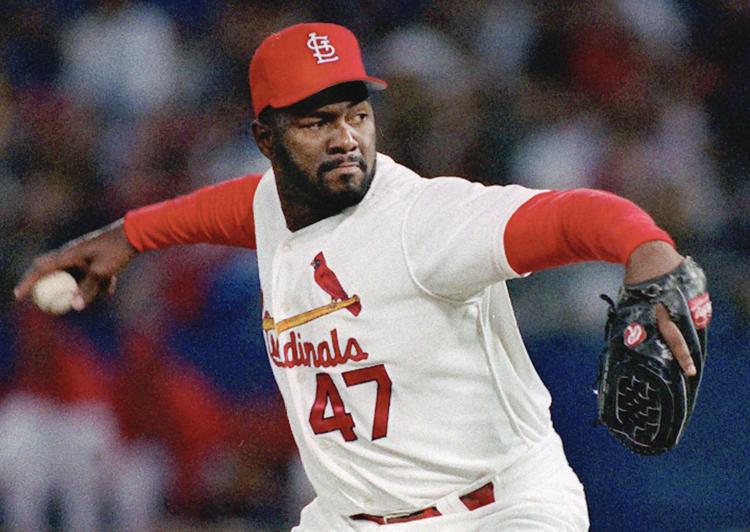 STL SEASONS: 1990-93
CREDENTIALS: Hall of Fame-bound reliever is the only Cardinal to post three consecutive 40-save seasons (1991-93). He's also probably the only Cardinal never to have gray pants in spring training — he did not make any Grapefruit League trips. When asked why he didn't at least jog in from the bullpen when he was summoned to the mound, Smith responded, "Ever see anybody run in to face Mike Schmidt?"
7. MORT COOPER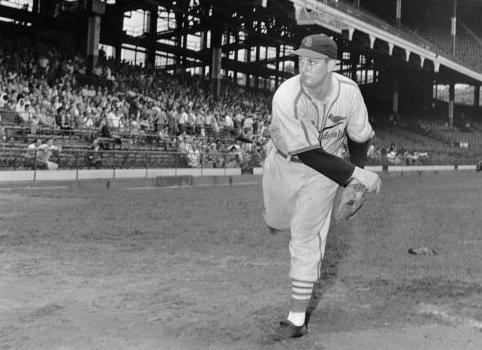 STL SEASONS: 1938-45
CREDENTIALS: A big pitcher for his day, the 6-2, 210-pounder was the last Cardinal to win 20 or more games three years in a row, from 1942-44. Cooper recorded a 22-7 mark with a 1.78 ERA and 10 shutouts in the World Series championship year of 1942, when he was the National League MVP. A bitter contract dispute after the 1944 season led to Cooper being traded early in the 1945 season. He finished 105-50 for his Cardinals career.
6. JASON ISRINGHAUSEN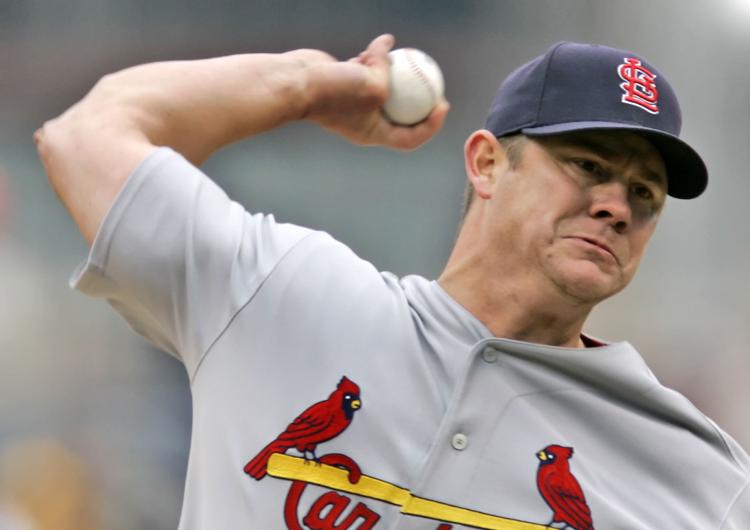 STL SEASONS: 2002-08
CREDENTIALS: "Izzy" is the Cardinals' record-holder at 217 saves, with six seasons of 30 or more saves, including a league-leading 47 in 2004. The Piasa Southwestern High product had 2.98 ERA in St. Louis and also had eight postseason saves, which might have been more if he hadn't been hurt at the end of the 2006 season.
5. CHRIS CARPENTER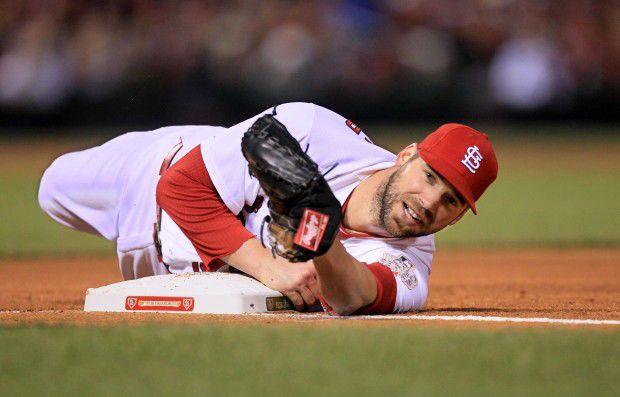 STL SEASONS: 2004-12
CREDENTIALS: If you thought he was good in the regular season, which he was (95-44, .683 win percentage) for the Cardinals, consider that he was 10-4 in 18 postseason starts, featuring a 3-0 mark in two World Series. One wonders what would have happened if he could have back virtually four seasons he was out with injuries.
4. ADAM WAINWRIGHT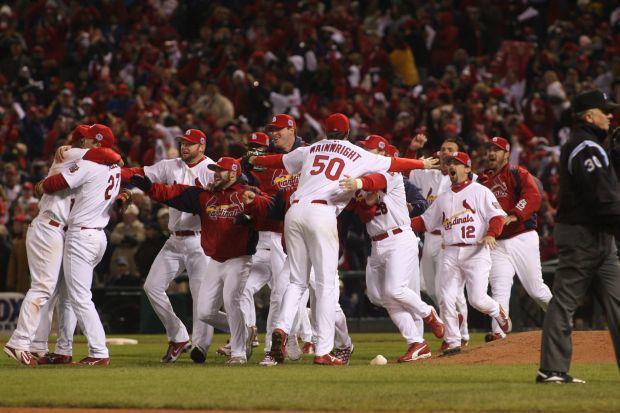 STL SEASONS: 2005-current
CREDENTIALS: "Waino" had a remarkable run between 2009-14 (he missed 2011 with elbow injury), winning 20 games twice and also 19 games two times, with the 19-win years including his leading the National League in innings pitched. As a reliever in the 2006 postseason, he recorded four saves. Three of those came as the last outs in the divisional round, the NLCS and the World Series.
3. JESSE 'POP' HAINES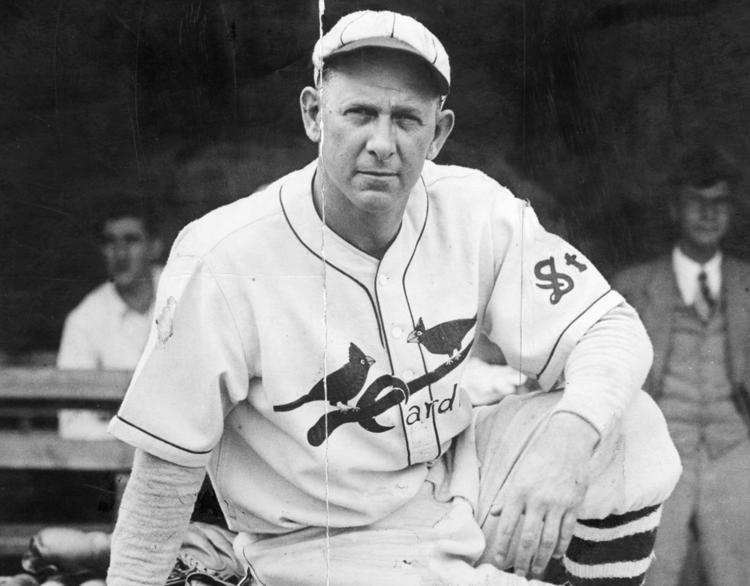 STL SEASONS: 1920-37
CREDENTIALS: His 210 wins for the Cardinals rank second on the all-time list. Haines had 10 seasons of double-figure wins, three of them 20-victory seasons, and he pitched in four World Series — 1926, 1928, 1930 and 1934, when he was 41 years old. Haines' no-hitter in St. Louis against Boston in 1924 was the last previous Cardinals' no-hitter in St. Louis before Bob Forsch authored one in 1978. He pitched his first game as a Cincinnati Red in 1918. The next 554 came with the Cardinals.
2. DIZZY DEAN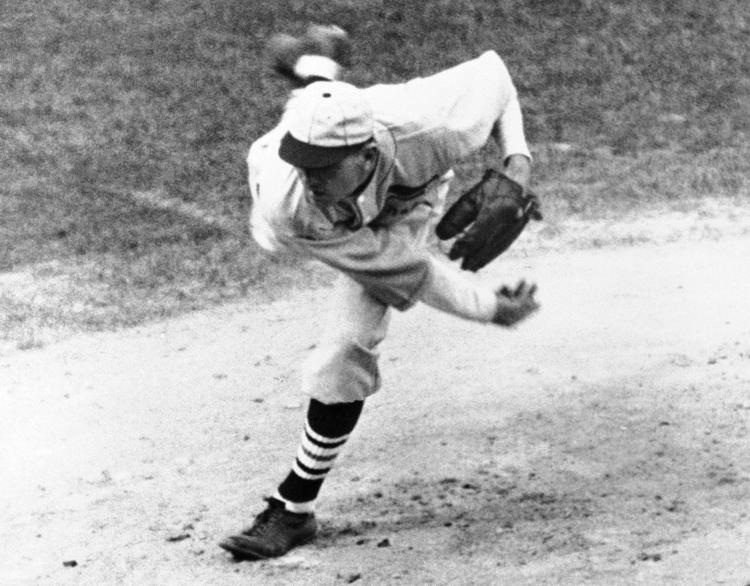 STL SEASONS: 1930; 1932-37
CREDENTIALS: Had a line drive by Earl Averill in the 1937 All-Star Game not fractured his big toe ("Fractured, hell. The damn thing's broken," Dean was quoted as saying), Jay Hanna "Dizzy" Dean might have had another five years like his five between 1932-36. He won 120 games in that span, including 30 in 1934 when he was the last National League pitcher to win that many. He hurt his arm trying to favor the foot and was never the same.
At the end of the 1947 season, he briefly came out of the broadcast booth to pitch four scoreless innings at age 37 for the St. Louis Browns, whose staff he had criticized on the air. But he suffered a hamstring pull running the bases after a single, and afterward said he was thankful the pulled muscle he suffered wasn't in his mouth.
1. BOB GIBSON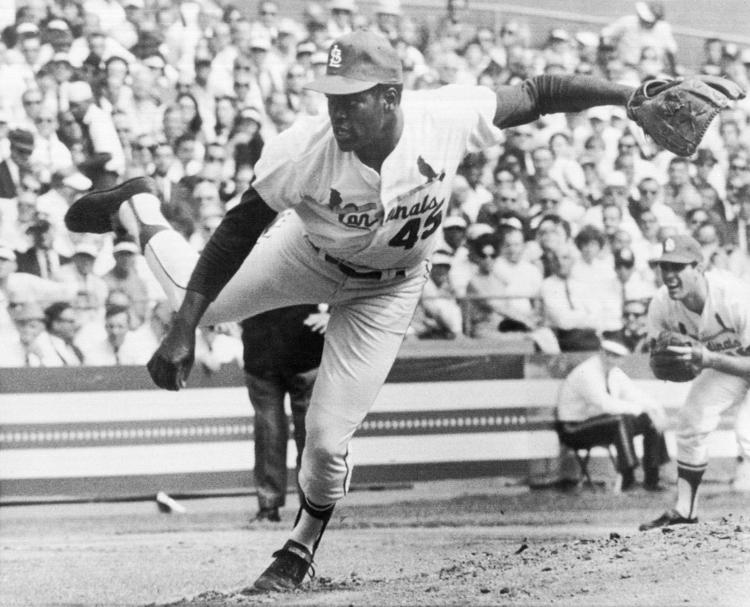 STL SEASONS: 1959-75
CREDENTIALS: So many accomplishments but, excluding the record-shattering 1.12 ERA 50 years ago, the most stunning might have been Gibby's complete-game total. Not only did he have 251 wins, but he had 255 complete games. Gibson produced 14 double-figure win seasons.
His World Series mark was exemplary. In nine starts, three each in 1964, 1967 and 1968, he pitched 81 innings, winning seven of nine games. In one of those games, his first one in 1964, he worked eight innings. In one he worked 10 innings. In the other seven, he pitched nine-inning complete games.