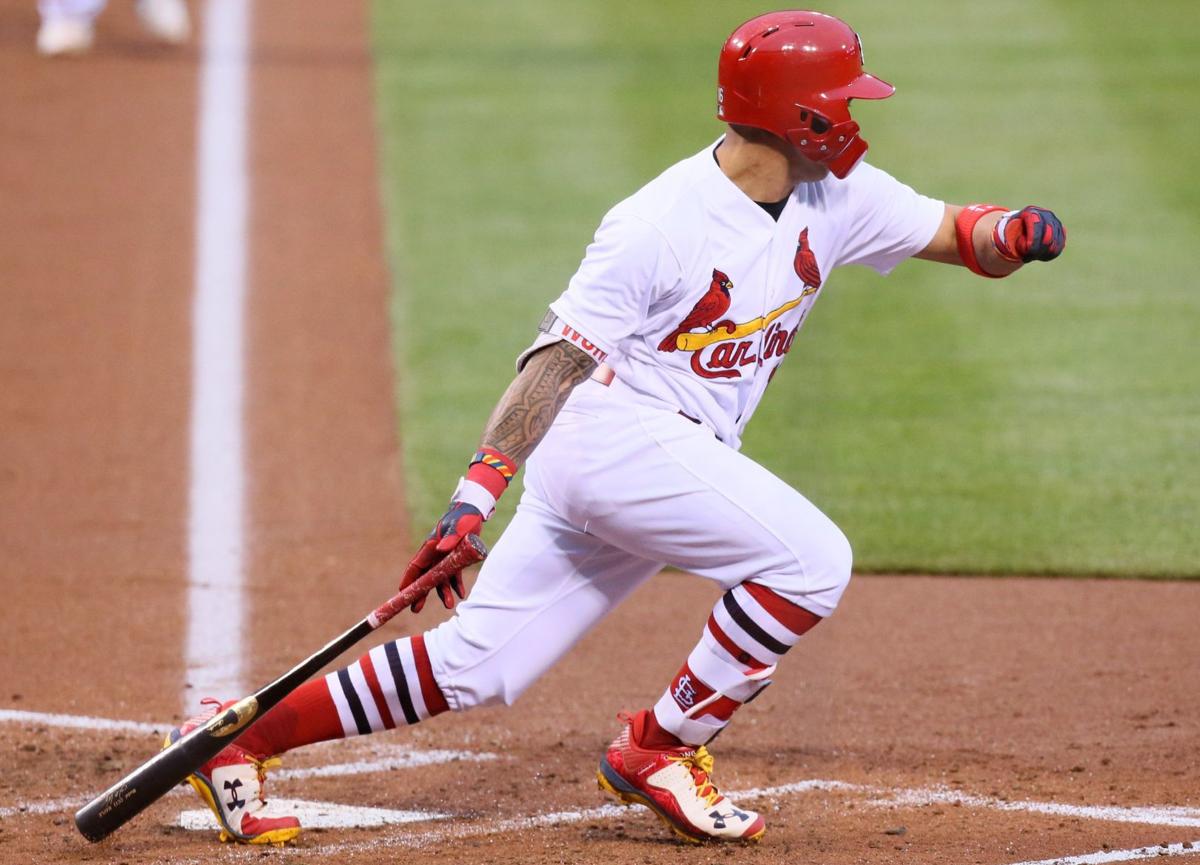 Gripping two large rubber bands and carrying a purpose, the man they call "Buddha" around the Cardinals' batting cages had an idea how to stop Kolten Wong from sabotaging his swing.
The second baseman's leg kick would sometimes drift toward the plate, prohibiting his swing from reaching inside pitches and making him lunge instead of lash. So late this past spring, Mark Budaska, Class AAA Memphis' hitting coach and a bio-mechanic who helped tune many of the big-league club's current hitters, stepped into the cage with Wong. He tied the rubber bands together and lassoed one around the infielder's waist. Every time Wong started to drift in, Budaska would pull him back.
"If you can fix your problem right there," the coach said, "you'll be golden."
That is why Wong lays a bat at his feet when he works in the cage.
It helps keep his step straight, on a line.
He can still feel Buddha's tug.
"Without Buddha, a lot of us wouldn't be in the situation we're in," Wong said. "He's one of those guys you can talk to and throw ideas at and he'll try to figure out something that helps make it work."
"I love it," Budaska said. "It's in my blood."
The 64-year-old coach spends his winters a 2-minute walk away from a beach in Wailea, Hawaii, and his summers much closer to a batting cage. When he talks about hitting and what he looks for in young players, he is equal parts island Zen and computer RAM. He refers to the batters as "my young brotha," and insists each "needs to have a processor from Qualcomm (for) the speed of the game at the next level up." Budaska is influenced by a job he once had in the biomechanical analysis field, and he stresses the importance of "balance," "rhythm," and "timing," my man.
Now in his 10th season with the Cardinals' Triple-A affiliate, Budaska has worked with eight of the 12 hitters on the big-league roster; nine of 13 including DL'd Stephen Piscotty. When a batter was sent down to Triple-A in a recent season, it was referred as a "reboot from Buddha." The parade of notable righthanded hitters he's upgraded and prepped for the majors includes Allen Craig, David Freese, Randal Grichuk, Piscotty, and recently Jose Martinez. This season his "young brothas" already lead the Pacific Coast League in homers and are second in doubles. They include some of the team's leading prospects with damage potential from the right side, any of whom will be leaned on this season for a boost in the majors: Paul DeJong, Harrison Bader, Patrick Wisdom, and Tommy Pham, who was promoted Friday. They'll soon have stories that fit a familiar theme, even without the rubber band.
"He flat-out loves hitting and he flat-out knows hitting," said Freese this past week as he recovered from a leg injury that has him on Pittsburgh's DL. "I remember once being as frustrated as hell there. How do I hit the sinker? That's not a pitch you see in Class AA and I didn't know. So I went and asked him, 'How do I hit that sinker in?'"
"Don't swing at it," the coach said.
"It's everything you do before you swing," Buddha said this past week when reminded of Freese's question. "It's not your swing, it's what you swing at. If you don't have balance, you don't rhythm. If you don't have rhythm, you're not going to be on time, and if you're not on time you don't have (road apples). It's not rocket science."
But science is where he starts.
from the ground up
In the August 22, 1977 edition of Sports Illustrated, 26 pages after a story titled "Make Way for the Sultan of Swipes" about Lou Brock's run at Ty Cobb's stolen base total, writer Kenny Moore introduced Gideon Ariel and "his magic machine." Ariel, a shot put and discus Olympian for Israel, had programmed a computer to digest photos of athletes in the process of competing and analyze the effectiveness of their mechanics, their biomechanics.
Ariel was taking "the great raw minds of computers and bringing them to bear on movement," Moore wrote. "Sport can never be the same."
Budaska certainly wasn't.
A California kid at a California college, Budaska studied kinesiology before baseball came calling with a free-agent offer from Oakland. He spent the next 10 years in pro ball, reaching the majors in 1978 and again in 1981 for a total of 13 games and 41 plate appearances. He went on to coach in five countries on three continents, but before that he met Dr. Ariel. Budaska worked for Ariel Dynamics, and through his work with the products learned about biomechanical analysis and how it could be applied to hitting.
Asked what the first thing he does with a new student, Budaska said: "Biomechanics, from the ground up."
"He doesn't have that one mechanical thing that he tries to get every player to do," Grichuk said. "He thinks more in terms of understanding the body. He's been doing it a long time and he's seen a lot of good hitters. It's how do you get in that spot that works for you, that good place to hit, and what that does to your body. Hips firing. Hands there. Arms working. He's got a good understanding of the rhythm and the sequential flow of a swing – what can you be in position to hit. Relaxed and loose and on time. Stiff muscles don't fire."
After six years in Boston's organization, Budaska joined the Redbirds in 2008. Freese arrived the same season, having never played higher than High-A. Freese had a double-tap with his front foot back then, had trouble with well-located, off-speed stuff, and with Budaska's help got rid of both. Freese heard about balance and maintaining it so he could go from "100 mph to 90 mph" and still "keep my power available to drive the ball." Like he did effectively one October night three years later.
To illustrate what he stresses, Budaska will share video of similar hitters. He starts with a body type as much as a swing or approach type. For Piscotty, he's had him look at video of similarly tall upright hitters like Manny Machado and Alex Rodriguez, and also Freese. ("He loves Freese's swing," Piscotty said.)Craig reached Memphis in 2009 and watched Freese clips; years later the Cardinals traded Freese to get Grichuk, and Budaska had him study Craig's swing in Memphis. Budaska had long eyed Martinez's swing, from when their paths crossed in Venezuela's winter league to the Pacific Coast League and when Martinez got to Memphis last season, Budaska greeted him with a question.
He'd won a Class AAA batting title and wasn't in the majors. Why?
"Better do something different," Martinez said later.
They started working on his power.
Already this season, Budaska has thrown questions at the new prospects. Bader, one of the Cardinals' leading outfield prospects, was late to the sliders, and Budaska asked, "If you saw yourself swing at sliders like that would you throw yourself a fastball?"
Bader widened his stance to, like Freese, keep his power.
"One of the big ideas we hear is balance, being balanced," said DeJong, who has slugged .532 with an .845 OPS this season. "And he means even being balanced with the pitches you take. For example, an off-speed pitch – if you take it in a balanced position and not lurch at it the catcher will take note, the pitcher will see that. And you don't even swing."
balance is the key
Returning from a coaching gig in Asia, Budaska visited a friend on a stopover on the way home to Santa Barbara, Calif. That was the first time he saw Maui, and soon after he called it home. For the past 15 years, Budaska has spent his offseason on the south side of the island, where he has the beach in view, a mountain to his left, one or two pairs of socks packed, and a real estate license.
Hitting is about the only reason to leave Hawaii.
Never married, Budaska says the pupils he hears from are "like my sons."
A manner like his and feel for mechanics are "essential" to the Cardinals' emphasis on development, hitting coach John Mabry said. "You're trying to gain people's trust. It's also a good (level) because you can let guys breathe when they need to breathe, work when they need to work. Some guys need a pat, some need a pop. He puts together a good plan to get them here or get them back here."
Like many hitting coaches, Budaska stands behind the shelling during batting practice and uses the netting as a grid. He watches for, of course, balance. He doesn't want to see the head stray three or four squares, because an eight- or nine-square bob is no to track a pitch.
Wong's was sliding more than three as he lunged.
That step toward the pitch was costing him balance.
So, out came the rubber band.
"I teach loads," Budaska said. "It's not swings. If you're balanced, you have a good swing. If you're not balanced, I don't care how strong you are or what your bat speed is, you don't have a swing. Let's build a load and let the athleticism take them up from there."