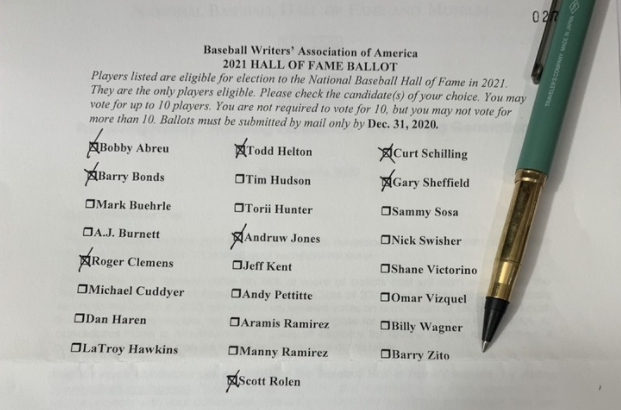 Comment: At the beginning of the chat, Derrick Goold released his Hall of Fame ballot, on which he checked eight boxes of the 25 nominees. Goold voted for (alphabetically): Bobby Abreau, Barry Bonds, Roger Clemens, Todd Helton, Andruw Jones, Scott Rolen, Curt Schilling, and Gary Sheffield.
Q: Would you vote for Pete Rose if he was on the ballot? Would be great to see him get in while he is alive.
A: I have consistently said that if the Hall put transgressions on the plaque and I had a chance, then I would vote for Rose. It should be part of his career that he was banned from baseball, and the same goes for Shoeless Joe Jackson. They belong in the Hall of Fame. Their transgressions belong on the plaque, too.
Q: I disagree with your vote for Barry Bonds and Roger Clemens, no matter what is on their plaques. There has to be a penalty for those who cheat. The integrity of the game is at stake. It is also a disservice to the great players who played it straight — Hank Aaron, Babe Ruth, Albert Pujols and Willie Mays, to name a few.
A: I understand your point. This is the second year that I have voted for Clemens and Bonds, having previously not had room on my ballot for them because I've used the sportsmanship clause and their attributed, reported links to performance-enhancing drugs to cut them from my final 10. With room on the ballot, I have to remain consistent to the standards set and hope that history treats their careers accordingly.
I don't think giving Bonds and Clemens a spot in the Hall detracts from the other Hall of Famers anymore than having Ty Cobb detracts from having the gentlemanly Stan Musial in there.
We have to be careful when we start assuming there are only saints in the Hall of Fame. There's no list of proven PED users, and it's likely there's already one in there.