CHICAGO • Upon his return home Sunday night, Chicago kid Luke Gregerson had a chance to see some cousins and have dinner with one of his sisters, but he couldn't stay at his offseason home because he's rented it out to one of the Cubs' coaches. So, he had to relocate.
The same is true of the bullpen he rejoins.
A lot of it is familiar, but his role has relocated.
"I just want to pitch," Gregerson said. "I'm not really concerned about where that is in the grand scheme of things. Whenever I'm needed to help this team wherever to win some ballgames, that's where I'll be."
For the first time since signing a two-year deal with the Cardinals, Gregerson was available and in the bullpen Tuesday night. He missed the first 16 games of the season recovering from a hamstring strain sustained in the final days of spring training. The Cardinals advertised him as the likely closer to start the season, but during his absence they've added All-Star closer Greg Holland and had Bud Norris man the ninth while Holland preps.
It's a different setup from the one Gregerson spent the spring expecting, but it fits the ad hoc approach the Cardinals have taken for the bullpen. And he slides into the late-inning handful that manager Mike Matheny has used while Holland eases toward late innings.
"What's the best fit?" Matheny said. "We know (Gregerson) is a guy who had a lot of success in the back end of the pen, can fill a lot of different roles for us, and we still have roles. Still trying to get Greg Holland to that point where we know that's the guy we hand the ball to. And we're getting closer to being there. All across the board we're getting more options to help get the ball to whoever is going to finish it off in the ninth."
One of the shared appeals for the Cardinals and Gregerson was familiarity. The righthander had come up through the Cardinals' system before being traded, as a player to be named later, to San Diego. Gregerson, 33, wanted to get as close to home in Chicago as possible and saw the appeal of the National League Central — and a chance, with the Cardinals, to close.
He referred to his spring training as "not the best" and "just weird," because as soon as he started throwing he injured a muscle in his right side, and then as he returned from that he yanked his hamstring running a spring drill. The pain passed, but he was limited when it came to fielding his position. He spent the past three weeks in Jupiter, Fla., pitching for Class A Palm Beach and completing a rehab assignment that put him ahead of Holland's readiness.
Gregerson and infielder Jedd Gyorko (hamstring) joined the team in Chicago on Sunday night and were added to the active roster Monday.
Matheny sees Gregerson as part of the setup mix, a righthanded complement for Tyler Lyons, though neither is likely to be deployed as specialists. When Holland starts getting the ninth, Gregerson, Bud Norris, and Dominic Leone will be the righthanded setup men, freeing rookie Jordan Hicks for targeted usage against the middle of the lineup. With 66 career saves, Gregerson has the second-most in a bullpen that started spring without a closer and yet, by the time he arrives, has as many as six options for the ninth, three with seasoning.
"I've said this a few times in the past: When you have a number of guys down in the bullpen who can close at any given point it adds a lot of advantage to your team to be able to know that you can go out there and close a game in the sixth inning, instead of just the ninth," Gregerson said. "If you have a lot of weapons to combat a lot of really good hitters you're just making the team that much better, if you ask me."
CHANGING STARTERS, LOOKS
One of the driving reasons behind the Cardinals' revamping of the rotation had to do with a drawback of having all righthanded starters: they look alike.
Monday's freezeout at Wrigley Field allowed the Cardinals to rethink their starting schedule for the coming week and replace Michael Wacha on Wednesday with Luke Weaver. Wacha's had a difficult time at Wrigley in his career with a 1-4 record, a 5.98 ERA, and eight home runs allowed. The Cardinals believed that would be even tougher following Adam Wainwright.
Wainwright and Wacha have similar deliveries, and the idea is hitters can get comfortable seeing pitchers from the same arm slot, day after day.
Weaver has a lower sling to his pitches.
"Behind the plate, having a guy like a Ben McDonald and Cal Eldred — both high-slot righties — and whoever was on the backup day, it seemed like … there is something about picking up this window," Matheny said, raising his right arm as if showing a pitch. "That's one of the benefits of a lefty, but if not dropping somebody down. Luke's slot is completely different and his stuff is completely different. I think you're looking for what's that little edge, and I think that could be one."
Wacha will start Friday against Cincinnati with Miles Mikolas announced as the Saturday starter, as planned, and Carlos Martinez set to go Sunday.
MOLINA SCORES NAMING RIGHTS
The radio booth used this season by Bengie Molina for Spanish broadcasts of weekend home games will carry the name of his young brother's clothing line. The Cardinals announced Tuesday that an agreement had been reached with Yadier Molina's M4 fashion collection to rename the booth, "M4 Radio Booth." Signage for the line will appear at Busch Stadium, where the t-shirts and other items have been on sale.
EXTRA BASES


Before Tuesday's game the Cubs activated first baseman Anthony Rizzo from the disabled list. He had been recovering from a sore back, and in his first plate appearance he dutifully stood in front of a curveball and was hit by it. … Ben Zobrist was a late scratch from the lineup with back soreness. Ian Happ replaced him at leadoff and played center. … Low-A Peoria infielder Juan Yepez, 22, was named the Midwest League's player of the week. Perez, who was acquired last summer from Atlanta in exchange for Matt Adams, hit safely in his first eight starts of the season, and through the first nine games he led the league in average (.500), hits (15), total bases (25), and RBIs (11). He also had a .833 slugging percentage with a grand slam and a walk-off double as snow fell.
Scenes from the Cardinals' frosty win at Wrigley
Cardinals Cubs Baseball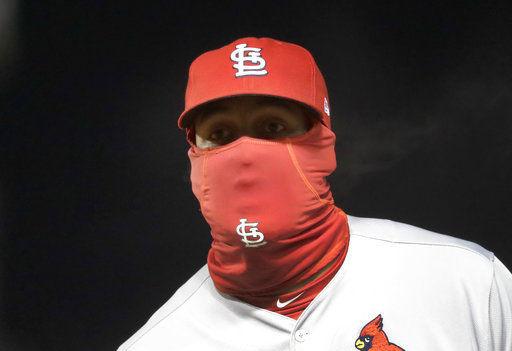 Cardinals Cubs Baseball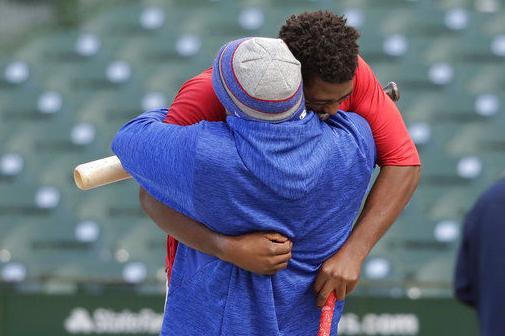 Cardinals Cubs Baseball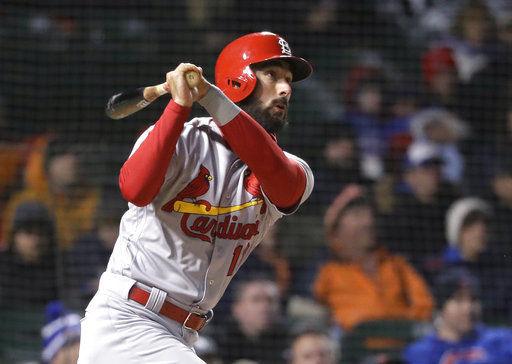 Cardinals Cubs Baseball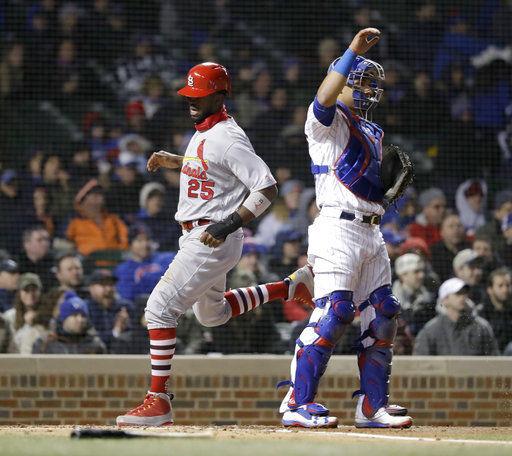 Cardinals Cubs Baseball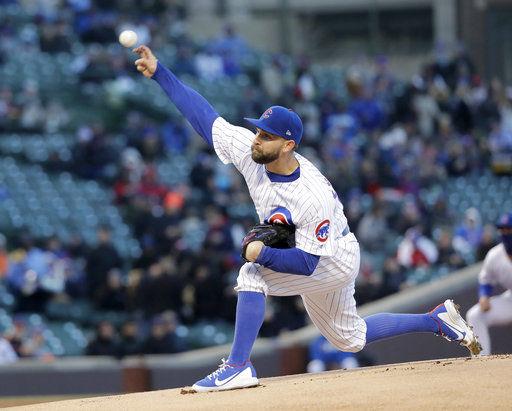 Cardinals Cubs Baseball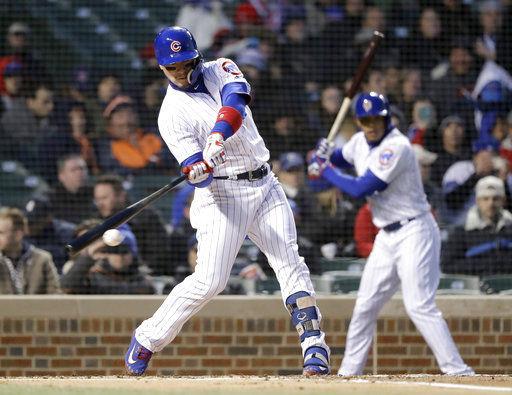 Cardinals Cubs Baseball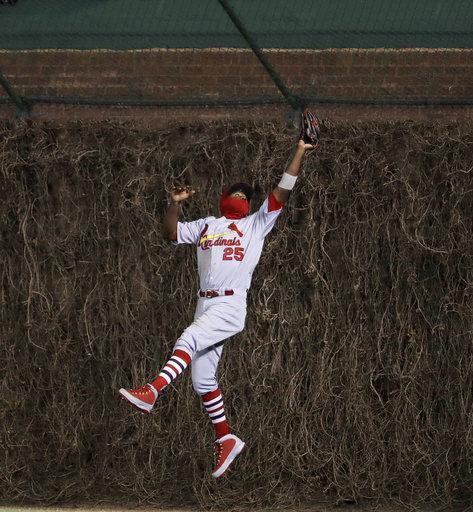 Cardinals Cubs Baseball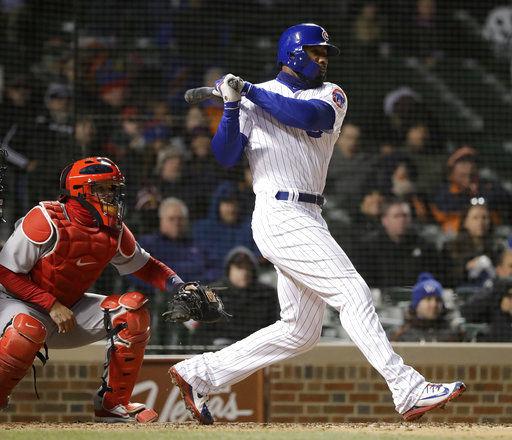 Cardinals Cubs Baseball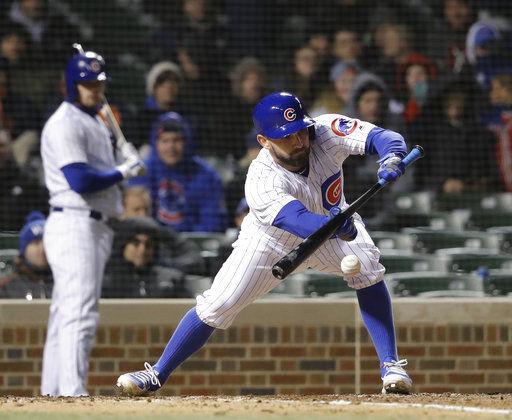 Cardinals Cubs Baseball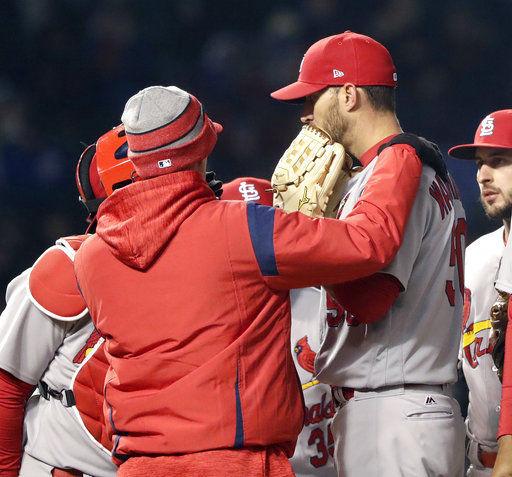 Cardinals Cubs Baseball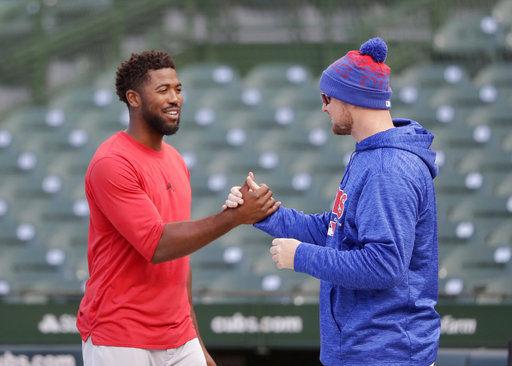 Cardinals Cubs Baseball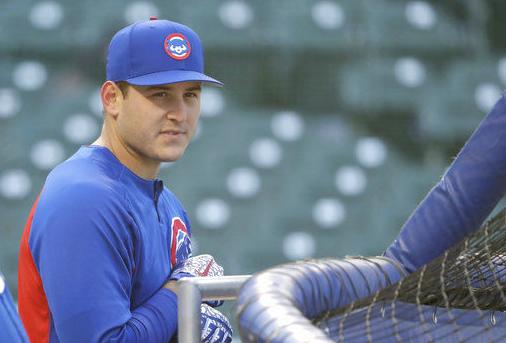 Cardinals Cubs Baseball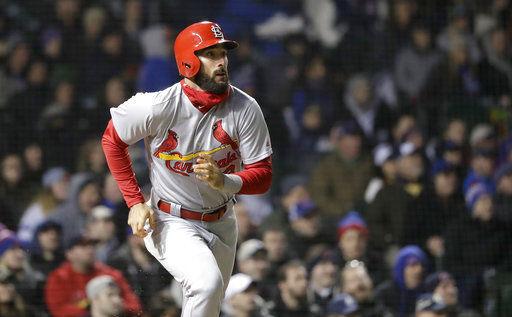 Cardinals Cubs Baseball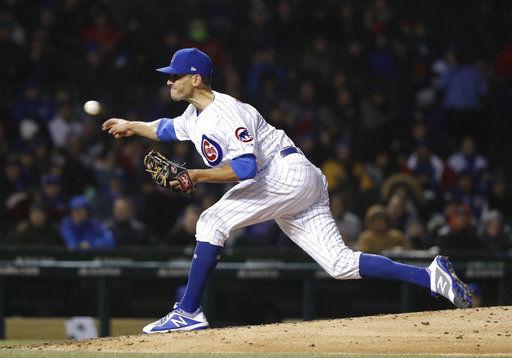 Cardinals Cubs Baseball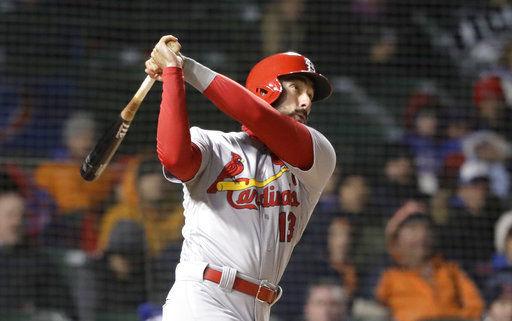 Cardinals Cubs Baseball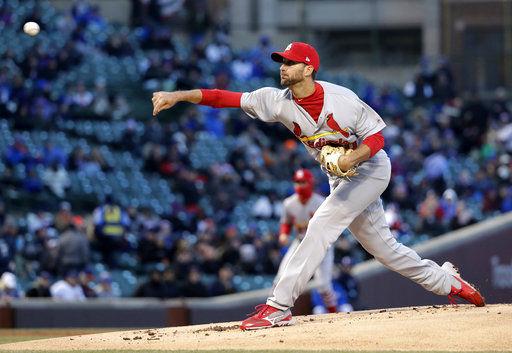 Cardinals Cubs Baseball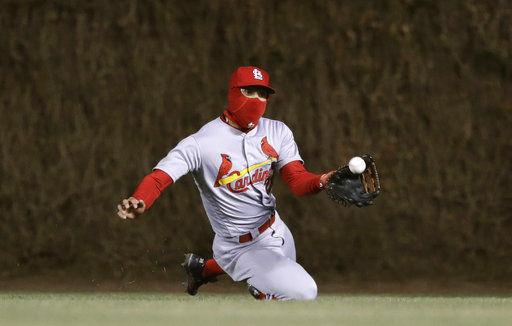 Cardinals Cubs Baseball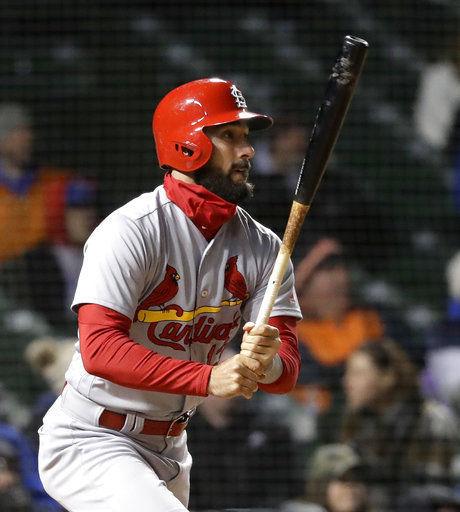 Cardinals Cubs Baseball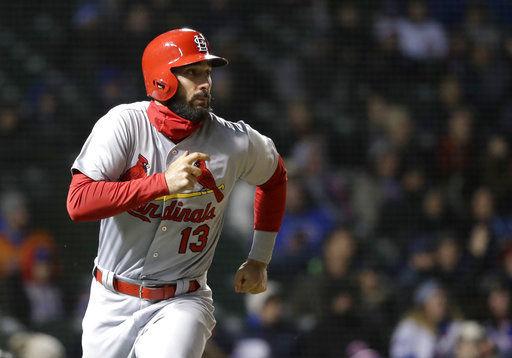 Cardinals Cubs Baseball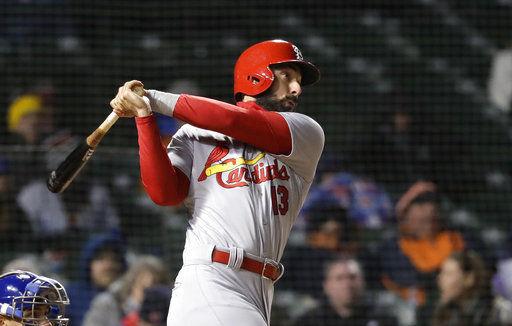 Cardinals Cubs Baseball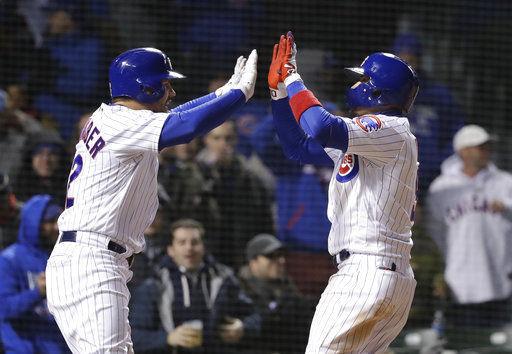 Cardinals Cubs Baseball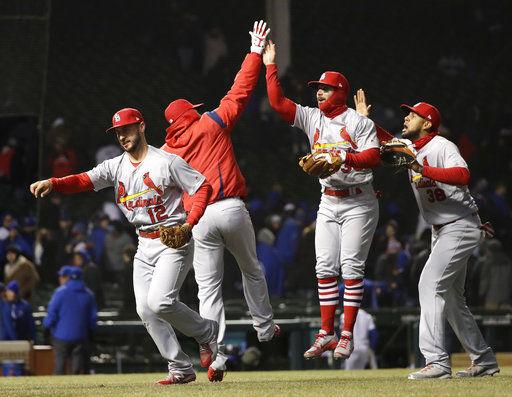 Cardinals Cubs Baseball