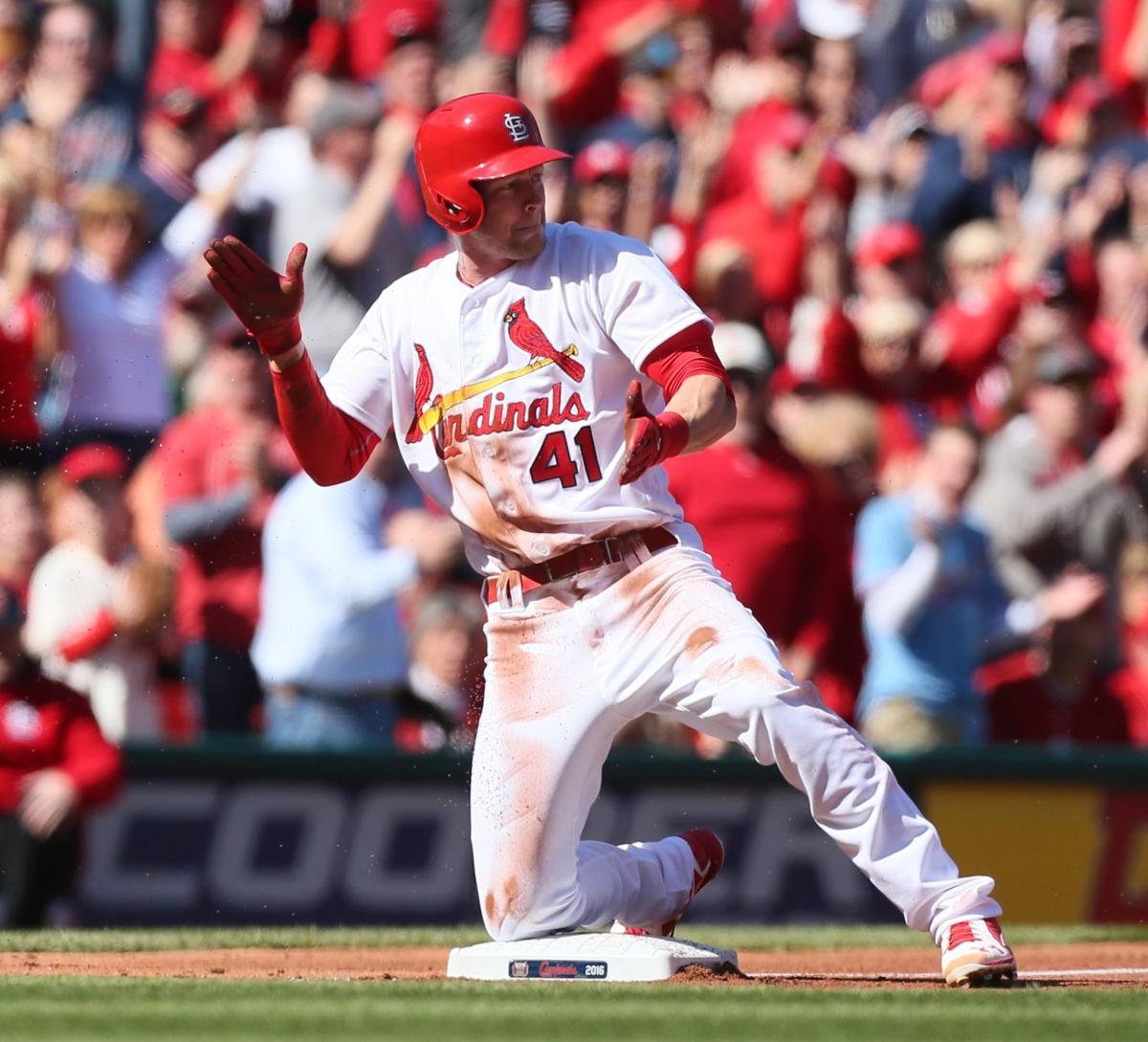 There is a tightly wound skill that rookie Jeremy Hazelbaker has honed through more than 700 games in the minors and has already served him well in the majors.
Moving from hotel to hotel and unsure if this night will be his last night before relocating all over again, Hazelbaker is still living out of the two pieces of luggage he filled 11 days and four cities ago. All those years in the minors have made him an exceptional packer, bundling his clothes so that he could travel light and travel immediately because the next call could be The Call. He said he learned to "pack as much as I can into a very small space."
The same could be said of his first week in the big leagues.
In his first afternoon ever in St. Louis — let alone his debut at Busch Stadium — Hazelbaker and a cast of newcomers propelled the Cardinals to one of their finest opening acts ever. To begin the 10th anniversary season of Busch III, the Cardinals lashed the Milwaukee Brewers 10-1 and set a home opener record with 19 hits. After being swept in Pittsburgh and doing the sweeping in Atlanta to start the season, the Cardinals saved their best for home and a crowd of 47,608, the second largest in stadium history.
Starter Michael Wacha struck out seven through six shutout innings. The defense, highlighted by Hazelbaker and fellow rookie Aledmys Diaz's diving plays, was tauter than it has been so far this year. Hazelbaker scored the first run of the game, had the last of the Cardinals' 10 extra-base hits, and finished four for four. And after his romp at the home field, he returned to his home-for-now hotel, and those bags.
"You unpack, but at the same time you're ready for anything," Hazelbaker said. "I definitely feel like I have to earn everything. That's how I go about my business. Every day you have something to prove, something to earn, and that's how I take it. I don't take anything for granted. I keep on pushing."
Left with a lot to prove after a dud opener in Pittsburgh, the Cardinals started an offensive surge this past weekend against the listless Braves. The gush continued Monday as the Cardinals (4-3) gained a winning record for the first time this season. At one point the Cardinals had more extra-base hits (eight) than outs (seven), they had 9-0 lead after three innings, and seven of the first eight position players had scored a run. And most of the damage came from a pair of rookies, or as Hazelbaker called Diaz and himself: "The lowest guys on the totem pole." During the civic holiday's annual parade of Clydesdales, Hall of Famers in their red blazers, and pickup trucks, manager Mike Matheny said he watched the looks on Hazelbaker and Diaz's rookie faces as they got their first experience with the Busch opener. He elected not to overwhelm them with a warning about the event, allowing them instead to just focus on the starts.
The Cardinals expected to rely on younger players this season, just not these guys, and not this much this soon.
"We've needed them, too, and we're going to need them to all year," Matheny said. He added after the game: "You could point out a bunch of the guys in that lineup that did some special things. You take two guys who have never played on this field before, in that kind of environment and have them produce like they did, it's something they will never forget."
Hazelbaker ignited the Cardinals' first-inning rally with a one-out triple into the left-field corner. He scored on Matt Holliday's RBI double, and Randal Grichuk would follow two batters later with another RBI double. Grichuk, in his first home opener as the team's starting center fielder, snapped a zero-for-13 skid and had two hits, four times on base, and two runs. Diaz opened the second inning with a double and then scored on Matt Carpenter's one-out triple. Hazelbaker lofted a sacrifice fly to score Carpenter and push the Cardinals ahead 5-0 before Brewers starter Taylor Jungmann had got a sixth out.
The Cardinals added three more runs in the third inning.
Diaz and Hazelbaker both had hits in that inning.
Wacha (1-0) rediscovered the lower reaches of the strike zone with his fastball, and as a result was able to access his offspeed pitches as well. He struck out the first batter he faced with a changeup, and the next six batters he struck out all took a called third strike. In the fifth inning, Wacha struck out the side – all three of the Brewers caught staring at a fastball. At one point he struck out five of six batters, all on the fastball, all spectating.
"You're working the corners and the bottom of the zone and because his release point is so high it looks different than other pitchers," Matheny said. "We've talked about how hitters were reacting and taking (the pitch) swearing that the ball was low. It's a deceptive look because he has such angle on the ball. It's hard to square up, and it's hard to swing at sometimes."
Wacha was helped by a diving catch in left field by Hazelbaker, just as Diaz helped rookie Matt Bowman escape the eighth inning with a nifty backhand play at shortstop.
The offense, however, took the opener early.
Diaz, 25, and Hazelbaker, 28, combined for seven of the Cardinals' 19 hits and four of the 10 extra-base hits. With four hits and a sacrifice fly in five plate appearances, Hazelbaker finished the game with a .526 average but continued what he's done since Matheny penciled him into the lineup. The high-motor outfielder has a six-game hitting streak that includes five extra-base hits and a team-best 20 total bases. He has proved adept at playing center field as well as thriving in the No. 2 spot behind Carpenter. General manager John Mozeliak described Hazelbaker as having "survival tools." His athletic tools and ability to drop a bunt when he doesn't drive the ball allows him many ways to contribute to a game, all, it appears, with a high RPM.
"I think that's probably because that's all we've seen," Matheny said. "I don't expect to see anything different. Basically our message to him is just keep doing what you're doing. Play the game the way you're playing it. That's the way he made this team out of spring, when obviously we didn't have any intentions of him being around here. He earned it. There was nothing given to this kid, and he's continued to earn it."
Less than 11 months ago, Hazelbaker received his release from the Dodgers and was thrust into baseball limbo. One team, the Cardinals, called to offer a job.
Like he's done before, he packed quickly.
He produced even quicker this spring.
The fleeting nature of his profession was obvious in his locker still Monday. On the end of each of his bats was the No. 91, his spring training number. He's yet to replace that with No. 41, his big league number. He intends to ship his truck in from Indiana, and in it will be new clothes. Reinforcements, if you will. Like he has been. He'll unpack them and feel that much closer to home. He certainly has started to settle in.
"I like watching him," Matheny said. "Good chance you're going to see him in there."