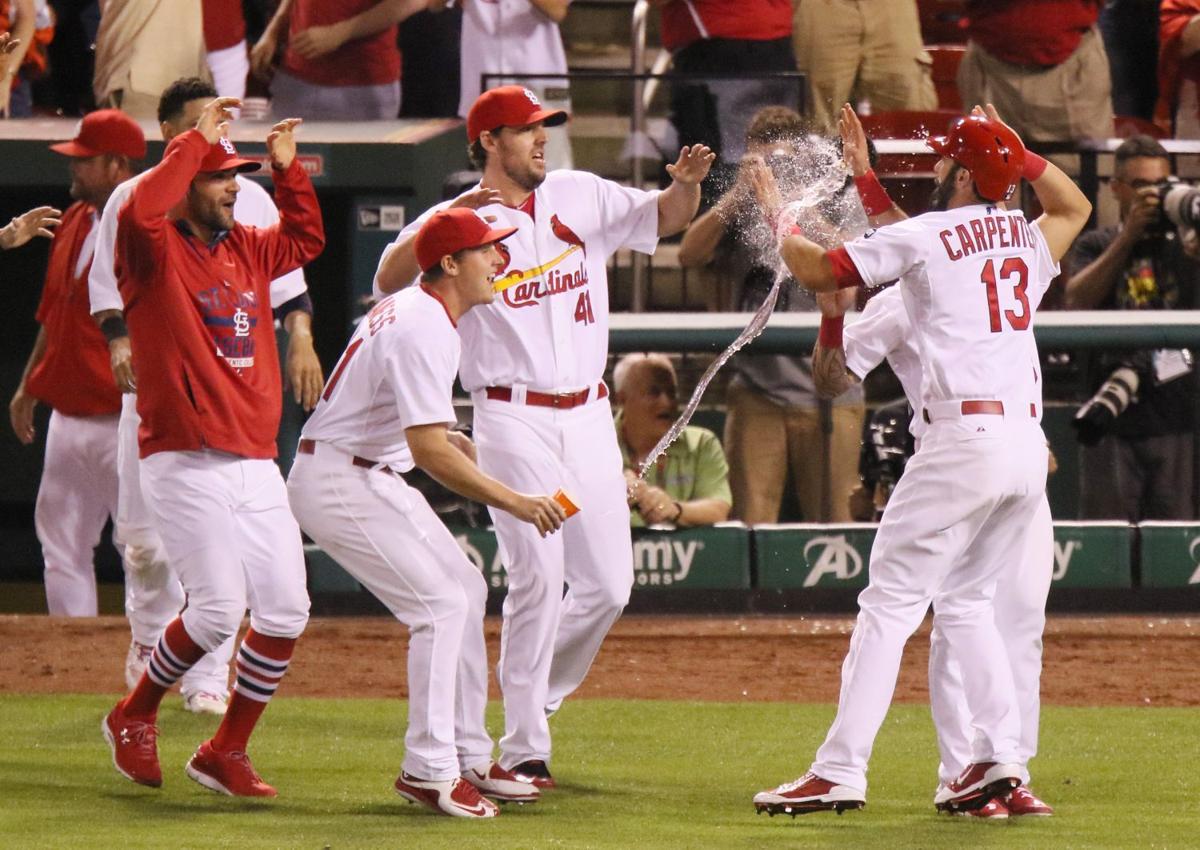 It wasn't exactly redemption that Jason Heyward was seeking when he hit a 423-foot, game-tying homer in the ninth inning Wednesday night before an Arizona throwing error later in the inning gave the Cardinals a 4-3 victory at Busch Stadium and a series sweep of the Arizona Diamondbacks.
But Heyward didn't deny his disappointment in making an error in the sixth inning that put the Diamondbacks ahead. "I hate not coming through for my pitchers," he said. "To be in a big spot and come up and tie the game is awesome. But you want to do that regardless of whether you messed up before or not."
The most arduous part of the Cardinals' schedule is over, even though four months of the season remain.
Saddled with 20 games in 20 days and 36 in 37, the Cardinals wrapped up that stretch in style Wednesday night as they won for the 18th time in 23 games at home.
After Heyward's homer off righthanded submariner Brad Ziegler tied the score, backup catcher Jordan Pacheco air-mailed a throw to first base on a sure, inning-ending double play as the sliding Peter Bourjos clipped his right foot. Bourjos was out but Matt Carpenter, who said he didn't exactly know what was happening, came home with the winning run.
"I said, 'Am I the winning run?''' said Carpenter.
The Cardinals went 23-13 in this five-week-plus span and extended their lead in the National League Central Division from one game to 5½ games. The rest of the season they have only one stretch in which they are scheduled to play for as many as 16 days in a row, and that comes in September when clubs can have expanded rosters.
Bourjos singled after Heyward's homer and got to second as Kolten Wong grounded out. Carpenter was walked intentionally and Matt Holliday, who earlier had reached base for a club record 43rd straight game from the start of the season, was walked unintentionally.
With the Diamondbacks deployed in a five-man infield, Jhonny Peralta bounced to third baseman Yasmany Tomas, who threw to home for a forceout. Pacheco, replacing injured Tuffy Gosewisch, then threw well over the head of first baseman Paul Goldschmidt after being slid into by Bourjos.
"It was a good slide," Pacheco said. "I tried to get out of there as quick as I could. (Bourjos) is a fast guy and that's what happens when you have speed on the bases. He got me and I couldn't hold up and I was already pretty much throwing."
Heyward lately has found himself hitting eighth in the Cardinals' lineup, as he was Wednesday. This isn't exactly what he signed on for when he was traded here from Atlanta.
"You know what?" he said. "I hit my first and only grand slam batting eighth in Wrigley Field. But nobody jumps to the bat rack and says, 'Put me eighth.'
"I'm happy to be in the lineup. But tonight the eighth-hole hitter contributed to winning the game. (Randal) Grichuk went deep last night from the eight hole.
"Wherever (manager Mike Matheny) has got us, we're going to be the best guy we can that night. You can't take it personally. ... Nobody's going to remember where you batted tonight. They're just going to say, 'You came through and tied the game for us.'''
Heyward had been nothing for 13 hitting in the ninth inning this season.
Matheny said, "You're going to have those things that don't go your way sometimes, but you stay the course and you never know what you might be able to do."
Until the ninth, the Cardinals had been dry offensively since the first two innings. Wong homered on the first pitch he saw in the first and Mark Reynolds singled in a run in the second.
The Cardinals failed to score in the fourth when they had runners at second and third and no outs and with the bases loaded and one out. They stranded two runners in the fifth.
Cardinals starter Lance Lynn, who labored through six innings with back tightness in his last start Friday in Kansas City, pitched creditably for six innings this time, although he was victimized by the outfield misplay by Heyward in the sixth when the score flipped.
Holliday set a Cardinals record with his fifth-inning single to right center, sending Wong to third. Holliday broke Albert Pujols' club mark of 42 set in 2008 for reaching base in every game from the start of the season.
No National Leaguer has a streak longer since at least 1914, and this earned Holliday rousing applause from his teammates in the dugout and a standing ovation from the Busch Stadium crowd. But it did not net the Cardinals a run.
Gosewisch had to leave the game in the sixth when he jammed his left knee as he stepped on the first-base bag, trying to avoid first baseman Reynolds' tag on a wide throw from Wong.
Later in the inning, Lynn walked Nick Ahmed and pinch hitter David Peralta dunked a hit into short right field ahead of Heyward. In the process of his charging the ball and then backing off, Heyward got too close and the ball hopped past him for an error, his second in two nights (and second in a year), and both Pennington and Ahmed scored as the Diamondbacks went ahead.
Heyward admitted he still was having trouble getting used to the Busch Stadium outfield.
"I try to catch everything and at times I find myself trying too hard to get there and then coming up too late versus pull up, catch the ball (on the bounce) and get the ball in," said Heyward.
"Whether it's in front of me or over my head, I hate seeing the ball hit the ground. It's a gift and a curse, at times. On that play, I should have pulled up sooner. A lefty hit it, it was hooking away from me with some topspin. I should have not been ... I won't say not as aggressive, but a little smarter.
"You're going to have to concede a run sometimes. Just keep it a tie ballgame and we'll win it. It's going to tick me off, but you've just got to keep going."
Heyward said what people might have thought they'd seen wasn't at all true. "I hated to look like I'm not trying," he said. "If there's anything I hate more in the world, it's for it to look like I'm not trying."
The Cardinals won a game trailing after eight innings for the first time since Aug. 13, 2013.
Holliday alone atop the National League
Matt Holliday's hit Wednesday extended his streak of reaching base safely to start the season. He now owns the National League record, and only five players since 1914 have bested Holliday's 43.
Source: baseball-reference.com
| Games | Player | Team | Year |
| --- | --- | --- | --- |
| 53 | Derek Jeter | Yankees | 1999 |
| 52 | Frank Thomas | White Sox | 1996 |
| 48 | Mark McGwire | Athletics | 1996 |
| 47 | Alvin Davis | Mariners | 1984 |
| 44 | Harry Heilmann | Tigers | 1923 |
| 43 | MATT HOLLIDAY | CARDS | 2015 |
| 42 | Albert Pujols | CARDS | 2008 |
| 42 | Tim Raines | Expos | 1986 |
| 41 | Toby Harrah | Rangers | 1985 |
| 41 | Ted Williams | Red Sox | 1946 |
| 41 | Luke Appling | White Sox | 1939 |
| 41 | Lou Gehrig | Yankees | 1934 |