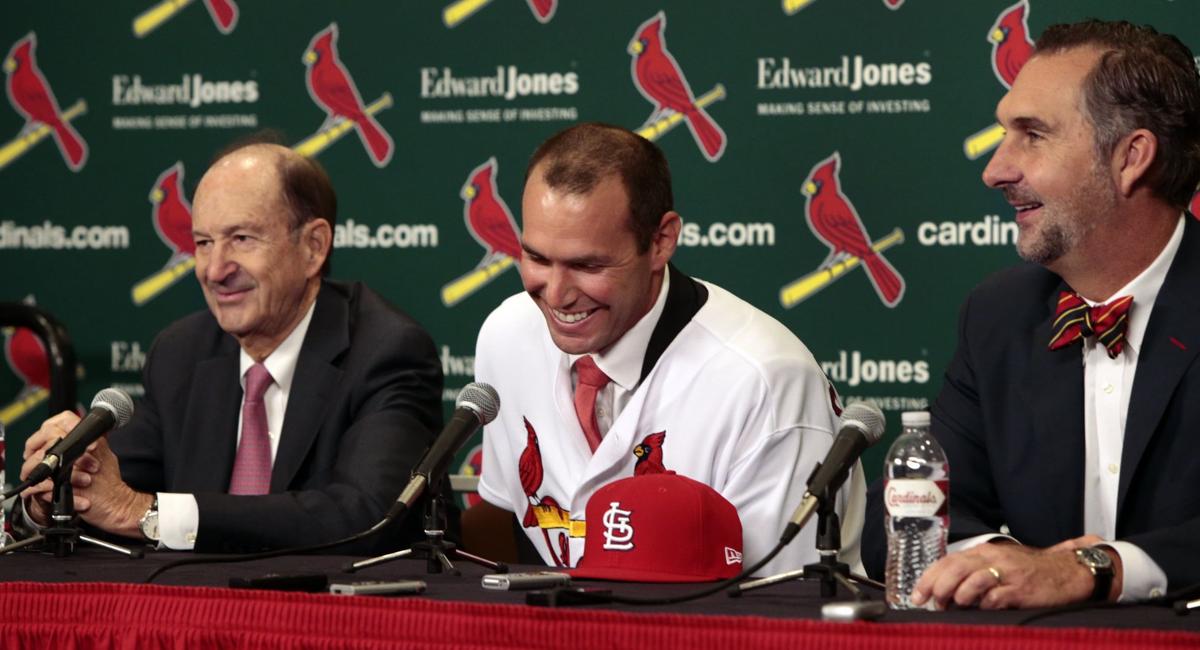 As the Cardinals hung Paul Goldschmidt's No. 46 jersey with care, aware of the clatter his four Silver Slugger awards and .532 slugging percentage will bring nestled in their lineup, visions swirled about the zeroes and commas it will take to keep him there. Those weren't the only numbers that mattered Friday at Busch Stadium.
One, spoken softly, stood out as an exclamation.
"Simply," said John Mozeliak, president of baseball operations, "we realize the importance of 2019."
The Cardinals' front office rolls into Las Vegas on Sunday for the start of this year's winter meetings already ahead. It acquired and introduced the middle-order hitter it's coveted — and revealed an uncharacteristic emphasis on the coming season, on betting big for immediate returns. Goldschmidt, 31, joins Marcell Ozuna, Miles Mikolas and a handful of other Cardinals who can be free agents 12 months from now. The Cardinals advertised Goldschmidt as the marquee acquisition of winter, but they also recognize the free-agent market still offers a Bellagio Buffet of opportunities, from the staples they need (elite lefty relief) to the splurges still available (MVP-caliber players).
The power Goldschmidt has to change their offense, the short-term guarantee of his presence and the talent still on the market have greeted the move with a familiar tune.
"What I'm thinking about today is 2019," Mozeliak said.
A year ago, at the winter meetings, he took umbrage with a reporter's question about the team's apparent short-term roster and insisted the Cardinals would always be governed by a long-range plan. What changed? He responded: "It wasn't working. Got to do something different. You're right, I've always been one for the bigger picture, the longer-term decision-making. But we're trying to win now."
At the meetings, which begin spinning Monday, the Cardinals will continue shopping for a lefthanded reliever/closer and a lefthanded-hitting utility infielder. No long winter's nap here. In order to fill their needs and get him more playing time, the Cardinals will also listen to offers for outfielder Jose Martinez. They want to see if they could acquire either the lefty reliever or infielder via trade.
The Cardinals have remained engaged in talks about lefties Zach Britton and Andrew Miller, and in either case the Cardinals could dangle the ninth inning as theirs for the taking. A source said the Cardinals have had talks with Daniel Descalso's agent about a possible reunion with the lefthanded-hitting utility fielder, and the Cardinals have not ruled out Derek Dietrich and his .775 OPS against righthanded pitchers as a possible fit.
Whether talking about Britton or Japanese lefty Yusei Kikuchi, who also intrigues the Cardinals, the front office will, like most teams, find a way into agent Scott Boras' orbit.
Securing Goldschmidt on the eve of the winter meetings allows the Cardinals to take a seat as a spectator for the main attractions — Manny Machado and Boras' "iconic" client and Vegas native Bryce Harper.
Goldschmidt's $15.5 million salary — the Cardinals are paying the $1 million bonus he got as a result of the trade — does allow them payroll space to chase brand-name relievers and/or wade into the deeper waters, where the whoppers swim. As general manager Michael Girsch said, they're not "limited in such a way that we can't look at free agent(s)."
They have shown a willingness to spend in recent years — offers of $190 million or greater rejected by Jason Heyward and David Price — and last year they had an agreement in place to take on more than $250 million of Giancarlo Stanton's contract via trade. He exercised veto power to strong-arm a trade to the Yankees.
Any fear or loathing from the Cardinals in this year's market has as much to do with years as annual cost. They have avoided the 10-year commitments that sweep players into their middle or late 30s. A five-year extension for Goldschmidt into his late 30s is more palatable because it's shorter. The Cardinals interest in Harper, according to a source, could hinge on if the length of contract he seeks shrinks from the reported 10 years in the coming days or weeks.
Either way, the Cardinals have positioned themselves to make a bid on Goldschmidt, Ozuna or a free agent that is greater than any contract they've signed since Matt Holliday's seven-year, $120 million deal in January 2009. With increasing revenue, payroll space and three years absent from the playoffs driving this 2019 urgency, that invites the question: If not now, when?
One miss on the free-agent market still resonates.
Four years ago, St. Louis-area native and Cy Young Award winner Max Scherzer hit the open market, and the Cardinals, leery of a long-term commitment to a righthanded power pitcher, "did not engage," sources said. Scherzer signed a seven-year, $210 million deal with Washington. The Mizzou All-American hasn't missed a start since, averaged 220 innings per season, and won two more Cy Young awards. The Cardinals now concede a big whiff.
"In retrospect, you'd have to say yes, because he's outperformed his contract," said Bill DeWitt III, team president. "I would admit that. How do you know who is going to miss and who is going to hit? Looking back, it's pretty easy with 20/20 hindsight. The free-agent pool usually has great players, but everybody wants them. So they're fully valued in the marketplace. It's sort of buyer beware in some cases."
The Cardinals have their share of those cases. Since Holliday's deal, the Cardinals have signed three free agents from outside for deals worth at least $30 million: Brett Cecil (four years, $30.5 million), Mike Leake (five years, $80 million) and Dexter Fowler (five years, $85 million). A $190.5 million investment has yielded a combined 0.9 WAR (less than a win). The Cardinals are paying Leake to pitch for Seattle, and the two others have uncertain roles in 2019.
The Cardinals' greater success has come from gambling on shorter deals and free-agent finds from outside the organization, like Mikolas, Kyle Lohse, Seunghwan Oh, Pat Neshek, Lance Berkman and Carlos Beltran. Berkman, Neshek, Beltran and Mikolas were All-Stars in the first year of their deals — and not one made more in a single season than Greg Holland did on his one-year, $14 million to serve a few days as closer before Bud Norris and his one-year deal took over.
It's middle market that's flummoxed them.
Certainty has a high price tag.
Certainty and youth — like Harper offers at age 26 — can command a record price tag.
"First of all, age is critical," DeWitt III said when asked what kind of player would prompt a $200 million or greater offer. "How old they are at the end of the contract is important, and you can project that somebody in their late 30s is going to be declining at that point. If they're in their mid-30s, you can cross your fingers and assume the best.
"Another aspect of these big ones is the player needs to check a lot of boxes," he continued. "Obviously, they need to be a great player. They need to have that age projection. They need to be super competitive. And they need to be somebody who fits the culture ideal for our club, appreciates the Cardinals and what they're all about. ... If you're putting that kind of money and that kind of commitment into a long period of time, that's an aspect you'd like the player to have."
That is an aspect the Cardinals have time to learn about Goldschmidt.
As talks with Arizona progressed during the past month, the Cardinals, as Girsch described, shifted the "weights" they internally place on long-term vs. short-term decisions. The team's stockade of young pitchers, shortstop Paul DeJong and center fielder Harrison Bader influenced this decision because the Cardinals believe that group will fuel future contenders. The Cardinals' prolonged absence from October and recognition it could take at least 95 wins to claim the NL Central added a thumb to the scales. Goldschmidt's availability and past runner-up finishes for headliners gave the Cardinals the final push.
Mozeliak referred to him as "a unicorn."
The ways the Cardinals are looking to improve, he added, are "more focused on how to get better now than worrying about 2020, 2021 and 2022." There is something else about 2019 beyond the pressure felt to get back into the postseason — 2019 has an end. If the Cardinals' lineup doesn't have the success expected, they can walk away from it and go in another direction. If it muscles them back to the top of the division, they pick and choose offers to cement it, and head into next winter's market looking to augment it. The possibility of third basemen Nolan Arenado, a known target, or Anthony Rendon reaching free agency is but a season away.
"I think the message is not that we're emphasizing 2019 at the expense of all else," Girsch said. "We've always had a long-term view, and perhaps tweaking (that) is what's leading us. If we were focusing on 2019 exclusively, there is a lot more young talent that wouldn't be here in 2019 that we could move. No one does that. We're not going to. We're not just going to throw everything at 2019.
"But relative to long-term vs. short-term views, that math changed."
In summary: additions ahead.
Quick Hits: Goold on the Cardinals
NOT SO FAST ON GOLDSCHMIDT?
QUESTION: Do the Cardinals have any reservations of trading for and extending Paul Goldschmidt? Does his age (31) give them pause at all to pivot more aggressively to Harper or Machado?
GOOLD: It doesn't appear to at this point. It should.
They will have to reconcile that approach because I'll be asking about that very thing. How does a team that talks about the "out years" of a player like Bryce Harper balance that hesitance with an eagerness to sign a player through those exact same years.
---
Follow-up: What does a Cards' package for Goldschmidt look like?
GOOLD: It's going to hinge around a few key elements — a major league-ready pitcher, who may even have major-league experience but comes with several years of control. An upside prospect maybe not yet on the 40-man roster so not burning up the options. And a contributing position player with an appealing, standout tool.
---
Follow-up: Your Goldschmidt trade sounds like Dakota Hudson, Tyler O'Neill or perhaps Carson Kelly if the D-Backs need a catcher, and then a lower level, high-upside guy. Close on potential names?
GOOLD: Looks rather similar to the Ozuna trade, honestly. So connect dots from there. Names you bring up are going to be talked about, for sure. 
HARPER TO ST. LOUIS: HOW LIKELY AT THIS POINT?
QUESTION: How likely is Bryce Harper at this point? Have the Cardinals moved on? Waiting for price to drop? Or are they actively pursuing him?
GOOLD: As likely as he was a week ago, three weeks ago, a month ago. It's difficult at this time of year to articulate pursuits because one person's "actively pursuing" is another's "kicking the tires." We can slap all sorts of labels on this and ignite Twitter with buzzwords and speculation, but here's where things stand: Scott Boras is still shopping his client around, talking to front offices, talking to owners, and trying to build, build, build the market so that he can get close to an asking price that isn't always revealed at this point. The pace is slow. Just like Holliday, just like other clients, just as like we expect.
The Cardinals and Boras will meet at some point during the winter meetings. Boras at some point -- if it hasn't happened already -- is going to have a conversation with DeWitt. So, no the Cardinals haven't moved on -- because they don't know yet what they're moving on from. So, no the Cardinals aren't waiting for the price drop because when has that ever happened this early in the process? And in the same way they are actively exploring a variety of routes this winter, they are actively exploring that one, and we're coming up at a time when the free agent or the team that they're talking to is going to want them to pick a direction or move on themselves.
WHY NOT HARPER AND 'GOLDY' HERE?
QUESTION: When you look at the other winning teams, they have two or even three big bats. If Cards did sign Harper, they'd have an even greater logjam, so why wouldn't getting Harper and Goldy be possible?
GOOLD: Precedent, I guess. I get how the math would work, right? Harper would be the long buy, and Goldschmidt would be the grab-and-go one-year add to focus entirely on 2019, and then take the draft pick when he signs elsewhere, like a place with a DH or something. It's not outlandish when you spell it out. It's just unlike the Cardinals to put so much into one season and not play more of the long game.
That said, they need to change something. They have to shift their approach or modify their algorithm to meet the market and improve the team. This chorus has been sung before in the chat at this time of year. We see an interest in doing so. The Cardinals have shown that. They haven't the complete deal to do so -- or received the return on the deals they have made.
A TRADE THE CARDINALS WOULD REALLY LIKE TO MAKE
QUESTION: Is there any way the Cardinals and Rockies could make a trade with Nolan Arenado going to the Cardinals, and the Cardinals sending them pitching, plus a 3rd and a 1st baseman? Both teams would still be contenders for the playoffs.
GOOLD: The Cardinals wish. This is the kind of move the Cardinals really want to make — all things being equal. I mentioned this on a recent podcast. If there is one player that the Cardinals would like to make a play for it would be Arenado. Ask me a few years ago, and I would have mentioned Arenado and Yelich. The Cardinals see a lot of vintage Scott Rolen in Arenado, and they really liked having Rolen at the corner and in the middle of the lineup.
To date, the Cardinals have not been able to get much traction in talks with Colorado because the Rockies have been pretty steadfast, publicly, with their plan to keep Arenado. 
GOOD TIME TO DEAL CARLOS?
Do you agree: Cards should trade Carlos Martinez for good prospects before he loses any more trade value?
GOOLD: The Cardinals would not be moving Carlos Martinez at his highest value, and the rest of baseball is aware of that. And the Cardinals are, too. This would not be a Chris Sale-like move for the Cardinals, and the return would reveal their wish to move on, not to maximize an asset.
AVISAIL GARCIA . . . TRADE TARGET?
QUESTION: If the Cards make a deal for Goldy, would a buy-low deal with White Sox OF Avisail Garcia make sense? Still seems to be a lot of upside there, when healthy. And still young-ish (27). Could compete for RF in 2019 and be an option in 2020 if Ozuna leaves.
GOOLD: It's an interesting move, for sure. The Cardinals explored trading for Garcia a few years ago, and best I could tell they didn't get a whole lot of traction for him, and then stuck with the Piscotty-Grichuk group there for awhile. Holding the prospects, instead of moving them.
There's no-risk right now to trying for Garcia. But I want to caution there really isn't much for the Cardinals to offer Garcia that he cannot get better somewhere else. A player like him is going to look for playing time -- and should. He doesn't need to be "in the mix" or "part of the depth." He needs to rebuild his value, and a way to do that is to score a deal that has a clearer path to playing time.
IS HANIGER ACTUALLY AVAILABLE?
QUESTION: Heard any rumblings about the Cardinals looking into Mitch Haniger? He's not a perfect fit (outfield instead of 3B) but fits the profile of an ascending player.
GOOLD: Many many rumblings from fans who want this to happen -- and it's impossible not to see why. Exactly as you describe. Controlled player. Ascending player. An answer for now -- and beyond. Seattle's GM DiPoto talked with a few of us at the GM Meetings and specifically mentioned Haniger as part of the group they want to build around, and part of a the quick reset he wanted to create with other moves. Of course, he also mentioned Diaz in that group.
So, maybe take that into consideration, and still the rumblings, rumblings, rumblings are not yet overwhelming the reality of Mariners being reluctant to trade such a talent like him.
---
PHOTO: Cardinals pitcher John Brebbia and Seattle outfielder Mitch Haniger celebrate a win by the MLB All-Stars in an exhibition series against Japan's All-Stars on Nov. 11 in Tokyo. (AP Photo)
FOWLER IN RIGHT FIELD — IS THAT WHAT CARDS REALLY WANT?
QUESTION: Is Dexter Fowler going to be our starting right fielder in 2019? Is this what the Cardinals want? 
GOOLD: At this point he's the leading candidate. Can only think of one addition that would change that -- one that's possible at this point, I mean. As I reported earlier, clearing a spot for a RF not named Harper would require more moving pieces. If there's interest in Brantley, it means making at least one move elsewhere on the roster to make that possible. If Haniger does suddenly, magically, become a possibility, then another move would be needed.
KYLE SEAGER . . . TRADE TARGET?
QUESTION: The Mets-Mariners deal seems like a bad deal for both sides. How does it help either team? With the Mariners clearly in tank mode, do the Cardinals have any interest in 3B Kyle Seager? He had a terrible 2018, but might be a bounce-back candidate?
GOOLD: Seems better for the Mariners than it is for the Mets, honestly. Mariners cut cost, gain some roster clarity, and had to give up a cost-controlled closer but some teams can develop those and the M's got some upside prospects. Mets took on all of the immediate risk, really.
The Cardinals and Mariners have talked this winter about how they line up for trades -- again. Lefthanded-hitting Seager has been in those conversations. There is obvious hesitance on the Cardinals' side because of the dip in production you describe and the natural tension this creates -- Cardinals' interest would be in making a trade that could pay off but doesn't cost much, and the M's are going to argue they should get return as if Seager is for sure going to bounce back. The Cardinals cannot move away from any of the upper-tier possibilities for corner infield, especially via trade when there is also control.
CONCERNS ABOUT CARPENTER AT THE HOT CORNER
QUESTION: How concerned should we be about the possibility of Carpenter playing third base? Has his arm gotten any better to where his throws will be stronger?
GOOLD: Good question. Carpenter was a plus-fielder at third base this past season, based on statistics from Baseball Info Solutions. In 611 1/3 innings at 1B, Carpenter was a plus-6, Goldschmidt was a plus-7. Carpenter was a 1 Defensive Run Saved, and that ranks 15th at the position. Goldschmidt was plus-6 DRS, and that was sixth.
At third, Carpenter was plus-5 (13th in the MLB at position), and he was a plus-6 DRS (seventh in MLB at third). Gyorko was a plus-6 and a plus-6, respectively.
Here's the way to look at this: Aggregate. The Cardinals didn't have many scoops at first base. They didn't turn many poor throws into outs stolen at first base. Goldschmidt would be an upgrade in that regard, and would give the Cardinals two Gold Glove-caliber fielders on the right side of the field. On the left, they would have a larger, better target with a good glove at first, and there should be more shifting that gets them into spots to take outs. The defense has to improve as a group, and what does that? Back to the upgrade word.
---
QUESTION: What are the chances Patrick Wisdom is the starting Cardinal third or first baseman this year? Or will someone else trade for him?
GOOLD: The Cardinals don't want to go to spring training with Gyorko and Wisdom vying for playing time at third base while Carpenter is situated at first base. When they talk about being able to take a complete team into the season with the roster they have now, that's what they mean. They mean they have options at every position, and they have competition at several of them, like third. They seek certainty and upgrades, and one place they are looking to make that happen is third base, or at first with Carpenter then playing third base.
CARDS' STRENGTH: UP THE MIDDLE
QUESTION: If the Cardinals make a blockbuster deal, how likely is it t they will move Wong? There isn't an obvious position for the Cardinals to upgrade, and Gyorko, Carpenter, and DeJong can all likely play second. Also, Wong is relatively long term cost-controlled and someone a rebuilding team may be interested in.
GOOLD: Haven't really heard Wong come up this winter. Cardinals have told anyone who will listen that they are sold on DeJong at shortstop and see him as the future there, and one of the people who heard that was also told that the Cardinals are happy with their up-the-middle options: Wong, DeJong, Molina, and Bader. And they're looking to the wings.
---
Follow-up: If Cards traded Wong, how different would their infield look if they signed Lemahieu?
GOOLD: Had this discussion recently about LeMahieu and whether the Cardinals could look at him for third base. The general thought was that he doesn't hit as much at that position as that position requires. Hits for power, that is. I suggested that while he doesn't crank out that many homers even while playing in Denver, he would be a doubles machine there at Busch Stadium. That's power, too. That's damage. But that didn't win many points, and it's obvious there are other, better routes for Cardinals to go.
HUNTING 'MOOSE' FOR THIRD BASE? HOW MUCH WAS DONALDSON OFFERED?
QUESTION: Beyond the fact that he bats lefthanded, do the Cards see "Moose" as a significant enough third-base upgrade over Gyorko to sign him?
GOOLD: They did not last season, and they are not suggesting they see it that way this season, with two caveats: The lefthanded one you mentioned. And the durability -- the number of games that Moustakas has proven he can play at third and be an everyday option and presence there.
---
Follow-up: Any insight on what the Cards offered 3B Josh Donaldson?
GOOLD: Not dollars, no. But I know they weren't looking at a one-year deal, or closed off to something with an additional year or two. I have been told since that deal that they felt Atlanta had an edge they did not because of geography and Donaldson's fondness for playing for the Braves.
I will also add, that Donaldson's timetable moved faster than the Cardinals wanted. They have been operating and exploring other deals that would come before or in concert with Donaldson. ... They didn't want to abandon those other opportunities for the deal now, now, now. Tells me they like their chances with some of the other things they're trying to pull off.
BRING BACK ... SHELBY MILLER?
QUESTION: Would a Shelby Milller reunion with the Cardinals make any sense? He did thrive here once.
GOOLD: I wonder. I don't have any inside info on this, but it would be worth exploring from the Cardinals' point of view. He's going to end up with Houston, right? Isn't that predetermined? But, a match with the Cardinals is certainly there, and as many pitchers as they have, the addition of Miller would be a low-risk, upside move.
---
Follow-up: Do the Cardinals view the Jason Heyward-for-Shelby Miller trade as a success, push, or disappointment? Regardless of Heyward's decision not to stay, he had a good year here. Curious if the FO has made any indications of how they view the trade. Also curious how you view the trade.
GOOLD: From the Cardinals perspective: A success. Heyward was a big part of their last playoff team and one of the best run-prevention teams the Cardinals have had. They dealt from depth (pitching) to make that possible and they were able to get Miller's production from young, rising pitchers.
From my perspective: Also, they were able to remove a pitcher that had been square-pegged into a weird round role by the manager. So, win-win.
AND SPEAKING OF REUNIONS: WHAT ABOUT JOE KELLY?
QUESTION: Talking about reunions, how about Joe Kelly? 100 mph fastball plus an effective offspeed pitch. Plus, he can outlast anyone standing for the national anthem (above, during the 2013 NLCS against the Los Angeles Dodgers).
GOOLD: As far as the former Cardinals go, this one makes the most sense of the group. We've also hit on Ottavino (below), Miller, and I'm sure there will be others out there. Kelly is clearly a fit because he's in that group -- closer today, setup tomorrow, power pitcher, available, etc. There's a good mix of things he could do and the contract probably will be reasonable with that ninth-inning, setup upside.
---
QUESTION: Big fan of Adam Ottavino since he was with the Cards a few years back. Is there any interest in bolstering the bullpen with the addition of a filthy righty such as him?
GOOLD: Have not heard a peep about Ottavino, and that's not a surprise. Hard to see the match there. Ottavino really blossomed when he left the Cardinals, and yes there has been a great change around the Cardinals and in his role, but he's still seen as a pitcher they have others like, many others. 
IS CARSON KELLY A TRADE CHIP? IF SO, HERE'S A DEAL
QUESTION: With all these teams needing catching, are there any rumors about teams wanting to trade with the Cards to obtain Carson Kelly?
GOOLD: The Cardinals are open to the conversation. They have said that they want to clear a way for Kelly to be the backup this coming year, but they are not ignoring interest in him.
---
Follow-up: What do you think of trading Carson Kelly for Josh Fuentes of the Rockies? They need a catcher of the future, and we need a 3B of the future.
GOOLD: Interesting. I get the appeal. And think there is something to a deal like this. A year or so ago, it make a lot of sense for teams to check and see if Colorado wanted to move Dahl. His rise had slowed, injuries bruised him, and the Rockies had signed a few players that would list ahead of him on the depth chart. Yet, Dahl clearly had upside -- and now he's poised to be this year's Yelich-breakout. Look for the need. Look for the overlap. Make the call.
Fuentes has a place with the Rockies, however. He was just added to the 40-man roster. He's Arenado's cousin (right?) and he's Arenado's heir. He's not running out of options or costing a significant amount, and at 25 he's at a spot where he's coming into his peak at a time when the Rockies also will have some openings for versatility in the infield. I like the way you're thinking. Trust me, these are the questions I'm asking around about, too, looking for that kind of match if it's out there.
DEVELOPING PITCHERS VS. DEVELOPING POSITION PLAYERS
QUESTION: Why do you think the Cardinals have had so much more success drafting and developing pitchers than position players?
GOOLD: First, where they draft. It's pretty clear that the sure-bet, no-doubt position players go early in the draft, and once you get into that 8, 9, 10-25 range you're looking at high school position players or college players with one sharp tool or a balanced game but not the thunderous prospects that go higher. A tour of recent drafts reveal that.
Second, the Cardinals are really good at developing pitching. That's a huge part of the equation. They can take a Maness or Rosenthal or late-round grabs and find a way to develop them into a contributor. How they do has been studied and copied by other teams, and some teams have tried and just not been successful at it. Two of them are in the same division. Another team recently chided Mozeliak for having a machine in his office that duplicates 6-foot-6, righthanded starters. Well, he has a machine that identifies them for sure — and he has a staff in the minors that is really good at nurturing them.
ALTERNATE PLANS IF CARDS FALL SHORT?
QUESTION: Should the front office fail in landing a Harper or a Goldschmidt level player, does it have a backup plan? Anyone else on the radar? Just hoping to not hear any Mo-speak that they tried but were unable to connect, so things will remain status quo.
GOOLD: Of course they have alternate plans. I'm struggling to come up with a way to describe how teams do business -- because it's not linear. The Marlins definitely went into last year intent on trading Stanton first, Ozuna second, and maybe Yelich not at all. But those weren't the only moves the Marlins made. Look at Washington already this winter. The Nationals have acquired two catchers -- in part because those were the deals available to them at the time, and that they could complete at that time. It took a free agent saying yep, now, good, I'm going to sign, and another team to say yep, now good, we're ready to deal.
Look, last year, if the Cardinals had a Plan A — it was getting Christian Yelich. If they had waited and waited and passed on alternatives to try and get their Plan A, you know they wouldn't have left winter with anything. How good is that team?
But they kept other options open because a team cannot work in a linear fashion, especially not in the Cardinals' position. If they have a Plan A and only explore Plan B when Plan A is gone, then they're not doing their job. If they don't have a backup as you describe, then they're not doing their job. Think of it as plugging a destination into the phone. You'll get three different ways to get there and a description of the time and maybe of the traffic. Then you decide what way to go. In this metaphor, the Cardinals have punched in a destination, they are mapping the alternate routes to get there, and then it is up to the other teams to determine when and how they move to get the Cardinals there.
If there is a better way to explain this so that I can somehow convey that a linear approach to the winter is not what teams do, please let me know. I get it. You want to know what their Plan A is. And if that doesn't, what's their Plan B. It's easy. It's sexy. You can keep score! But if the team doesn't break things down in this regard, then why should we?
HINDSIGHT ON THE SHILDT HIRING
QUESTION: You argued on your podcast that the Cardinals should wait until the offseason to name Mike Shildt the permanent manager, and interview other candidates. Do you think they made a mistake naming him manager for the next two seasons?
GOOLD: I don't think they made a mistake. I think they missed the chance to learn more about the options out there and maybe fortify their reasons for hiring Shildt. I appreciate Mozeliak's explanation for why they didn't do that. He said that the longer it lingered out there the more he worried doubt would creep into the clubhouse -- like what is the team waiting for? What does the front office know that the clubhouse does not that could go beyond the success? I get that. I don't entirely agree with it as a driving reason, but I get it -- and if he believes that, then he made the move he believes in.
My argument was this: They're the Cardinals. Interview the options, get the best guy, and leave no doubt.
DEWITT'S RELATIONSHIP WITH BORAS
QUESTION: You mentioned in your podcast that Bill DeWitt Jr. may be more impatient and inclined to pursue a guy like Harper than the front office is. You know a bit about the relationship between DeWitt and Scott Boras (pictured above), and Boras has a reputation for going directly to ownership. If Boras gets in a room with DeWitt, how do you think that goes down?
GOOLD: Boras, who is Harper's agent, has a lot of respect for DeWitt and they have an excellent working relationship. An Aaron Sorkin screenplay isn't going to break out in the room where it happens. DeWitt is low on drama, high on business acumen. Boras is high on sales pitch, and higher on intelligence. They know how to get a deal done that is mutually agreeable -- or they are comfortable enough with each other and future dealings to walking away.
There is a reason why some teams don't like dealing with Boras. He can bring out the worst in their spending and is really good at his job. The Cardinals are not one of those teams, and as Boras will point it's one of the reasons why they've gotten strong returns on the clients they've invested in with him. Look at the deals hatched for Kyle Lohse and Matt Holliday, and look at all the Cardinals and Boras have been through with Rick Ankiel. There's a bond there.
2-MINUTE CHAT WRAP
GOOLD: Let's do a quick recap of what's been covered in the chat that is of note, that is of news, that you can take away:
• The Cardinals are positioning themselves to get some clarity and even movement in the days leading up to the winter meetings. That's been happening. Yes, they continue to explore a trade for Paul Goldschmidt with Arizona and they'll want a feel for where that stands in the coming days. The Cardinals have been steering their decisions toward the meetings with an idea of gathering momentum there and moving.
• Of the non-tender players, Shelby Miller makes sense as a reunion. Cardinals have interest in getting that kind of depth.
• The reports of the Cardinals signing Francisco Pena to a minor-league deal were not just premature, they were incorrect and based on a typo transmitted by a wire news service. It turned out to be last year's transaction passed off as this year's move, according to Post-Dispatch reporting. And later confirmed by the team, which is unaware of signing Pena. That deal is not done; it did not happen over the weekend.
Talk to you next week from Las Vegas, where Ben Frederickson and I will be overwhelming your senses with coverage — from blogs to chats, multimedia to podcasts. Brace yourself. Winter is coming.