And there used to be a ballpark where the field was warm and green.
And the people played their crazy game with a joy I'd never seen.
And the air was such a wonder from the hot dogs and the beer.
Yes, there used to be a ballpark right here.
Frank Sinatra recorded that song back in 1973, and before it was brought to Lauren Sallwasser's attention she had never heard of it. Yet she knew the sentiment by heart.
Sallwasser, a photo archivist for the Missouri Historical Society, was recently identifying and cataloging negatives received from a collection when she came across an image of a ballpark.
Initially, Sallwasser believed the 1922 photo to be an exterior view of Sportsman's Park, which stood at North Grand Boulevard and Dodier Street from 1902 to 1966. That ballpark, purchased by Anheuser-Busch and renamed Busch Stadium in 1953, was the city's major league hub until a stadium opened downtown in 1966.
Sportsman's Park emerged in stages during its early years, as upper decks and seating structures were added incrementally. So Sallwasser's initial impression seemed logical, but as she compared her image with other documented photos of Sportsman's Park and the neighborhood around it, ends didn't meet.
She soon realized she had come upon something much more extraordinary, something that previously existed only in tall tales and tidbits. She had come upon a picture of St. Louis Stars Park.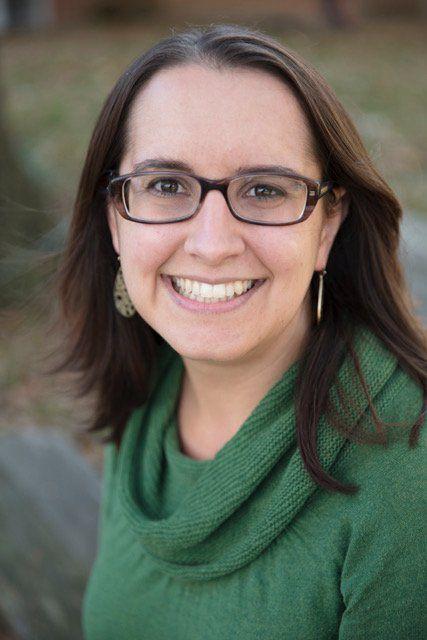 "Once I started to figure out what it really was, it was pretty neat to find something of which there isn't really any other photographs," she said. "That's pretty exciting."
For baseball historians, it is more than exciting. It is akin to finding a Lost Ark.
"Negro leagues baseball researchers have been looking for this photo for decades," said Steve Pona, a founder of the St. Louis Baseball Historical Society. "When this thing turned up, it lit up Twitter like I have never seen before as it relates to major league baseball."
The collection Sallwasser was working in originally belonged to Dr. William Swekosky, a St. Louis dentist and amateur photographer (1895-1964). As a young man, working in the title department of a Clayton bank, Swekosky became infatuated with old buildings. In addition to taking his own photos, he collected images of St. Louis buildings, many demolished during urban renewal and road construction projects in the 1950s and '60s.
Later, Swekosky's collection was donated to the Sisters of Notre Dame and, subsequently, the Missouri Historical Society. The grainy, black-and-white images are predominately of downtown residences, commercial buildings, parks, cemeteries, street scenes ... and one solitary picture of a ballpark.
Outside the stadium, there are no signs of identification. A Hyde Park Beer advertisement on an exterior wall is the most obvious feature, along with the tattered ticket office at the front gate. No street signs or distinguishing landmarks suggest the location.
As Sallwasser closely examined the image, she honed in on a small white banner partially hanging from a crossbeam above the ticket windows. The object appeared inconsequential, draped over itself and containing what looked like a hand-written message.
But when Sallwasser enlarged the shot, she distinguished the words "Stars Park" and she realized there was more to it.
"Yeah, it was falling down and just in the corner it said, 'Stars Park,'" Sallwasser explained. "It was strange because I would have expected the name of the park to be more prominent than that, to be a bigger part of the sign. That's why I was really confused about whether this really was Stars Park or not."
She searched for verification. A corner of a building is captured on the left edge of the photo, but it bears no business name or discernible address. With her Sherlock Holmes radar now fully activated, Sallwasser looked for some kind of corroboration, online, in documents, through other photo archives.
Finally, in the Historical Society's City Planning Agencies Collection, she found a 1934 photograph of the same cobblestone intersection. Although the image was taken a few years after Stars Park closed (1931), the view is from the opposite side of the intersection and clearly reveals the same building.
There was no doubt about it. There used to be a ballpark right there, a historic ballpark at that.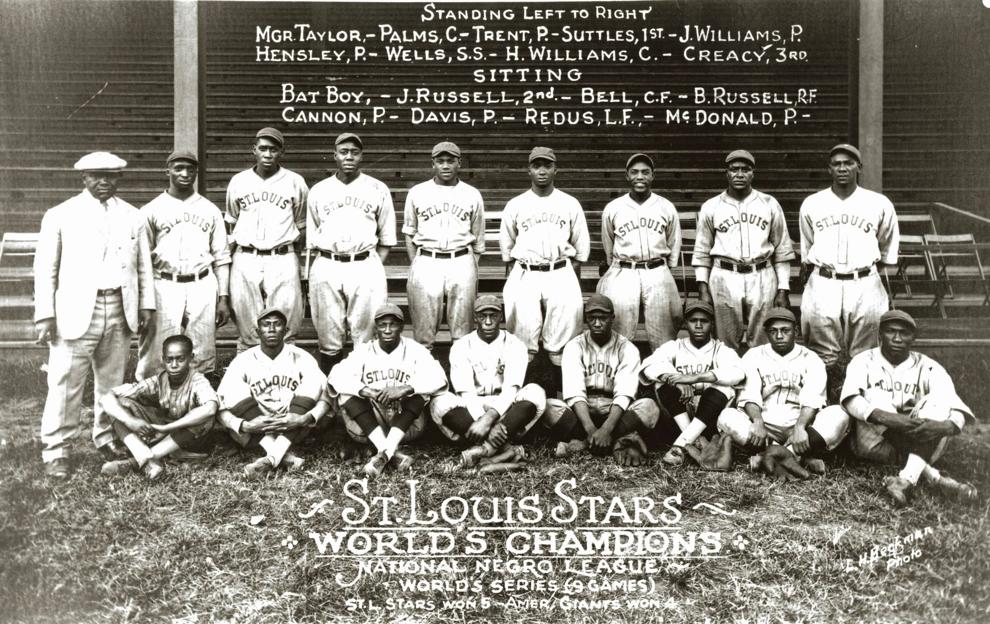 The Stars were a dynastic club in Negro Leagues history. From 1925-30, they won three championships and they featured three iconic players — center fielder James "Cool Papa" Bell, shortstop Willie "Devil" Wells and first baseman George "Mule" Suttles. All would be inducted into the National Baseball Hall of Fame.
"People still have an interest and an intrigue in what was one of the best teams in Negro Leagues history," Pona said. "The Stars were an amazing draw, they had great attendance. In fact, there is a lot of evidence to suggest both the Browns and Cardinals players would regularly patronize the ballpark and watch the Stars play.
"Mule Suttles was like Jack Clark on steroids, and Wells is considered by some to be the best shortstop to play in the Negro Leagues."
At a cost of $38,000, the ballpark opened on Sunday, July 9, 1922, with the Stars hosting the Indianapolis ABCs, a team that featured center fielder Oscar Charleston. Another future Hall of Famer, Charleston batted .444 for the St. Louis Giants — the forerunners to the Stars —during the summer of 1921. Many regard the lefthanded-swinging Charleston as the greatest ever to play in the Negro Leagues.
There was considerable fanfare for the Stars Park opening, including a parade before the game, and a celebratory first pitch by St. Louis mayor Henry Kiel. According to the St. Louis Argus, more than 5,000 were in attendance to experience the new baseball cathedral.
Ballparks built expressly for a Negro Leagues team were few and far between. A July 1931 article in the St. Louis Argus contended that the park had "long been the only league baseball park owned and operated by colored persons."
"The Stars ballpark in St. Louis is among the earliest examples of a field managed by a black team," said Dr. Raymond Doswell, curator of the Negro Leagues Baseball Museum in Kansas City. "Most teams from the Negro Leagues or semi-professional black teams rented or used stadiums owned by major league or minor league teams, or used various municipal parks and fields."
There were other examples over the years, in Pittsburgh, Memphis and Cleveland. The aforementioned St. Louis Giants had their own ballyard, across from O'Fallon Park, flanked by North Broadway and East Clarence Avenue. But Giants Park, also known as Kuebler's Park, essentially was a fenced-in baseball diamond, augmented with grandstands.
When Dr. Samuel Sheppard, Richard Kent and Dr. G.B. Key acquired the Giants from owner Charlie Mills after the 1921 season, they joined Rube Foster's new Negro National League, changed the name to the Stars and built the club a bona fide stadium.
With a personality all its own, Stars Park initially seated 10,000 and expanded to a 16,000 capacity. According to Pona, it was the first St. Louis ballpark to have permanent light installations and the first to conduct a night game, played on Sept. 9, 1930. The first night game at Sportsman's Park didn't take place until May 24, 1940.
Among the most captivating features of Stars Park was the trolley car building that served as the left-field barrier. The exterior wall of the structure was 35 feet high and situated 269 feet from home plate. During most seasons, balls hit atop the trolley barn — like those hit onto the right field pavilion at Sportsman's Park —counted as home runs.
Suttles pounded a Negro Leagues record 27 home runs in 1926 and Wells matched the total in 1929. Both were righthanded hitters. In 1923, t. Louis player/manager "Candy" Jim Taylor, 39, tied for the NNL lead with 20 home runs, 19 of them clouted at Stars Park.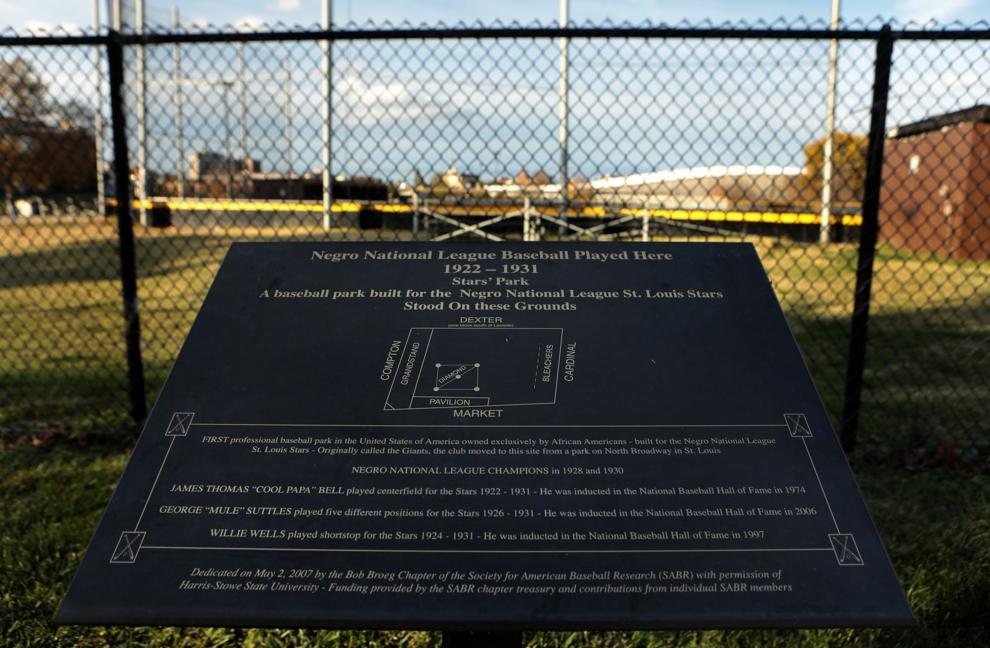 Like many past stadiums, little or nothing remains of these historic Negro Leagues ballparks. A baseball field still occupies the spot where Stars Park was situated, part of the Harris-Stowe State University complex, and a plaque commemorates the site. When the NNL folded and the team disbanded in 1931, the park was sold to the city for $100,000 for use as a playground.
"There are only a few remnants of stadiums where any Negro Leagues teams played," Doswell said. "Rickwood Field in Birmingham was shared by white and black teams during segregation and is now a historic site.
"Efforts are underway to mark and restore Hinchcliffe Stadium in New Jersey and Hamtramck Stadium in Michigan."
And now, thanks to Sallwasser, the Missouri Historical Society and Swekosky, there is a striking reminder of Stars Park, where the field was warm and green, and the people played their crazy game with a joy we've never seen ... There used to be a ballpark here.