Editor's note: This weekend, Matt Holliday returns to St. Louis as a Cardinals Hall of Famer. Here is the story Derrick Goold wrote as he left town in 2016.
In the hours after the car accident that nearly shattered her youngest daughter, Diane Warnecke had been told to expect some movement, some alertness from Nikki the next morning.
Two weeks later, Diane was still waiting.

A brain injury had put Nikki into a non-induced coma, and the other damage wreaked by a driver under the influence had lacerated organs, fractured her hip and left her in pain but unable to receive some medication. Unable to get a thumbs up, a smile or other responses from her daughter, Diane often went alone to the chapel at Cardinal Glennon Children's Medical Center to pray "out loud" for something other than silence. That was about the time Matt Holliday visited.
On July 29 of last year, 14 days after Nikki had been taken by helicopter to Cardinal Glennon, Holliday walked into Nikki's room. At the urging of family, he moved close to Nikki for a picture they would show her later. He leaned in and Nikki lifted her head toward him.
She raised her left hand, two fingers up for peace.
"She did it with attitude," Diane recalls. "That was a sign for me. 'Hey, she's in there. She's with us. She is. It's her.' She did it with sass. Just this huge relief."
It would be at least another two weeks before Nikki would talk, and yet six months later, there she was at Missouri Athletic Club picking her banjo and singing "Amazing Grace." Nikki, 19 and now a freshman in college, joined a handful of other patients who had crossed paths with Holliday that night for a dinner he hosted (and paid for) as part of Holliday's Heroes. The event is for top donors to "Homers for Health," a program Holliday and his wife Leslee launched for Cardinal Glennon, which will now outlast their presence in St. Louis.
This winter's dinner, set for January, will have the feel of something few expected as Nikki strummed: a farewell.
In the closing weeks of this past season, the Cardinals notified Holliday that they would not pick up his option for 2017. Holliday, a 13-year veteran, understood what the decision meant, the finality it likely brought to his time with the team. He became a free agent, officially, this month and will spend Thanksgiving unsure where he will next play. It is easy to measure his absence from the lineup — a No. 3 hitter who batted .293 with a .874 OPS, 156 homers, and 616 RBIs in 7½ seasons in St. Louis — or the opening it creates in the payroll and outfield for the Cardinals to add a younger dimension. Less tangible is what his departure means beyond the ballpark, in the hospital hallways and charity events where his impact wasn't logged in a box score. It's that impact that one Cardinals executive recently said few knew about but "will be hard for us all to replace."
"He has done more than any other Cardinal has done for this hospital since Stan Musial," says Rose Fogarty, Cardinal Glennon's director of marketing and communications. "They put Cardinal Glennon on the map again in St. Louis. Matt and Leslee brought us into the limelight."
"I always felt like he was the most misunderstood player we ever had, because a lot of people didn't realize how generous he was with his time and his money," General Manager John Mozeliak says. "Any time I asked or anyone asked, he would graciously help. Never under a headline. It was Matt, and Matt on his own. He went out of his way to have that positive impact on young people who really needed a pick-me-up."
It's time to tell these stories.
THE BALL
It had already been an exhilarating and exhausting 10th birthday for Alex Wangerin as he finally found sleep. Back at Cardinal Glennon, fighting lymphoma for the second time in five years, Alex had been visited earlier by Holliday and other Cardinals, but his enjoyment was tempered, his father said, by the fog cancer treatment can cause.
The pain, the pending surgery, the failing organs — "a lot of the bad things that can happen were happening all at the same time," Keith Wangerin says.
Michele Wangerin, like her son, had been sleeping when the phone rang.
It was past 10:30 p.m., and they had a visitor.
"She likes to say, 'Next thing I know there's a big, handsome Matt Holliday standing in the doorway, in street clothes,'" Keith says. "In his hand was the ball."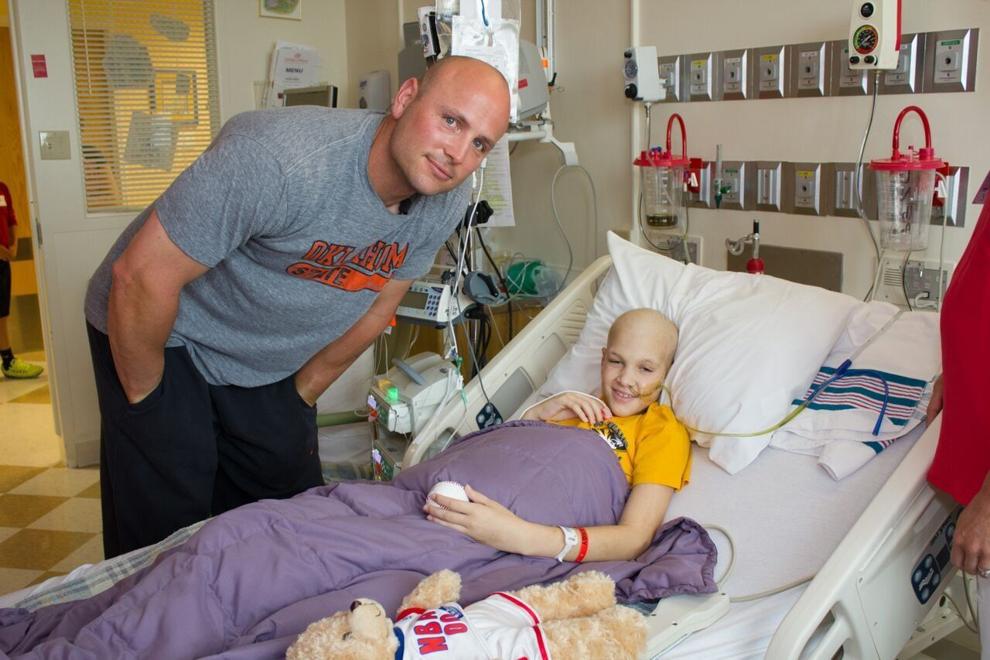 In the first inning of the Cardinals' victory against Houston that day on July 9, 2013, Holliday had hit a 0-2 pitch for a two-run homer. He asked a dugout attendant to find an usher who could track down the ball. After signing a bat to trade for it and pocketing the ball, Holliday stopped by Cardinal Glennon on his drive home. His pregnant wife and two sons waited in the car as he attempted to convince security, no, really, he had a last-minute birthday gift to deliver.
Alex slept through the second visit but found a crowd awaiting him the next morning. Everyone wanted to see how he responded when his mother told him who stopped by and presented the home-run ball.
"It means everything to see the twinkle, a laugh," Keith says. "And this optimism."
That home run ball was one of 125 hit by the Cardinals that season, each of which raised money for Cardinal Glennon. Conceived in 2012 by the Hollidays, the Homers for Health program invites donors to pledge per homer. Per strikeout followed. The initiative has raised $3.7 million for Cardinal Glennon in its first five years. This year, the money raised will contribute to a $7 million overhaul of the in-patient cancer treatment center.
Called "4 North," the center is where children with compromised immune systems can stay for two weeks, two months or longer. It's where Alex was the night Holliday returned, and it remains largely unchanged from when the hospital opened, in 1956. When the renovation is finished, there will be 18 rooms instead of 22. Children, weakened by chemo, won't have to stand in line to use the bathroom; they'll have their own. Parents spending the night, as Michele was, will have larger sleeper sofas. The 4 North project will give Holliday's fundraiser a lasting presence at the hospital. While some of the events have uncertain futures, Homers for Health will continue under a new, yet-to-be-named chairman. Cardinal Glennon hopes Leslee Holliday, "a driving force for us" as one executive said, will remain on the Board of Governors.
What will also last is the increased reach. Last year, Homers for Health received at least one pledge from all 50 states. This year so far: 47. Previously, Cardinal Glennon received donations from fewer than 20 states.
"This has really called the community to action to help again," says Sandy Koller, executive director of the children's hospital. "It's so long-lasting."
It's so local, too, within their walls.
Chance Wunderle, now 7, was at Glennon's Costas Center when he challenged Holliday to a flex-off. The younger ballplayer had been diagnosed with rhabdomyosarcoma, and a tumor that stretched from his left hip to his knee had to be removed. He had to stop playing baseball but not bragging about how he had the muscles to hit homers. A photographer captured them comparing biceps, and Cardinal Glennon put that picture on the cover of its magazine.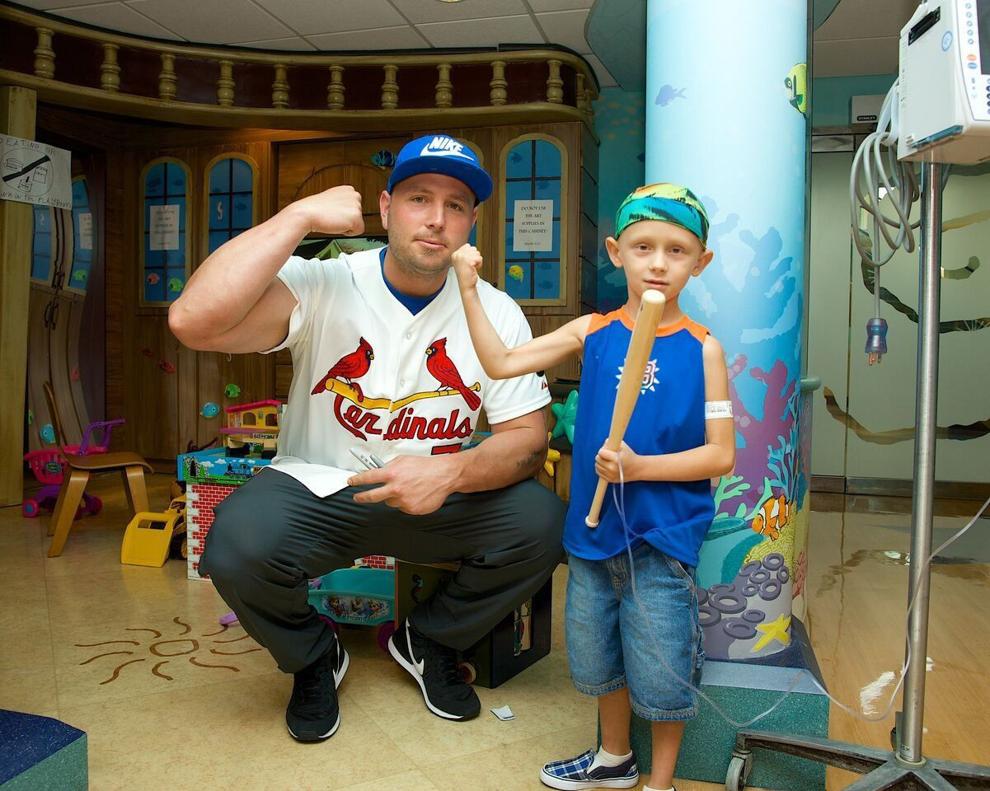 There was a stack of magazines in Chance's room one day when his grandfather, Jeff Blankenship, left for a little while. He returned to find them all gone.
"I sold them," Chance explained. "I signed them and sold them."
Chance would donate that money to a toy drive. His grandfather explained that Chance saw what Holliday and other adults were doing and wanted to find a way contribute, too. He carries a cardboard box around for donations to cancer research, and its handle has worn out from use. He is "still bummed" that Holliday is leaving the Cardinals.
But he has a new team in mind.
It's the name of his youth-league team, the one he's back playing on.
Alex's home run ball now sits in his bedroom near a bat signed by Holliday. Alex left 4 North with the ball and improved health, and something more — what Chance had and Koller sees.
"He's just one little kid of many Holliday met that day, one of many he's met over the years, and he stopped by to do that?" Keith Wangerin says. "The impact — it's profound. We reflect on it every day of our lives. Giving when you don't have to. It was something more than a gift for Alex; it was a gift of giving that had a big lesson behind it. We all have time to give."
THE TEXTS
Last week, Maggie Bohannon, a high school junior, a .360 hitter in softball, and almost three years removed from chemotherapy, started scrolling through pictures on her iPhone looking for a smile. She keeps photos from her day at Busch Stadium with Holliday just for moments like this.
"Makes my day better," she says.
So, too, do the occasional text messages.
Leslee and Matt Holliday first came to Cardinal Glennon in the glow of the 2011 World Series championship and quickly connected with several patients, including Maggie. Holliday slipped her his cellphone number, and they have been texting ever since — exchanging tips on shaved-head haircuts and swings. Doctors and families often say visiting athlete can serve "as welcome distraction" from some of the worst days. Maggie once spent 23 consecutive nights in the hospital, and even the shortest of texts from Holliday illuminated more than her smartphone.
Distractions don't always stick around to become friends.
"It just always was at the right time: She'd be struggling, the pain, and, 'Just checking in on you, Mags. How you feeling?'" recalls Karyn Bohannon, Maggie's mother. "That was the medicine she needed. Matt and Leslee, they have been such a gift to our city, to us. They are forever friends. It was all God. This is our silver lining from the horrible."
Spend enough time asking about the Hollidays and texts come up again and again, as a bonding agent. Other gestures are often only whispered about. In 2015, the Bohannons got a call from Leslee, and a few days later found themselves in Cincinnati at the All-Star Game. Alex was at a Cincinnati children's hospital at Christmastime for a bone marrow transplant when a box arrived for him. It held a Christmas card from the Hollidays and an Xbox. He rode with Holliday during the parade of trucks on Opening Day at Busch. Carlei Huff, who stopped chemo after 58 treatments and continues to fight an aggressive osteosarcoma, had her 14th birthday party at Busch and arrived to a jersey autographed by the team and a diamond cross necklace, both gifts from the Hollidays.
At the invitation of Mozeliak and the Foundation Fighting Blindness, Holliday spoke at the 2014 Dining in the Dark event. The dinner raises money and awareness of retinal degenerative diseases. There he met Jason Morris and his son, Jack, whose decreased vision kept him from playing baseball. One of the honorees that night had the highest bid for a week's stay at a Hawaii hotel and gave it to the Morrises.
Holliday leaned over and said he would cover the airfare to get the whole family there.
Holliday headlined charity golf tournaments in St. Louis for the Pujols Family Foundation after Albert Pujols left in 2011. While some Pujols events have continued, the golf tournament is uncertain.
Like most clubhouses, the Cardinals' is populated with examples of contributions and connections. Adam Wainwright leads clean-water missions; Carlos Martinez gathers glove donations; Jhonny Peralta befriended a young boy going through a hand injury as he was doing the same; and Trevor Rosenthal has made surprise gift deliveries at Glennon and St. Louis Children's Hospital. Former Cardinals closer Jason Motte was a frequent visitor to Cardinal Glennon and spawned a movement throughout baseball with his "K Cancer" T-shirts and push for a pediatric cancer awareness day. The two boys he befriended died before Motte could host them on the day they inspired. Athlete visits, especially around the holidays, are commonplace. The difference shows for those who welcome relationships.
Unlike visits, connecting can invite heartbreak.
"You can see the kids' spirits uplifted when they visit. There is elation on the floor," says Michelle Romano, the director of nursing at the Costas Center. "Getting involved is different (than visiting), because the endings aren't always happy. It is difficult. It is also rewarding because if you didn't get involved, think of the person you would miss knowing."
One of these lasting friendships found Holliday at the ballpark. When Carlei Huff was unable to attend an on-field meeting with Holliday, he sent a signed bat to her in the hospital. They would meet later at Busch to film a commercial, one that starts with them playing catch and ends with Holliday handing her a crutch. Carlei started having unrelenting pain in her left knee, and the discovery of a tumor in her femur eventually led to the difficult decision to amputate her leg. Just two weeks ago, she went through an aggressive treatment to continue blasting the cancer.
Holliday, again, has only been a text away. His conversations with Carlei's dad, Chuck Huff, aren't ballplayer to fan but Christian to Christian, father to father.
"Long-term relationships aren't built off a simple bat being sent," Chuck Huff says. "But that's what this is. They are great encouragers. They have a sense of what's needed, when it's needed. It feels like Matt and Leslee have been there since Day One, and I know they will be there through it all."
While Chuck told his daughter's story at last year's Holliday's Heroes dinner, Jeff Blankenship lost track of his precocious grandson, Chase. He revealed himself quickly — sitting on Holliday's lap and smiling at Carlei, who sat beside the left fielder.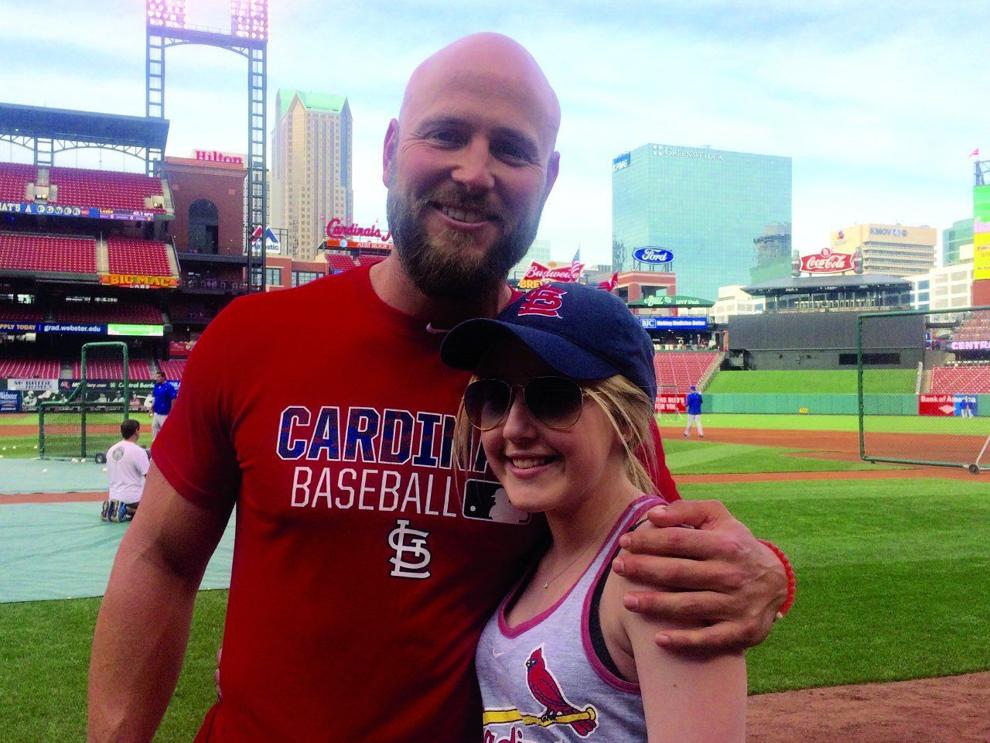 When Chuck finished, one of the first people to reach him was Holliday, who overwhelmed him with a hug. He greeted Nikki after the banjo performance the same way.
"That's why there were so many emotions those last couple days," Holliday says. "It had more to do with the people. There was a lot as I thought about who I met there, in the clubhouse, the people around the ballpark, all of the people you see on a day-to-day basis and have gotten to know, really know. And the kids. The kids. Those relationships are going to continue, of course. But that made it so emotional, to realize, OK, you have to go. There are times you have to say goodbye."
Derrick Goold
@dgoold on Twitter