MANHATTAN BEACH, Calif. — On the same road trip the Cardinals clinched a division title this past season, conversation between Lars Nootbaar and teammate Nolan Arenado bent briefly toward preparing for the next season. World Baseball Classic chatter was in the air, players starting to commit to national teams, and Arenado told the young outfielder he never felt "more prepared" for a major-league season than when he participated in the March 2017 tournament.
Surging toward being the Cardinals' leadoff hitter in the playoffs, Nootbaar wanted a way to maintain that momentum through the offseason, and here was a thought — accelerate it by playing meaningful games as early as possible.
All he needed was to earn an invite to a team.
Then came the ping of a direct message from Shohei Ohtani's interpreter on Instagram.
It asked if he had any interest in playing for Team Japan.
"Yeah, there was interest," Nootbaar said this week over breakfast close to his El Segundo, California, home. "Crazy environments. Crazy level of competition. Playing nine innings in games that matter right from the start. You get thrown in the deep end and get to play for the country. It shocks the nervous system with intense, high-level baseball in March."
A candidate expected to be named soon to Japan's WBC roster, Nootbaar spoke recently with the manager for the national team to discuss his role and the manager is already speaking like it's official, calling Nootbaar in a Kyodo News interview "a big first step for Japanese baseball." Nootbaar and Cardinals teammate Tommy Edman will be the first players for Japan and South Korea, respectively, born in the United States and eligible for the WBC team based on ancestry. Edman's mother, Maureen Kwak, was born in South Korea. Nootbaar's mother, Kumi Nootbaar (nee Enokida), was born and grew up in Japan, and his two siblings were also born in Japan.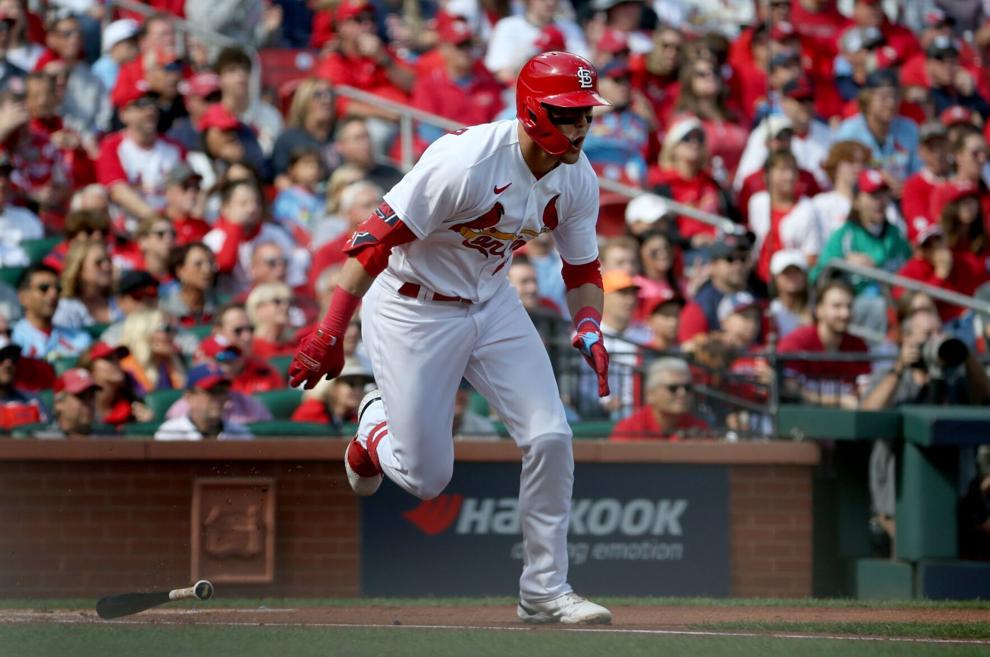 Once rosters are finalized and the tournament begins, Nootbaar and Edman will play against each other in pool play of the World Baseball Classic — in Tokyo on March 10. Two teams from their pool will advance to the next week's quarterfinals in the Tokyo Dome.
By the time the tournament shifts to the United States for the Asian teams, players will have spent around two weeks abroad and away from their big-league spring training. Nootbaar said he didn't want to lose key at-bats in spring training with the Cardinals unless he was going to get them with a Japan team that already features Ohtani and Yu Darvish.
He's told he will play, prominently.
"If one thinks about what is needed to win, of course, he's going to be a candidate," Japan's manager Hideki Kuriyama told Kyodo News on Wednesday. "He's a well-balanced player whose career in MLB is going to take off from here. I believe he can give us momentum."
Nootbaar, 25, visited Japan and his mother's family as a kid, and he called it an "honor" to give his family a new reason to gather together in Japan. Kumi Nootbaar grew up in Higashimatsuyama in Saitama Prefecture, Japan. Lars' middle name, Taylor-Tatsuji, draws its second half from his maternal grandfather, Tatsuji Enokida. It was in Japan where Lars' father Charles and Kumi continued their courtship after meeting in California, and as he's gotten older Lars recognized the presence Japanese culture had in his upbringing.
Kumi played softball and, according to her son, is the one "invested" as a fan in Japan's major league. In high school, Nootbaar's mom caught some of his offseason bullpen sessions. During the quarantine of 2020, when Nootbaar needed someone to play catch — his mother grabbed a glove.
"It's a huge honor," Nootbaar said. "To represent Japan as a country is unbelievable. For my mom and for her side of the family … I'm very thankful."
An invitation to one of the highest-profile WBC teams illustrates how radically Nootbaar has increased his profile and spot in the Cardinals' plans in just 12 months. A year after playing for a spot on the roster and seven months removed from a demotion to Class AAA, Nootbaar had a second-half performance that inspired more than Japan's national team to express interest. Toronto and Oakland both, according to sources, expressed interest in Nootbaar as a centerpiece for any trade of a catcher to the Cardinals.
"I am not on Twitter," Nootbaar laughed. "That helps."
At the same time as trade talks reached crescendo and stalled, Cardinals manager Oliver Marmol said Nootbaar will play "every day" for him in the outfield.
What prompted such interest and such confidence was how Nootbaar blitzed the second half with a .366 on-base percentage, a .480 slugging percentage, 10 homers in 200 at-bats, and a .846 OPS. Nootbaar's 16.7% walk rate after the All-Star break ranked fourth in the majors, behind AL MVP Aaron Judge (21.8%), Juan Soto (20.7%), and AL Rookie of the Year runner-up Adley Rutschman (16.7%). Nootbaar also dazzled the advanced data. He finished the season in the 98th percentile for walks, 90th percentile for average exit velocity, and 82nd percentile for expected offensive production.
It was a dramatic turnaround for a player who a few months earlier was at Triple-A Memphis and "didn't really have an approach, didn't really know how I wanted to be as a player," Nootbaar said.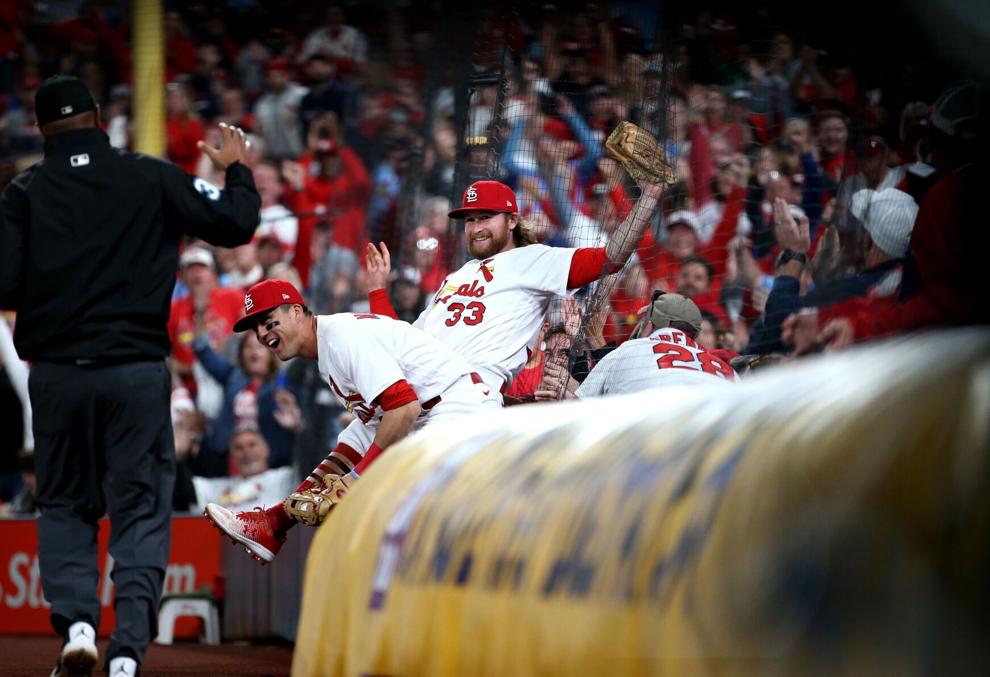 "All I really knew was I was in Triple-A and this isn't it," he added.
During the All-Star break he returned home, not too far from the breakfast spot Nootbaar met a reporter this week and the plates emptied of omelets between them. Nootbaar spent hours in the batting cage, went to the Home Run Derby at Dodger Stadium, and spent more hours in the cage — intent on swinging his way out of a funk. He called it a "reset of his mindset." The plan was "part old school, part new school" and some home remedies, like chicken soup for the hitter's soul.
Nootbaar said at the plate his head had become "congested" with too many thoughts. He fixated so much about pitcher tendencies that he became witness to them, not prepared to capitalize on them. He agreed his swing felt tentative because his approach was. The work during the break was a hard reboot, and the results were so encouraging Nootbaar did not want to lose that feel, so he picked up a bat soon after the season ended. During a recent trip to the Seattle area and Driveline's facility with Arenado, Nootbaar gauged an increase in his bat speed and took a swing at a new personal best for exit velocity.
A clip of him appeared on social media celebrating the ball leaving his bat at 109.2 mph. He thought he had set a new record for his weight class at Driveline.
"Then we went to the replay," he said. "The call got overturned."
The record, he said, is 109.4 mph.
What he did not want to have happen coming out of 2022 was to slow any of the progress he made. The winter was more than maintaining momentum — he wanted to build it. Nootbaar sees the World Baseball Classic, a chance to share a clubhouse with Ohtani and others, and the level of competition as a launch pad — a place to check for flaws and for liftoff. After breakfast and a quick look at the waves rolling in and surfers rushing out, Nootbaar explained.
"You've got to put your stuff to a test early, and there's going to be some good arms that we're seeing," Nootbaar said. "(I'm) allowing myself to be like, 'OK, let's go do it. You've been training for however long in the offseason. Let's make sure they all work.' I think being thrown into that environment is going to be real exciting — and I can't wait."