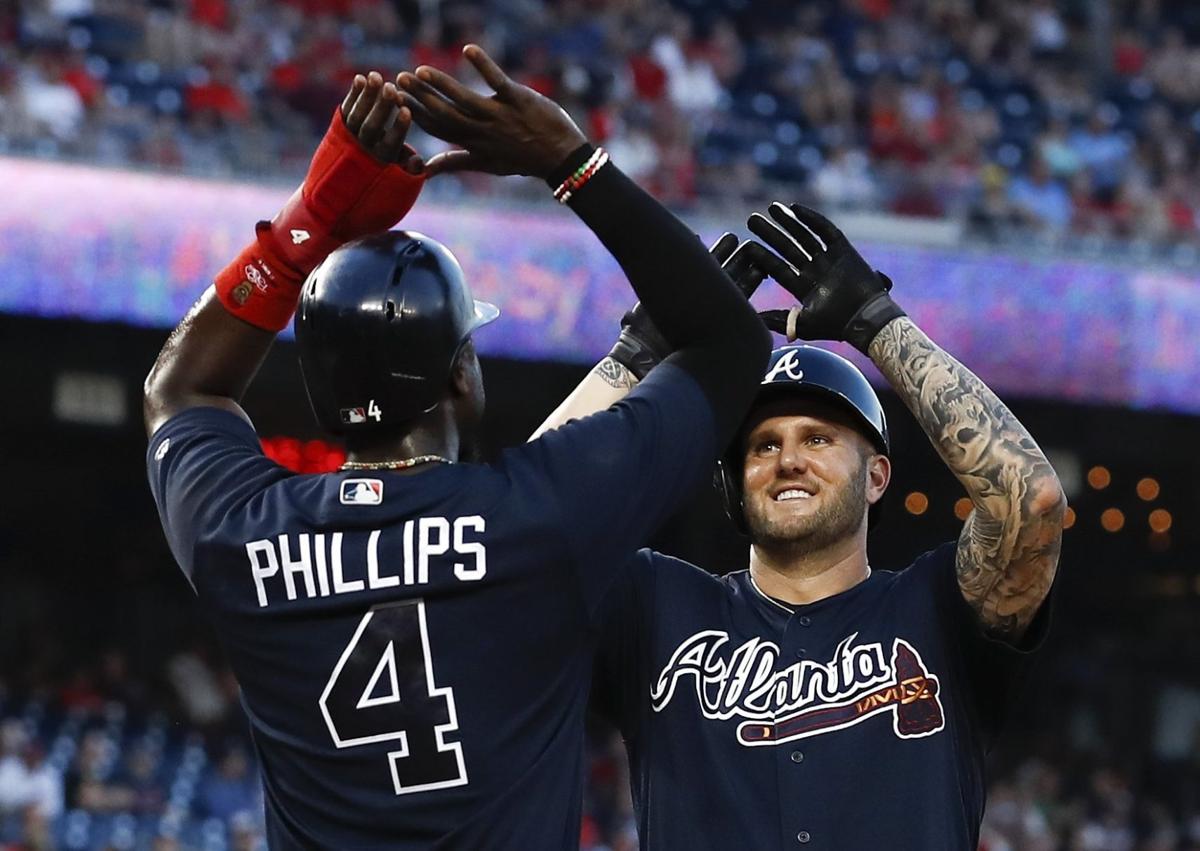 The Cardinals' middle-of-the-lineup issues have been well documented, but here's a closer look:
Before the weekend, Cardinals No. 3 batters were hitting .226, ranking 14th in the National League. No. 4 hitters had eight home runs, ranking 13th out of 15. And No. 5 hitters had only 17 runs batted in, ranking last.
Two players who were middle-of-the-order players for the Cardinals in the recent past are cleaning up elsewhere. Matt Holliday had 13 homers and 45 RBIs for the New York Yankees, for whom he hits fourth. Matt Adams, in a month's time since he was dealt to Atlanta, had eight homers and 21 RBIs for the Braves, for whom he hits fifth.
To be accurate, Holliday is doing most of his damage as a designated hitter although he might have been able to play left field and first base on a passable basis, albeit at $17 million a year, if the Cardinals had picked up that option.
Adams didn't seem to have a position either once the Cardinals installed Matt Carpenter as their first baseman, although he took a brief tour of duty in left field, a position in which the Cardinals have employed five different starters, plus infielders Aledmys Diaz and Jedd Gyorko for cameos.
With the Braves, who acquired him for a minor league prospect in mid-May, Adams has played only first base, with All-Star Freddie Freeman out until early August with a broken wrist, so Adams says there has been no talk of outfield play for him with the Braves. But, with Randal Grichuk having been sent out, Adams conceivably would have had more time out there with the Cardinals, especially if he had had more time to work on that craft rather than just 10 days or so right at the end of camp.
"I'm sure if I had four or five weeks, or however long spring training is, I would have been a little bit better out there," said Adams by phone from Atlanta.
"But I don't think I played terrible out there. There were a couple of balls that were hit pretty hard that I didn't take the right routes on. I could have taken better routes if I'd felt more comfortable reading the ball off the bat. But I don't try to look too far at it.
"Who knows? If I had had more time, I might have gotten worse at it," chuckled Adams. "I was happy for the chance to go out there. It was fun and exciting."
Adams didn't rule out a possibility the Braves would try him there later or that they might deal him to a contender once Freeman returns. What he does know is that he is getting a chance to reinvent his career, which seemed to have stalled into one of a top pinch hitter but little else.
"Seeing that I can play every day is building my confidence up. I'm just taking it and running with it," said Adams, who was hitting .289 for the Braves after hitting .292 with one homer in 48 at-bats for the Cardinals. He had eight times as many homers in twice as many at-bats (97) for the Braves.
"It's nice knowing I'm going to be in the lineup, whether it's a lefty or righty," said Adams, who had just three at-bats against lefthanded pitchers with the Cardinals this year.
But when he received the news he was being dealt, Adams fast swallowed his initial disappointment.
"It was tough to say goodbye to Mo and Mike (general manager John Mozeliak and manager Mike Matheny) and all the guys I've developed relationships with over there," Adams said. "But I understand that it's a business and I knew that I wasn't going to get to play every day there.
"The only disappointment was that I was leaving one family and having to start up with a whole new family. That was the only disappointment."
More than a few Cardinals fans have expressed their disappointment that "Big City" is gone, and Adams is appreciative.
"I've heard some things," he said. "It makes me feel good that I had a positive impact over there, not only on the team but that I was a pretty good guy in the community. That's a good feeling But there's no hard feelings. People just have to realize it comes with the territory of being a baseball player."
While he is on a new team, Adams hasn't cut ties. He still keeps in touch with Kolten Wong, Adam Wainwright and others.
"To be honest, I'm checking the box scores," he said. "I wouldn't say every single night but I'm keeping up with them. They were like family for nine years, getting drafted by them and then coming up."
Some of the family has been told they had to go — like Adams, third-base coach Chris "Hammer" Maloney and infielder Jhonny Peralta.
"It's sad to see," said Adams. "Hammer has done a lot for the organization, and I'm sure he'll be back sooner than later."
As for Peralta and himself leaving, Adams said, "There's not a lot of room over there right now. That's a good thing to happen. When you have all these guys who are good players and you just don't have enough room for them, you've got to find a home someplace else. Jhonny can still play. Absolutely. I'm sure he's going to sign on with somebody and help that team."
Again, though, no regrets from Adams, even about being moved off first base to make room for Carpenter.
"In my eyes, Carp is just a great athlete," Adams said. "It was kind of cool that he would ask me questions about first base. A guy who's played in the majors well for so many years, it was kind of cool to help him with some stuff over there.
"I feel like I can call Carp a good friend and I'm happy to see he's getting better over at first and feeling more comfortable. I'm glad to see him playing ball now the way he has for so many years."
At some point, Adams is likely to find himself displaced again, this time by Freeman. But until then ...
"I'm happy with where I am right now," he said. "This is God's plan and where he wants me to be. But whenever Freddie comes back, wherever the next spot may be ... I either finish out the season with Atlanta or go somewhere else. I'm open to anything right now. I'm taking it day by day."
His trainer from St. Louis has visited to keep the new streamlined Adams on his pilates plan and to bring some of his necessities from St. Louis. He has moved into an apartment nearer the ball park rather than staying in a hotel when he found Atlanta traffic "way worse" than that in St. Louis.
And his calendar is marked for Aug. 11. If he still is with the Braves, that is when he — and they — will come to Busch Stadium.
"It will be fun to see all the guys," said Adams. "It's going to be weird playing against them, for sure."