Abject mediocrity? Or almost unprecedented balance?
You could look at the National League Central Division in each of those two ways for the first 90 or so games. But, as in any race, there will be a winner.
As the post-All-Star break schedule begins Friday for teams in the division, those five clubs have won 223 games and lost 222. The difference between first (Chicago) and last (Cincinnati) is 4½ games — and fourth-place Pittsburgh is only 2½ games behind.
The Cubs have the best home record in the division, 29-16. They have the worst road record in the division, 18-27. The Cubs have the most games remaining inside the division, 46 — including 13 with Milwaukee. So perhaps they have the advantage if you think the Central is middling rather than balanced.
Milwaukee has the fewest in-division games remaining, 32, which might be a bad thing because the Brewers have the best record inside the division — 26-18.
The Cardinals, the only team at exactly .500, have 13 left with Pittsburgh, 12 with Cincinnati, 10 with Chicago and nine with Milwaukee. Will the division champion even win 90 games?
We ask again: Underachieving teams? Or great parity?
"I think it's both," Milwaukee All-Star infielder Mike Moustakas said. "Obviously, in Milwaukee, we haven't been playing great baseball. But we've been staying up at the top.
"It's a really tough division. Pittsburgh's great. St. Louis is great. Chicago is great. Cincinnati's got a great team as well. Their pitching staff is phenomenal. Their offense is great. They do a lot of great things over there."
Moustakas certainly has taken the high road in his estimation of Central Divison teams. But his main point can't be argued much.
"Everybody's got a chance," he said. "And I think that makes it fun."
Chicago All-Star Kris Bryant is counting on the Cubs being a strong second-half club, as they often have been under manager Joe Maddon.
"His message is always clear. With Joe, he never changes good or bad, and I appreciate that from him," Bryant said. "I'm looking forward to his message for the second half."
Asked his take on mediocre vs. dangerous in the Central, Bryant said, "Both. If you ask me about my team, yeah, super-underachieving. If you look at the other teams . . . I think the Reds are way better. The Reds are one of the most underrated team in the league. They've got a solid lineup and they had two pitchers at the All-Star Game (Luis Castillo, Sonny Gray).
"The Cardinals are always going to be there and the Brewers obviously are great. When you're playing against your division, you've got to find a way to beat up on your division. That's the easiest way to separate yourselves."
Milwaukee outfielder Christian Yelich, the league's most valuable player last year who is in the running again this season, said the race should be good the rest of the way.
"Before the season even started, we anticipated the division being close," he said. "It's great to have all those fan bases engaged until the end. We're all beating up on each other. Everybody can probably say they haven't played their best baseball this year but, at the end of the day, we've all put ourselves (in position) to have something to play for in the second half."
The consensus seems to be that the Central doesn't have the best first-place team but it certainly has the best last-place team in the league. Make of that what you will.
Following is a capsule dive into each division as the long stretch drive begins:
NATIONAL LEAGUE CENTRAL
Biggest surprise: The Reds. They used to be a high-scoring team on both sides of the ball. But their offense ranks 14th out of 15 in batting average (.235) and runs scored. Their pitching, often suspect — especially when playing in the bandbox of Great American Ball Park — ranks second in ERA, to Los Angeles at 3.77, and second in batting average against, .233.
Biggest disappointment: Every team in the division has one. Chicago's Yu Darvish has two wins in 18 starts and a 5.01 ERA. Milwaukee's Travis Shaw is hitting .164 and has been sent to the minors. The Cardinals' Matt Carpenter probably is the most underachieving player here, at .216 with a .325 OBP. Pittsburgh righthander Chris Archer is at 3-6 and 5.49. Perennial All-Star Joey Votto almost unbelievably has only 22 RBIs for the Reds.
What to watch for: The Brewers and Cardinals will trade for pitching. The Cubs might trade for pitching and offense. Cincinnati won't be giving away anybody. There will be home runs. But there will be home runs everywhere.
"I don't think it's bad for baseball," said Yelich, whose 31 homer top the leaderboard. "I think people want to see home runs. When I was going to games as a kid, I wanted to see home runs. I think it's great for the game."
X-factor: Division play. So, so many head-to-head matchups are left. But Cardinals All-Star shortstop Paul DeJong said you need to take care of yourself first. "We've got to play the ball — and not the opponent," he said.
NATIONAL LEAGUE EAST
Biggest surprise: Washington Nationals (twice). With the best pitcher in the league, Max Scherzer, and two other top-drawer starters in Stephen Strasburg and Patrick Corbin, the Nationals managed to lose 31 of their first 50 games. Then, when everyone counted them out, they went 28-11 and seized control of a potential wild-card playoff spot. That is one team you don't want to play in a one-game postseason series.
Biggest disappointment: Philadelphia Phillies. After signing Bryce Harper, trading for J.T. Realmuto and Jean Segura and later Jay Bruce, the Phillies were dubbed favorites to win the division. Now they're in third place, albeit only a half game behind Washington.
What to watch for: Which bullpen among Atlanta, Washington and Philadelphia becomes the best. None really is all that good, although the Nationals have the No. 1 closer in the division in Sean Doolittle.
X-factor: Atlanta lefthander Dallas Keuchel, a free agent who had to wait until after the June draft to sign without compensation needed, is starting to find form. The Braves can use that veteran pitching presence to go with young guns Mike Soroka and Max Fried.
NATIONAL LEAGUE WEST
Biggest surprise: That Los Angeles' Clayton Kershaw is having a good, injury-free year but he's been surpassed by All-Star Game starter Hyun-Jin Ryu and perhaps Walker Buehler, too, as the Dodgers' best. The two-time NL champions were good but few figured they would have the division wrapped up by the All-Star break.
Biggest disappointment: Colorado's young rotation, so strong last year, was the worst in the league in the first half, posting a 5.57 ERA. Seventeen-game winner Kyle Freeland, who also had a 2.85 ERA, is 2-6 with a 7.13 ERA — then 0-4, 8.40 in six starts after being demoted to Albuquerque.
What to watch for: A scramble for a wild-card spot. Arizona and Colorado won't run down the Dodgers, but they'e capable of beating out the several other contenders. Arizona particularly has played well lately, sweeping the Rockies in a three-game set before the break.
X-factor: The San Francisco Giants have plenty of veteran players they could move, notably lefthander Madison Bumgarner — who, if acquired by somebody else, could turn that team into a postseason contender
AMERICAN LEAGUE EAST
Biggest surprise: Tampa Bay wins this category almost every year, but the Rays have survived the poor first half (5-7, 4.70 ERA) of 2019 Cy Young Award winner Blake Snell to maintain a wild-card lead. It was a surprise (not!) that former Cardinals outfielder Tommy Pham would be critical of fans, media, etc., that didn't give the Rays the respect he thought they deserve.
Biggest disappointment: The Boston Red Sox are experiencing that World Series hangover, just as three-time World Series champion Tony La Russa, a Red Sox executive, had feared. The Sox aren't going to catch the Yankees, and now they're lumped in a wild-card race with Tampa Bay, Cleveland and Oakland, among others, who all have strong clubs.
What to watch for: The Yankees and Red Sox will seek pitching depth through trade. What's new? The Red Sox won that battle last year, acquiring postseason hero Nathan Eovaldi — who often has been hurt in his career. He is hurt again and will be of no help this year.
X-factor: The Yankees don't necessarily need him now, but they will get outfielder Giancarlo Stanton back. They've compiled the league's best record with him hitting one home run. Retiring lefthander CC Sabathia said he hadn't been "in this good of a position with this good of a team in a long time. Let's finish it off."
AMERICAN LEAGUE CENTRAL
Biggest surprise: The Minnesota Twins, who missed the playoffs last year, were 56-33 before the All-Star break, slugging a record-pace 166 homers in 89 games. The Twins knew they had home-run punch. They might not have known they had depth in starting pitching with Highland, Ill., product, Jake Odorizzi, Mizzou product Kyle Gibson, All-Star Jose Berrios and Michael Pineda.
Biggest disappointment: Cleveland third baseman Jose Ramirez. He might have had as big a drop as anybody in the game, going from 81 extra-base hits last year to just 24 so far this year — and with a .218 batting average at that.
What to watch for: Kansas City's Whit Merrifield, a versatile defender who can hit .300 and lead a league in steals, will be highly sought after. "It will be a win-win situation, either in Kansas City, which is a great town, or I'll be traded to a contending team," he said.
X-factor: If Cleveland gets anything out of ace righthanders Corey Kluber (broken arm) or Carlos Carrasco (leukemia), the Indians might run down the Twins or, at least, make a wild-card slot.
AMERICAN LEAGUE WEST
Biggest surprise: The Seattle Mariners, who started out 13-2, went south after that and have lost their way in what might be baseball's toughest division. The low-budget Oakland A's no longer are surprises as they again contend for a wild-card spot. Their game of home runs and strong defense played just fine in St. Louis a couple of weeks ago in interleague play.
Biggest disappointment: That Albert Pujols might never play again here. What fun it was for everyone a few weeks ago, even for the Cardinals' pitchers. But then much greater disappointment ensued for the Los Angeles Angels and all of baseball when starter Tyler Skaggs, who beat the Cardinals in the final game of the series, was found dead eight days later. The win over the Cardinals was his last.
What to watch for: Houston, which has played shorthanded because of injuries, has second baseman Jose Altuve back now, joining outfielder George Springer, who also had been out for several weeks. When shortstop Carlos Correa (fractured rib) returns this month, the Astros will be whole among their position players and should be able to pull away with the best 1-2 starting punch in baseball in All-Stars Justin Verlander and Gerrit Cole.
X-factor: Who has more wins than either Verlander (10) or Cole (nine)? That would be your favorite righthander you didn't know you would miss so much until he was gone, Texas' Lance Lynn. The 11-game winner knows the way to postseason ball. He came out of the bullpen when La Russa didn't want him to in Texas during the 2011 World Series and then he was a part of the continued postseason run of the Cardinals through 2015. He has been in 12 postseason series.
---
TOMMY EDMAN, Infielder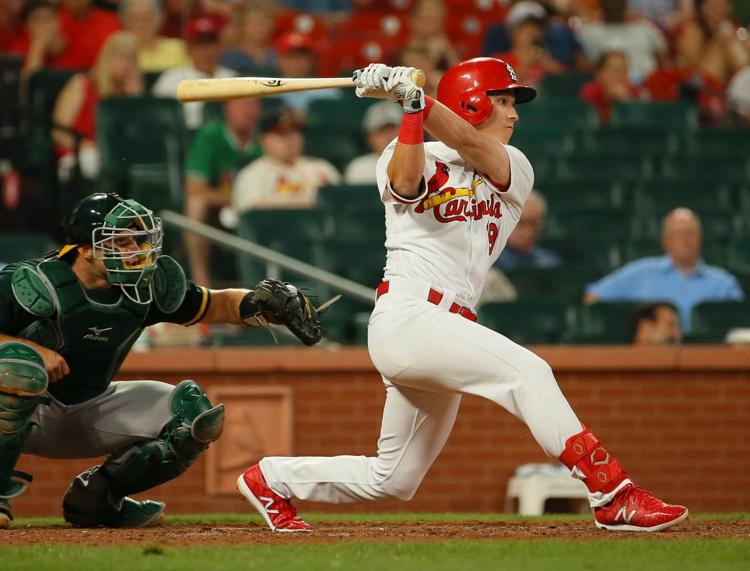 GORDO ON EDMAN: He bypassed more experienced utility men Edmundo Sosa and Drew Robinson to earn fill-in work when injuries hit the Cardinals this summer. And the switch-hitting Edman is making the most of his first look. He is batting .286 with a double, two triples, three homers, nine RBIs, three stolen bases and an .856 on-base PLUS slugging percentage in 58 at bats.
Grade: A
YADIER MOLINA, Catcher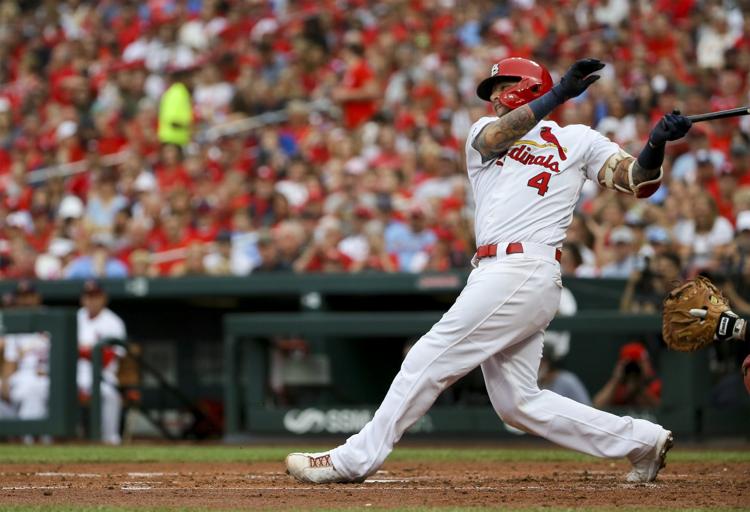 GORDO ON MOLINA: While most of his teammates ran hot and cold at the plate, Molina remained a steady presence in the batting order until he suffered his thumb injury. He is hitting .274 as the No. 6 batter this season. Overall he is batting .308 with runners in scoring position. Molina remains outstanding behind the plate; he allowed just 13 stolen bases in 69 games behind the plate.
Grade: B-PLUS
MARCELL OZUNA, Left Fielder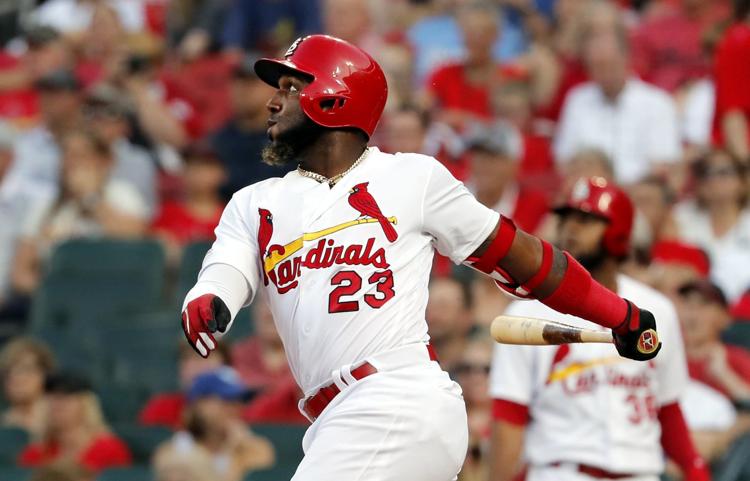 GORDO ON OZUNA: He drove home 28 runs in April when the Cardinals offense was clicking, and 22 more in May. Then Ozuna delivered just 12 RBIs in his 87 June at-bats before landing on the injured list with broken fingers. His overall production (20 homers, 62 RBIs, .846 OPS, eight stolen bases) stands out in this sputtering offense. And after shoulder surgery, his throwing arm is decidedly less terrible that it was last season.
Grade: B
JOSE MARTINEZ, Outfielder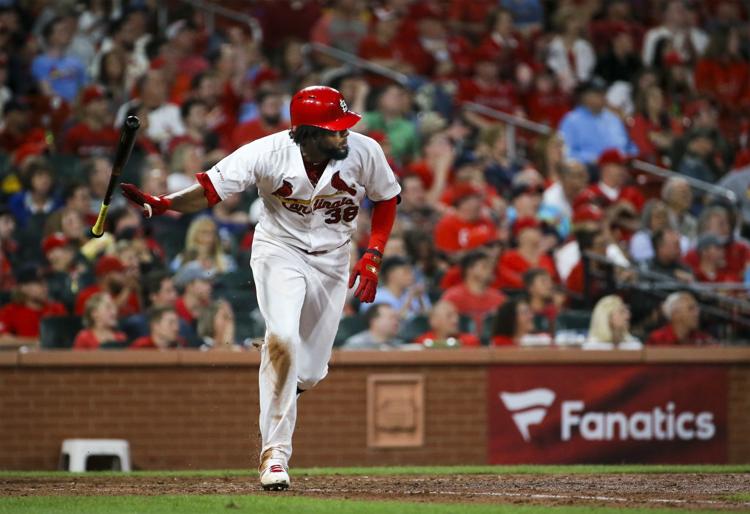 GORDO ON J. MARTINEZ: Like many of his teammates, he punished the ball back in April. He hit .400 with 12 runs scored and 13 RBIs. Then Martinez (.285, eight homers, 31 RBIs overall) had nearly as many strikeouts (31) as hits (33) during the next two months before heating up with a recent eight-game hitting streak. Martinez has worked hard to improve in right field, but his lack of range dooms him to poor defensive metrics.
Grade: B
YAIRO MUNOZ, Infielder/Outfielder
GORDO ON MUNOZ: He can play all four infield spots and all three outfield positions. He can hit and he can run. Munoz does not draw walks -- he has just two in 90 plate appearances -- so he needs a bit more plate discipline. It took multiple injuries to get him some playing time, but he is making the most of it by hitting .307 with four stolen bases.
Grade: B
DEXTER FOWLER, Outfielder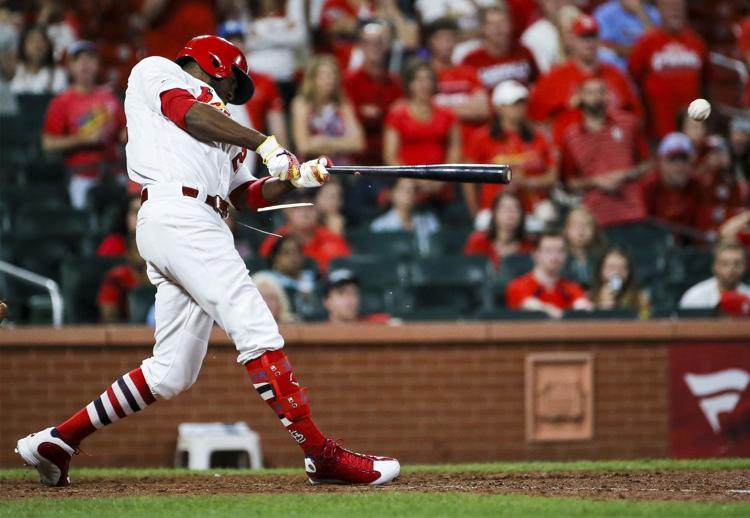 GORDO ON FOWLER: He put last season's nightmare (.180 batting average, season-ending foot injury) behind him to approximate his previous form. Fowler (.254, 10 doubles, 10 homers, 32 RBIs) is generally rewarding manager Mike Shildt's confidence. He is hitting .255 from the right side of the plate after hitting just .161 there last season. As an added bonus, Fowler has held up as a center fielder this season and allowed Jose Martinez to play some right field.
Grade: C
KOLTEN WONG, Second Baseman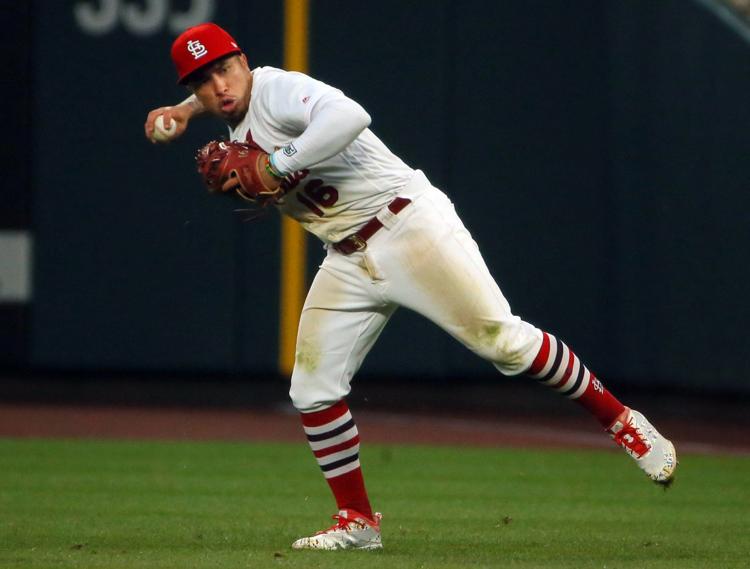 GORDO ON WONG: As a fielder, he consistently saves runs with his remarkable range. As a baserunner he is 14-for-14 stealing bases this season. As a hitter, though, he runs hot and cold. Wong started fast (8 for 14, double, two homers, 4 RBIs) in March, then hit just .218 in April and .170 (with a terrible .237 on-base percentage) in May. Then he heated up again, hitting .274 in June before going 5 for 15 to start this month.
Grade: C
MATT WIETERS, Catcher
GORDO ON WIETERS: When the Cardinals needed him to step up in June with Yadier Molina injured, Wieters went 3 for 33 with 14 strikeouts. More recently he managed to smack a couple of homers from the right side of the plate On balance the switch-hitting Wieters (.220, five homers, 11 RBIs in 82 at bats) has offered an upgrade over Francisco Pena.
Grade: C-MINUS
TYLER O'NEILL, Outfielder
GORDO ON O'NEILL: Earlier he got caught in the outfield numbers crunch and the team's need to carry an extra reliever. Now with Marcell Ozuna sidelined and Harrison Bader slumping, he could make his move. But O'Neill has struck out 30 times and hit just one homer in his 66 at-bats, so he must make more consistent impact to earn those fill-in at bats.
Grade: C-MINUS
PAUL GOLDSCHMIDT, First Baseman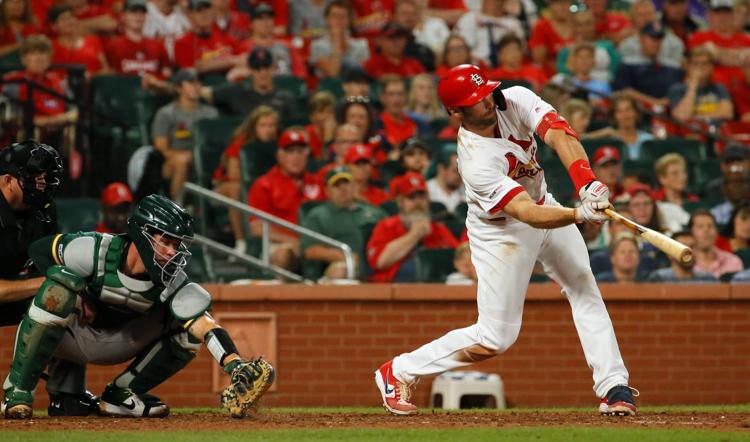 GORDO ON GOLDSCHMIDT: OK, so he is a great fielder and a smart base runner. But the Cardinals gave him a five-year, $130 million contract extension expecting him to produce runs. He smacked nine homers in his first 23 games, then hit just five in his next 62 games. Goldschmidt (.254,, 16 homers, 37 RBIs overall) drove in just four runs during a span of 101 at-bats in June and July. His .769 OPS is well off his career average of .917. Goldschmidt finally got rolling again on the West Coast swing, going 9 for 26 with four walks, two doubles, two homers, six RBIs and four runs scored.
Grade: D-PLUS
PAUL DEJONG, Shortstop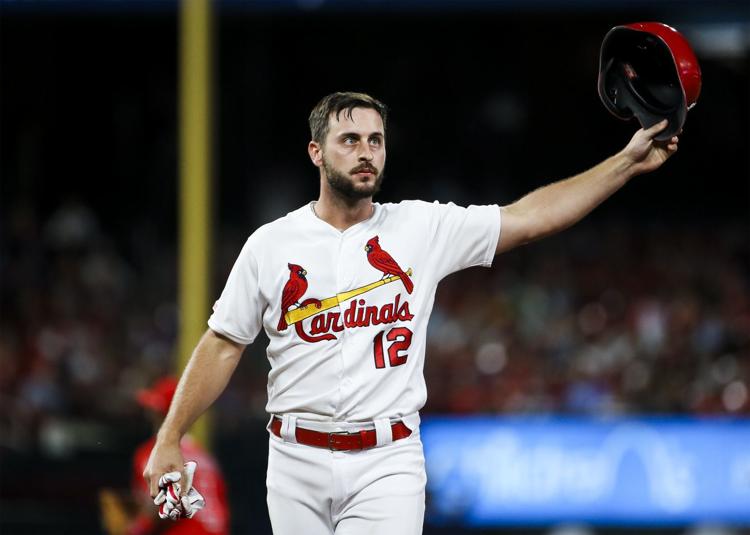 GORDO ON DEJONG: After hitting .360 in April, he hit just .200 in May, .218 in June and .227 thus far in July. After drawing 20 walks in May. he drew just five in June while posting a dismal .259 on-base percentage. DeJong (.258, 13 homers, 36 RBIs overall) has driven home just 10 runs since May 19. He is hitting .174 with runners in scoring position this season and .138 with RISP and two outs. But he has remained a consistently solid fielder.
Grade: D-PLUS
HARRISON BADER, Center Fielder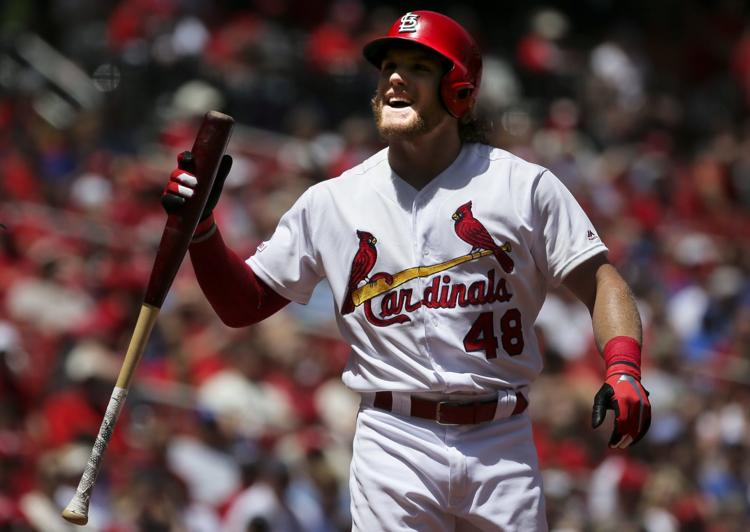 GORDO ON BADER: He has remained an elite center fielder with tremendous range and a strong arm. But Bader died at the plate this summer, hitting .155 in June and .200 (3 for 15) thus far in July. He is batting .205 overall, .145 with runners in scoring position and .059 (1 for 17) with RISP and two outs. After hitting .292 against left-handed pitching last season, he is batting just .167 against them this season. He desperately needs to hit the reset button.
Grade: D
JEDD GYORKO, Infielder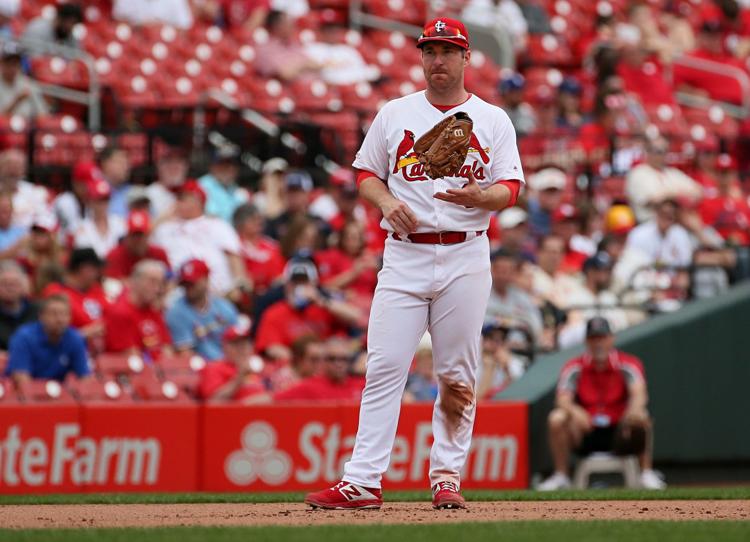 GORDO ON GYORKO: Had he stayed healthy, he could have earned some starts at third base when Matt Carpenter got hurt. After all, Gyorko hit 50 home runs here in 2016-17 and he's a reliable fielder. But he has managed just 56 at-bats (while hitting just .196) between his various injuries or re-injuries. So Munoz and Edman are getting that work instead.
Grade: D
MATT CARPENTER, Third Baseman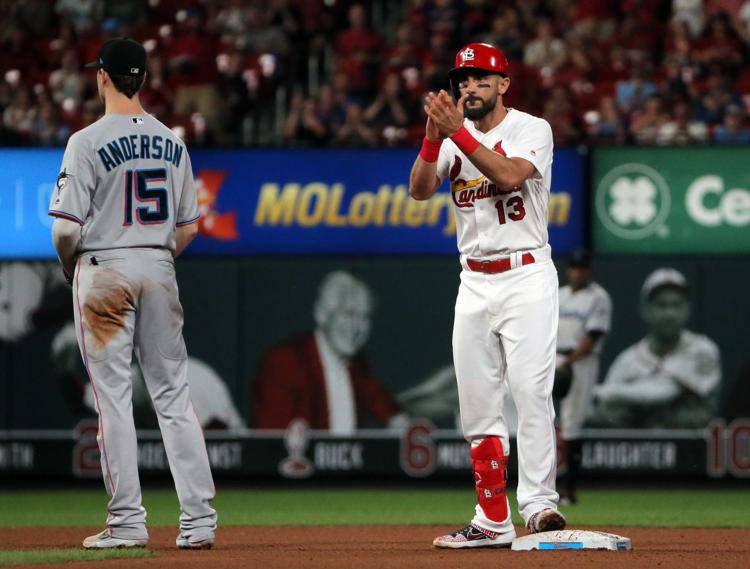 GORDO ON CARPENTER: After batting .170 last September, he hit .193 in April, .237 in May and .208 in June before landing on the injured list with a sore back. That's an unsettling long-term trend, given the two-year, $39 million contract extension he received even as the free-agent marketplace crashed on older players. Unlike last season, Carpenter has not overcome his slow start with a summer power surge. He hit just two homers in his last 81 at bats before going on the IL.
Grade: F
LANE THOMAS, Outfielder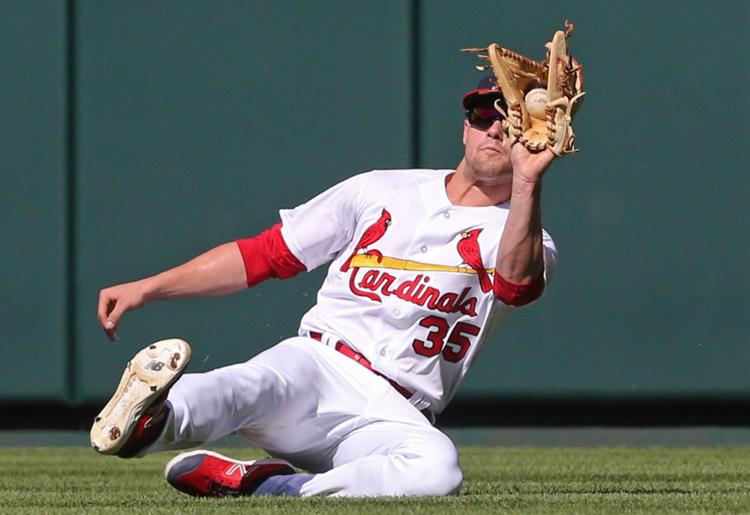 GORDO ON THOMAS: He has performed well during his very limited duty hopping off the Memphis shuttle to fill in. Thomas is 4 for 13 with a walk, a homer, four RBIs and a stolen base. He can go get a fly ball too, so he could work his way into the outfield competition.
Grade: Incomplete
RANGEL RAVELO, First Baseman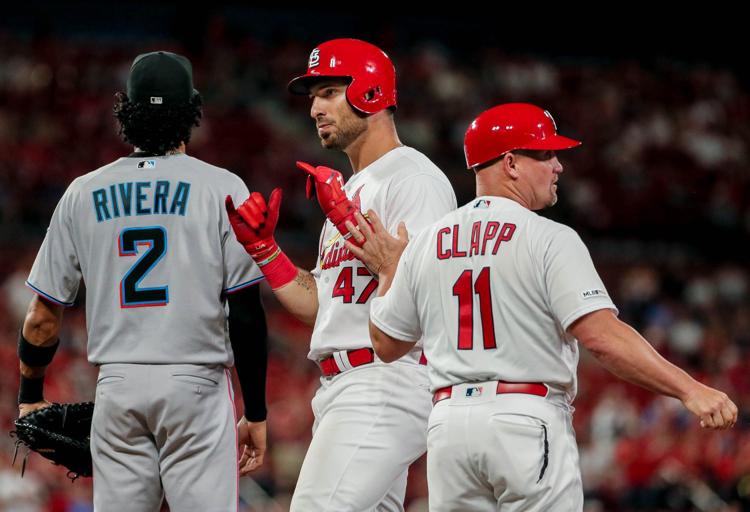 GORDO ON RAVELO: The man has stuck it out through 3,009 minor league at-bats. So it's great to see Ravelo, 27, finally get a taste of the big leagues. His primary job is providing the Memphis Redbirds some veteran presence to take pressure off the prospect. As a Cardinal, he has one hit in his first eight at-bats.
Grade: Incomplete
DREW ROBINSON, Infielder/Outfielder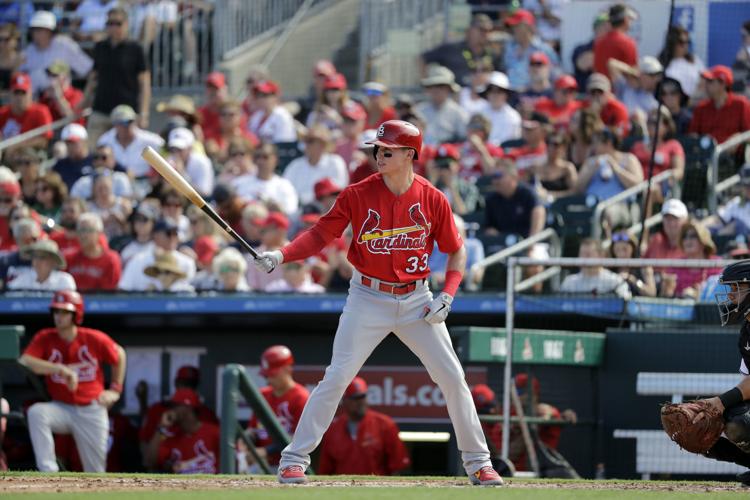 GORDO ON ROBINSON: Like Munoz, he can play everywhere. Unlike Munoz, he hits from the left side — and that gives him more value as a depth player. Robinson went 1 for 5 earlier this season for the Cardinals.
Grade: Incomplete
ANDREW KNIZNER, Catcher
GORDO ON KNIZNER: He was hitless in seven at-bats earlier this season filling in when Molina was injured. But Knizner is hitting .277 for Memphis this season and he is a career .304 hitter in the minors, so he remains on track to replace Molina some day.
Grade: Incomplete
MANAGER AND COACHING STAFF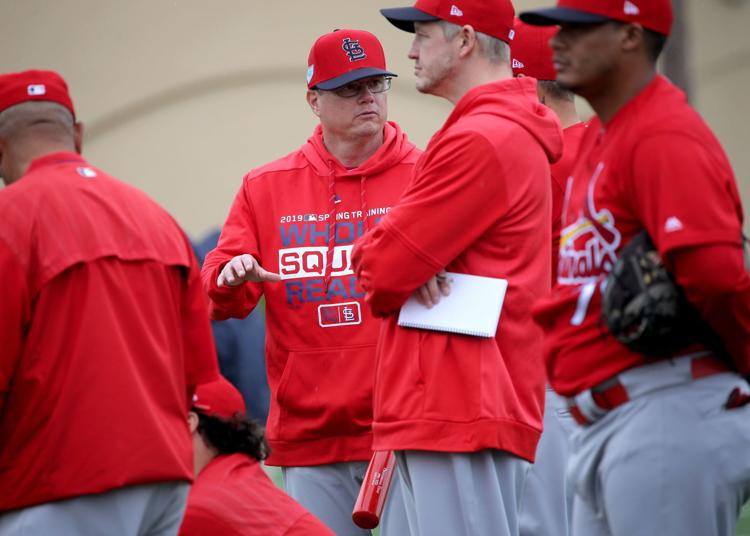 GORDO ON THE FIELD STAFF: Manager Mike Shildt correctly noted that the Cardinals are a better fielding team this season. Putting Goldschmidt's glove at first base cured many infield ills. Credit Carpenter for working to improve at the third base. Also, the diligent field staff has spent a lot of time working with the outfielders on positioning and technique. On offense, Shildt deserves credit for putting the Cardinals in motion. When this team sees a favorable matchup, it's one of the few MLB teams that looks to steal bases.
But new hitting guru Jeff Albert has not been able to help key hitters (Goldschmidt, Carpenter, Paul DeJong, Kolten Wong, Harrison Bader) avoid months-long hitting slumps. And try as he might, well-respected pitching coach Mike Maddux has not been able to coax more consistency from Mikolas, Michael Wacha and Jack Flaherty in the starting rotation. An expected team strength has been a team issue instead.
It's ultimately up to the players to succeed or fail, but so far this has been a frustrating season for the field staff.
Grade: D
FRONT OFFICE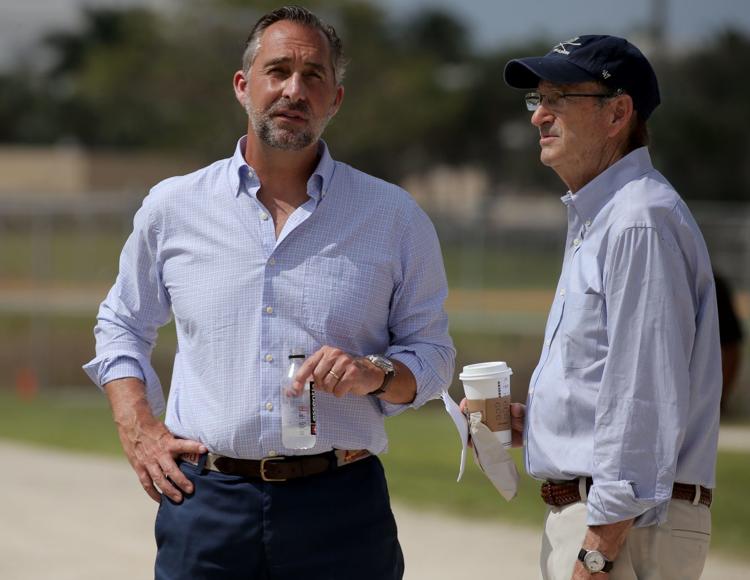 GORDO ON MANAGEMENT: The Cardinals' stated organizational goal is to contend every season. And, sure enough, this team is just two games back of the division-leading Chicago Cubs despite suffering some massive injury hits. But the Cardinals did not expect to be limping along at .500 past the halfway point of the season. Given the rampant mediocrity in the National League, there's no excuse for it.
Bill DeWitt Jr.'s game plan has remained static over the years: rely heavily on player development, invest in player retention and use free agency and trades to fill gaps. Trouble is, president of baseball operations John Mozeliak isn't executing that plan as well as he did in the past. Most of his recent trades brought middling returns or worse. This year's big contract commitments (Paul Goldschmidt, Miles Mikolas and Matt Carpenter) look dubious. Brett Cecil and Dexter Fowler have yielded poor dividends on their free-agent deals and former players (Mike Leake and Luke Gregerson) are collecting nice coin, too. Not only are the Cardinals stuck with several bad contracts, the franchise has little near-term help in its farm system. So this team doesn't have proven help to offer bailing teams before the trade deadline.
Last year, manager Mike Matheny and hitting coach John Mabry took the fall for the team's erosion. So what happens if this team keeps sputtering this year?
Grade: D
HOW DID THE PITCHERS GRADE OUT?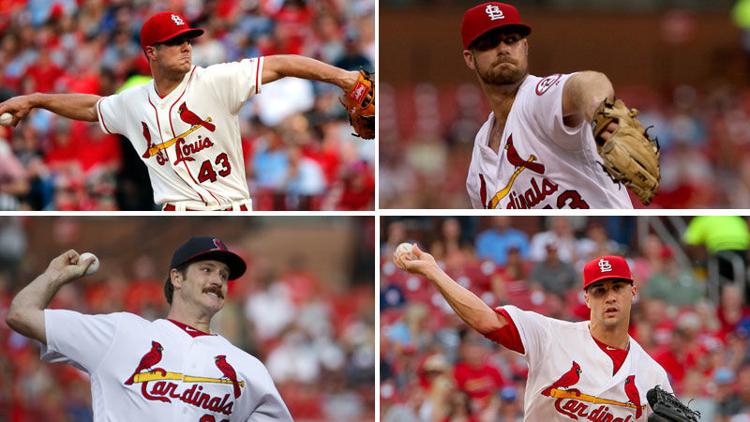 Check out Jeff Gordon's grades for the 2019 pitching staff, which has three starters with losing records, another with one of the league's worst ERAs among starters, and a dynamic young closer who's out for the season.
REPORT CARD: Grading the Cardinals pitchers at midseason