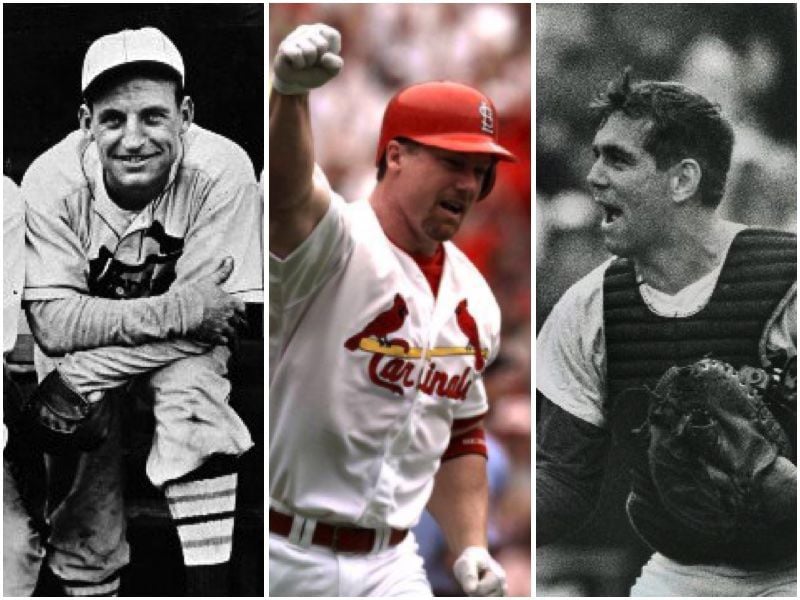 The Cardinals' most recent additions to their Hall of Fame both hit .271 or under in their careers, which wouldn't seem all that Hall of Famish. But there are special circumstances.
Catcher Tim McCarver, a lifetime .271 hitter, played 13 seasons with the Cardinals in two stints, appearing in all 21 games while playing in three World Series, and is now in his fourth year as a popular television analyst as he winds down his St. Louis career.
Mark McGwire hit a bunch of home runs — 583 to be exact — with a record 70 of them in 1998, his first full year with the Cardinals. He spent only 4½ years here but what he accomplished was stunning as he hit 65 home runs in 1999 and, in just two months after coming from Oakland in 1997, he banged 24 to give him a total of 58 for the season. He finished with a .263 lifetime batting average.
"I'm particularly delighted because I'm going in with Mark McGwire," McCarver said. "That means a lot to me."
McGwire didn't know if he was going to be elected to any sort of Hall of Fame after the baseball writers gave him short shrift in the 10 years he was on the ballot.
Asked if he was surprised, pleased, or anything else, to be named to the Cardinals' Hall of Fame, McGwire, speaking by telephone, responded, "All of the above. How do I say it? It's an absolute honor. When I got the call from Mr. (Bill) DeWitt, I was just really, really blessed.
"I can't say enough to the fans for allowing me to be in the Cardinals' Hall of Fame, to allow me to be fitted for that beautiful red jacket. It's just a real honor. The 4½ years I was there was just a great time in my baseball career and a great time in my life."
Clearly, a preponderance of Cardinals fans had a different perspective on McGwire than did the writers, who clearly held his steroids use against him.
"That's OK," said McGwire, laughing at the comparison. "I've got to thank (the fans) for that."
McGwire said he held no bitterness for the National Baseball Hall of Fame voting, in which he never received more than 23.6 percent of the vote (75 percent is needed) and finished at 12.3 in his last year.
"They feel the way they feel," he said. "I have no control over it. And I've moved on from it."
Without directly saying so, McGwire opined that the writers' view of his steroids use, even though he later apologized for using performance enhancements, was the only reason he wasn't in the national hall.
"Most definitely. The numbers are Hall of Fame credentials," McGwire said. "If you put me up with all the Hall of Fame first basemen that have ever played this game, I'm at least in the top five.
"The fact is I put up those numbers without even playing two years (because of injuries). I still have a couple of records, including the rookie home run record (49 with Oakland). And the home-run-per-at-bat of one for every 10 (10.61) at-bats. … I went ahead of Babe Ruth in my last year. I'm pretty proud of that one."
McGwire was asked if he felt better after his admission of steroids use.
"I guess, if you want to say that," he said. "I had to do, as far as coming out and apologizing and whatever, what I had to do. Basically just apologize and let's move on.
"Unfortunately, those things happened. But we're all big and grown-up people and we can move on — as everybody else should. That was the time where there were no rules or regulations (relative to drug testing)."
In essence, Cardinals fans have said they don't give a (hoot) whether McGwire was amplified or not. They liked what they saw when he hit home runs, and McGwire says he sees that love elsewhere as he travels with the San Diego Padres, for whom he is bench coach.
"I run into people on the street and even in the stands and it's such a great feeling," he said. "A lot of people say, 'You brought the game of baseball back.' After the strike in 1994, baseball was really dead to a lot of people. People weren't interested. And then in that summer of '98, it just became a focal point for a lot of people.
"To this day, I don't think there's an athlete that's been through what I've been through on an individual basis. Having the nightly news breaking in throughout the country to report on what I did, or people waking up the next day to see what I did.
"People were enthralled with it every day. They had to watch and see what was going on. I thoroughly enjoyed it. It definitely was stressful but it was the power of the mind that got me through."
McGwire referred specifically to that mind/matter issue as he discussed the last weekend of the 1998 season, when he hit five home runs to outlast Chicago's Sammy Sosa by four.
"The Friday when Sammy tied me, I had to put it into another gear mentally," he said, "and I hit four more to go ahead. I don't know if anybody has ever done that."
Besides getting his red jacket here on Aug. 26, two days after the Padres finish a series here, McGwire is happy that his young sons and his even younger triplet daughters will be on hand to share in something they never really saw.
Eldest son Matt, who is turning 30 and is an analyst for a golf apparel firm, will return for the event.
"It's amazing to think I could lift him up then," McGwire said. "Now, I couldn't even think about lifting him up. He's bigger (6-feet-4) than me. I've actually shrunk. Maybe as you get older (he is 53), you get smaller, especially because of my back problem. My disc has gotten shorter."
McGwire is in his second year as bench coach to young manager Andy Green, whom he likens to Tony La Russa — his manager in Oakland and St. Louis.
"Andy is the one of the smartest, if not the smartest, baseball minds I've ever been around," McGwire said.
To the subject of his own managerial aspirations, McGwire said, "I've never ruled it out. But I really enjoy what I'm doing right now."
Besides the ceremonies in August, Cardinals Hall of Famers get to ride in the opening-day parade the next April.
McGwire said he remembered seeing those and "never really thinking it was something you were going to be involved with. Now I get to have one of those red jackets."
McCarver, who will be honored here on Wednesday night before the Boston game as part of the 50th anniversary of the Cardinals beating the Red Sox in the 1967 World Series, calls his Hall of Fame selection "coming full circle with the Cardinals."
He recalls something New York Mets radio voice Howie Rose said to him about the Cardinals a decade or so ago.
"He said, 'Why are they never out of it? Think about it. They're never out of it,'" related McCarver.
McCarver has thought about it.
"And this is passed down," McCarver said. "That's why I think it's very important for me to be mentioned in the same breath with Mark McGwire or any of the others. The other guys who were on the ballot, I'm sure will get in. I mean Keith Hernandez, (Scott) Rolen, (Edgar) Renteria, (Steve) Carlton, those are pretty good players.
"I'd be foolhardy to think being on television didn't help that. But that's part of it, too.
"The lore has to include what you've offered to the viewing public."