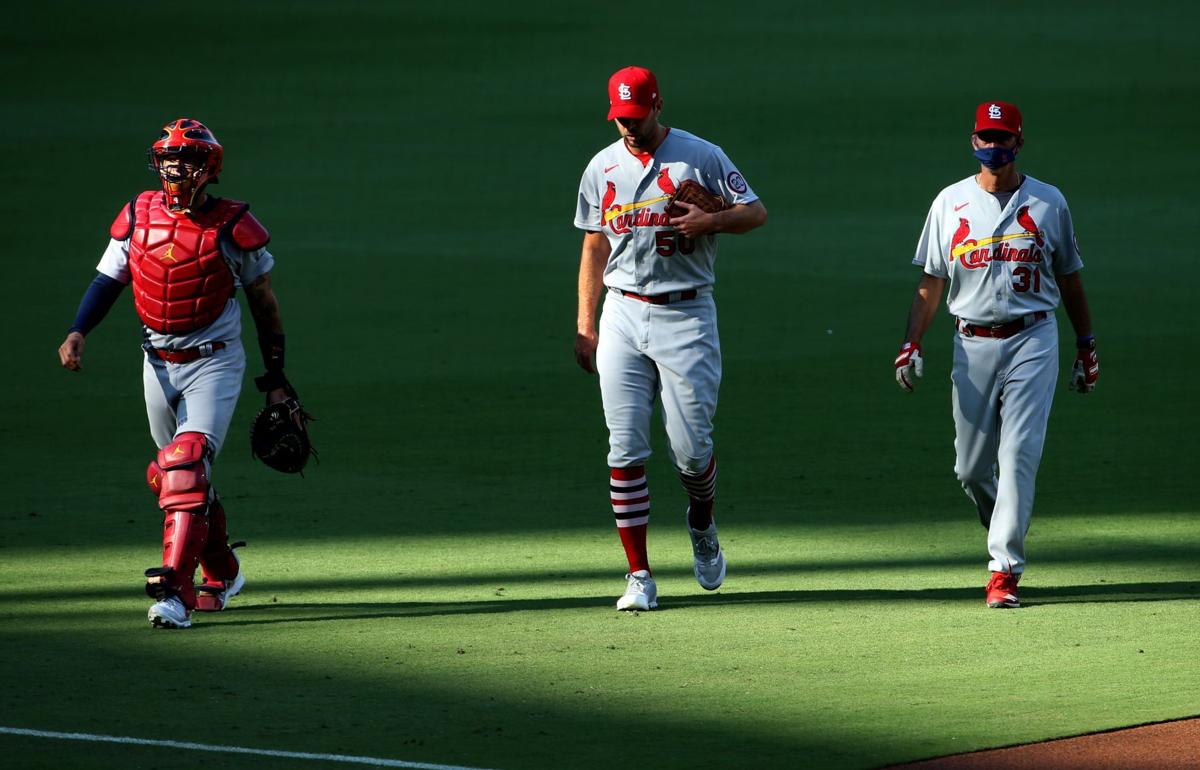 The two players who seemed to be a part of every panel scheduled this past weekend at the Cardinals' Winter Warm-Up didn't attend one of them.
The value of their presence was clearer from their absence.
With less than a month remaining before the scheduled start of spring training, Yadier Molina and Adam Wainwright remain free agents and are entertaining potential interest from other clubs. The Cardinals are hopeful talks with Molina can gain momentum in the coming week. Referring to them as "iconic Cardinals" in an interview shared on the team's website, chairman Bill DeWitt Jr. said the team has made offers to both players. The Post-Dispatch confirmed that through other sources. Molina received at least one offer to re-sign as far back as spring training, and Wainwright has received an offer from the Cardinals this offseason.
In both cases the offer was for less guaranteed than either veteran was set to make in 2020, multiple sources confirmed.
For more than 15 years, Wainwright and Molina have been center stage at the Winter Warm-Up, and without them in attendance they were the center of conversation. Zoom panels hosted for fans throughout the weekend included current players, like starting pitchers on Monday, fielding questions about Wainwright and Molina, and manager Mike Shildt reiterated his public wish to have both return, while acknowledging the "economics are real."
"I think everyone in here would agree that he's one of the best of all time," lefty Austin Gomber said during a panel with five other starters and pitching coach Mike Maddux.
"Yadi sees the field like nobody I've been around," Maddux said. "He's sees more than just who is on the mound. He sees who is behind him, he sees positioning, he sees the field unbelievably. (And) just by having that ability to see in a short series or in the postseason, just that one little tidbit you can pick up that might be for one pitch or one out or save a run, and that might be the difference between win and go home.
"First-ballot Hall of Famer the whole way," Maddux concluded. "And I think he's got a lot more to give."
Molina, 38, has sought a two-year deal, and Wainwright, 39, has been open to his third consecutive year with a one-year deal. Some of the teams to express interest in Molina have signed catchers, leaving the Nationals as a potential suitor and the Cardinals as the obvious reunion. With no Warm-Up to attend, Molina spent this past weekend playing for his brother Jose's team in Puerto Rico's winter ball playoffs. Yadier, wearing No. 41, started at designated hitter, and he lashed a single Monday before doing something he never had before as a pro: pitch. He handled mopup in a loss.
Free agency means he's free to do so.
In the online interview, DeWitt said he was "hopeful" the team could sign both Molina and Wainwright, explaining offers have been made so it's "their decision. Someone may come in and offer them more, and they may choose to take it. We will just have to see."
Answers all weekend suggested what teammates want to see.
"Yadi's been a godsend for this organization, as has Waino for obvious reasons," Shildt told fans Sunday. "When you get in the chair that I set in, from the manager's position, they are absolutely opinion-leaders who reinforce how this organization expects things to be done on and off the field. … Not only are they legacy players, they are players who can still contribute to us."
Maddux pens pitcher-only lineup
Asked to pen a lineup out of the pitchers who joined him for a teleconference Monday, Maddux swiftly suggested that he'd lead off with Dakota Hudson to have him take some pitches, work the count. He'd have Austin Gomber batting third, hoping to open up room for him to hit against the shift by getting a runner on base. Maddux said the power would come from Jack Flaherty at cleanup, and then Daniel Ponce de Leon and John Gant behind him.
Rookie Jake Woodford was also on the call, and Maddux said he'd be asked to move the runners around because he really knows how to handle "the baton."
The pitchers laughed as Maddux offered a lineup that was equal parts scouting and skewering of the players, all while saying he's no fan of the DH in the NL.
"I'm a purist," he said. "I love it. I love it to see Jack get out there and take some whacks at it. I love to see Johnny Gant get something low and in and knock it over the fence. Love to see Ponce swing out of his kazoo. Love to see Jake get up there and feather it the other way. Dakota cheating, trying to pull it, trying to keep it fair down the right-field line because he's got a slow bat. And I get to see Gomer hit into the shift all day, and I keep calling him out in the pitcher's game because he can't understand why that line drive to right is an out.
"I've got these guys figured out," Maddux said of pitching to them. "I can't get them out, but I've got them figured out."
Extra bases
Carlos Martinez, who has made cameos in the Dominican Winter league to show his health leading into spring training, pitched six innings for Aguilas Cibaenas in a playoff game Saturday. He struck out five and allowed three runs on four hits, two of which were home runs. … Jordan Hicks (elbow surgery) and Miles Mikolas (forearm surgery) are both in Jupiter, Florida, as part of their preparation for spring training. Cardinals officials described both as "ready to go" for camp. … The Cardinals landed three prospects — Dylan Carlson, Matthew Liberatore, and Nolan Gorman — on Baseball America's Top 100 going into the 2021 season. Carlson, who remains rookie eligible this season, ranked ninth overall, the highest a Cardinal has ranked since Alex Reyes was the top righthanded pitcher on the list.