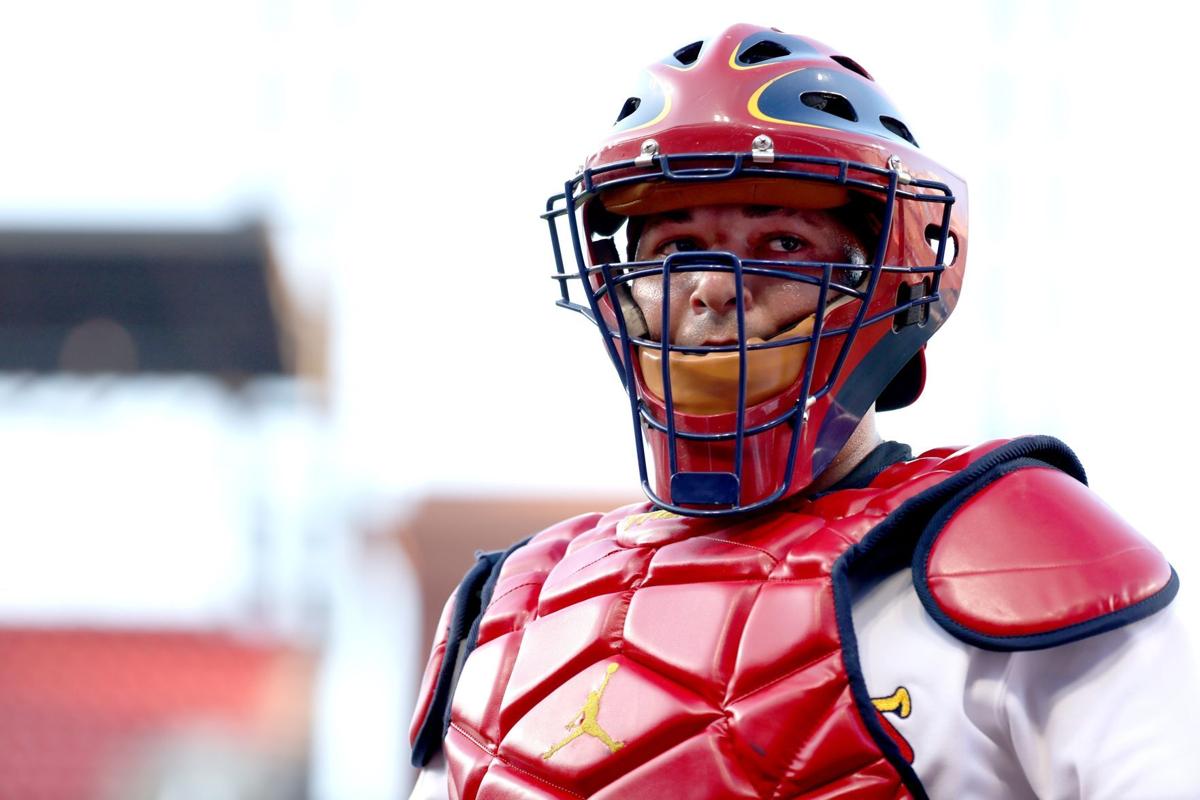 The catcher who has defined an era and become the best ever to play his position for the Cardinals will stay put, right there at home.
Yadier Molina and the Cardinals completed a one-year contract extension for 2022 on Tuesday that will keep the All-Star catcher with the only club he's known for his 19th and what friends and associates expect to be his final season. The Cardinals' announcement of the agreement included a quote from executive John Mozeliak saying the deal will "cement his career legacy with the Cardinals for a final season in 2022."
Molina had sought an early agreement with the Cardinals to avoid another winter of free agency like he experienced this past offseason.
"I'm so happy, so happy," Molina said Tuesday during batting practice.
He had just received a congratulatory hug from teammate Nolan Arenado.
The contract will pay Molina $10 million for the 2022 season, according to a source. It will take him through his 40th birthday and essentially give him the contract he wanted as he hit free agency after the 2020 season. At the time, Molina preferred a two-year deal of around $20 million total to take him to the end of his career, and the Cardinals met him in early February with an offer of $9 million for 2021. He called free agency frustrating for long stretches, a "tough time," and thought several times about retiring. Molina told the Post-Dispatch earlier this month he wanted to negotiate an extension in August with the Cardinals to avoid that same offseason and that it would be "awesome" for a swift agreement.
People close to the 10-time All-Star have talked with Molina about playing one season before retiring so that he could take a farewell tour, complete with celebration of his career.
For the Cardinals, the year offers a bridge between Molina and rising prospect Ivan Herrera, who at Class AA Springfield this summer is considered one of the top young players at the position. The Cardinals could pair Herrera in the split-shift approach popular elsewhere at catcher with current backup Andrew Knizner, who is 26 and under control through 2025. In recent weeks, as Molina has managed a painful, lingering foot injury and neck soreness, the Cardinals have scripted more regular starts for Knizner.
Molina has said before he understands the team would likely have his backup play more often. During spring training 2020, Molina stressed it's his job to earn the full-time starts.
Another year would also burnish his Cooperstown case.
An All-Star this season as he gathers momentum for election to the National Baseball Hall of Fame, Molina leads all active catchers with nine Rawlings Gold Glove awards and trails only Hall of Famers Johnny Bench (10) and Ivan Rodriguez (13). He is one of nine full-time catchers with more than 2,000 hits in their career. He and Bench are the only ones of the group to have spent their entire careers with one team. Molina caught his 2,081st game Tuesday night for the Cardinals, and that is the most ever by one catcher for one team.
The last Cardinal likely to wear the No. 4, Molina's durability and longevity at a position not known for either has advanced in the club record books. His 2,089 hits entering Tuesday rank fourth all time, ahead of his friend Albert Pujols. Molina's 168 homers are in the Cardinals' top 10, as are his total bases (3,004), extra-base hits (572), and RBIs (983). He's six multi-hit games from tying Red Schoendienst's 564 for sixth-most all-time.
No active player and no player in the National League have played in more postseason games that Molina's 101. No Cardinal has appeared in more than his 11 postseasons.
Molina's 19 seasons will rank second in club history to only Stan Musial's 22.
Bill DeWitt Jr., chairman of the club, called Molina in Tuesday's official announcement "among the greatest players to have ever worn the birds on the bat."
The Cardinals' drafted Molina out of Puerto Rico in 2000's fourth round. He made his debut in the majors in 2004, started a game that October in the World Series, and was the full-time catcher starting in 2005. A year later, frustrated by his .216 average during the regular season, Molina saw October as an opportunity to rewrite the review of his season and hit .358 in the playoffs with the two-run homer in Game 7 of the NLCS that gave the Cardinals the lead Adam Wainwright's curveball cinched for the pennant.
Within the next two weeks, Molina and Wainwright are set to make their 300th start together – by far the most by any active battery and fourth-most all-time. Another full, healthy season together and they could move ahead of Bill Freehan and Mickey Lolich's 324 games for the most in baseball history since at least 1908.
While joking he'll pitch for the Cardinals or a team in the same county as his high school in southeast Georgia, Wainwright, who turns 40 next week, has said he'll talk with his family before deciding on pitching in 2022 and returning with the catcher he calls "brother."
The Cardinals, an official said, would welcome those contract talks with the righthander when he's ready.
Carlson returns, bats third
Dylan Carlson's return from wrist injury thrust the rookie right into the new look of the Cardinals lineup as he hit third, sandwiched between corner infielders Paul Goldschmidt and Arenado. Carlson, a switch-hitting rookie, missed two weeks with a sore right wrist that limited his swing. In his absence, rookie Lars Nootbaar forced his way into increased playing time and Tommy Edman returned to leadoff. Their performance allowed Carlson to return to a new spot in the lineup and give the Cardinals a lefthanded bat between the two righthanded-hitting All-Stars.
He had never hit third in the majors before Tuesday's first inning.
"We missed him," manager Mike Shildt said. "Definitely wanted to get Dylan back and add to our group."
O'Neill scratched; Hudson update
Originally in Tuesday's lineup and set to bat fifth, left fielder Tyler O'Neill was withdrawn from the lineup shortly before game time because of tightness in his back, the team shared with its broadcast partners. … Dakota Hudson (elbow) threw three innings of a simulated game in Jupiter, Fla., on Tuesday. He will soon advance to a formal rehab assignment with a Cardinals' minor-league affiliate, and the major-league club is increasingly optimistic that he will be able to join their bullpen at some point in September. Shildt called Hudson's recent progress a year removed from Tommy John surgery "super encouraging."