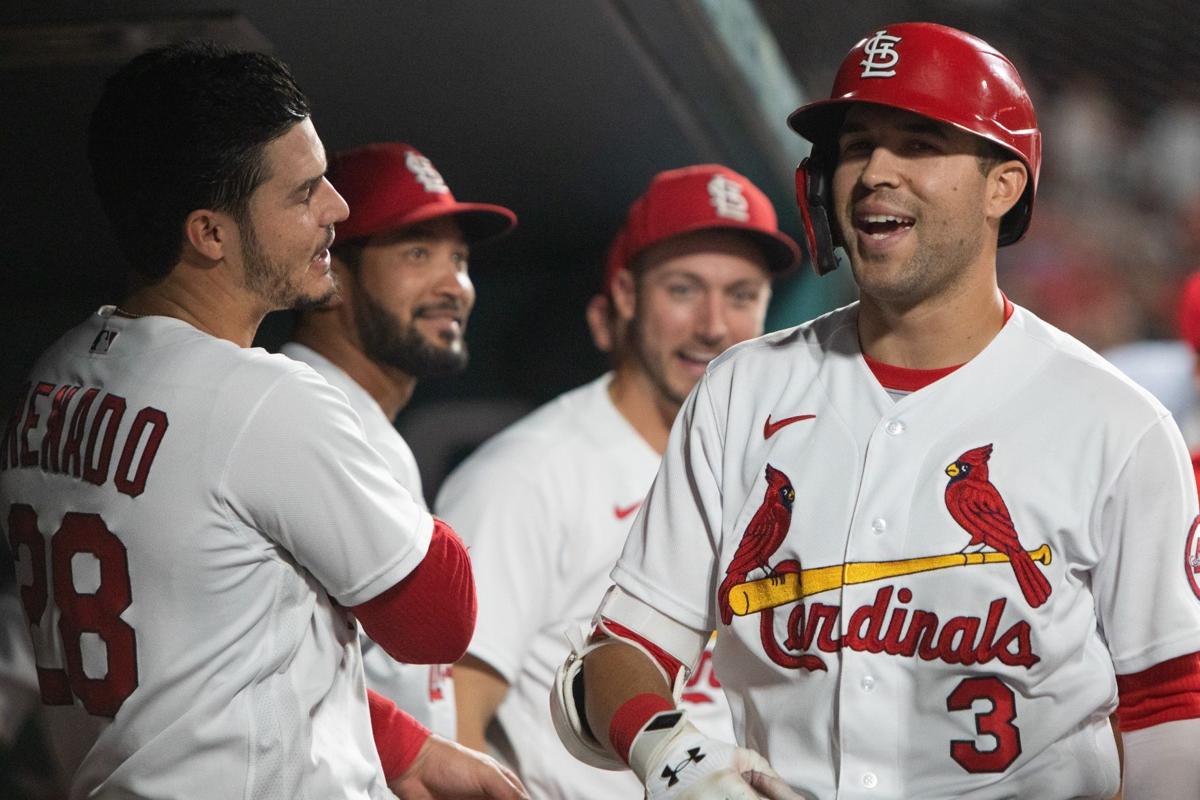 Amid the ebbs and flows of the Cardinals' season — and the locals have had more than their share of both — their youngest regular, 22-year-old rookie outfielder Dylan Carlson, has been among their most consistent players.
Likely to sail past the 500 at-bat mark on Saturday night in the second game of a series here with San Diego, Carlson was hitting .267 after his first 100-bats, .277 after his second 100 at-bats, .258 after his third 100 at-bats, then .253 after his fourth 100 and .257 after 494 at-bats entering Friday's opener.
"I want to see what the next 500 will bring," Carlson said during batting practice Friday. That might be a little tough to achieve this year but he thought a more immediate goal might be "next 100" at-bats, because that would include some potential postseason action.
Carlson, who has 15 homers and 55 runs batted in after hitting two homers, including a grand slam Friday, had had more than 400 at-bats only once in the minors in 2019 and just 110 in a 2020 season shortened by the COVID-19 pandemic.
The switch hitter knew he had to be ready for a much longer season this year. "In the offseason, I really paid attention to myself in the weight room," said Carlson. "I tried to stay consistent on a routine that allows me to be out there every day."
From 500 to 100 to 1. The at-bat Carlson said he most looked forward to actually was the "next one.
"Keeping the task as simple as possible is my main objective right now. You hit some balls hard and you don't get rewarded and sometimes you hit some balls that shouldn't fall that do and you get rewarded," Carlson said.
Carlson said a lot of veterans are only too eager to help if they see him having any trouble. "Nolan (Arenado) does a great job. His locker is next to mine and he's always looking out for me. Goldy (Paul Goldschmidt) does a great job and even 'Waino' (Adam Wainwright) will come up to me from the pitching side and keep my mind in the right place. It's a real blessing," he said.
Asked to assess his season, Carlson said, "I'm glad we're in a position to make a run at the playoffs. So that's always a positive.
"As far as me personally, there's definitely things I can improve on, things I need to work on this offseason. There's also some things I've done well that I haven't in the past. It's been a lot of learning this season, which is something I'm proud of."
Carlson stole 20 bases two years ago in the minors. He has two this year.
"That's not always something that's presented to me, personally, during a game," Carlson said. "Yeah, I agree it's something in my skill set.
"And I feel I can do a better job defensively and also handling certain pitches better,"
With 16 games left, Carlson could get to 17 or 18 homers and drive in more than 60 runs. "That would be great," he said.
"Who says we can't get to 20? I don't know. We're just playing. I don't like to get caught up in the numbers game — but it would definitely be a cool thing to accomplish — to hit some more homers and help us win some games."
Like on Friday night, for instance, when he homered from each side of the plate.
"It's hard not to focus on the team." said Carlson. "There's some huge games that we've got to win and that it makes easier to focus on just the game as opposed to yourself."
Manager Mike Shildt, pointing out that Carlson had hit fourth in the postseason series last year as a 21-year-old, said, "I was impressed last year. He's done a nice job for us in all phases of the game."
Hudson's final rehab start
Righthander Dakota Hudson, pitching on the first anniversary of a game in Pittsburgh when he suffered an elbow injury that required Tommy John surgery, worked five innings for Class AAA Memphis in his fifth and final start on the medical rehabilitation program Friday night.
Hudson allowed two runs (one unearned) to Louisville and gave two hits and three walks while striking out two. He threw 36 strikes out of 68 pitches and his next game action may be in Chicago next Friday in one of the games of a day-night doubleheader, which Shildt didn't deny was a possibility.
Flaherty throws Saturday
Nine-game winner Jack Flaherty, trying to come off a second injury (strained right shoulder), had a "favorable" 30-pitch bullpen session on Thursday, said Shildt. Flaherty will throw another bullpen session on Saturday but mix in some breaking balls and a decision on his pitching future is likely to be made after that. … Forty-six players and staff from the 2011 World Series championship team will be honored Saturday night. Series hero David Freese will throw out a ceremonial first pitch to current star Cardinals third baseman Arenado, marking the first time an active player had caught a first pitch this season.