At the start of the offseason, Logan Sawyer had no clue where he might end up playing baseball come spring.
Sawyer, 29, spent the last two years pitching in independent baseball and received calls from different organizations over that time, but a contract never came to fruition.
• FREE AGENT RHP
• 2021 & 2022 Frontier League All Star & Reliever of the Year
• 30 IP
• 22 Saves
• 39 K's
• 3 BB
• 11 Hits
• 0.00 ERA
• Will pitch in any role, just looking for an opportunity w/ a MLB organization this Spring Training@PitchingNinja pic.twitter.com/LXwy9MKegv

— Logan Sawyer (@logancsaw) November 13, 2022
He wondered how he could get a team's attention. So, he took his wife Natalie's advice to post his highlight video on Twitter and to tag Rob Friedman, who is known online as "Pitching Ninja" for sharing pitching highlights and analysis on his Twitter account that has a following of over 422,000 users.
The video and some accompanying stats were posted, and shared by "Pitching Ninja." Teams started to call once the tweet that advertised Sawyer's 94 to 98 mph fastball, low walk rate and a zero ERA in 30 innings last season gained traction.
Of the calls, his conversation with the Cardinals stood above the rest.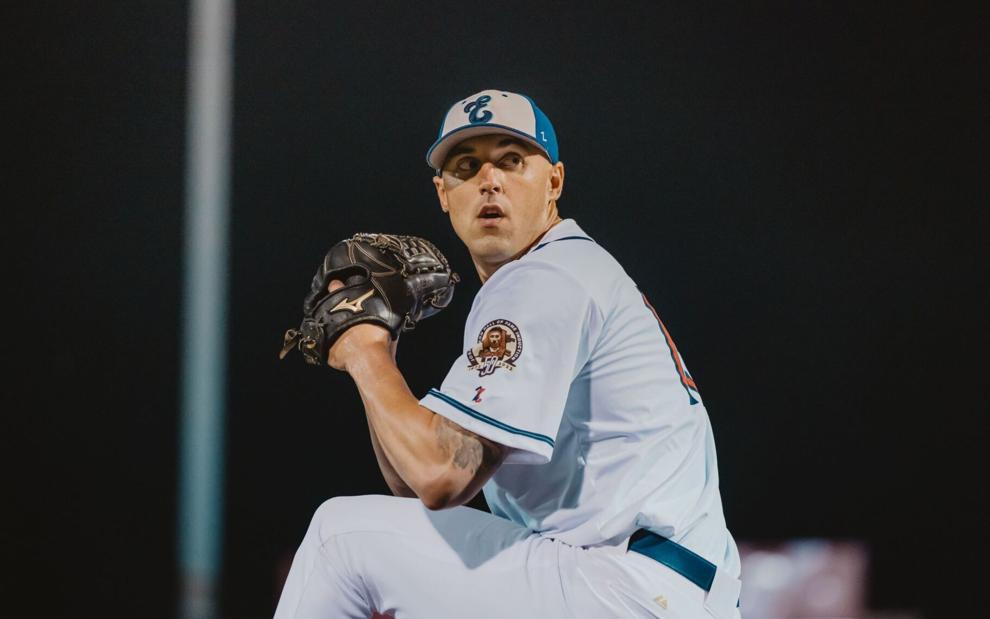 "It was still the case of we want to bring you in, but you can come to a workout with us and if we like you, then, you know, we'll sign you," said Sawyer, who was signed by the Cardinals to a minor-league contract in November. "But that wasn't the case with the Cardinals at all. They reached out to me — I think it was about 11 in the morning — and I think we had the contract by like 2 or 3 in the afternoon."
"The big thing with them was they called me in right away were asking about my family, who I was as a person. Things like that," he said. "That kind of caught me off guard in a good way, meaning that they were going to invest in who I am as a person."
The Cardinals were equally convinced.
"I always try to personalize it because we do care about the player as a person," John Vuch, Cardinals director of baseball administration, said. "In Logan's case, I think we felt like he had a really interesting backstory. I think that that sort of shows that mentality that when things don't go well, he's going to battle through and find a way to come out on top."
Sawyer was a 29th-round pick by the Rockies in 2014 but was released in 2016. Following his release, Sawyer spent time in Jupiter, Florida, working as a strength coach at Cressey Sports Performance, a baseball performance center that has been utilized by both major-league and minor-league players. It was there where Sawyer felt a pop in his arm during a bullpen session and needed Tommy John surgery in 2016.
After rehabbing, Sawyer pitched in the Atlantic League in 2018 where he learned how to trust himself again and "learned to enjoy baseball again."
He played a season of winter ball in the Australian Baseball League in 2019, then didn't pitch in organized baseball in 2020. He used that time to better understand how to improve his velocity and saw his velocity jump from a max of 92 mph to an effortless 95.
The improvements led to a 1.63 ERA, 1.2 walks per nine innings, and 11.8 strikeouts per nine innings over 66 1/3 innings in 2021 and 2022 in the Frontier League.
"I never really had it from the get-go of what you would see, you know, (with) a promising prospect where you get drafted high, you know, you go to Single-A, Double-A, Triple-A, get a call-up to the big leagues, and you have your career," Sawyer said. "Obviously, I never had that. I wanted that. But it's a good thing I didn't because I get to appreciate these moments a lot more. And I think maybe God had that in store for me that if I did get it early on, I wouldn't have known how to handle it. And I probably would have been out of baseball by now."
Sawyer — a Knoxville, Tennessee, native — had already started thinking about the possibility of playing in Mexico or Venezuela if he didn't receive an offer. Then, on Nov. 17, as he was on top of a roof hanging a heater during his day job working in heating and air conditioning, Sawyer got a call from Vuch. Reality hit the 29-year-old when the offer was sent via email.
"I'm going to take advantage of this opportunity," Sawyer said. "I think knowing how hungry I am to continue what I've been building off of, and then the day I do get the call to play in the big leagues, I think that day I'll be inconsolable. I'll probably be out of my mind, crying, calling people, hugging strangers. It'll be a surreal moment then, too."
Sawyer told his wife the news once he got home. He picked up a Cardinals hat from a sporting goods store on his way home from work and surprised the rest of his that night during dinner.
"It was a real beautiful moment," he said.
The next time Sawyer steps onto the mound for an organization will be in February when he reports to spring training as a Cardinals minor leaguer. He'll have a chance there to display his skills in a select group of about 20 minor league pitchers as a part of an early spring training program as he competes for a spot on an upper minor-league affiliate.
What he did over the past two seasons have Cardinals officials hopeful.
"There's a lot of guys that have plus fastballs that have become so common in the game, but the fact that he's able to command it," Vuch said. "The plate in Evansville is the same size as the plate in Busch Stadium or Memphis or wherever."