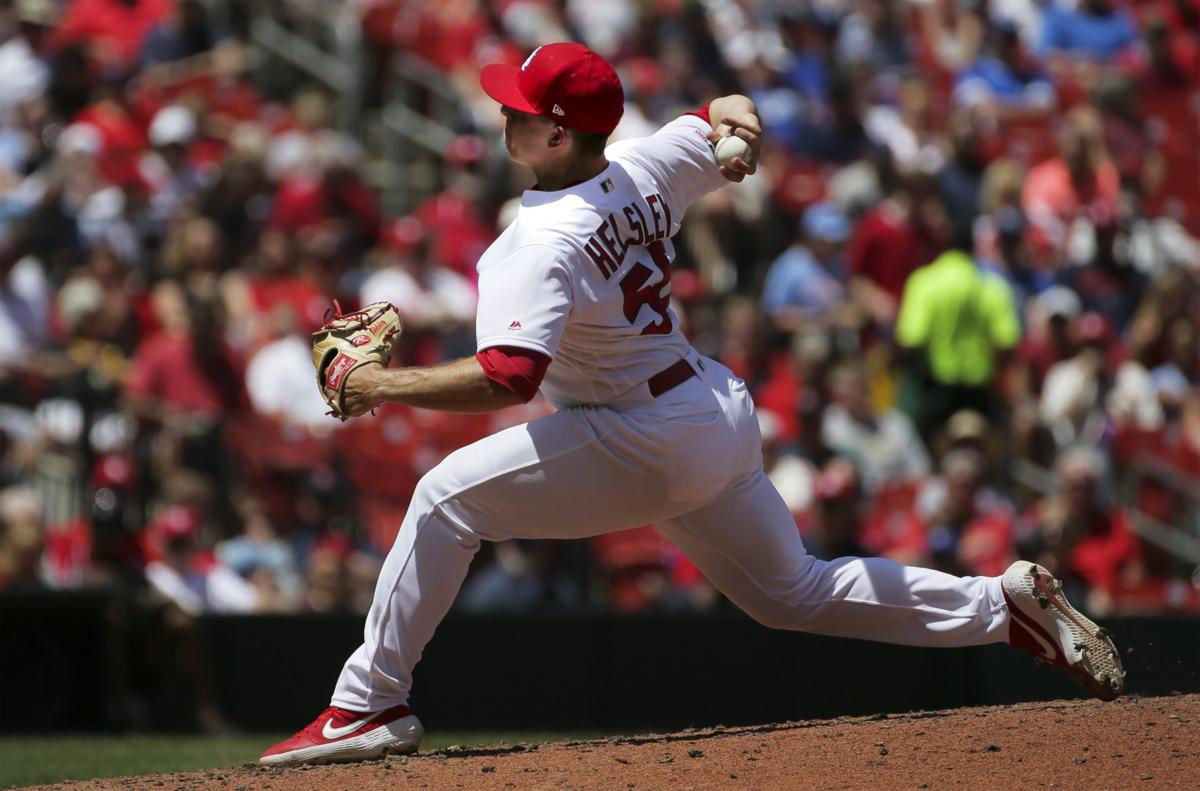 NEW YORK — As they entered spring training, the Cardinals trumpeted the quantity of pitching options they had available for the major-league staff and from that wanted to create flexibility.
Both have been tested in recent weeks.
For the second time on this three-city road trip the Cardinals placed a pitcher on the 10-day injured list and had backfill from Class AAA Memphis. Rookie reliever Ryan Helsley met with a team physician Monday morning in New York and was diagnosed with an impingement in his right shoulder, leading to lefty Genesis Cabrera's recall from Class AAA Memphis. Helsley, who had shoulder trouble last season, goes on the IL three days after he replaced Adam Wainwright (hamstring) on the active roster. It was Helsley's second promotion of the month.
"Thank goodness we have some depth. We're having to rely on it," manager Mike Shildt said. "One thing that I think we've been pretty open about is the flexibility of roles. I think it's been a smart way we've approached it. We have a lot of different guys who have the ability and have done different roles and done them well. We have the opportunity to put guys in different spots, remove guys from different spots, and allow guys to compete here."
Cabrera becomes the latest to bend into whatever vacancy the Cardinals have. The lefty was last in the majors as a starter – he made two starts – and he'll be used in relief, if needed, during the series in Queens. Daniel Ponce de Leon takes Wainwright's spot in the rotation Friday and will make his second major-league start. He had an abbreviated outing in his last appearance for Class AAA Memphis to ready for major-league use, and he's capable of throwing 100 or more pitches. Wainwright has made progress in his recovery from a hamstring strain, though the Cardinals will need to fill another of his starts before he's eligible to return from the IL.
Helsley received an anti-inflammatory treatment Monday in New York, and if that does not alleviate the irritation in his right shoulder he may receive a cortisone injection. If his should responds well to the initial treatment he could be playing catch by the end of the 10-day stay on the IL, Shildt said.
The injuries have thinned the staff that also doesn't have Austin Gomber, who is injured at Class AAA, and Alex Reyes, who had a three-inning start Thursday for Memphis and is trying to earn his way back to the majors. Add to that, John Gant and Carlos Martinez, two pitchers who began spring as starters, have established roles in relief, and starter Michael Wacha recently had a two-night engagement as a member of the bullpen before an opening brought him back to the rotation.
"We work off the premise where most everybody we talk to is a starter," Shildt said.
And then they establish a role based on need (see: Cabrera) or performance (see: Gant). The Cardinals still plan to use Reyes at some point in the majors, but the swapping of arms with Memphis has given Helsley and now Cabrera and Ponce de Leon the chance that elbow their way into a role in the same way Giovanny Gallegos has.
"That's just part of the nature of it," Shildt said. "We know as much as we'd like coming out of spring training, hey, these are our five starters and these are our seven or eight relievers, that's just not a reasonable expectation. Flexibility is important in this game."
BLUES FEVER, ETC.
The Cardinals arrived at their Manhattan hotel a little before 4 a.m. local time because they remained in Miami to watch the end of the Stanley Cup Final Game 7. The Cardinals counted down with the clock to the Blues' first NHL championship. Shildt said a "Let's go Blues!" cheer broke out in the clubhouse, and catcher Yadier Molina was able to FaceTime with Blues forward Vladimir Tarasenko while he was celebrating on the ice in Boston. … Since the Mets' entered the National League in 1962, their 3.79 overall ERA ranks third behind the Dodgers (3.42) and Cardinals (3.72). … Molina entered the weekend needing 18 innings behind the plate to vault ahead of Brad Ausmus into 10th all-time for the catching position.