Suddenly, there are four coaching vacancies on the Cardinals' major-league staff, an unusual housecleaning for a team that, though it failed in the playoffs, won 93 games and a division championship.
But president of baseball operations John Mozeliak planned to renovate only one part of the house — the bullpen, where bullpen coach Bryan Eversgerd, with the Cardinals' major-league staff from 2018-22, has been reassigned as a special assistant in the organization.
Bench coach Skip Schumacher had an option to come back in that role but chose to accept the Miami Marlins' managerial offer.
Mozeliak said he had offered pitching coach Mike Maddux a new contract but that Maddux, who had been here from 2018-22, had wanted to step away from the major-league coaching scene "and do something at a different pace," Mozeliak said.
"He's just done it for so long (20 seasons with four major league teams)," Mozeliak said.
And Mozeliak told the media Wednesday at Busch Stadium that he was prepared to offer embattled Jeff Albert a new contract but that Albert, who had been the hitting coach from 2019-22, had said he was tired of the noise from the court of public opinion that had gone thumbs-down on Albert's hitting philosophy, essentially blaming him for any and all offensive slumps.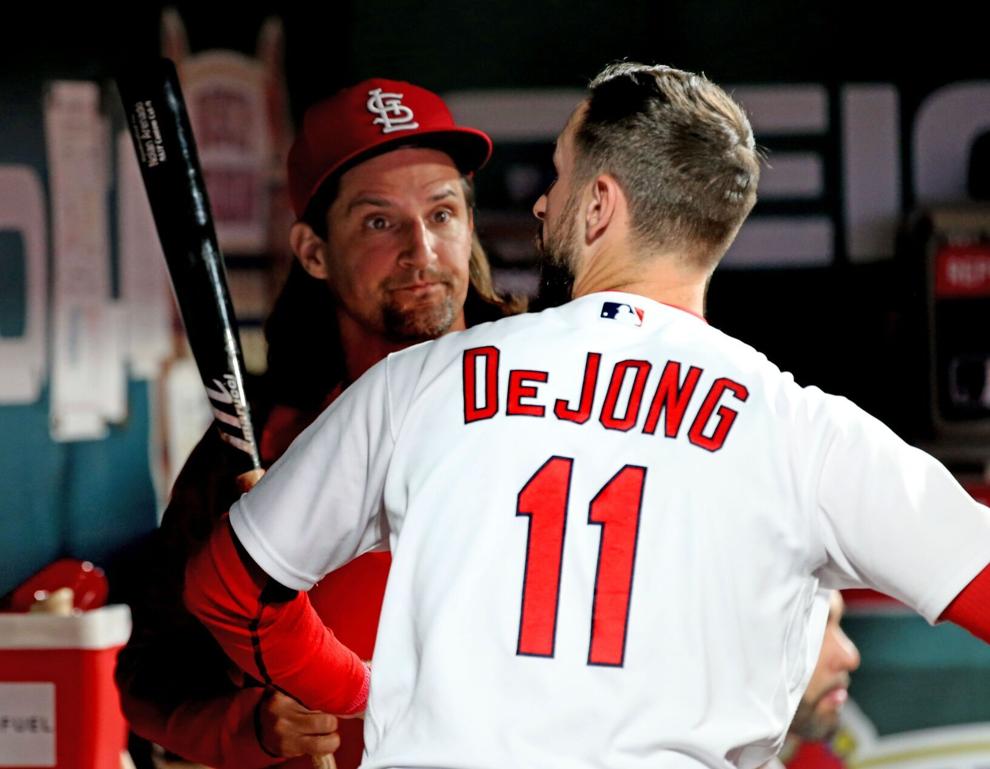 "Jeff accomplished exactly what we were hoping he would do," Mozeliak said. "He modernized our hitting program, our strategy. He made a huge contribution to our minor-league side. From that standpoint, it was a success.
"When you look at what was happening up at the big-league level, people were tough on him. It wasn't an easy job. Our offense was good this year, though.
"I was hopeful he would come back, but ... there was a lot of frustration. (Albert) took a lot of the blame when things weren't going well. I was prepared to offer him a contract, but before I even got that out of my mouth, he already had told me he was not coming back.
"If you read social media, a lot of people put a lot of blame on him."
Albert, speaking to Derrick Goold of the Post-Dispatch by telephone, said he made his decision to leave for personal reasons, taking into account what's best for his family and because he felt it was time to "pursue other challenges and opportunities."
He said he had nothing specific in play but, referencing the Cardinals' organization, said, "There's a really good player development program in place, and there are a lot of good things happening for the organization offensively after the past four years and that puts them in a real strong place. ... I felt like after last year there was more to do — we were headed in the right direction but needed more results. It's a credit to the group that we got there."
The hitting and pitching coach changes are historically significant in that both coaches haven't been replaced here in the same year since 1996 when Tony La Russa began a 16-season run as manager and brought in Dave Duncan as the pitching coach and former Cardinals star George Hendrick as the hitting coach, replacing Mark Riggins and Chris Chambliss, who had been pitching and hitting coach, respectively, at the start of the 1995 season.
But both changes never had occurred here when the manager was retained since the Cardinals began having official hitting coaches in the mid-1980s under Whitey Herzog.
The coaches who remain on manager Oliver Marmol's staff are first-base coach Stubby Clapp, third-base coach Ron "Pop" Warner, outfield coach Willie McGee and assistant hitting coach Turner Ward.
Mozeliak said, "We have internal options, but we also want to understand what the outside world looks like. I would imagine that in the next couple of weeks, we'll be working feverishly to get this done."
Class AA Springfield hitting coach Tyger Pederson and minor-league hitting coordinator Russ Steinhorn have signed on to remain in the organization next year. Also remaining in the system are former Cardinal star outfielders Bernard Gilkey, hitting coach for the Florida Complex League team, and special assistant Ryan Ludwick.
Pitching strategist Dusty Blake, highly regarded after his two seasons with the major-league club, would seem to be one of the internal favorites to replace Maddux.
"He'd certainly be a candidate, yeah," said Mozeliak.
A longshot from outside the organization is former Cardinal Dan Haren, who posted most of his 153 victories after being traded to Oakland and then pitching for a half dozen other major league clubs. Most recently, he has been a pitching strategist while working for the Arizona Diamondbacks from his home in Long Beach, California.
Veteran right-hander Adam Wainwright, who has had only three pitching coaches in his first 17 seasons and who signed up for No. 18 on Wednesday, said had "loved" all his pitching coaches (Duncan, Derek Lilliquist and Maddux) but Maddux, especially.
"I'm going to miss 'Mad Dog,'" said Wainwright. "I hated that we didn't win for him. He's been in the game for a long, long time, and he's never won a World Series. One of my goals this year was to bring him a ring and didn't get to do that. That was one of my big regrets, but he'll be missed, for sure.
"But the next guy, whether it's Dusty or whoever, will do a great job."
Tyler O'Neill, Dylan Carlson under microscope
Outfield production this past season was spotty at best, and erstwhile regulars Tyler O'Neill and Dylan Carlson both were both found wanting, with injury a part of the decline of both.
O'Neill appeared in only 98 games, and although he hit 14 homers and drove in 58 runs as he batted .228. A hamstring injury kept him off the playoff roster, and he was sent to the Arizona Fall League to try to hasten his availability for future rounds if the Cardinals had advanced.
"Tyler has a chance to be an exciting player," Mozeliak said. "We saw glimpses of that (34 homers) in 2020."
But now, Mozeliak said, "Adjustments have to happen.
"The good news is that he's going to be in St. Louis a lot of this offseason, so he'll have access to our training staff and he'll be able to come down here and work at Busch."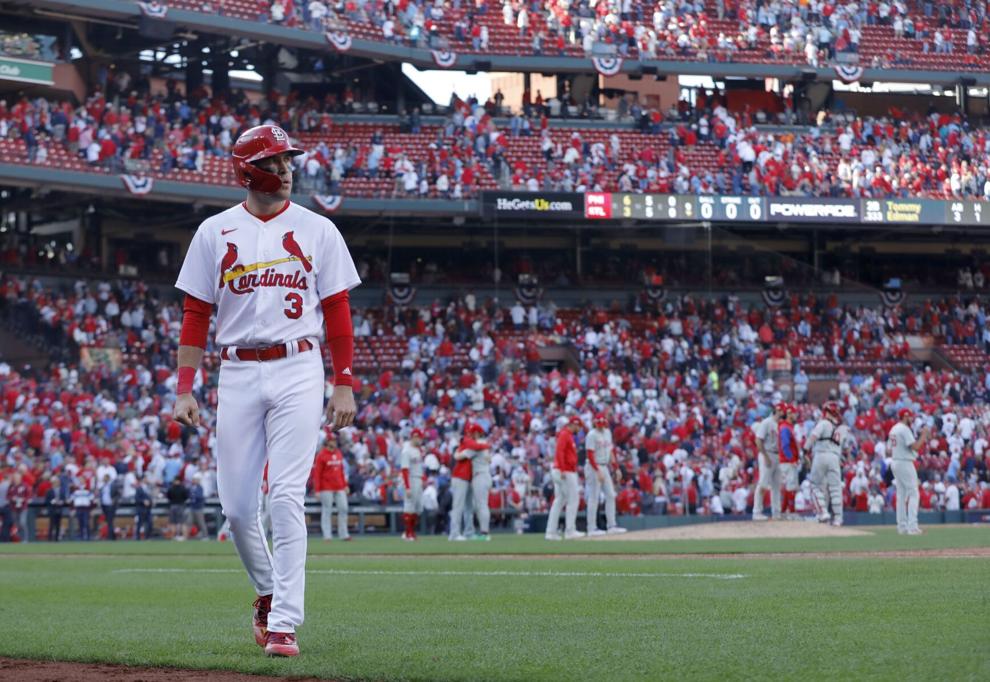 The switch-hitting Carlson appeared in 128 games and batted .236, but he hit only .207 as a left-handed batsman. Mozeliak ascribed part of that decline to a wrist injury although Carlson had that a year ago. This year, it was a left thumb sprain that sidelined him in early September.
"Clearly, we hope to see more," Mozeliak said. "When you're looking at our overall outfield production, it wasn't where we envisioned it, especially when you flip back the calendar one year and we were planning on what 2022 was going to look like.
"We still think we have talented guys, but things are going to have to change and hopefully, he can come into the season healthy. I hope he's not actually swinging a bat now."
Alex Reyes may not be back with Cardinals
Alex Reyes, a "can't miss" prospect when he came up and dazzled in 2016 before encountering a raft of injuries, may find himself off the 40-man roster later this fall. Reyes, a 2021 National League All-Star, missed the entire 2022 season after labrum surgery.
To whether he will pitch next season or be with the Cardinals, Mozeliak said, "I don't think those questions have been answered yet.
"It comes down to what other additions we might try to think through on our 40-man. We're not forced to answer that today, but clearly, it's been frustrating for him.
"He's still rehabbing," Mozeliak said. "But we have to get past rehabs. We have to understand what production might or might not look like next year."
Reyes, 28, will be eligible for arbitration again and is one year away from free agency. He made $2.85 million in 2022 and the Cardinals, though payroll will be increasing, are not apt to want to pay him anything close to that next year.