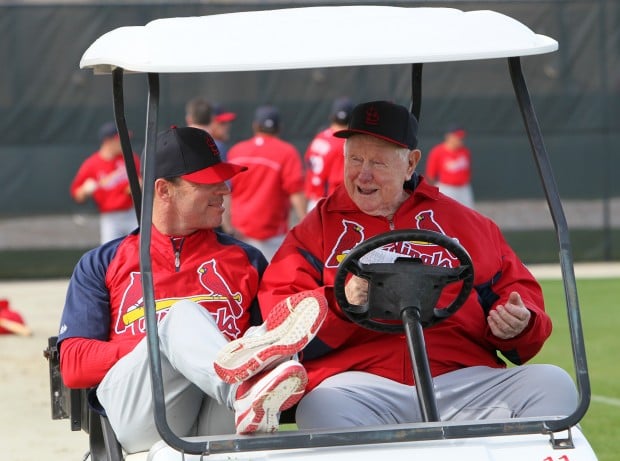 JUPITER, Fla. • Part of the thought process in teams bringing in former players as spring training instructors is to throw out a test line to see if they might want to be further involved in the day-to-day operations of the club.
Eight-time Gold Glove center fielder Jim Edmonds, who retired officially a couple of years ago — just before he was to attempt another comeback with the Cardinals — is at Cards camp until Tuesday night.
St. Louis restaurateur Edmonds, who is helping with the outfielders, said he didn't think he wanted to be a full-time coach and travel much of the season. Instead, Edmonds, who is known for his whimsy, has a rather unusual aspiration.
"I'd like to own the team some day, to be honest," Edmonds said this weekend. "You see (Cardinals chairman) Bill DeWitt stand up in front of the team and be such a stately figure. What a great position it would be to be like a Magic Johnson (Los Angeles Dodgers) or a Michael Jordan (Charlotte Bobcats), where you have part of an ownership
"I don't know if I'd like to put the group together or sneak in the back door," Edmonds said. "But I definitely think that it would be a great thing to be high up in the front office and evaluate and do all the fun things.
"Well, they're not all fun but I'd like to do the things involved in keeping a team winning.
"You start talking about the tradition. There's ways to do it out there on the field and there's ways to do it up there'' in the front office.
Edmonds came up with the California Angels and didn't know much about the Cardinals or their legacy until he got here.
For instance, after spending time here with Willie McGee, another standout Cardinals center fielder and now instructor, Edmonds said, "I had the pleasure of watching him, but not enough obviously (as I would have) if I had been growing up in the Midwest.
"I wish I would have known more about the history of this organization when I was younger, but it definitely makes it that much more exciting to be around and try to carry on some of the tradition."
Edmonds said he realized he couldn't just roll into a front office and take over.
"It's too easy to say I'd like to run the show without putting forth any of the background or the work to get to that point," he said.
DeWitt chuckled Saturday when Edmonds' desire for ownership was relayed to him. He said Edmonds hadn't talked about any ownership stake with him — and the team isn't for sale.
"No plans at all," DeWitt said. "We're very happy with the situation."
But DeWitt said Edmonds had expressed an interest in being more involved.
"He knows the game as well as anybody," DeWitt said.
Edmonds said he had spent considerable time talking to Cardinals general manager John Mozeliak about front-office-type matters and said that Mozeliak and his precedessor, Walt Jocketty, had made him take a different perception toward baseball front offices.
"When I played, I was afraid of the front office," Edmonds said. "You didn't cross the line. But when I got here, it was more of a friendly atmosphere where the general manager at the time was interested in your input. He said, 'This is your team.' It wasn't like it was the front office and then the players. It was like an organization."
For now, Edmonds is standing behind the outfielders as they work out and is willing to offer advice but is hesitant to do so.
"There's always that fine line of when to push and when not to push," he said. "For as much reward as there is, there's awkwardness. That's the part I have to deal with, learning now to deal with being in the way or being out of place."
While in the clubhouse, Edmonds has solved that problem. He does not exit the locker room directly to the field. He goes out the back door.
"I'm not a player anymore," he said. "That's not my locker room anymore and I know that."
Cardinals manager Mike Matheny, in an effort to reduce the tedium involved in concentration on baseball fundamentals, established a bunting competition for the club's pitchers, which was won Saturday by young righthander Michael Blazek.
He beat out favorite Trevor Rosenthal.
Cardinals pitchers, with the notable exceptions of the departed Kyle Lohse (12 sacrifices) and Lance Lynn (10) were notoriously poor at bunting runners over last year.
Matheny noted that "we've changed a lot of the fundamental things we're trying to do."
Then, he added, dryly, "I know how much everybody loves how much we bunt. It seems to be great entertainment for everybody back home, so I'm glad we could appease them."
Matheny, however, did admit that, during a clubhouse meeting, he asked for players' evaluations on the Cardinals' bunting game and "two of our starters yelled out that we stunk," Matheny related.
Adam Wainwright, confirming he and Jake Westbrook were those culprits and that neither had bunted well, said, "Nobody was any good at it at the beginning of the season."
Infielder Ronny Cedeno, solving his work visa problems in Venezuela, made it to camp a day late.
"He can play shortstop for anybody," Matheny said. "I know he's got more in there offensively (Cedeno is a lifetime .247 hitter) and I know he believes the same thing."
Cedeno, who came to the Chicago Cubs at age 22, said no other club really had expressed interest in him this off-season but added, "I'm excited to be here."
Cedeno, 30, said his favorite position is shortstop, where he is insurance for Rafael Furcal — who is coming off a torn ligament in his right elbow. But he is not picky.
"I'll play wherever (Matheny) needs me," Cedeno said.
"Whatever kind of situation. . . I'm going to be there."