Hall of Famer Red Schoendienst, on the other end of the telephone, paused and said, softly, "Oh, man, gee," when told of the death of former Cardinals teammate Joe Garagiola at age 90. "He and I were about the only ones left from that 1946 World Series team," Schoendienst said.
Now, it is Schoendienst, 93 and in good health, after the death of Garagiola in Phoenix on Wednesday afternoon. Garagiola had been in poor health for at least several months.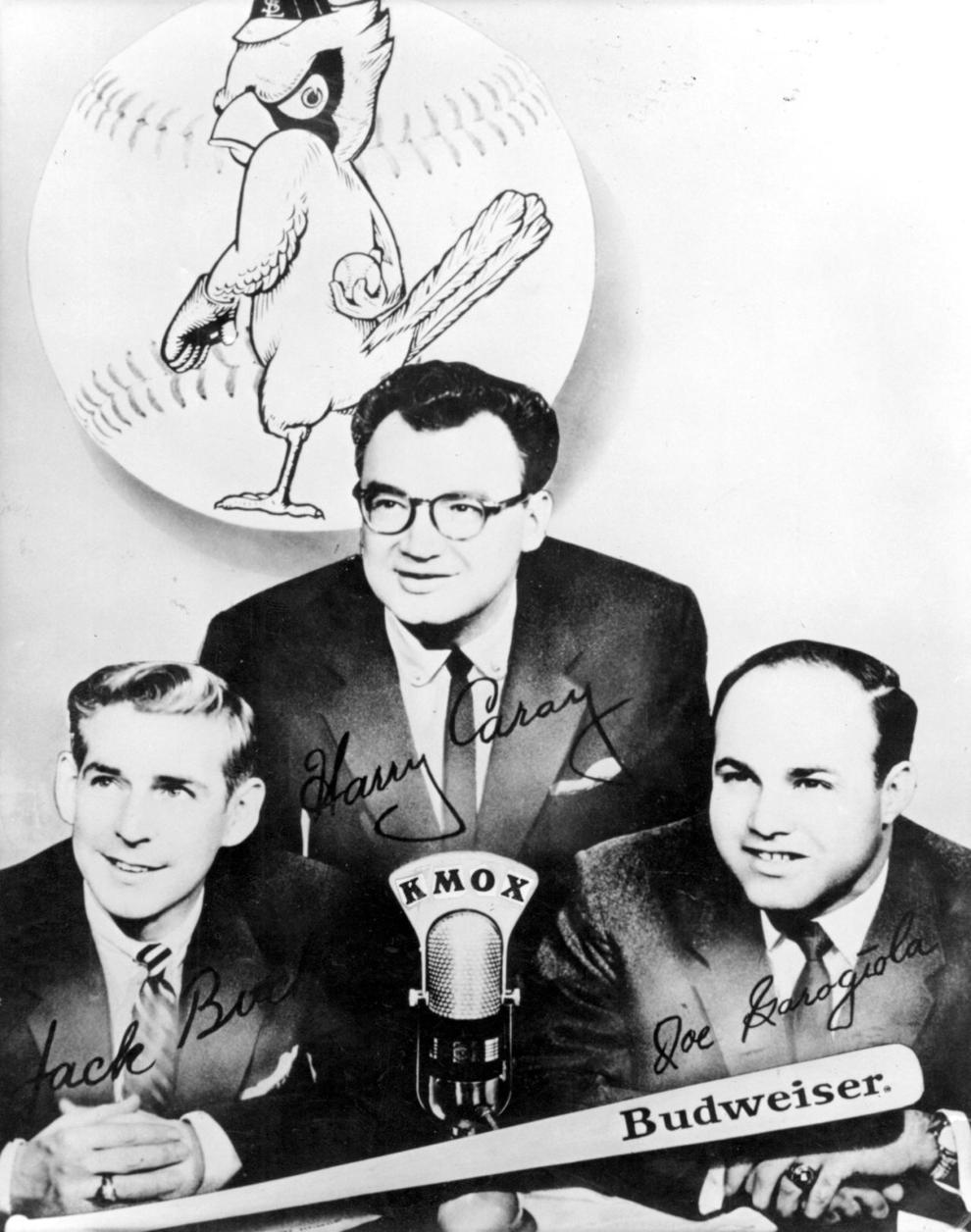 Schoendienst and Garagiola were teammates from 1946-1951 before Garagiola was traded to Pittsburgh, but Schoendienst recalled a morning in 1942 when Schoendienst, from Germantown, Ill., and two products of Elizabeth Avenue on the Hill, Garagiola and Yogi Berra, rode in a big chauffeured Lincoln belonging to Cardinals general manager Branch Rickey on the way to a tryout camp in Forest Park.
Schoendienst and Garagiola eventually were signed, Garagiola for $500 and Schoendienst for something less. Berra would go to the New York Yankees later on as Rickey, who went on to the Brooklyn Dodgers, failed to sign him.
Garagiola would go into the military for two years after hitting .293 at Class AAA Columbus in 1943, while Schoedienst came to the majors in 1945. The next year, they were together as world champions, with Garagiola enjoying a four-hit game in Game 4 of the Cardinals' seven-game victory over the Boston Red Sox. Schoendienst was 23. Garagiola was three years younger at 20.
Never able to fully recover from a separated shoulder he suffered in 1947 — he was hitting .347 at the time — Garagiola would hit a modest .257 for a nine-year career in the majors. Berra, of course, went on to greater heights, at least in baseball. Garagiola would make his mark in broadcasting.
Garagiola once said, "Not only was I not the best catcher in the major leagues, I wasn't even the best catcher on my street."
Schoendienst recalled that Garagiola "really didn't have a great (throwing arm), but he knew the game pretty well for a young guy."
Besides the Cardinals, Garagiola played for the Pittsburgh Pirates, Chicago Cubs and New York Giants, all National League teams, until he quit after the 1954 season. His best year was in 1951, spent between the Cardinals and Pittsburgh, when he hit 11 home runs.
He often spoke of that career in self-deprecating terms. But Garagiola was a far better player as a catcher-turned-broadcaster than current Milwaukee Brewers announcer Bob Uecker, who was a .200 career hitter.
Speaking in 1970, Garagiola said, "It's not a record, but being traded four times (actually three) when there are only eight teams in the league tells you something. I thought I was modeling uniforms for the National League."
It was that wit that helped Garagiola become a giant in the broadcast industry, where he spent 58 years after he was through playing at the tender age of 28.
But not only was he a television personality, he was a very entertaining after-dinner speaker, who rarely said no to anyone. He emceed several Post-Dispatch Scholar-Athlete dinners.
The Rev. Vincent Bommarito, longtime pastor of St. Ambrose Catholic Church on the Hill, called Garagiola "a first-class guy, a tremendous person who loved the Hill."
Bommarito said Garagiola frequently spoke at the annual parish alumni breakfast.
"He was a great storyteller about growing up here with Yogi," said Bommarito. "Even though he was famous, Joe was always so gracious with his time when he came back."
After his retirement, Garagiola's first turn as a broadcaster was at KMOX, where he helped call Cardinals games from 1955 to 1962. In 1960 he co-wrote a book titled "Baseball is a Funny Game." After his long run at NBC, where he gained fame first by being part of the "Game of the Week team," later as part of the panel on the Today Show and hosting several game shows, Garagiola was even broadcasting games part-time for the Arizona Diamondbacks well into his 80s.
At one point at NBC, Garagiola even filled in for Johnny Carson on "The Tonight Show.''
Among those with whom Garagiola worked on the Saturday "Game of the Week" at NBC was Vin Scully, a Los Angeles Dodgers announcer then and now. Scully, who will be retiring after this season from a career that began in 1950 with the Brooklyn Dodgers, said from Los Angeles, "The biggest surprise for me was how well prepared he was for every broadcast."
"To be honest, I almost expected a former big-league player and a star to come into the booth and just take it easy and say, 'I know all about this game,''' said Scully. "But he really prepared himself, and that really shocked me. I marveled at the things that he had in his mind and in his notebook."
Garagiola won the Ford Frick Award for broadcasting and subsequent honor in the Hall of Fame in 1991, and in 2014 he received the Buck O'Neil Lifetime Achievement Award from the Hall.
Baseball Commissioner Rob Manfred said Wednesday in a statement, "With all of Joe's professional successes, it was behind the scenes where Joe has had an equally impressive impact. He served baseball as a leader in the fight against smokeless tobacco ... traveling to each major league camp during spring training to educate players about the dangers of tobacco and oral cancer. He was also a tireless supporter and longtime champion for the Baseball Assistance Team, which helps members of the baseball family who are in need."
The outpouring from folks on the Hill Wednesday was significant.
Tony "Quinn" Garavaglia, 89, a lifelong resident of the 5400 block of Elizabeth (now Hall of Fame Place), said Garagiola, Berra and Jack Buck signed autographs beneath a tent in front of his house during the block-renaming ceremonies. 
One day in 1946, he said, Garagiola pulled up in front of his house with the Dodgers' Pee Wee Reese and gave him tickets to a World Series game.
"Me and my brother and uncle and cousin all sat right behind the plate. To us, Joe was always just part of the gang," Garavaglia said.
He said Garagiola was generous to the Sick and Elderly Program of the Hill, which provided free medical equipment to residents. "He was always a compassionate guy," Garavaglia said.
Vince Diraimondo, 89, who played sandlot baseball with Garagiola and Berra, said the two "put this neighborhood on the map.
"We knew they would go far," said Diraimondo, who still lives on the Hill. "Those guys, they were just bigger and stronger, great ballplayers. I was in the service in the Philippines (during World War II) and picked up a paper in Manila. There was Joe on the front page, catching a foul ball."
Garavaglia said the block was quiet Wednesday except for visitors driving by to take another look and TV reporters broadcasting live.
It has been a difficult time for the neighborhood in the last year. Berra died in 2015, as did former Hill resident Frank Borghi, the goaltender in 1950 for the U.S. soccer team that stunned England in the World Cup.
LynnMarie Alexander, volunteer archivist for the new Hill Neighborhood Center, said the three "symbolize hard work and family. In that sense, they were no different from the regular person on the Hill. They were emblematic of what's still going on in this neighborhood."
To lose all three in 13 months, Alexander said, "is spiritual."
But Schoendienst, having reached his 90s, could appreciate the life Garagiola led.
"When you hit 90, you've had a good time, I think," said Schoendienst.
Scully, who first met Garagiola in 1950 in Miami when the latter was on a clubhouse training table after being hurt in an exhibition game, thought Garagiola's life had been a perfect mix of baseball and broadcasting.
"He was born," said Scully, "to be in both places."
Garagiola is survived by his wife, Audrie; three children, two of whom also went into broadcasting; and eight grandchildren. Joe Garagiola Jr. is an executive for Major League Baseball.
A funeral service will be held in St. Louis, and a local memorial will be held in Arizona at a later date.
Tim O'Neil of the Post-Dispatch contributed to this report.
Images from Joe Garagiola's life in baseball
Joe Garagiola, who grew up on the Hill in St. Louis, played for the St. Louis Cardinals and became a national sports broadcaster, has died. He was 90.