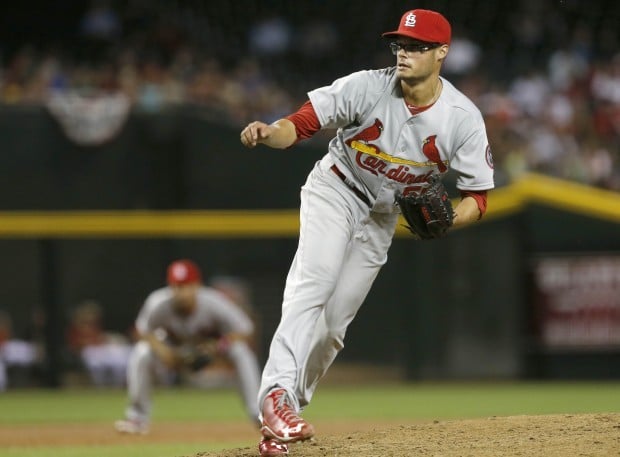 PHILADELPHIA • The analogy that pitching coach Derek Lilliquist used when describing little-used long reliever Joe Kelly to manager Mike Matheny was to call the righty "a Ferrari sitting in the garage."
Now they have to figure out when to drive it.
"He's a nice weapon to have sitting in the garage," Matheny said Sunday night. "It's really a double-edged sword more than anything else. If we're using him a lot that means our starters aren't going very deep into games. Ideally you want (outings) for your whole bullpen. These guys are still developing roles."
Kelly and setup reliever Trevor Rosenthal began spring training in the same place — both auditioning for the opening in the rotation — and 18 games into the season they find themselves on opposite ends of the use spectrum.
Rosenthal appeared in his 10th game Saturday. Kelly has pitched in just four games. Twice this season he's gone at least a week between appearances. The season is only three weeks old.
On Sunday, when the need for a reliever came in the seventh inning, Matheny went to Fernando Salas, saying later that the bullpen was short and he wanted to avoid using Rosenthal. Kelly has pitched in two games -- for a total of three innings -- since April 3. The long relief opportunities have not been there for him.
Kelly, who made 16 starts last season for the Cardinals, spent the spring working on becoming a sinker-based pitcher. There hasn't been time to continue that work during the season because there hasn't been the innings — or has there been the need. Kelly threw one brief bullpen session to stay sharp during the previous home stand.
As a reliever, he's back to a power approach. He pitched two scoreless innings last week in Pittsburgh, and Matheny acknowledged that it's a luxury to have him "as fresh as possible" but tricky to keep him that way.
"I come here and stay prepared. That's what I can do," Kelly said. "Out of the bullpen you've got to be ready to go (and) get hitters out with whatever I've got that day."