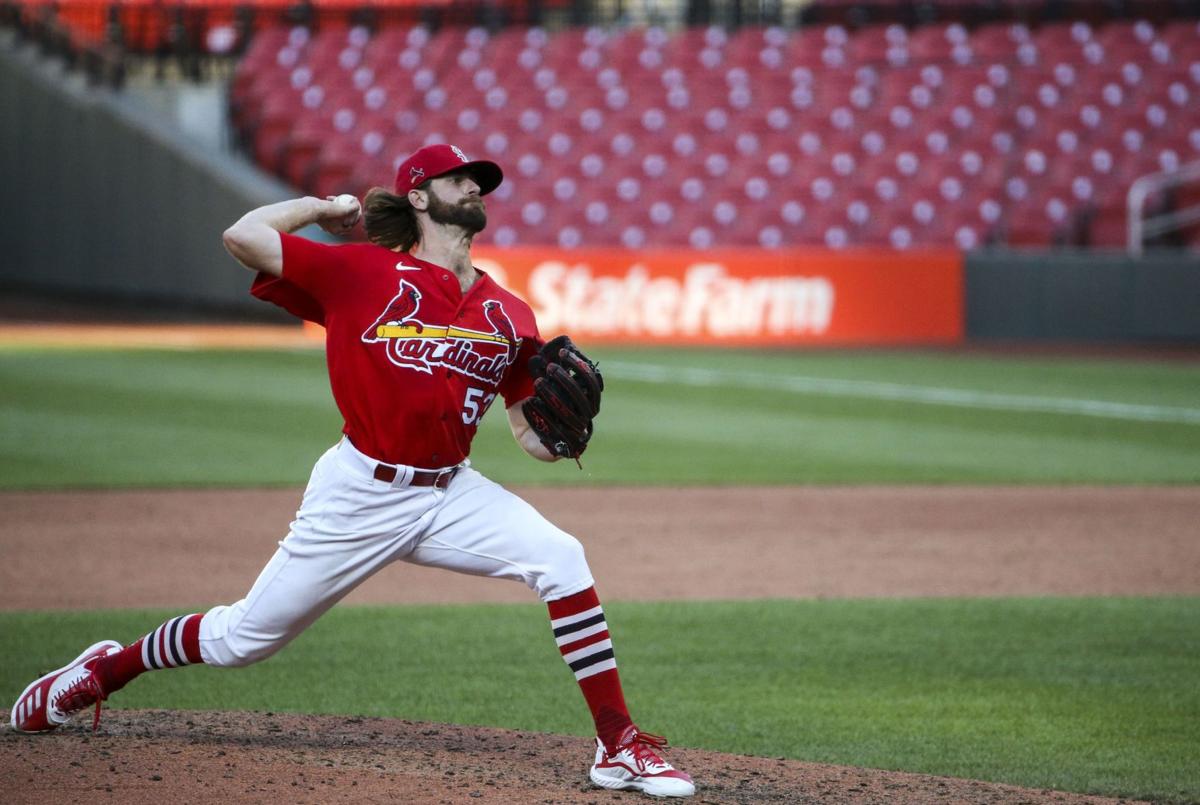 JUPITER, Fla. — The tweet that slingshot John Gant's name into a trending topic on Twitter for a hot minute a week ago was succinct in its appraisal of the Cardinals' righthander.
"John Gant is good at baseball," it read.
He appreciated the compliment.
Good is fine. Good is great. Good is not his goal.
He'd like to prove he's good enough to start.
"I would really like to have a chance at that starting rotation and kind of get out of that bullpen role," Gant said this past week. "Just looking forward to cracking back into that rotation. … Just getting an opportunity to go deeper into baseball games and go out there and just be playing baseball for a couple of hours instead of a couple of minutes."
On Sunday, the eve of the Cardinals' first full-squad workout of 2021, pitchers had a non-throw day with no bullpens scheduled. Instead, pitchers took advantage of having the back fields to themselves and went through a series of fielding drills. On the diamond farthest from the Cardinals' clubhouse, Gant and other pitchers ran through how to cover home plate after a wild pitch or passed ball. They mimicked a throw from the mound — and then had to snag a throw from foul territory on the first or third base side and apply a tag.
Gant, one of the finest athletes on the roster, scampered through the drill, his cascading hair bouncing at his shoulders in a way that usually sends social media abuzz.
What he was doing was part of the spring routine. Who he was doing it with was telling about the spring ahead. In the same four-man group with Gant was Alex Reyes, Daniel Ponce de Leon, and Jake Woodford — all candidates to challenge Carlos Martinez for a spot in the Cardinals' rotation. The Cardinals could start the season with some adjustment to the traditional five-man staff, either by making it a six-man rotation or identifying relievers who will handle the middle innings or make the occasional start. Gant has, according to manager Mike Shildt, "a legitimate chance to be in our rotation."
"Competition is not in a silo," Shildt said. "Johnny just needs to do what he needs to do to command the baseball, obviously be able to be effective against righties and lefties — he's got the weapons for it — and show that he's being efficient with the pitches, which will allow him to go deeper in the games. But effectively, just be John Gant, which has been plenty good."
Plenty good, that is, at baseball.
Gant, 28, had a start to the 2019 season as a reliever that momentarily put him in the running to be the Cardinals' All-Star representative. He finished that season with a 3.66 ERA and 60 strikeouts in 66 1/3 innings. In 2018, his second season with the Cardinals after a trade from Atlanta, he made 19 starts and had a 3.47 ERA in 114 innings. The seesawing between starter and reliever has been one of Gant's assets for the Cardinals. Two years ago, he came to camp and Dakota Hudson edged him for the final spot in the rotation, but because Gant had spent the spring building up his arm strength he was able to handle multiple innings and high-leverage assignments.
"He's also been a little bit more of that Swiss Army Knife," Shildt said.
Going into a season when starters' innings will be managed and monitored to avoid added strain, having a reliever with some elasticity could be essential for a contender. It's possible that Gant could pitch better than other challengers for the rotation and still find himself playing baseball for a few minutes instead of a few hours because his versatility is more valuable to the Cardinals.
"Super valuable every year, maybe more important this year, but definitely important regardless of the year," Shildt said. "Johnny does have that ability to give you a lot of different looks. This is a role you can fill but based on where we are as a team the need for you might be in another role. Those are hard conversations, and clearly harder for the player to hear when they know."
Since 2018, Gant has thrown the sixth-most pitches for the Cardinals, behind only pitchers who have mostly been starters. He has the sixth-best groundball rate in that time for Cardinals with at least 100 innings pitched, and Gant's 46.6% groundball rate is snug next to the starters just ahead of him (Adam Wainwright 47.6%, Miles Mikolas 48.4%). The leader among starters in groundball rate is Hudson, at 57.3%. The righthander with the sinkerballer that upends the launch-angle trend and puts his infielders to work is expected to miss the entirety of the season recovering from elbow surgery. It's his spot in the rotation that is open, and there to take it could be a righthander who has increased his groundball rate.
A righthander Hudson once bested for the spot to begin with.
Gant had a substantial spike in his groundball rate in 2020, bounding from 46.3% in 2019 and 45.1% in 2018 to 62.9%. Gant's best pitch is his Vulcan changeup — named for the V-like, live-long-and-prosper grip — but in the abbreviated 2020 season he took a little off his cutter to make a slider and emphasized a sinker. According to Statcast, Gant's use of his sinker hopped from 31.9% in 2019 to 38.8% last summer. Some of that could be the limited sample size of a 58-game season, but it explains the groundballs, too. With their greediest groundball-getter shelved and two Gold Glovers at the corner infield spots, a grounded starter has an appeal for the Cardinals.
So, too, does a reliever who can give them grounders — and innings.
"After last year, in that small workload, I think obviously there are going to be some adjustments that take place," Gant said. "I've heard a little talk about teams adapting to six-man or possibly seven-man (rotations). I don't think we're going to know what that looks like until we're crossing over that bridge in the moment."
Due to the limited innings a year ago, Gant started throwing a month earlier than usual this offseason and arrived in Jupiter weeks ago. With a 25-game exhibition schedule starting Sunday, it's possible the fifth starter will have to win the job without making a start in the Grapefruit League. They'd have to be good enough at baseball in relief to start.
Gant admitted he's not plugged into social media, not monitoring Twitter for the latest love for his locks, but he did hear about last week's "good at baseball" phenomenon. A few friends sent him the tweet that sparked it all, believed to be from @stl_nation. Gant called it "pretty cool." That invited the question, for the record, if indeed he is good at baseball.
"Well, you know, I can't answer that on my own behalf," Gant said. "You'll have to ask somebody else about that. I'll tell you I really like baseball a whole lot."