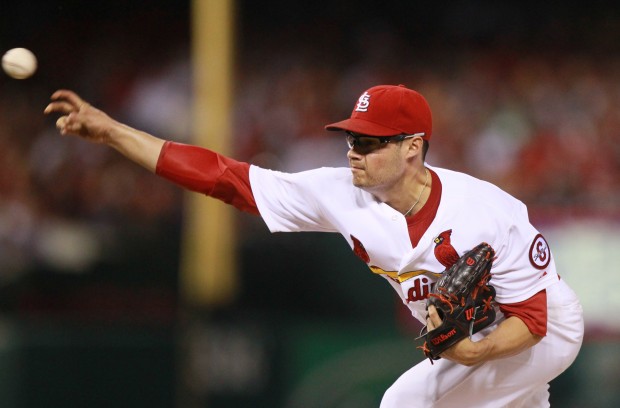 The Cardinals have not yet determined when they will use a fifth starter in the coming weeks, but they know who will be added to the rotation when they do.
Joe Kelly, who held the Cardinals in Friday's game with five shutout innings of emergency relief, will get the next open start once the Cardinals figure out how to navigate three off days coming in the next nine days. The unusual schedule gives the Cardinals the chance to skip the fifth spot in the rotation for the entire road trip, if desired, or use the open dates to give rookie Shelby Miller a midseason break as well.
"We've drawn up easily a dozen models already, trying to think of the pros and cons of each," manager Mike Matheny said. "If there's a start to be had it will be Joe Kelly's. We just need to figure out (how) the off days offer some options."
The Cardinals' immediate move Saturday was to promote righty Michael Blazek from Class AAA to offer a fresh arm in the bullpen. This is Blazek's second promotion to the majors, but he did not appear in a game last month. Since returning to Class AAA Memphis, the righty has struck out 19 and walked three in 11 2/3 innings while posting a 2.31 ERA.
The make room on the roster for Blazek the Cardinals optioned lefty Tyler Lyons to Memphis, where he will join the rotation. Lyons struggled in his final four starts for the Cardinals after going 2-0 in his first two starts.
In the second inning of Friday's loss, Lyons had to be relieved by Kelly after allowing five of seven batters to reach base. Turns out it was a figurative move as well, as Kelly will move into Lyons' spot in the rotation.
"It's one you don't ignore," Matheny said of Kelly's success in recent long relief stints. "That role doesn't suit just anybody. I know that's not what his end goal is — to be that. But he has certainly been extremely valuable to us."
In three of his past seven appearances, Kelly has thrown at least 60 pitches, and in those long-relief outings he's allowed two runs on 13 hits and struck out 11 in those 13 2/3 innings.Kelly filled in as a starter a year ago and 10 of his 16 starts were at least six innings with no more than three earned runs. He came to spring training as a candidate for the fifth spot in the rotation, which Miller won. His use as a reliever had kept him out of the rotation of starters the Cardinals used to fill openings that brought Lyons and John Gast to the majors.
"The mind is powerful," Kelly said of his success in extended appearances. "If I'm going an inning, you know what you have to do. If I'm going to throw 70 pitches, you know you have to do it differently. You throw with 100 percent conviction but not 100 percent effort. You get to throw more than fastballs, mix it up and mess with hitters."
The Cardinals plan to get Kelly rest until Wednesday after throwing 77 pitches Friday, but he could be used in relief if the Cardinals opt to down-shift into a four-man rotation. The next time the Cardinals would have to use a fifth starter is during the first series at home in July.But using a four-man rotation during the next eight games would run counter to the team's plan to afford pitchers like Miller a rest when possible to reduce strain and innings.
"It's a lot of puzzle work," Matheny said.
Blazek returned to the majors ahead of other options because "he's been throwing the best right now," Matheny said. Mitchell Boggs has moved back into a relief role, at his request. Carlos Martinez remains on schedule to build innings and be available as a starter if needed by the end of this month, and Michael Wacha is refining his secondary stuff. Lefty Marc Rzepczynski, demoted to Memphis more than a month ago, has had a strong stretch with a 1.17 ERA and 16 strikeouts in his past 15 1/3 innings over 10 appearances.
The Cardinals' reluctance to add a third lefty to the major-league bullpen worked against Rzepczynski, though Matheny said he "doubts it will be very long" before Rzepczynski returns.
Several times this season the Cardinals starter has gone to the mound to find subtle symbols scratched on its backside, near the rubber spikes used to scrub off dirt. "They've been there every time for me," ace Adam Wainwright said. To the left of the spikes is a Christian cross and just below it is a looped figure. It's a "6" for Stan Musial, the Cardinals great who died in January. A member of the grounds crew puts the symbols on the mound for most home games.
The Cardinals have been one of the few teams not to adopt the trend of stenciling a team logo on the backside of the mound, where television cameras see it for every pitch.
Three years removed from his turn atop Mizzou's pitching staff, righty Nick Tepesch will make his first big-league start in his native Missouri on Sunday against the Cards. Tepesch, 24, led the Tigers in strikeouts in 2010 and went 6-6 with 4.20 ERA as a junior. The Blue Springs, Mo., native went in the 14th round of the 2010 draft and has scaled the Rangers' system rapidly, debuting in April with a 7 1/3-inning start against Tampa Bay. He was the first Rangers starter to pitch into the eighth inning in his debut since 1994 when Mizzou alum John Dettmer did.
The Rangers have lost seven of the past nine games started by Tepesch (3-6), and the young righty has allowed 17 runs in his past 15 2/3 innings pitched.
"We certainly haven't made any waves about moving him out of here," Rangers manager Ron Washington said. "He knows we have his back. He's got to figure out what he's doing early. He's got to figure out a way to get it done late. That's all to it."
Cardinals starter Chris Carpenter, who had his rehab program delayed by stiffness in his lower back, returned to the mound Saturday for a brief bullpen. Carpenter is trying to return from nerve issues in his shoulder and potentially related discomfort in his hip and shoulder, though the Cardinals are letting his recovery develop without a timetable to meet. … Edward Mujica's 21-for-21 start to the season in save situations is the best by a Cardinals' closer since 1995 when Tom Henke was 22-for-22 to start the year. … Navy grad Mitch Harris collected his first pro victory Friday after 1 1/3 innings of relief at the Cardinals' short-season Class A affiliate in State College, Pa. This is the 27-year-old righthander's first pro season after he had to delay a baseball career to complete his service commitment to U.S. Navy. ... The team presented former Cardinals catcher and Fox broadcaster Tim McCarver with a No. 15 home alternate jersey signed by the current team as a retirement gift.