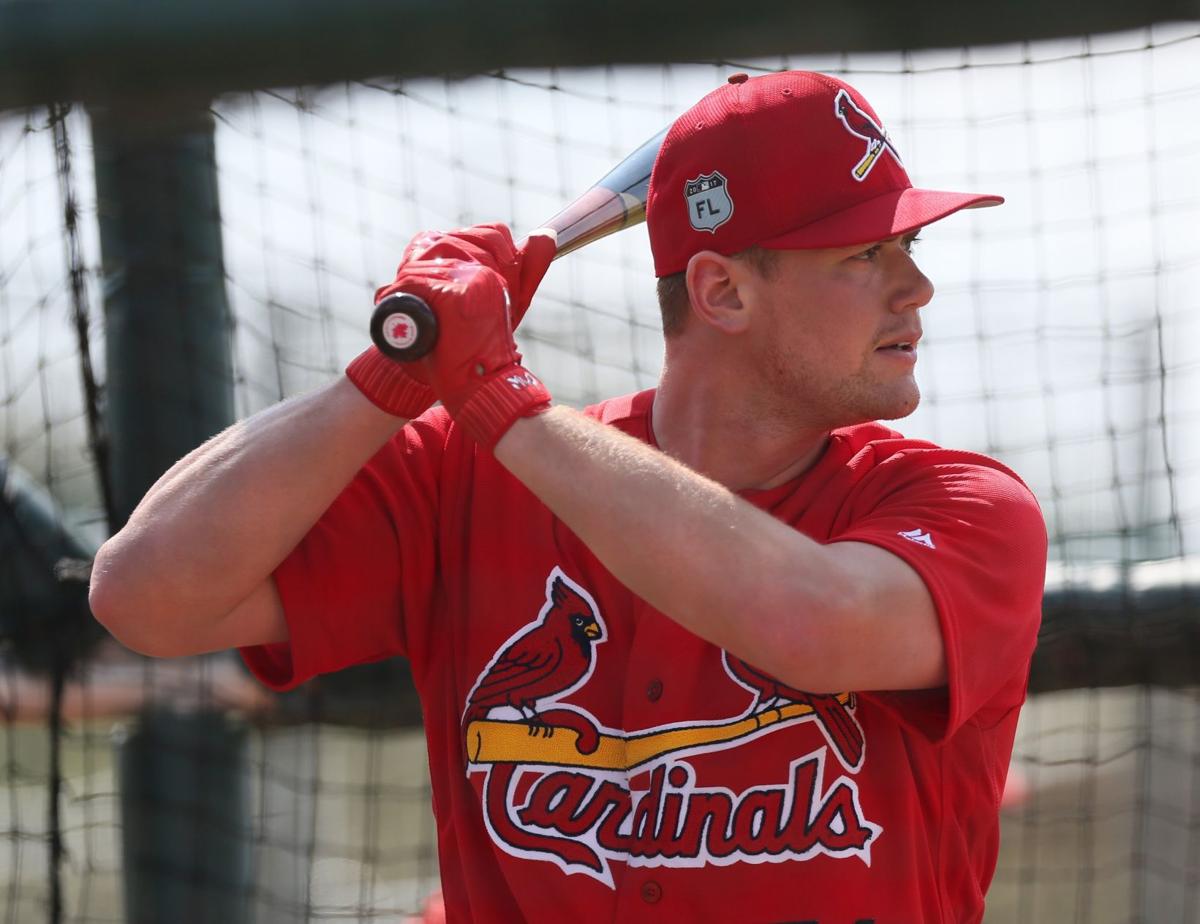 As one of the top position-player prospects in the Cardinals organization, Carson Kelly gets a lot of attention. With the way he's been raking recently, that attention will only increase.
Kelly is putting up some of the best offensive numbers in his minor league career this season, and it's coming at the Triple-A level no less. In 38 games for Memphis entering Friday, Kelly has posted a .317/.395/.532 slash line. Carried over through a full season, each of those percentages would be single-season minor-league highs for him.
The biggest thing that pops out is the slugging percentage — Kelly hadn't slugged over .400 at any level in the minors prior to 2017. Last year between Memphis and Double-A Springfield, Kelly's combined slugging percentage was .395.
Such an uptick in power came from offseason adjustments that helped Kelly focus on elevating the ball, he said.
"In previous years I've hit a lot of line drives and balls on the ground, but now I really try to increase a little bit of the launch angle and elevate the ball a little more," Kelly said. "I'm not the fastest guy out there, so if I hit the ball on the ground, I'm more than likely out, so hitting the ball in the air and driving the ball into the gap is what I'm getting back to."
Launch angle is a statistic normally found on sabermetric-based websites such as FanGraphs, Baseball Prospectus and Baseball Savant. But Kelly said he doesn't read those sites, rather he uses a hitting tool called HitTrax.
"It's a new machine where you can hit at any stadium and it reads the velocity off the bat and the launch angle," Kelly said. "Just kinda looking at that and trying to figure out what's the best angle for me and (how) do I get the most distance and velocity off the bat."
All Kelly did, he said, is "just messing around with those numbers a little bit and trying to figure out what is the most optimal angle for me."
Making it this far offensively has been a long time coming for Kelly, who transitioned from third base to catcher a few years ago. Once Kelly locked down his defensive abilities, he's found more of a balance between both sides of his game, he said.
Triple-A manager Stubby Clapp said Kelly's body of work behind the plate has reached the point where the Memphis pitchers all trust him.
"That's the main thing, if you've got a staff that trusts their catcher that makes a big difference when they go out there on the mound," Clapp said. "They've got the ability to be able to throw whatever they want low and that he'll block it, or if he's calling the right pitches, they just grab the ball and throw it instead of questioning him and taking forever to throw a pitch."
Now, even though Kelly is essentially knocking on the door of the major leagues, he said he still takes everything one day at a time.
"Every day I feel like I need to go out there, or I want to go out there and perform, you know?" Kelly said. "Perform and help myself, help my teammates. I wanna be a great teammate and continue to help win ballgames."
YEPEZ LANDS ON HIS FEET IN PEORIA
The Cardinals acquired 19-year-old Juan Yepez from the Atlanta Braves in exchange for first baseman Matt Adams last month, and the new prospect is already finding some success in single-A Peoria.
Yepez, signed by the Braves out of Venezuela in July 2014, has a track record of making loud contact in the minors. Through nine games and 33 at-bats entering Friday with Peoria, Yepez is slugging .455 with two home runs.
Prior to joining the Cardinals organization, Yepez had one home run and 13 doubles in 36 games with the Rome (Ga.) Braves, Atlanta's single-A affiliate. His two home runs are his only extra-base hits so far in Peoria.
Even though Yepez had to adjust to a new organization midseason, Cardinals farm director Gary LaRocque said Yepez should be able to overcome any challenges due to his "excellent" work ethic.
"For most players in the Midwest League, at least from a position player standpoint, they need at-bats," LaRocque said. "So what he needs is time, time and at-bats, and the … opportunities to play defensively, and that's what he's gonna get there."
With the Braves, Yepez played a mix of both first base and third base, but so far for the Cardinals he's gotten time exclusively at third base, LaRocque said.
"Certainly at the end of the year we'll see where we're at with it, and with each year after it, like we do for all our players," LaRocque said. "He's at a level where at 19 years old it's a good challenge for him, he meets the challenge because he's got a great attitude about it."
Overall between the two teams, Yepez is slashing .274/.306/.400 with 48 hits and 19 runs scored. Since being traded, Adams is hitting .244/.262/.512 in 10 games with the Braves including two home runs, five runs scored and six RBIs.
Max Gelman
@MaxGelman on Twitter