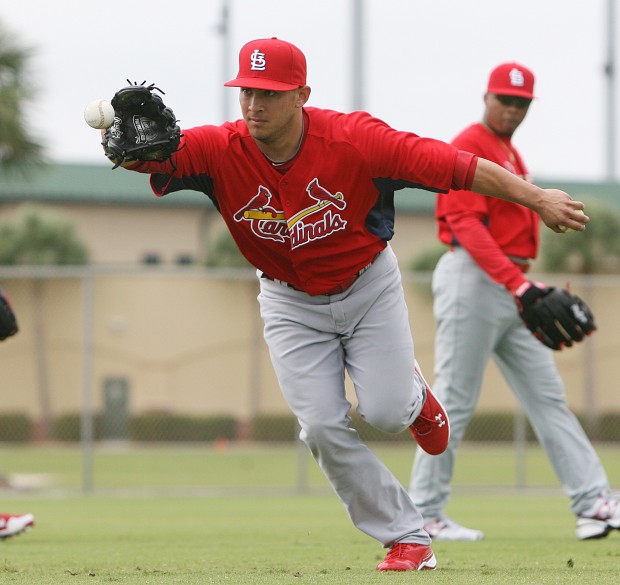 JUPITER, Fla. — When manager Mike Matheny approached outfielder Erik Komatsu during batting practice Thursday, the only thing certain for the rookie was that he'd be trading in his No. 82 jersey in the near future.
He just didn't know what level jersey he'd be getting in exchange.
"I knew something was coming," Komatsu said. "I just hoped it was good."
Komatsu, a Rule 5 pick, will be wearing No. 44 for the Cardinals when they break camp next week. Komatsu was one of three players to learn he had made the major-league roster. Tony Cruz won the backup catcher contest, and Shane Robinson will also be on the bench. The Cardinals finalized their decisions with the 25-man roster Friday by notifying pitcher Victor Marte, infielder Eugenio Velez and catcher Bryan Anderson that they would be moved to the Class AAA roster after Sunday's game.
Allen Craig, Skip Schumaker and Chris Carpenter will open the season on the 15-day disabled list.
Marte rescued the Cardinals in their 4-3 victory Friday by pitching out of a mess in the eighth and grabbing a two-inning save. Matheny acknowledged that Marte, who had a 0.90 ERA in 10 innings this spring, had impressed and positioned himself as the next arm up, if needed. He'll anchor the bullpen in Memphis.
The Cardinals delayed revealing the 25-man roster until Friday only because Matheny wanted more time to determine a backup catcher. He called the contest between Cruz and Anderson "a dog fight" several times. Anderson singled Friday to raise his March average to .478. Cruz had the edge in experience with the staff and also hit .333 in 14 games this spring.
Anderson, 25 and a fourth-round selection in 2005, returns to Memphis for a fourth season at the level. Matheny has been a consistent advocate of the catcher, even as his standing as a prospect abated when his defense plateaued. Matheny said this spring Anderson dispelled any concerns about his defense and his ability to handle the major-league pitching staff, at least in the view of his coaches.
Asked what else the lefthanded hitter had to do then to crack the majors, Matheny insisted that Anderson "has done that."
He's on deck if a backup is needed, Matheny said.
"I have zero problem with him being our backup right now," Matheny said. "With that being said, it just comes down to tough decisions. Tony has also had a very good spring. He has a good rapport with the staff. It was a knockdown, drag-out fight. ... (We told Anderson), 'You've got nothing more to prove to us.'"
In his final start before drawing the opening night assignment Wednesday, Kyle Lohse wanted to bring all the things he had worked on during individual starts together. The command of the inside of the plate, the feel for his changeup and the curveball he's been reacquainted with all worked to help him strike out seven and allow one run (unearned) on three hits in six innings Friday.
"I went through some really good curveballs there. That's going to be a good weapon for me," said Lohse, who needed 85 pitches (60 strikes) to get 18 outs. "It shows I was able to command the ball and keep it moving around the corners. It comes down to executing when you're ahead in the count."
Lohse, who will be making his second opening day start as a Cardinal, took a sharply hit ball off his pitching hand in the second inning. After an initial sting, he had no soreness in his fingers, and he was charged with an error when the runner reached. "Did (the error) keep that run from being earned?" he said. "Then I deserved it."
Schumaker took 20 swings off the tee and played catch as he moves steadily through a recovery from a torn muscle in his side. Schumaker, who has not played in a game since March 16, will remain at the spring training complex after the team leaves Florida. That will allow him to take part in extended spring training games and rejoin the Cardinals for the home opener April 13. He will be eligible to come off the disabled list April 10.
"I haven't gone with a full-bore swing yet," Schumaker said. "When it reaches the point when you can take batting practice (off a coach) or live batting practice and do it again the next day, that will be the real test. That will be when we know how close I am (to games)."
Former first-round pick Adam Ottavino said the team told him he had been placed on waivers, the purpose being to remove him from the 40-man roster. The other 29 teams will have a chance to claim him. Being passed through waivers for the second time in three seasons "could be a good thing for me," Ottavino said. "I'm cautiously optimistic." ... Fernando Salas struggled Friday, allowing all four batters he faced to reach base and two to score. Matheny said it's not an alarming outing and that he will continue to position Salas for the eighth inning. "I like him there," the manager said. ... Matt Holliday and David Freese will be among the players on Monday's trip to play an exhibition game in Springfield, Mo., at the home of the Cardinals' Class AA affiliate. The team will be flying in that afternoon and returning to Florida immediately after the game to prep for Wednesday's opening day. Lance Berkman and Carlos Beltran are not scheduled to travel.