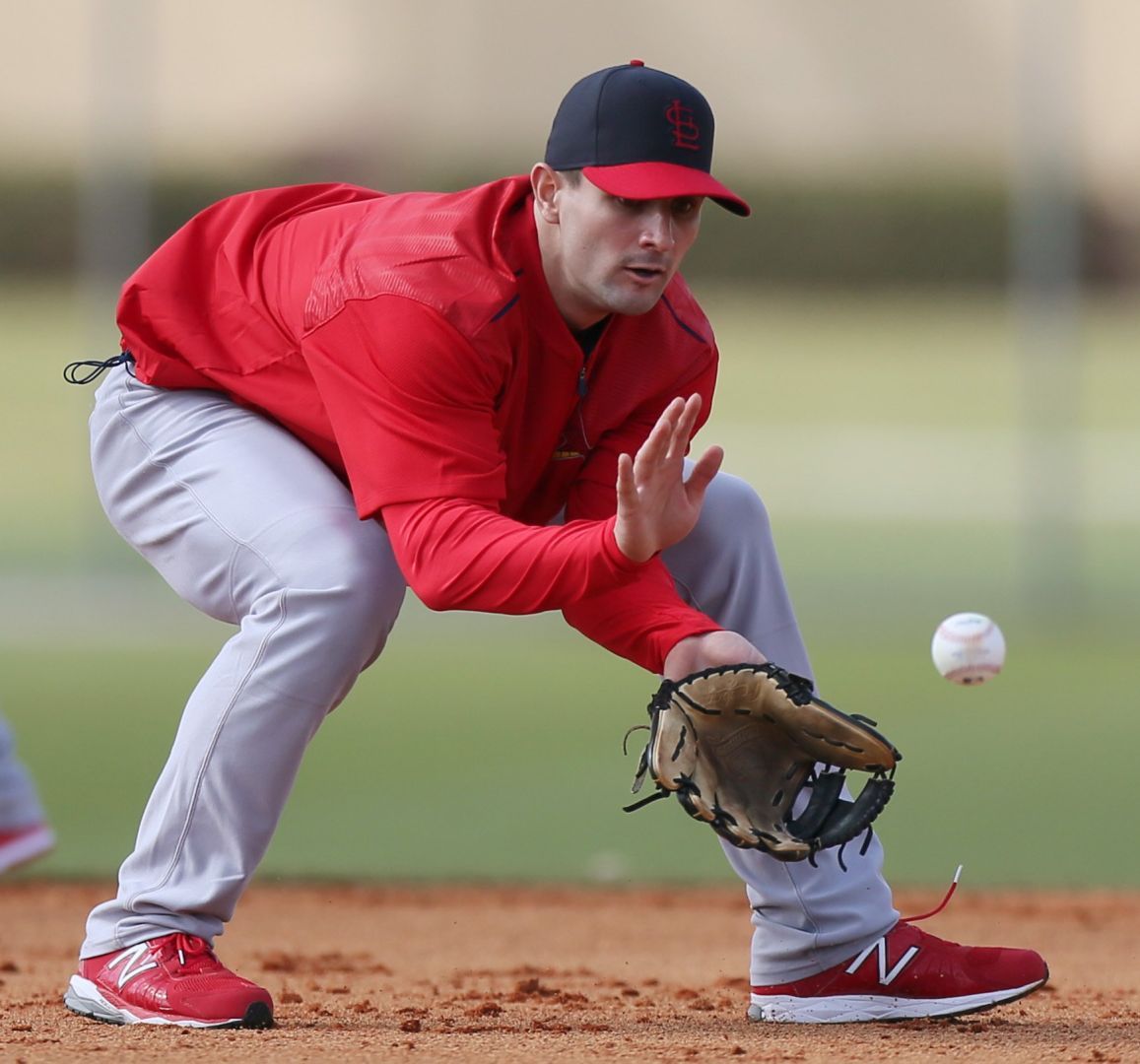 JUPITER, Fla. • Pete Kozma, once the Cardinals' regular shortstop before Jhonny Peralta came along, said last month at the Cardinals' Winter Warm-Up that he would do anything, even pitch, if manager Mike Matheny wanted.
What Matheny wants now as spring training unfolds is for Kozma and fellow middle infielder Greg Garcia to strap on catching equipment, whether it be in batting practice, or even a game, so Matheny would have perhaps one or the other as an option as an emergency catcher if Yadier Molina and Tony Cruz both were out of the game.
Much of Kozma's work still will be in the middle of the field, although he may see some time in the outfield, too, this spring. "There's only so many guys we have in this camp that can play a big-league-style shortstop and he's one of those," Matheny said.
"So we want to make sure he's getting as many repetitions as he can there, understanding that Jhonny is going to need help there from time to time, and also to have the flexibility to be all over the infield."
But Matheny also noted that he gave Kozma, 26, a "homework assignment: making sure you're not afraid to get back there and put the catcher's gear on. Last year Danny (Descalso) was our guy. If something happened and we pulled Yadi out of the game early, we had to know that there was somebody on the field or on the bench that could get behind the plate. I told both Greg Garcia and 'Koz' that.
"As spring goes, I know they're both fighting for a position and I don't want to throw them back there. But, they are going to get a little work."
Kozma, who worked out for the first day on Sunday, said, "Whatever (Matheny) tells me to do, I'm going to do. I'm OK with anything as long as I'm in the lineup."
Kozma said he had caught in his pre-high school days. "I know how," he said.
"Who knows? Anything can happen. I might have to catch a game."
Kozma played most of the 2014 season at Class AAA Memphis, driving in 54 runs, and he hit .304 for the Cardinals, mostly in late-season exposure, playing himself onto the postseason roster in the process. He is out of options now, so the Cardinals would have to try to pass him through waivers if they wanted to send him out again.
That he got to play last October, Kozma said, "does make me feel pretty good about my situation. It seems like they do want me around or need me."
CHOATE HOPES TO RESUME SPECIALIST ROLE
Veteran lefthander Randy Choate and Matheny have discussed Choate's occasional unhappiness last year that he wasn't used as much for lefthander-on-lefthander specialty purposes, which is basically why Choate was given a three-year contract before the 2013 season. He pitched more complete innings than he thought he would, and some of them were in blowout games.
Matheny, understanding, said, "He's a guy who wants to throw 162 games — and I have a great respect for that. I'd love to be able to have that kind of roster. You saw that in September when we had more (pitching) arms we were able to use Randy a little more like Randy needs to be used."
The club can use just 25 players for the first five months of the season, and Matheny said he basically had told Choate last year, "You can't completely cater to one guy if it's going to beat up two other guys where they can't do their job. How does that work? He got that, but still the frustration remained."
Choate appeared in 61 games last year, his lowest total since 2011 and he worked one inning or more on 20 occasions, including eight times in April and four in August but only once in September. That month was when he was at his best as the 39-year-old allowed just four hits and no runs in nine outings, covering four total innings.
When no one was around to warm up prized righthander Alex Reyes, who will be part of a special camp for prospects, former Gold Glover Matheny jumped into the breach.
"I want to encourage him," Matheny said. "He's not here in (big-league) camp but he wanted to be here in camp. I never hesitate to put a little pressure on a kid, too. And (with) me back there maybe it added a little bit. Certainly didn't show it because he was absolutely terrific."
Reyes, 20, was 7-7 with a 3.61 earned-run average at Class A Peoria last season, striking out 137 and allowing only 82 hits in 109 1/3 innings.
Although righthander Seth Maness hasn't made any starts in 139 big-league outings over his first two seasons, general manager John Mozeliak said the durable righthander, who started in the minors, could do that in the majors, too.
"I definitely think he could start in the big leagues," Mozeliak said. "(In) the role that he's done for us, he's just been so good, we would find that ... hard to replace.
"But to envision him as a starter, I certainly could see that."
Maness is 11-6 as a Cardinals reliever, including 6-4 with three saves last year when he had a 2.91 earned-run average after a rocky April when his ERA was over 4.00.
Besides a bad April last year, Maness, 25, also had a poor spring training following his pitching in the World Series in his rookie season.
As for last spring, Maness said, "Coming off a World Series, I was just floating, elevated to a certain level, not really knowing how to approach the next season.
"You see if you can respond to adversity. It was probably the first true test I'd come across in a while.
"I feel a whole lot better (this spring). I think it was a good learning experience."
The Cardinals have a "tipping station" for their pitchers during workouts, designed to keep their hurlers from tipping their pitches to hitters. On Sunday, irrespective of the prescribed station, newcomer Matt Belisle asked ace Adam Wainwright to watch him throw, and Wainwright advised that he could call every pitch.
"I wasn't doing anything too major," Belisle said. "Even if it's really slight I'm going to be asking people to check things all year. It's not something you do now and assume it's good the rest of the way.
"Those are things (where) you need to look yourself in the mirror, hone the knife, make sure you're doing everything right every month, every two weeks. Just check up on yourself."
Derrick Goold of the Post-Dispatch contributed to this report.