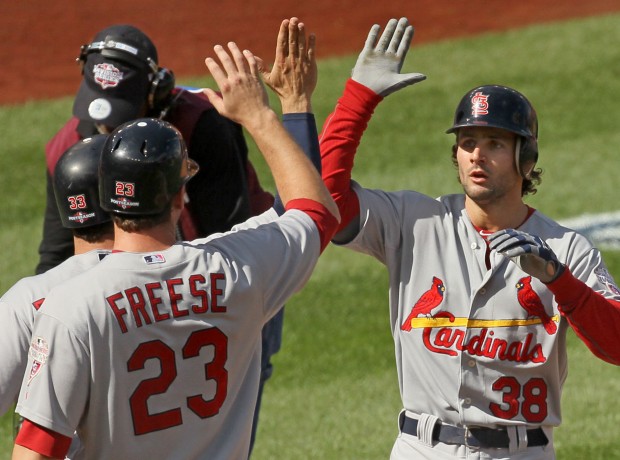 WASHINGTON • Thrown into the starting role at shortstop in September, just a few months after being marginalized as a utility player in Class AAA, Pete Kozma homered to spark what became an 8-0 rout for the Cardinals on Wednesday at Nationals Park.
Kozma joined the Cardinals on Aug. 31 and became the Cardinals' everyday shortstop when Rafael Furcal was unable to play through an elbow injury.
Kozma, who has been uneasy at times in the postseason glare, drilled a three-run homer to the seats beyond left field's wall to put the Cardinals ahead. Kozma's first postseason home run -- but his third in the past couple weeks -- came on the first pitch he saw from Nationals starter Edwin Jackson.
The blow sucked the life out of the sellout crowd that witnessed Washington's first postseason baseball game in 79 years.
"I was just looking for the first pitch in the zone and put it in the outfield," Kozma said.
And it "went over the fence," winning pitcher Chris Carpenter chimed in, to complete the thought.
Kozma continued: "It's always tough hitting. Hitting is one of the hardest things in sports to do. But you can't look at it like that. You just have to look at it one pitch at a time. You just have to go one game at a time."
Third baseman David Freese, whose error put Carpenter in trouble in the first inning, opened the second with a double to left field. Daniel Descalso extended his at-bat before getting a single to left that pushed Freese to third.
With two teammates on and nobody out, Kozma, the No. 8 hitter, got a tasty fastball from Jackson that he connected on for the homer.
Kozma has been in the middle of two of the most memorable defensive plays this postseason for the Cardinals. He was the fielder on the infamous infield fly call that Atlanta was so peeved about in the  wild-card knockout game.
Kozma's error late in Game 1 of this NLDS extended the inning for the Nats to rally and eventually win that game. The decisive runs were unearned because of Kozma's fielding lapse.
"It's about how you bounce back, how you're going to answer the next game, the next pitch," Kozma said. "You've just got to keep your nose down and keep going."
He's made a believer out of manager Mike Matheny, who said: "We put him in there (after Furcal went down), gave him the opportunity and he absolutely ran away with it. Just catching the ball out there was something we were looking forward to him doing, let alone having big hits."