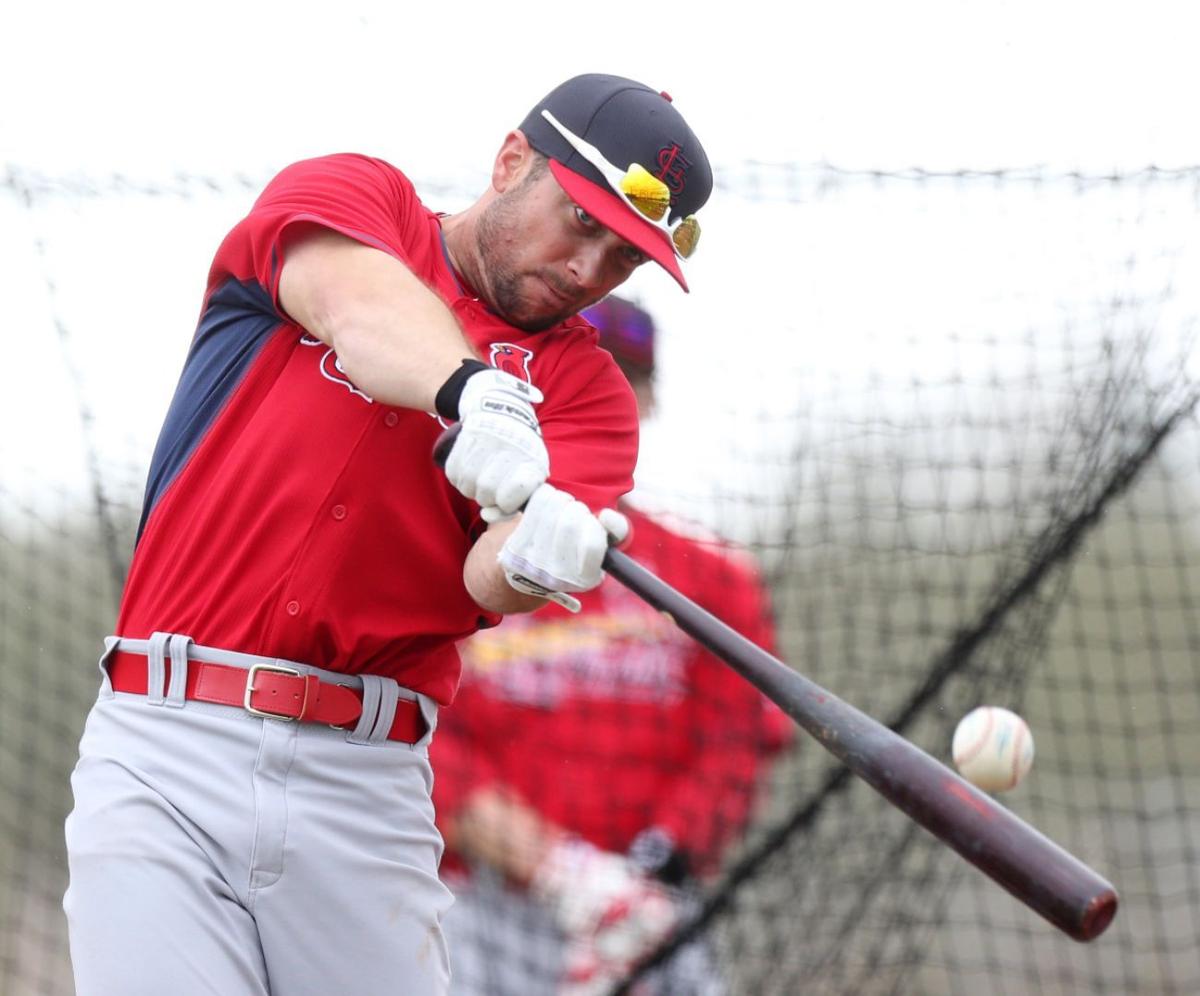 JUPITER, Fla. • The Cardinals have five lefthanded-batting regulars who are likely to be in the lineup on most days when a righthander is opposing them. In theory, all five of their extra men on those days could be righthanded hitters, which could be a problem in the late innings against a team with notable righthanded relief.
For instance, a potential bench could be Peter Bourjos, Randal Grichuk, Mark Reynolds, Pete Kozma and Tony Cruz. All are righthanded batters.
But manager Mike Matheny said in camp, "I'm not that worried about it. It's whoever fits whatever need we have.
"That need becomes more evident as we keep going rather than throwing it out there ahead of time. There's going to be days when we have all left or all right on the bench and we're just going to have to figure out a way to get it done."
But the Cardinals' bench might not be all right, as in righthanded hitters. There are two extra infielders in camp who are lefthanded hitters, Greg Garcia and Dean Anna, and a switch-hitter, Ty Kelly. Of that trio, Kelly has played the most in the outfield, which might heighten his chances of sticking.
Garcia, the 25-year-old grandson of former big-league manager and longtime scout Dave Garcia, was with the Cardinals on a couple of occasions last year. The 28-year-old Anna, who began the season with the New York Yankees last year, was signed as a free agent after Pittsburgh didn't re-sign him and Kelly, 26, was acquired from Seattle in the offseason for minor league pitcher Sam Gaviglio.
Matheny has seen plenty of Garcia, who plays shortstop and second, in spring training camps and last season. Anna and Kelly are newcomers to him but Matheny's early read is that "both of them are very athletic and very versatile. We'll tell a whole lot more about them once these (exhibition) games start and you watch them at game speed.
"You can see both of them are good players and very well-rounded."
So much so that Anna and Kelly each also pitched an inning last year. In his month with the Yankees, when he hit one homer and batted .136, Anna was called on to pitch the eighth inning of a 16-1 blowout at Tampa Bay on April 19. Anna allowed two runs on three hits.
Kelly, pitching for Class AAA Tacoma, where he hit 15 homers and drove in 80 runs, worked a perfect inning on Aug. 25 against the Iowa Cubs. This spring he brought some new gloves with him — for infield and for outfield.
"Being in the National League, there's a lot more importance put on guys who can come late into games and help out in whatever capacity," said Kelly, who also caught a bit in high school in California but who hasn't played much shortstop professionally, which Anna and Garcia have done.
"Who knows?" Kelly said. "I'm open to anything.
"I'll bring as many gloves out to the field as I can and see what kind of work I can get in. That's what I've been shooting for as long as I've been playing baseball — to do as many things as possible. Hopefully, it will come to fruition here."
Kelly, a 13th-round pick by Baltimore in 2009, has spent six seasons in the minors but hasn't logged any big-league time, other than his spring training invite by Seattle last year.
"It was a good first experience," said Kelly, whose father, Pat, played basketball and baseball for the University of Colorado in the early 1970s and who made his son a switch-hitter at an early age.
"There was no realistic shot of making the (Mariners') team because there's not as many utility guys in the American League," Kelly said. "There's not the same number of double switches and things like that."
That he has kept going after six seasons in the minors, Kelly said, "is because I believe I'm good enough. Everyone in here thinks they're good enough to play."
"I think I'm good enough to help out the team in whatever way I can. Everybody wants to contribute to winning, and not just be there."
Both Kelly and Anna said they learned a lot about mindset last year after their various exposures to the big leagues.
"Guys in the big leagues go out and play with confidence," said Kelly. "Minor league guys go out and play kind of tight, and that can inhibit your play.
"This year, I wanted to come to camp a little more loose and just be more confident in myself. I wanted to project myself as ready to go this year and not just to try to fit in and not screw up."
Anna, the 2013 Pacific Coast League batting champion when he hit .331 at Tucson in the San Diego system, surprisingly made the Yankees' team out of spring training last year and started a total of seven games at shortstop and second base. But he said the process was a demanding one.
"I learned a lot about putting too much pressure on myself last year," said the Chicago area native. "This year the game's going to slow down a little for me. Everything last year was just so fast.
"When I made the opening-day roster, I was a little fatigued. And then I figured out what not to do. I would be swinging too much, working on my swing on the bench during games. I would burn myself out.
"I learned a lot about keeping my body and my mind fresh. My mind, more than anything. If you have a fresh mind, your body is going to feel good. Coming off the bench, you have to be ready and be fresh. You have to be relaxed and trust yourself. Even in spring training, you've still got to pace yourself to be ready for the season."
Anna already has lived the dream of playing in the big leagues. But he hasn't had his real dream come true yet. That would be to "open up the season with the Cardinals against the Chicago Cubs," said Anna. "I've always wanted to play in that stadium (Wrigley Field). That would be something really special."