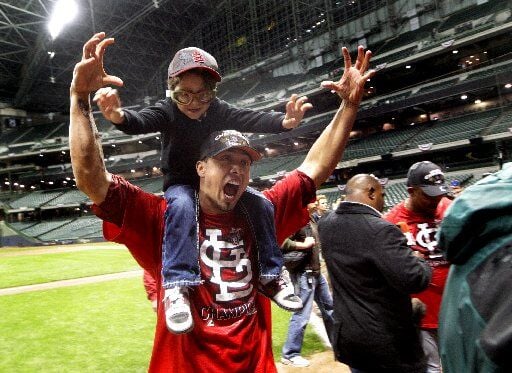 Most of the scoreboard highlights this weekend will center on the ninth and 11th innings of Game 6 in the 2011 World Series, when the Cardinals' David Freese first tied the game with a two-run, two-out triple and then won it with a leadoff homer into the center-field greenery. But, what of the 10th inning when the Cardinals also fell two runs down after a home run by Texas' Josh Hamilton?
What about that sacrifice bunt by Kyle Lohse, a pitcher who didn't figure to be pinch hitting but wound up doing so for a pitcher who was pinch hitting for a pitcher? That won't get much big-board time this weekend when the 10th anniversary of that championship is celebrated at Busch Stadium on Saturday night.
"I don't mind going under the radar, because some other guys did some cool stuff," said Lohse, "but that was my biggest contribution in the World Series."
Lohse, 14-8 in the regular season, pitched just once in the Series, starting Game 3 and being handed a 5-0 lead in Texas as Albert Pujols was in the midst of a three-homer night. But, after tossing three scoreless innings, Lohse allowed home runs to Michael Young and Nelson Cruz in the fourth and was yanked by manager Tony La Russa.
This is the same manager who, out of position players, sent up Lohse to pinch hit after previously sending pitcher Edwin Jackson to pinch hit for Jason Motte in the 10th inning. With the Cardinals down 9-7, Daniel Descalso and Jon Jay, both lefthanded batters, singled to open the inning against former Cardinals lefthander Darren Oliver. Jackson and Lohse had been told to go to the batting cage to get loose for a potential pinch hitting appearance.
"We came out and they told 'Jax' he was going to be the guy and I said, 'OK.' But then we got the first two guys on. I love 'Jax,' but he is not a good bunter," Lohse said.
"I was standing on the bench as Jackson was walking up to the plate thinking, 'Thank God, I'm not the guy going up there right now,' to be honest. There's a lot of pressure. There's a lot of things could go wrong in that situation."
So, then, whose idea, really, was it to send up Lohse for Jackson?
"When we were down in the cage, they told us Edwin was going to be the one to hit," Lohse recalled. "So I left my bat down there.
"When I was standing up in the dugout on those benches leaning over the rail, I see Pujols talking to Tony. I can read his lips and he's saying, 'Lohshie,' and I'm thinking, 'Oh, my God, I might have to go up there.'"
It appears that in this instant, "Albert was telling Tony that I should be the one up there to bat," said Lohse, and then La Russa, indeed, told Lohse to hit.
"I'm trying to get my jacket off. I literally had just put my helmet and batting gloves down. Where are they?" a flustered Lohse said. "There was panic.
"So I had to grab Chris Carpenter's bat."
As Lohse, who had six sacrifice bunts that season, came to bat, the Rangers had a meeting at the mound. Third-base coach Jose Oquendo then approached Lohse and told him that if the Rangers run the "wheel play," where the shortstop would cover third, "you could always punch one up the middle — like swing away.
"I told him, 'No chance.' In my head, I'm thinking if I hit a line drive right at somebody and it turns into a triple play and it ends the World Series, I'm never allowed to show my face in St. Louis again. I was very nervous about pulling something like that," Lohse said.
"Hitting into a double play was very likely. I'd been sitting there on the bench all night, and if I hit a hard bunt back to somebody and if they get one of the runners out, I'm probably going to get thrown out, too," Lohse said.
On the first pitch, an inside delivery, Lohse tried to sell the home-plate umpire, Gary Cederstrom, that the pitch had hit him. Cederstrom wasn't buying.
"If you look at it, though, the catcher's mitt did brush my leg," Lohse said. "He had caught it right in front of me. But I was fortunate they didn't call me for the swing. I never brought the back bat.
"When that happened, though, it gave me a chance to look up and see that (Texas third baseman Adrian) Beltre was basically in my hip pocket. The only way to get that bunt down and get the runners over was to push it really hard at shortstop. I had to get it past the pitcher and past the third baseman, so I set my angle just like I always practice but I got away with it a little because I pushed at it and got it in the air. I had the angle set that no one was going to get to it. … and it worked out."
Shortstop Elvis Andrus had to make the play and threw to second baseman Ian Kinsler at first to retire Lohse.
"The way Andrus made that play on it was amazing," Lohse said. "People told me they couldn't believe I was that slow and I tell them, 'Dude, I was sitting there for 3½ hours without doing anything, and trying to run the bases was not my specialty.'"
But Descalso and Jay each moved up a base. Descalso eventually scored on an infield out by Ryan Theriot, and Jay on Lance Berkman's two-out single after Pujols was walked intentionally. Freese then won the game with his leadoff homer in the 11th. And with a victory the next night, the Cardinals had gone from barely making the wild card to their 11th World Series title.
Freese's bat is in the Hall of Fame. Carpenter's bat is hanging on the wall in one of the rooms in Lohse's house in the Phoenix area, next to Lohse's batting gloves.
"That was my best bunt ever," Lohse said. "I had zero home runs, but even I had had a home run, that bunt would have been a bigger at-bat than anything I've ever done.
"You never know what's going to happen in a World Series. Things are moving so quick. And every pitch means so much."
Lohse's good fortune continued into the next season. He started the first game at Miami's new stadium, pitching a no-hitter for six innings and winning the game for the Cardinals 4-1. He finished 16-3 for the season for the best winning percentage in the league.
"I didn't want to leave, but that could be a story for another day," said Lohse, who signed a three-year, $33 million deal with Milwaukee in 2013.
"It's hard to stomach being told you were asking too much when no one ever asked you how much you wanted," Lohse said.
"But things happen and you move on."
Lohse, who had a career mark of 147-143, is one of 20 pitchers in baseball history to have beaten all 30 current teams. But his best five years were spent with the Cardinals, when he went 55-35. "It would have benefited me a lot to get there earlier in my career than I did," he said.
"Working with 'Dunc' (pitching coach Dave Duncan) was huge. I can't say enough how he helped me realize the approach I needed to have on the mound, as opposed to trying to throw four-seamers by everybody," Lohse said. "And I learned a lot from Yadi (catcher Yadier Molina). If he's not a first-ballot Hall of Famer, then something's wrong.
"Adam Wainwright having the year he's having is amazing at 40, but if I still had Yadi," said the 42-year-old Lohse, "I might still be out there."
Among his 2011 teammates, Lohse sees infielder Nick Punto, "the Shredder," most often, either on the golf course where both are close to scratch players, or on family vacations.
"We were on a trip to the Dominican Republic at Christmas," said Lohse, "and I had to be very conscious when he walked up to me to keep my shirt in one piece. After a couple of adult beverages, you've really got to be careful."
Lohse, married now to Nikou, a woman of Persian descent, is the father of 2-year-old son Kai to go with 14-year-old son Kameron and 11-year-old daughter Alexis from his previous marriage. He has been looking forward to seeing many others this weekend and recapturing the big hits and big outs and, yes, even the bunts.
"We were basically counted out, and to be able to come back and win it all," said Lohse, "there's a special bond.
"I'm still pulling for the guys from St. Louis to get that wild-card spot this year—because once you're in, you never know what can happen."