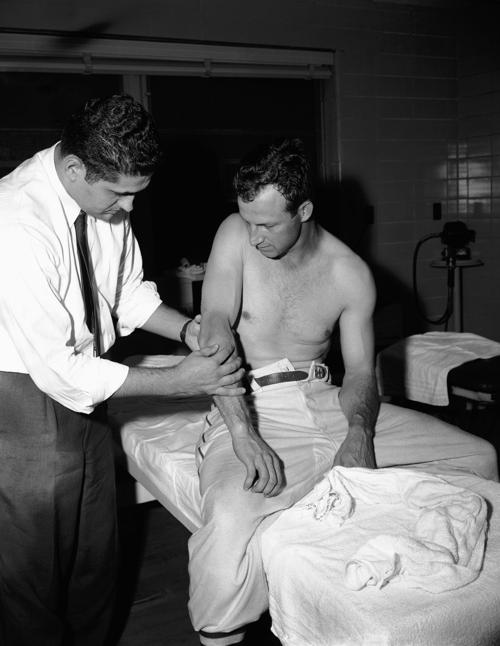 Dr. Stan London, the Cardinals' team physician for nearly 30 years, died at age 94 Monday under hospice care at his home in Ladue.
London, a champion athlete himself, especially in handball, was the NBA's St. Louis Hawks' team physician for 11 years and also was the team physician for the St. Louis University hockey team.
London, who already had been affiliated with the Cardinals' medical staff, became head of the Cardinals' medical team in 1968, one year before Gene Gieselmann joined the club's training staff.
Gieselmann, who took over as head athletic trainer in 1971 and held that spot until 1997, marveled at how few games London didn't attend in his 29 years as the head physician before becoming a senior medical adviser for the club.
"He might have missed only seven games and they were because of emergencies," said Gieselmann.
"Just a wonderful man. Taught me a lot," Gieselmann said.
"He realized the importance of getting the player back into the lineup as quickly as possible."
Longtime Cardinals first baseman Bill White said, "Dr. London was one of the finest men I've ever known. Everyone respected him -- he was highly intelligent and an excellent athlete. He taught me to play handball at the JCCA in St. Louis when I first got to the Cardinals - and he almost always beat me. I'm so sorry to learn of his passing, but so glad he lived such a long life."
After his Cardinals career, London continued to practice for many years, including working at clinics for the indigent and he was the doctor for all the people who worked at the Federal Building in St. Louis.
London, who received his medical degree from Washington University, hit a then school record .465 for the Bears' baseball team in 1948.
The Springfield, Illinois, native also played basketball at Washington U. and was good enough in handball to become the fourth ranked player in the United States.
London was a member of eight Halls of Fame, including Missouri Sports Hall of Fame, the St. Louis Sports Hall of Fame, the Washington University Hall of Fame and Illinois Basketball Hall of Fame.
He was the first person inducted into the Missouri Handball of Fame in 1980.
London is survived by Jackie London, his wife of 68 years; two sons (James, David) and a daughter (Cindy); four grandchildren and five great-grandchildren.  Services are private.