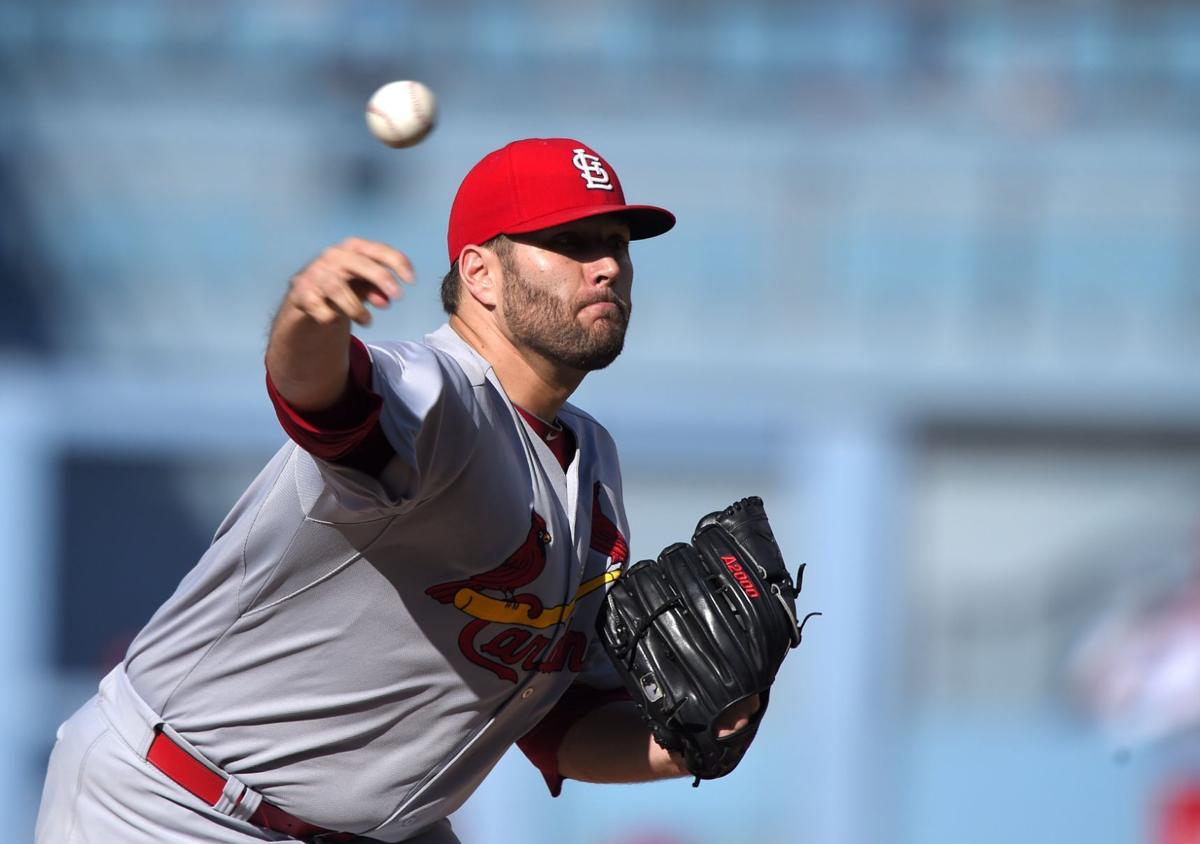 DENVER • Cardinals starter Lance Lynn returned to St. Louis on Tuesday for a series of exams on his right forearm, which tightened on him during Sunday's start and left the team concerned about the root cause of the discomfort.
Lynn was not with the team during Tuesday's game, and manager Mike Matheny said that the results of the pitcher's meeting with medical officials were not finalized. He was, according to officials, expected to have an MRI scan of his right arm.
Asked about Lynn's absence, general manager John Mozeliak emailed a response, explaining he wouldn't address the pitcher's situation until Friday.
Lynn's next start is scheduled for Saturday.
Officials declined to say if that start was now in doubt.
The righthander threw five innings Sunday night at Dodger Stadium and left the game after his 98th pitch, partially because of the soreness in his forearm. Lynn described the sensation as cramping, and he said it's similar to sensations that he's pitched through before. He said the cramping in his forearm was something he had experienced as far back as college, and it hasn't inhibited his ability to recover and make his next start.
"I have it more times than not," he said Monday.
The Cardinals had Lynn get treatment for the cramping Monday at Coors Field, and they elected to have him travel for a deeper examination of the forearm's structure. The Cardinals often will ask their medical team to explore the possibility of weaknesses elsewhere in the body to explain an injury and then look to address those weaknesses. Similar protocols revealed Michael Wacha's stress reaction in his right shoulder last season after he alerted them to symptoms in his throwing arm.
Lynn is 4-4 this season with a 3.07 ERA through 73 1/3 innings in 12 starts.
Set free by the Cardinals this past winter, utility infielder Daniel Descalso said he preferred to find a job with a National League team, if possible. The Rockies made it so.
Descalso, a third-round pick of the Cardinals in 2007, signed a two-year, $3.6 million deal with Colorado to serve as a man of many gloves, the role he first learned to play with the Cardinals as part of the youth infusion in 2011. The ability to utilize that versatility was why Descalso wanted to remain in the NL, he said, even if the "writing was on the wall" that he wouldn't be staying with the Cardinals after 2014.
"My ability to play some different spots means I could be more appealing to a National League team," said Descalso, who is hitting .244 with two homers in 40 games. "This is a good group, a good fit for me."
Carpenter, who spent five years with TCU's baseball team, said he watched all the way to the end of his alma mater's victory on an error in the 16th inning against Texas A&M on Monday night to advance to the College World Series. Starter Michael Wacha, a former A&M ace, was not amused by Carpenter's recall of the final inning. … Class AAA lefty Tyler Lyons was named the Pacific Coast League pitcher of the week for the first week of June. He went 2-0 and pitched 13 scoreless innings over two starts while holding opponents to six hits. He struck out 13.