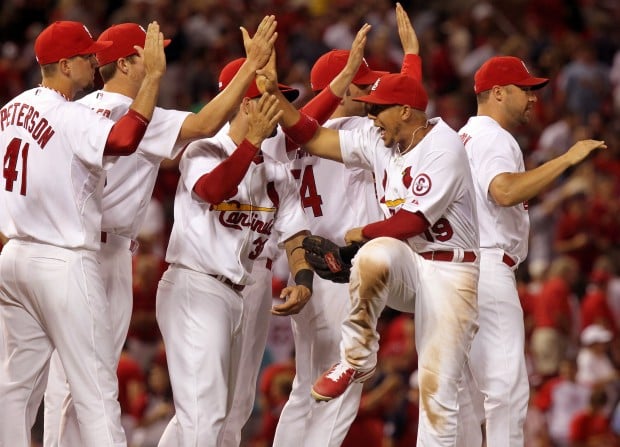 People can say what they want about Cardinals pitcher Lance Lynn.
Too slow. Too emotional. Too many pitches. And, sometimes they've been right.
But the fact remains that only one National League pitcher, his teammate Adam Wainwright, has more than the 12 victories credited to Lynn. And Wainwright has just one more.
"Hopefully, I can catch him," said Lynn.
After an inauspicious start Thursday night — and really a rollercoaster first four innings in which Lynn's pitch count multiplied like rabbits — Lynn finished strongly.
The burly Indiana native held the Philadelphia Phillies to one run and five hits over seven innings as the Cardinals completed a three-game sweep with a 3-1 victory, marking the first time in 12 years they had swept a series from the Phillies at any of the Busch stadia.
A third consecutive sellout crowd, of 45,567, observed as the Cardinals, 25 games over .500 after 99 games, moved 2½ games clear of second-place Pittsburgh for their biggest National League Central Division lead since June 21.
Lynn, who tossed 118 pitches, had his defense to thank, in the forms of right fielder Shane Robinson, first baseman Matt Adams, third baseman David Freese and second baseman Matt Carpenter.
But Lynn participated, too, creating the game's most important defensive moment in the fifth inning when he fielded a poor bunt and starting an ending-inning double play when the Phillies had the tying runs on base.
In fact, Lynn, who probably has received few votes for the Gold Glove, started three double plays, snatching a first-inning liner and deflecting a seventh-inning grounder to initiate the other twin killings.
"I made some plays that I don't know that I've made before tonight," he said.
Cardinals late-inning relievers Trevor Rosental and Edward Mujica each tossed a scoreless inning, with Mujica recording his 30th save (in 32 chances), a significant achievement since he didn't get his first until April 18.
Lynn, who had allowed 17 hits and 10 runs over 91/3 innings in his previous two starts, is 12-5 now and 30-12 over the last two seasons.
"That means I've got a pretty darned good team around me for the last two years," Lynn said.
Though his pitch total was his second highest of the season, Lynn was ahead in most counts, throwing 80 strikes, most of them fastballs.
"Early on, I hadn't had that kind of stuff for a while, so I had to hone it in," Lynn said.
Asked from where that "stuff" had returned, he laughed and said, "From the grave, I guess."
The murmurs at Busch were audible in the first inning when Lynn, whose last start was a disaster on several fronts, allowed a double and a walk to the first two hitters he faced.
Lynn steadied himself, fanning Chase Utley. Then he protected himself, snaring Delmon Young's liner at the belt and throwing to first to end the inning unscathed.
Manager Mike Matheny said, "He could have got frustrated and let things snowball but he didn't."
The Cardinals did nothing for two innings with Phillies starter Kyle Kendrick, who long has had a stranglehold on them with a 5-1 career won-loss mark.
But, in the third, Carpenter drove in his 50th run, singling home Pete Kozma after Kozma had singled and moved up on Lynn's first of two sacrifices. Jon Jay then tripled to score Carpenter and, after a walk to Allen Craig, Adams drilled a full-count pitch for a run-scoring single to right.
That was the extent of the offense for the Cardinals, who didn't have a baserunner after the fourth inning.
Lynn's fourth walk in four innings cost him a run in the Phillies' fourth as Erik Kratz singled to score Darin Ruf.
But Lynn started the key inning-ending double play.
After fielding Kendrick's bunt, Lynn fired to third for the forceout.
Freese's throw to first to try to nip Kendrick was strong yet high but second baseman Carpenter stretched to make the reception, barely keeping his toe on the bag.
"We scored three and I came out and walked the leadoff guy," Lynn said. "That's something you can't do. To get that double play and end everything for them — they were starting to get a little rhythm — was huge."
Lynn allowed just one hit in the last three innings and that shouldn't have happened, either. Similar to a play on Saturday, Lynn and Adams got their signals crossed on Kratz's one-out roller in the seventh and the catcher beat it out for his second hit. But pinch-hitter Steve Susdorf, making his major-league debut as he took the place of outfielder Domonic Brown (concussion), grounded into a double play which involved Lynn, Carpenter, shortstop Kozma and Adams in one form or another.
Lynn said, "I thought I had that one, too. I looked in my glove and it wasn't there. But it was a nice little deflection."
Matheny said, "He's not necessarily known for fielding his position well."
Looking at his watch as he considered a question about Lynn's pace, Matheny said, "Pace? I'd say much better. He got the ball and was throwing it; he was pounding the strike zone. That last game he was fighting, just trying to figure something out, going the wrong way. He made a huge adjustment. His stuff just got better later, for whatever reason."
Despite Lynn's glowing won-lost record, he was 10-1 about a month ago.
"I've got to be a lot better than I've been and hopefully tonight's the stepping stone," he said.
Criticized by his manager after his last start for his actions, some inadvertent, Lynn said, "I love these guys in the clubhouse, I love pitching for this team and I love pitching in front of this home crowd. Tonight I wanted to show that."
But as good as Lynn felt about his night, Mujica was positively giddy.
"Unbelievable," Mujica said. "I never was thinking about being a closer this year."
At the beginning of the season, Matheny told Mujica he had the seventh inning, much as he had last year after coming from Miami.
Then Mitchell Boggs, taking over for injured Jason Motte, struggled. And one night in Pittsburgh, Matheny told Mujica he was going to have the ball for the ninth.
"I thought it was just for one night," Mujica said. "I've got 30 now. Unbelievable."
At 29 saves, Mujica already was having an All-Star season. But he said, "(Thirty) sounds different.
"It's totally different."