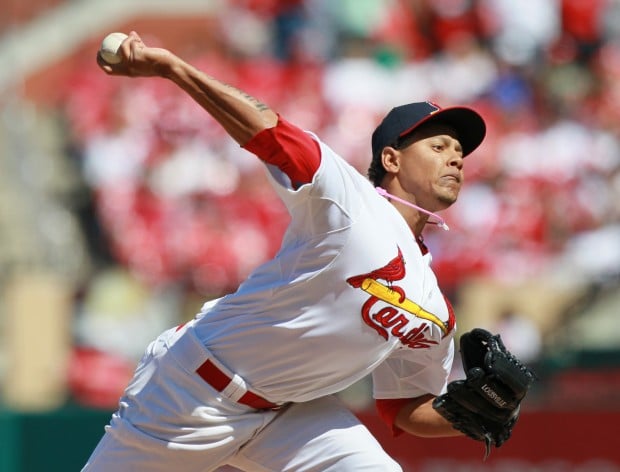 CHICAGO • The Cardinals sent hotshot prospect Carlos Martinez to Class AAA Memphis more than a month ago to build arm strength and stamina so that he was available as a starting pitcher when needed at the major-league level.
He's needed now — just not as a starter.
"Timing," Cardinals general manager John Mozeliak. "We had to go with the fresh arm."
The Cardinals recalled the 21-year-old righty from the Triple-A Redbirds on Thursday morning to add a necessary boost to an exhausted bullpen for the four-game series against the Cubs at Wrigley Field. To make room on the roster and in the bullpen, the Cardinals optioned righty Michael Blazek to Class AAA.
Martinez, who did not pitch Thursday in the Cardinals' 3-0 loss to the Chicago Cubs, will serve in a long relief role. He also could offer a high-velocity option for late-inning work, if required.
Martinez moved from the majors to Memphis on May 27 and has gone 3-2 with a 1.98 ERA in eight starts since. He had pitched himself into the mix with Michael Wacha, Tyler Lyons and current fifth starter Joe Kelly for any available starts in the majors.
"Obviously when you think about it from development, it's not ideal," Mozeliak said of the promotion. "But he's always been throwing very well. And, A, it gives him some protection from overuse. But, B, it also is a reward for having a really strong month. We're ruling nothing out.
"When you look at this mix of guys — Carlos Martinez, Wacha — they really have to look at being more efficient. The one thing you can say right now is with someone like Tyler Lyons is he went down there (to Memphis) and really did a good job of making adjustments and righting his own ship. He is someone who absolutely factors in if we do a spot start."
The Cardinals plan to come out of next week's All-Star break with Jake Westbrook starting a week from today, followed by Lance Lynn and Adam Wainwright. The Cardinals would not need a fifth starter, manager Mike Matheny said, until July 27. They will need an extra starter for a doubleheader at the end of the month against second-place Pittsburgh.
Matheny said it's too early to detail how long Martinez will stay in a relief role. The team is hesitant to have him go too long without maintaining the innings of a starter. Blazek pitched only 1 2/3 innings in a 14-day span. The recent use of Seth Maness (48 pitches Wednesday) and closer Edward Mujica (seven appearances in eight games) left the bullpen at less than full strength.
In Martinez "we've got a guy who can come out of the bullpen, throw a few innings, or go long," Matheny said. "He's built up to do whatever we need him to do. We need somebody to eat up some innings and he's built himself up to be that guy."
The Houston Astros are finalizing plans to relocate their spring training to South Florida, according to a report on the Houston Chronicle's web site Thursday. That could assure that the Cardinals call Jupiter, Fla., and Roger Dean Stadium home for long into the next decade.
The Cardinals' current deal with their spring training complex and the county runs through 2017 with an amendment that extends the agreement through 2027. The Cardinals have the right to opt out if there are fewer than four teams on the southeast corridor of Florida.
Currently, there are four: the Cardinals and the Marlins, who share Roger Dean, and Washington and the New York Mets.
The Astros and Toronto Blue Jays are expected to relocate to a two-team facility similar to Roger Dean in Palm Beach Gardens, Fla., a short drive from Jupiter. Houston's lease in Kissimmee, Fla., ends in 2016. That will bring the total to six teams in the Cardinals' area. The Cardinals have called Jupiter their spring home since 1998.
Carlos Beltran became the 25th switch-hitter in baseball history since 1901 to play in his 2,000th career game, on Thursday. Former Cardinal and Hall of Famer Ozzie Smith ranks fourth all-time among switch-hitters with 2,573 games … Yadier Molina has the third highest-selling jersey in the majors so far this season, according to Major League Baseball. Molina's No. 4 Cardinals jersey ranks behind Giants catcher Buster Posey and Yankees closer Mariano Rivera in sales. Molina is the only Cardinal in the top 20. … Maness' win Wednesday was the 20th by a rookie this season. The Cardinals' club record is 26, set in 1986 and matched in 1997.