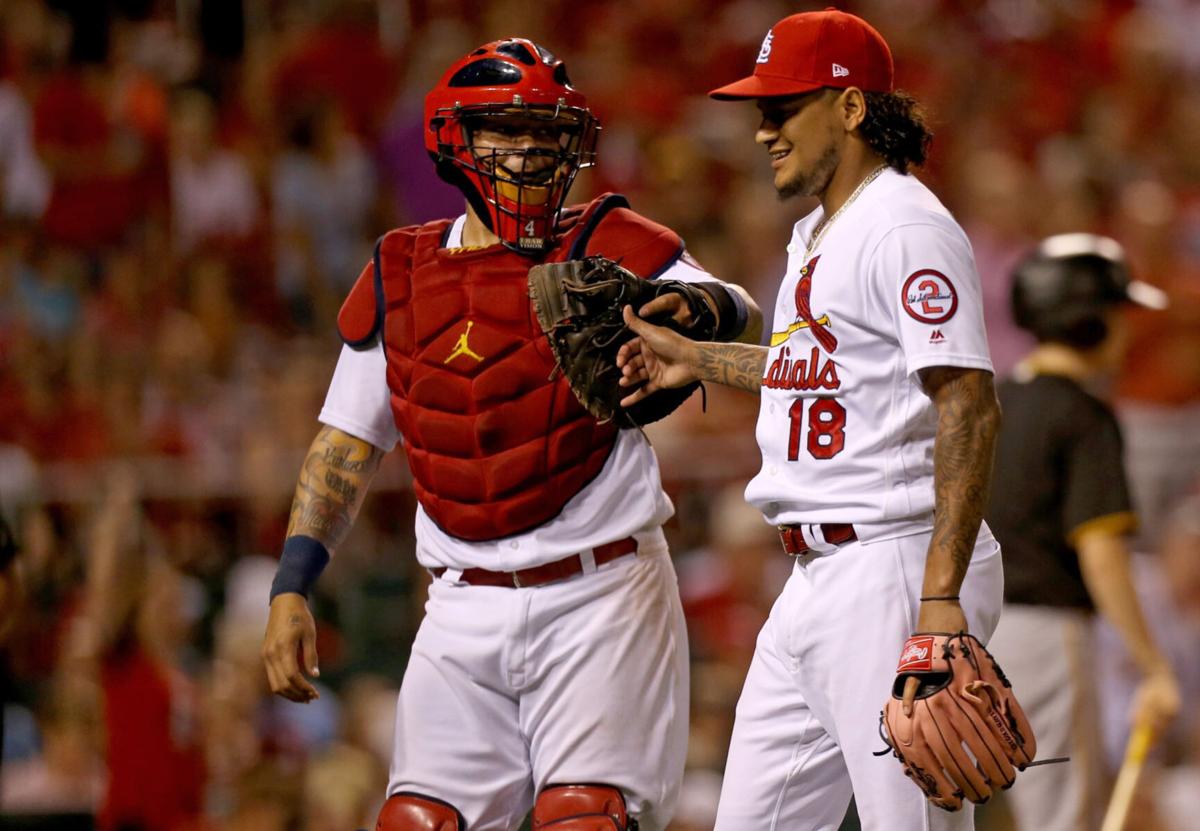 The phrase Carlos Martinez said and later shared over a picture of him on the mound last week is one the Cardinals have heard before and have waited to see from their righthander.
Translated from Spanish, he described how he had "no limits."
Nearly four months after his fraught season ended abruptly because of an oblique strain, that is how Martinez described himself going into the opening start this weekend for the Dominican Republic's representative in the Caribbean Series. The game will be Martinez's third for Aguilas Cibaenas in its playoff run and fourth this winter — a noteworthy amount this late into the offseason for a former All-Star entering the final guaranteed year of a five-year, $51-million Cardinals contract.
Uncertain health and uncertain role have defined Martinez's recent seasons with the Cardinals, so winter ball offered him innings to do more than get prepared for spring training. He could get a head start on spring training.
"We wanted him to pitch," Cardinals general manager Michael Girsch said. "He wanted to pitch. He wanted to get in some games. Clearly, he wanted to show us he's ready to go."
As the Caribbean Series, a tournament of winter-ball champions, opens Sunday in Mazatlán, Mexico, Martinez will lead Aguilas against Puerto Rico's title team, Criollos de Caguas. One of the players expected to face him will be a familiar sight at home plate — just standing a bit closer, upright, sideways, and with strikingly different intentions.
Yadier Molina joined Caguas for the championship series in Puerto Rico's Roberto Clemente winter league and will travel to participate in the tournament for the first time in his career, a source confirmed. He has been starting at designated hitter.
Molina continues to weigh an offer from the Cardinals for the 2021 season and await an improved offer that would clinch the decision for him. The Cardinals remain the last major-league team to go without adding to their major-league roster this winter, and the view from several agents this week has been that the Cardinals remain focused on re-signing Molina and Adam Wainwright. Both "legacy players" have been given updated offers from the Cardinals, though the initial offer was for less than they were guaranteed in 2020.
Wainwright has received several competitive offers, and one of the current offers is from the San Diego Padres, the Post-Dispatch confirmed.
A phalanx of free-agent infielders signed this week shifted the market's spotlight to second baseman Kolten Wong, who won his second consecutive Gold Glove Award shortly after the Cardinals declined his option for 2021.
They have not actively pursued a reunion, multiple sources described.
Girsch declined to comment on specific free agents.
As a free agent, Molina is just that — free to play where he wants and do what he relishes, compete for Puerto Rico in a tournament. Martinez has the option to compete for his country's winter ball club, and Aguilas and the Cardinals have maintained communication about how often and how much the righthander throws.
One of the Cardinals' athletic trainers, Chris Walsh, has the same role with Aguilas, and that has allowed the team to be involved in Martinez's training and recovery, and have a representative with him for every start.
"That fact that he had only a handful of starts the past two years and that combined with the innings he missed already coming back from (COVID-19) and injuries, he needed innings to get ready to start, and he's trying to do that again this spring," Girsch said. "He spent all of 2019 in the bullpen, and 2020 was not a season to remember for Carlos. He's got to earn a spot, and to do that he's got be ready to win it."
Martinez's appearances have been spaced out, each coming with at least a week of rest in between. Overall, he's thrown 15 1/3 innings, and his first appearance had the look of a starter testing his health. He threw strikes, lots of them. In 3 1/3 innings he allowed seven hits, walked none, and struck out four.
His playoff starts have been sharper, with 11 strikeouts in 12 innings and a 2.24 earned-run average in two appearances. In his first playoff start, he struck out six, got eight groundball outs, and held Yaisel Puig 0-for-three. Puig struck out once and grounded out to end Martinez's six-inning outing.
On Jan. 16, his most recent start before Sunday, Martinez allowed three runs on two homers. He also struck out five and got 10 groundouts in six innings on 77 pitches. His velocity has hummed in the mid-90s, his representative described, and the righthander has been using the games and an extended bullpen session this past week to adjust and tighten mechanics to correct loose, inconsistent command. He does not appear tentative in any videos of his outings. Cardinals officials have been encouraged by the positive reports on Martinez's comfort.
The Caribbean Series opens with round-robin play and advances toward a championship on Feb. 6. Molina's team, Caguas, won the title in 2017 and 2018. The club Martinez will front also includes former Cardinals backup catcher Francisco Pena, who has homered twice in the playoffs; former Cardinals infielder Rangel Ravelo; Cardinals reliever Nabil Crismatt; and Cardinals utility infielder Edmundo Sosa.
Sosa has struggled offensively in the playoffs, but he got the grounder from Puig that ended Martinez's first postseason start.
As he prepped for his Sunday start, Martinez said that he does not have any limits as far as pitches or innings. It's a showcase for him to show the Cardinals — or other teams — his readiness, and it's supposed to be a slingshot into spring.
Said Martinez during a teleconference Monday, as translated by MLB.com: "I feel 100% ready."