Carlos Martinez threw the first pitch for the Cardinals on March 30. He also threw the final pitch of the last game they won in late September. In the last month of the season, he threw the final pitches of several games, and manager Mike Shildt was liking what he saw.
Martinez, feeling he was unable to continue as a starter after three tours on the disabled list with assorted arm and other right-side issues, went to the bullpen in August. Then, installed as the closer, when Bud Norris struggled with injuries and inconsistency, Martinez closed for the final three weeks of the season and knocked off five saves in five chances.
"I love his makeup at the end of games," Shildt said. "I loved his durability and I loved the fact he could pitch multiple innings."
Shildt wouldn't mind that back-end bullpen role again for Martinez, but he was aware that Martinez was signed to a five-year deal as a starter and wants to be a starter.
"I think the front office and everybody would like to see him show up in spring training as a starter. I like those sentiments," Shildt said, diplomatically.
"I thought he did a really nice job at the back end of the bullpen. But I do see the value of him being able to start."
Martinez will need to retool his body in the offseason. "That's something the medical team has drawn together," said Shildt, "as far as making sure he stays diligent in adding strength and taking care of himself, ready to carry the load for 200 innings or so for next year."
So, if not Martinez as the closer, who?
"I can't say it's defined at the moment," said Shildt. "We obviously have candidates, but I think it's a little early to say that a particular person will be our closer."
One particular person would be Jordan Hicks, 22. Shildt, for one, thinks the 100 mph-plus fireballer with the wipeout slider has the makings of the ninth-inning man.
"Clearly, he'd be a candidate," Shildt said. "You've got a lot of skill set you want to see. I was really impressed by him in the fact that this guy was in (Class) A ball last year and showed up here in medium- to high-leverage situations and was able to maintain his composure.
"That's a real important trait for someone's who's pitching at the back end of games. Yes, it's about stuff. But, in general terms, people who don't make the situation bigger than it is ... those guys typically have more success.
"Obviously, he has the stuff. It's just about him really being more consistently efficient and throwing more strikes."
Hicks' walk totals weren't outrageous, but he did issue 45 passes in 77 2/3 innings to go with 70 strikeouts.
In these times, though, the bullpen is more than about the closer, the setup man and a lefthanded specialist. Late innings in the playoffs have seemed to count as anything past the fourth. And, even during the season, a five-inning start appears more the rule than an anomaly.
Shildt admits he is studying all possibilities although he won't be going the way of the one-inning "opener," as Tampa Bay did with regularity and Milwaukee did to the Cardinals with a one-out start by lefthander Dan Jennings late in the season.
"In general terms ... I don't know that you'd call it the modern bullpen, but ... the bullpen is being restructured in the sense of how people expect managers to use it and the managers have the freedom to use it," Shildt said. "I think it's great. Different looks. Not going through the order three times. But, over the course of 162 games ... it's all wonderful, but are you going to have people efficient enough to (a) get it done on that given day and (b) to be able to come back the next day or two days later in a similar situation and do it again?
"From a long-term standpoint, I don't know how sustainable it is for that player. And what responsibility do I have to that player? I know it's the big leagues. And I know they're there to pitch. And I know we've got to win. I understand that completely. That's a hard road for a guy to pitch two-plus innings every third day but, clearly, it can be effective."
But, cautioned Shildt, "The games that get away from teams are typically are the ones where you make that move in the third, fourth or fifth inning."
In his many conversations with Hall of Fame manager Tony La Russa, Shildt said La Russa always had one piece of advice for Shildt on how to operate a bullpen.
"Just understand something," La Russa told Shildt. "It's hard to expect four clean innings out of your bullpen. Just know what you're asking them to do.
"Now, with modern bullpen management, the first sign of any trouble ... (the starter) is gone. That can work on that day, but that's hard over the course of a season. That's even hard over the course of a series.
"You get to a certain point, you can't go for that win because you know that bullpen has to come back and get you through the next couple of games where you've actually got a lead in the game. I'm thinking about a lot of this stuff."
Pertaining to his own bullpen, and the use of someone like rookie Dakota Hudson, a starter capable of working multiple innings, Shildt said, "I love that idea of that multi-dimension guy. You're playing with the lead in the sixth inning and you've got the middle of the lineup coming up. It's a big part of the game. I love the extinguisher version of what that looks like. This year, a big part of why we got going was Dakota.
"This gets back to the conversation about Carlos," Shildt said.
"We have good starting pitching and that's great. That's a huge asset of ours and that should always be a cornerstone for a successful organization. But I will say this. You're not going to go very far in the season or in the playoffs without a good bullpen.
"When Dakota was able to be around the plate, this guy was able to have really quick innings and be able to go back out for the next inning. (But) I could see him being a really efficient, innings-eating successful starter as well."
In fact, Shildt said most all of his young pitchers except Hicks and Mike Mayers will be brought to camp next spring to be conditioned as starters. That would include Austin Gomber, Hudson, John Gant and Daniel Poncedeleon, all of whom both started and relieved for the Cardinals last season, with the exception of Hudson, who was the top starter in the Pacific Coast League.
"It would be easier to take a guy who's built up (to start) and put him in the bullpen. All those guys earned the right to show up in camp as starters."
So, then, how many starters do the Cardinals have, now that Adam Wainwright has been re-signed?. "It depends on what happens," said Shildt. "You've got (Michael) Wacha. And (Alex) Reyes."
Then, Shildt laughed and said, "There's only about 18 or 19 (starters).
"But, in sincerity, there's about 11 who are legitimate. You cannot have enough quality pitching. People, ordinarily, will just say you can't have enough pitching. We've got pitching. We've got 100 guys in the system that pitch.
"But the good news is that we have quality pitching. And the other part of that good news is that we now have guys who have been proven to have success at the big-league level.
"You just don't know until those guys get opportunities. Jack (Flaherty) got an opportunity and proved it. Dakota got an opportunity and proved it. Jordan got an opportunity and proved it. (John) Brebbia continues to prove it. Michael Mayers showed the ability to prove it. And then you've got Gomber, 'Ponce,' Gant ... they all more than proved their ability to get outs at the big-league level."
After a dominating several weeks on the medical rehabilitation program, Reyes, recovered from Tommy John elbow surgery, pitched four more scoreless innings May 30 in Milwaukee before being sidelined again, this time by a lat tear that required additional surgery.
"We need to be even more cautious" next spring with the 24-year-old righthander, Shildt said. "Not that we weren't this year. I wasn't involved with the plan, but I trust the plan. We've dotted our 'I's and crossed our 'T's with him and I think we're on a similar trajectory to where he was last year in camp and how he'll be brought along."
Shildt was 41-28 in his 2½ months as Cardinals manager. But he said that "ultimately was not good enough. I feel like we gave everything we had. I don't have a ton of regrets from the three months. There's always a decision you'd maybe do differently, but I think that's going to be the case if I manage for another 20 years.
"I couldn't have been happier with the guys on our club. It was a disappointed locker room, but I had a really good vibe from every single guy in that locker room, with a sense of anticipation and eagerness already for next season."
---
Miles Mikolas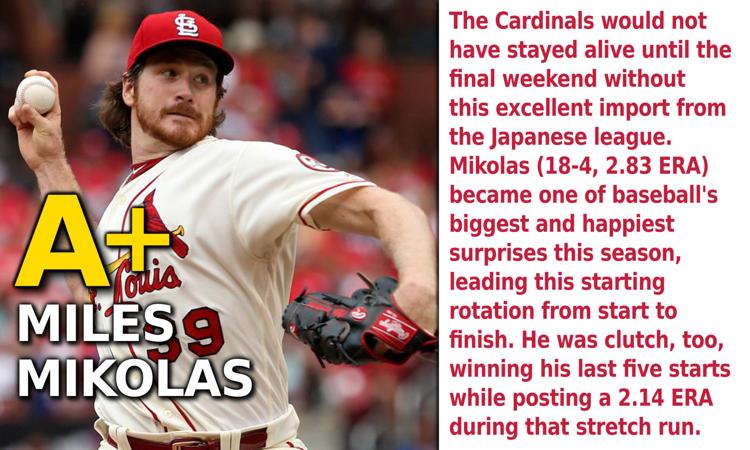 John Brebbia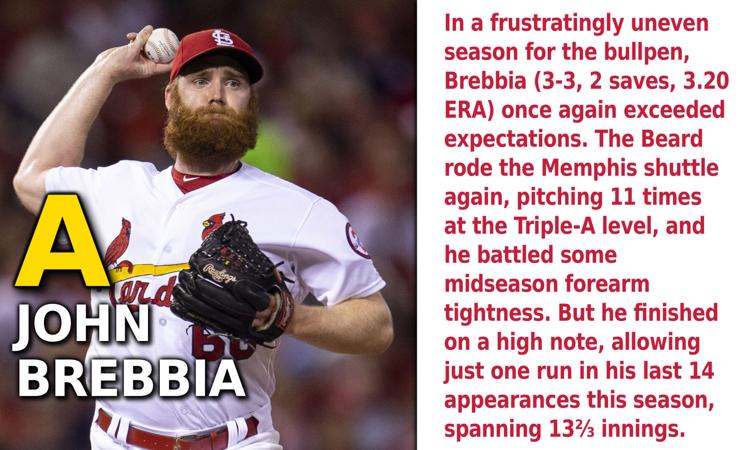 Daniel Poncedeleon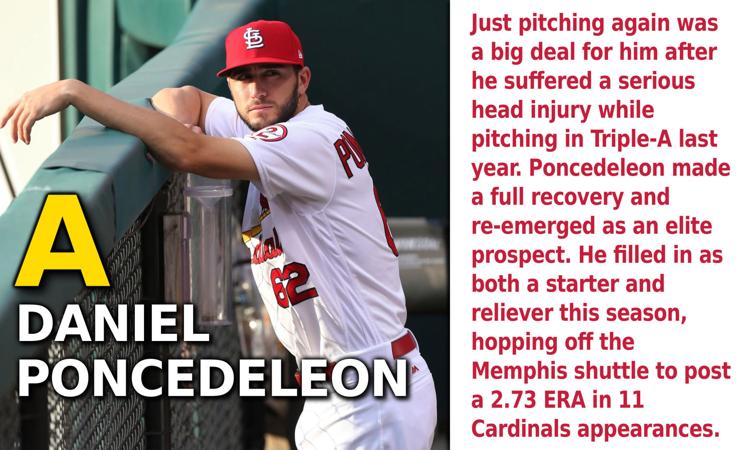 Jack Flaherty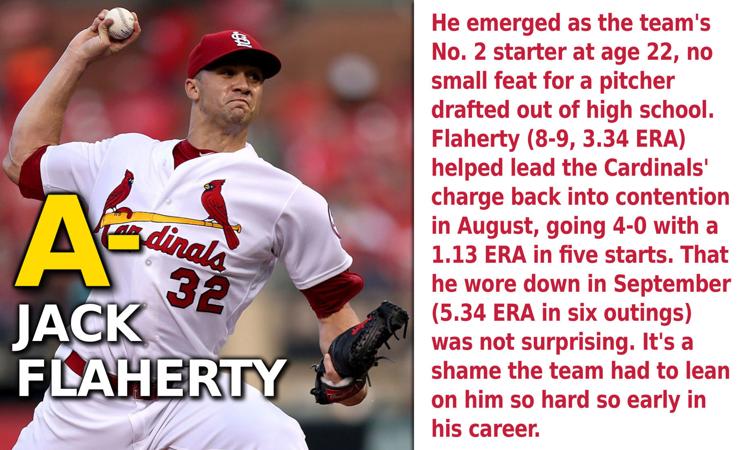 Jordan Hicks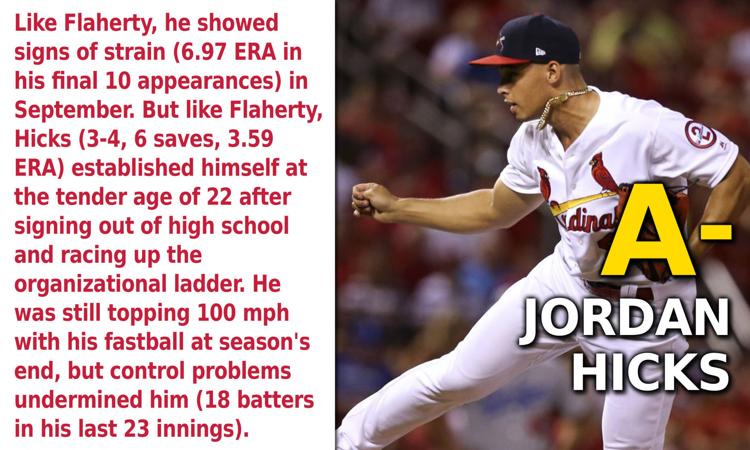 Michael Wacha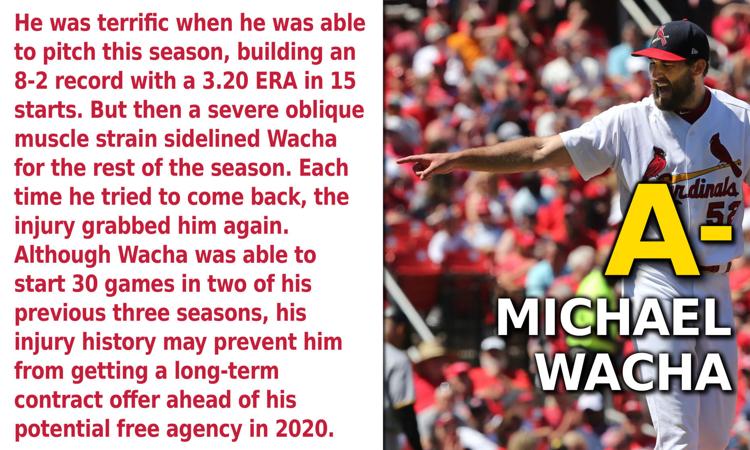 Tyler Webb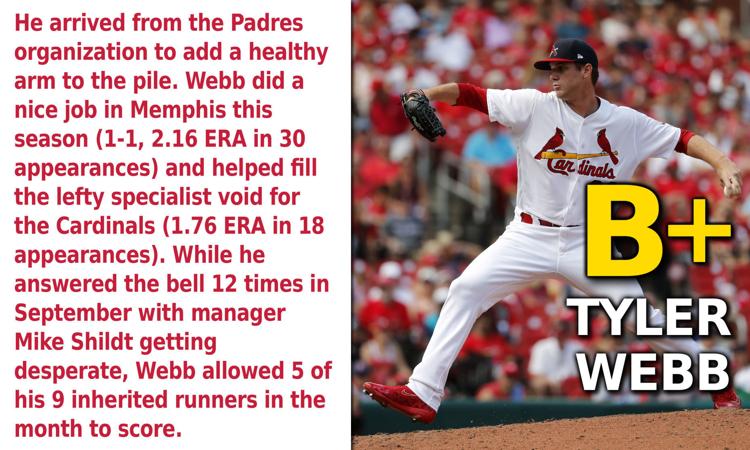 John Gant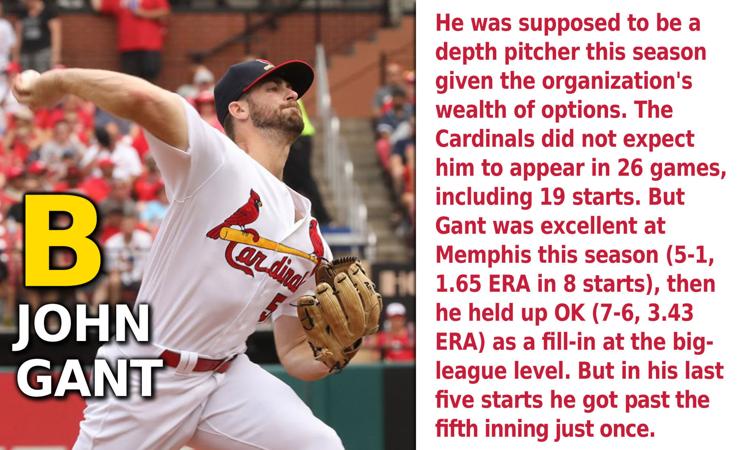 Dakota Hudson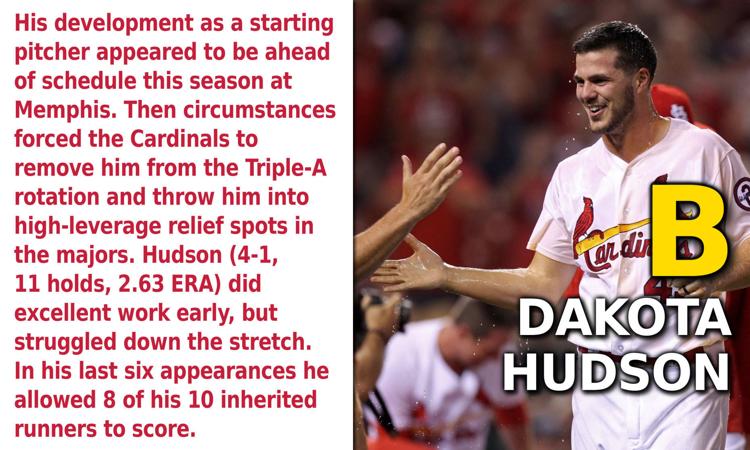 Carlos Martinez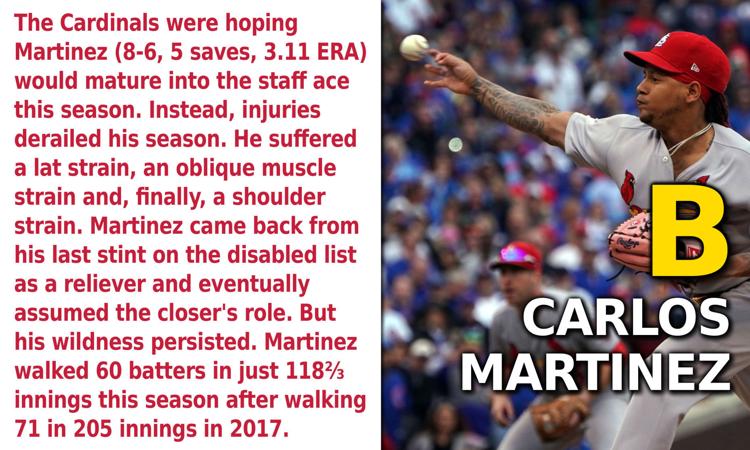 Bud Norris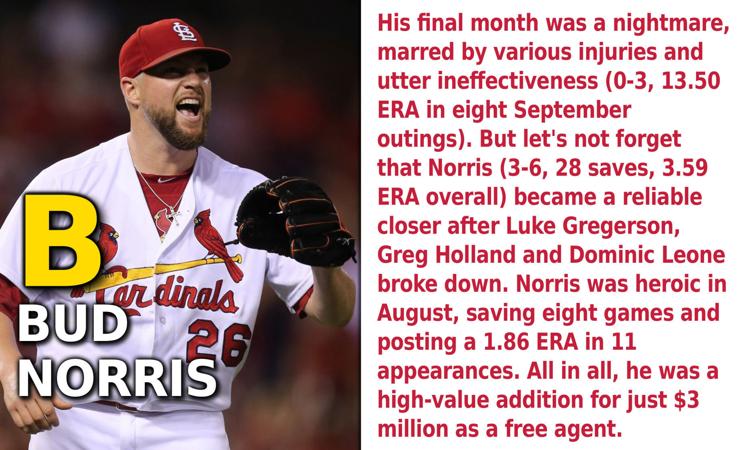 Tyson Ross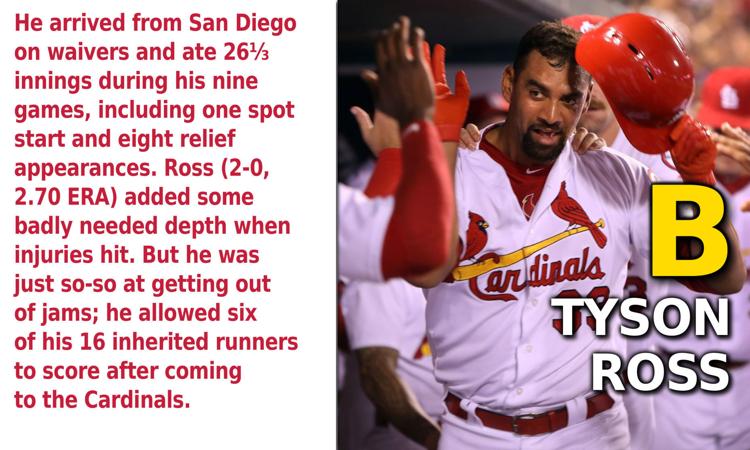 Chasen Shreve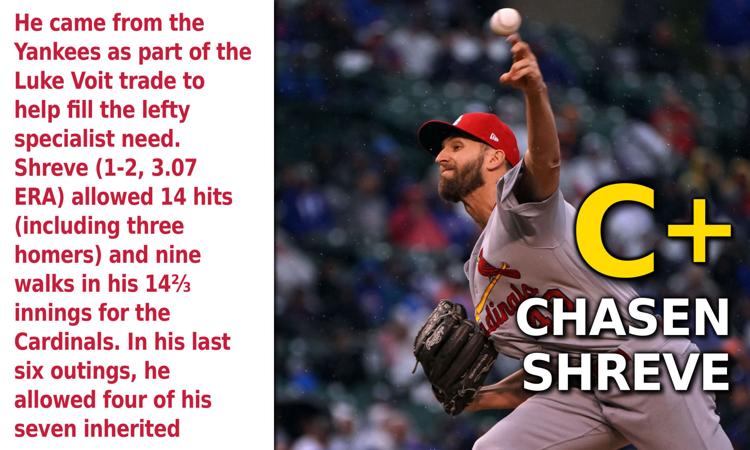 Mike Mayers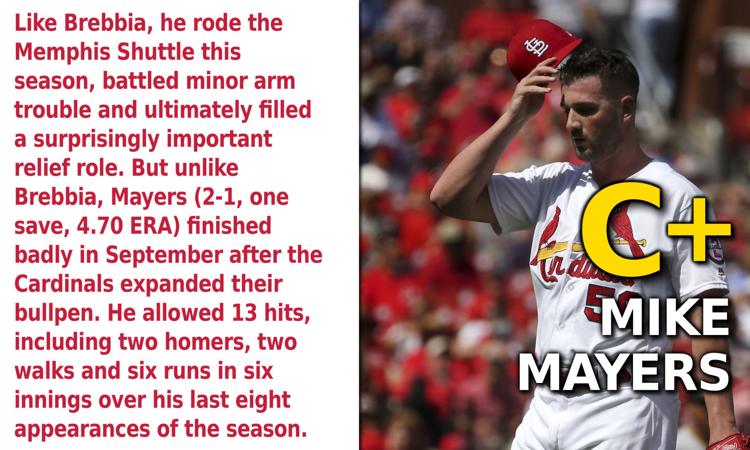 Austin Gomber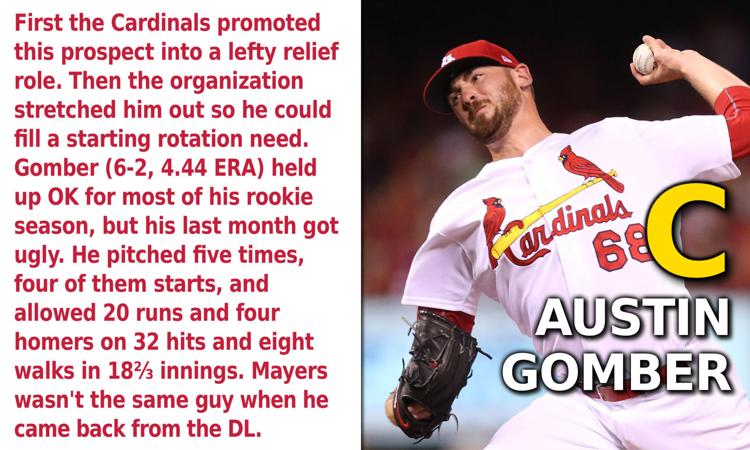 Dominic Leone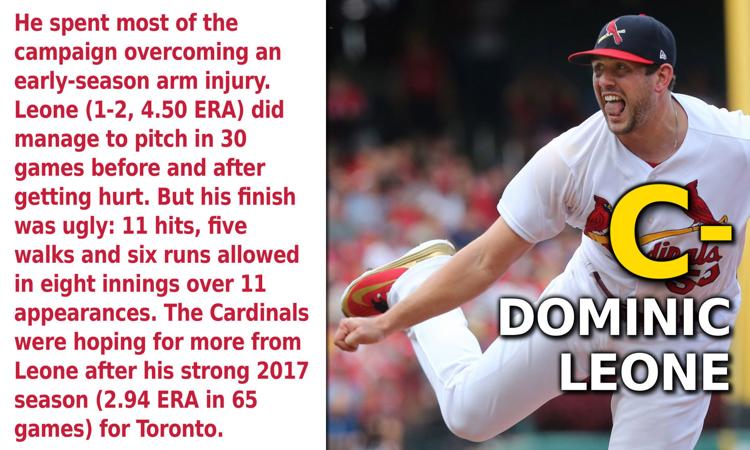 Adam Wainwright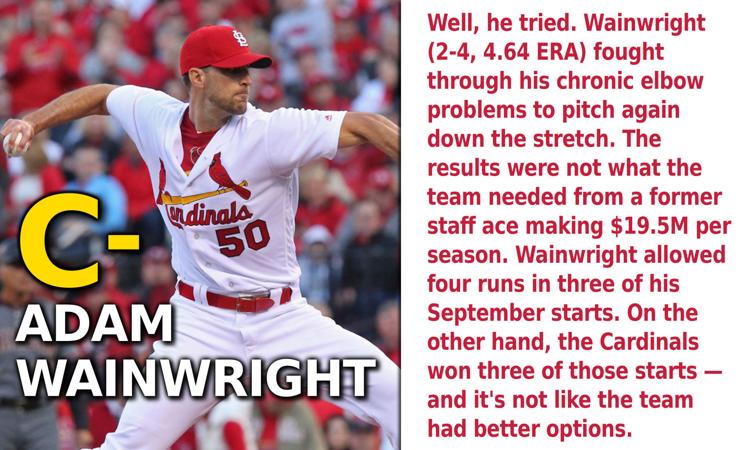 Luke Weaver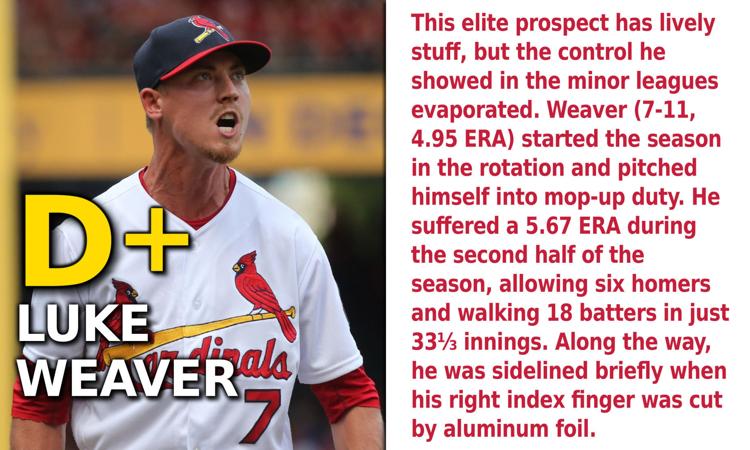 Matt Bowman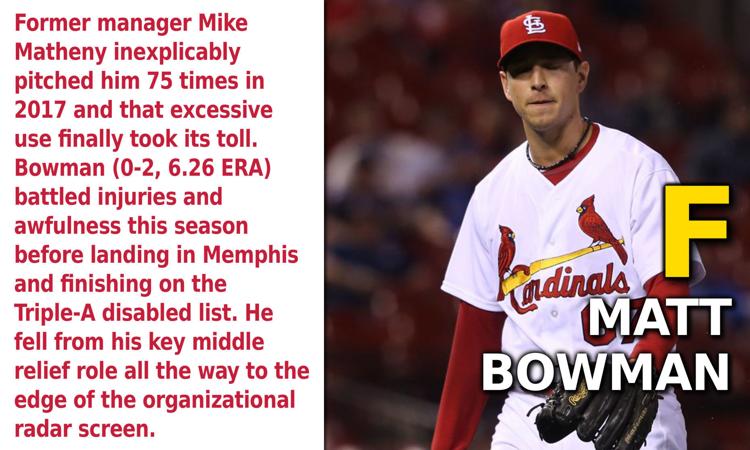 Brett Cecil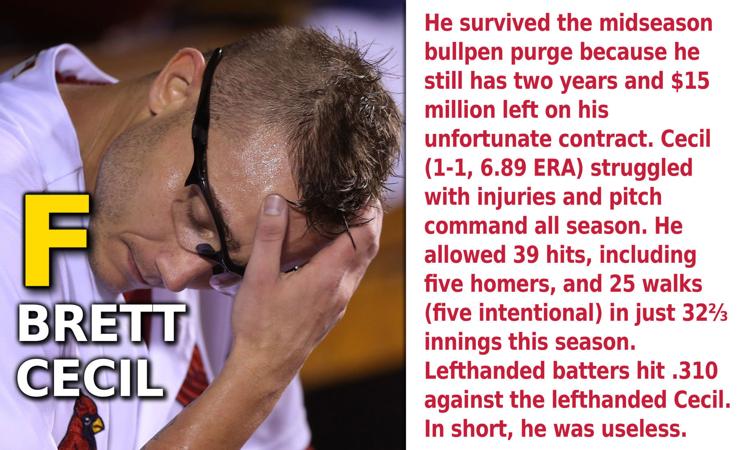 Luke Gregerson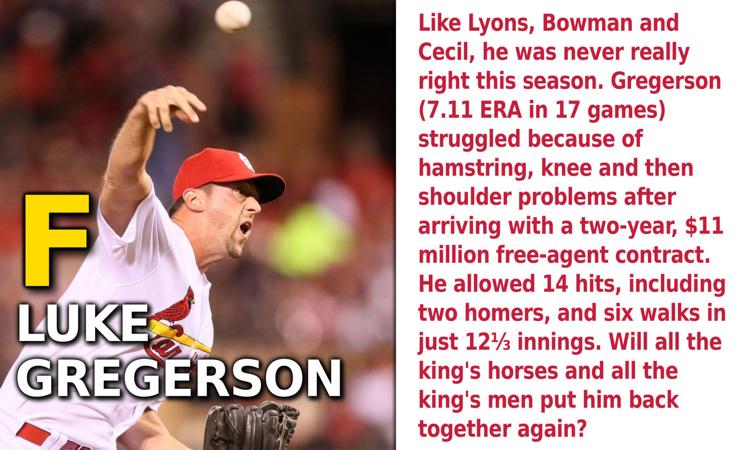 Tyler Lyons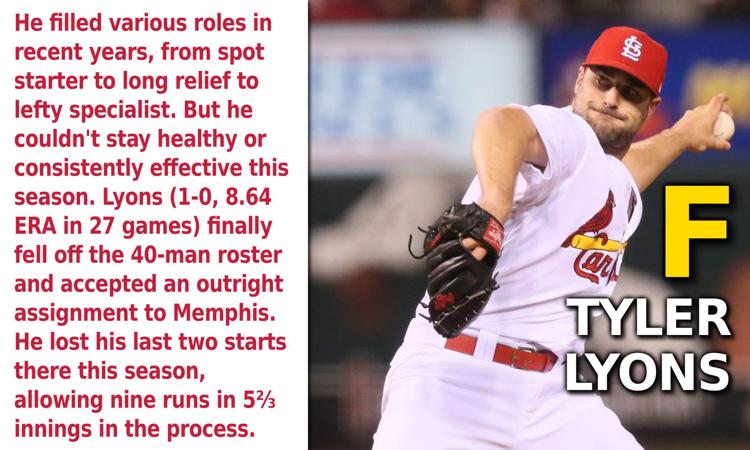 Get Gordo's grades for position players and management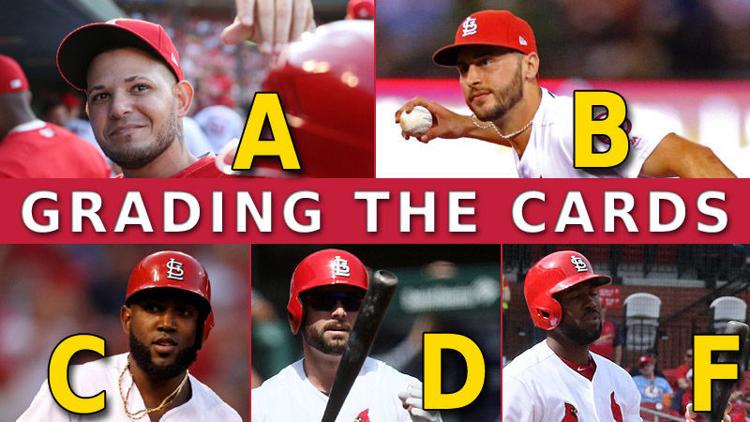 Quiz: How much do you know about the last Cardinals team with a 3-year playoff drought?