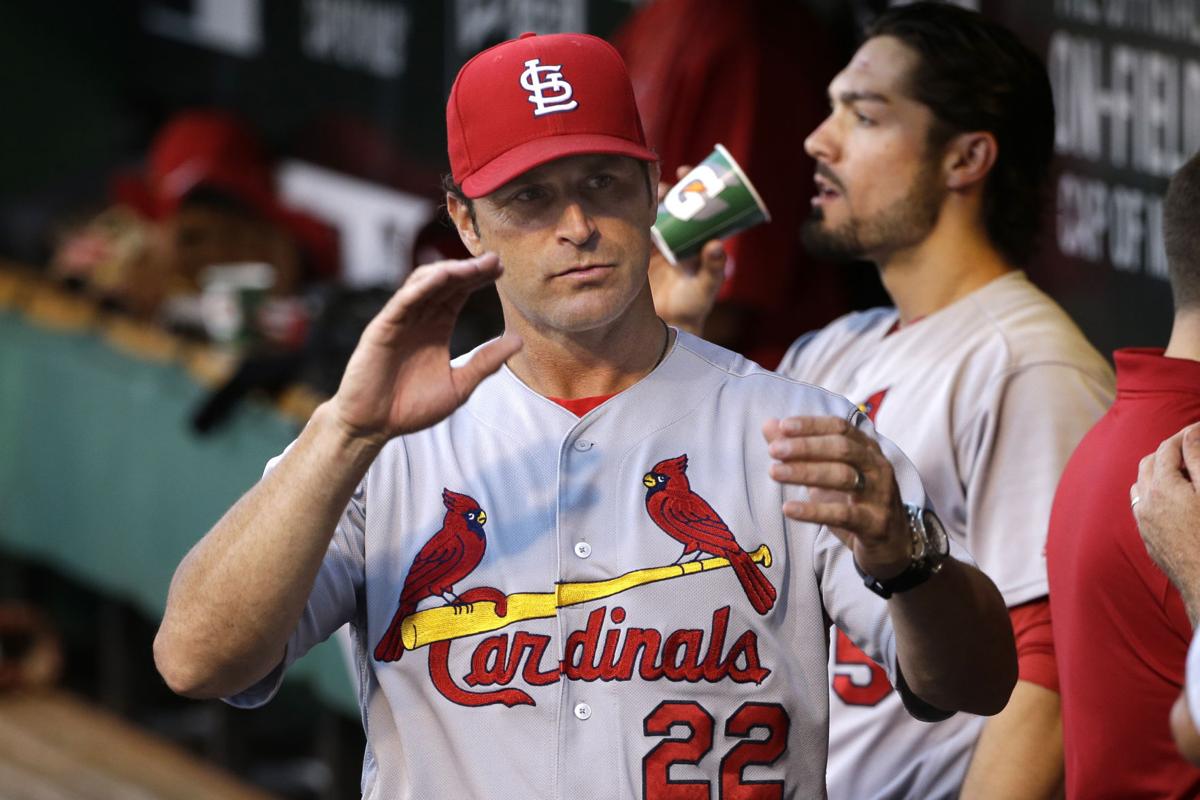 JUPITER, Fla  •  Before Cardinals manager Mike Matheny departed for Columbus, Ohio, and daughter Katie's Senior Weekend hockey games for the Lady Buckeyes, he stopped in to meet with and observe some of his players who were working out ahead of Tuesday's first official training day for pitchers and catchers.
After shaking a few hands and exchanging some pleasantries, Matheny went into his office for a bit and offered his surprise that Baseball Prospectus assessed the 2017 Cardinals as a team that would finish with a dismal 76-86 mark, or a reverse of their final record for 2016. That mark would only tie Milwaukee for third place in the National League Central Division standings, well behind the defending World Series champion Chicago Cubs and even the Pittsburgh Pirates.
Baseball Prospectus' PECOTA system, which stands for Player Empirical Comparison and Optimization Test Algorithm, correctly projected all five National League playoff teams (the Cardinals weren't one) last year.
But Matheny, who had been doing his reading, said, "That's unbelievable. Yeah, I saw it. I hope the guys saw it, too. I'm not going to make a big deal of it, though.
"I'm not going to beat up what the rest of the world is saying — trying to prove everybody wrong," said Matheny. "I just want to make sure our guys take a good look around and see what we really are and what we have.
"We've got guys who are motivated. Guys have an edge as to how it finished last year. We've got the makings of a fun, fun season."
One of the major reasons the Cardinals missed the postseason for the time in six years was their leaky defense, and Matheny said instruction on that level will be more "personalized" this spring. "We're going to have Ozzie (Smith) down early and, obviously, Cheo (Jose Oquendo) is around," Matheny said.
Matheny added that new first-base coach Oliver Marmol also would work with the infielders, as would bench coach David Bell and new quality control coach Mike Shildt.
The name "Oquendo" jumps out, of course, because the former Cardinals third-base coach and infield coach was absent last season, working with young players in Jupiter as he recovered from a couple of knee operations, and did not coach in the majors. The once stout Cardinals defense turned sour, and there was strong fan base speculation that Oquendo not being available to help on a daily basis was the reason.
To this, Matheny said, "People keep forgetting we had a shortstop (Aledmys Diaz) who had never played in the big leagues before. That was where the majority of the focus was. But the kid was just learning the league, let alone that position, on a contending team. I just don't think enough emphasis is put on that.
"Then you have (Jedd) Gyorko bouncing around to positions he'd never played. You've got (second baseman) Kolten Wong, who still hasn't had a full year in the big leagues. What parts of that would equate to any consistency? There's a learning curve.
"Kolten had the kind of season where he was just trying to figure everything out. So that doesn't lend to consistency. Then Jhonny (Peralta) got hurt in spring training, (Ruben) Tejada got hurt and, all of a sudden we're thinking about who's going to play shortstop on opening day. You could call it an excuse but, to me, it's reality. I can't believe people haven't focused on (those things) more. It's just a natural evolution."
Matheny said he thought Diaz, who had 13 errors for the season, actually had done "a terrific job. You throw a young player onto a contending team at that position and then you had a center fielder (Randal Grichuk) who really hasn't had his feet on the ground either. So, up, the middle, defensively, you're talking about Yadi (Molina) being the one staple while the other three are young players."
Shildt's position will be something of an all-levels one as he blends information from the baseball analytics side with observations from the coaching staff.
"This position is really going to be defined as we go," said Matheny. "Obviously, this year we've been looking at some of the weaknesses that we have and so let's get some tangible evidence behind it and let's put a plan together. (Shildt) has been in the middle of all that. We're trying to maximize another good baseball mind."
The early end to the Cardinals' season last season afforded Matheny the possibility of spending more time with his five athletic kids, one of whom, outfielder Tate Matheny, is in the Boston system.
Luke Matheny is a redshirt freshman pitcher at Oklahoma State, Jake is a freshman catcher at Indiana and outfielder Blaise, the biggest of the group at 6-foot-3 and 200 pounds, is being recruited while a sophomore at Westminster Academy.
"I'd have been chasing my kids, no matter what," said Matheny, who didn't consider it a consolation prize for not making the postseason.
"That's part of the punishment," he said.
---
GONZALES THROWS
Former No. 1 draft pick Marco Gonzales, who had Tommy John elbow surgery last April, took to the pitching mound Friday for the first time since mid-March and threw about 20 fastballs.
"I definitely felt fatigued at the end of that but my arm feels really good," said the lefthander who will be 25 next week.
Gonzales, who hopes to have his first legitimate bullpen session next week, basically has missed a year-and-half with shoulder, pectoral and elbow injuries since the beginning of the 2015 season.
A key reliever for the Cardinals in the 2014 playoffs after being drafted only the year before, Gonzalez hopes to be able to be ready for pitching in the system by May, or about 13 months after his elbow surgery,