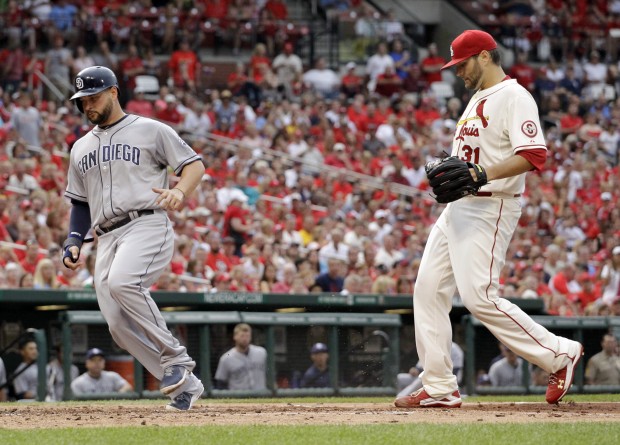 It wasn't actually like he was summoned to the principal's office, although he has been called on the carpet before. But Cardinals righthander Lance Lynn, who wasn't happy with himself and who irritated his manager and some teammates with his pace and deportment Saturday night, met with Mike Matheny for a lengthy period before Sunday's game.
The door to Matheny's office was open and there was some laughter involved. But Matheny also thought it appropriate to send a message.
"We were talking about hunting," insisted Lynn, at first. "I'm a bad shot, when it comes to deer season. He told me to get my (gun) re-sighted and that might help. I'm a big elk guy. I usually miss deer.
"There's a lot of things we could talk about. Hunting season is coming up real quick," said Lynn.
"Is that what he said?" a bemused Matheny responded later. "OK, that's what we did."
Matheny blamed himself to some degree for Lynn's recent problems. The 11-game winner has given up 10 runs in his last 9 1/3 innings, losing both starts, and has dropped four of his last five decisions.
"I don't think I've done a real good job communicating to him as he's trying to control his emotions out there," said Matheny. "So he tries to harness back when his natural tendency is to be that aggressive guy.
"The way we tried to explain it is we want him to be himself but also understand there's some things inside the game as how you're perceived and how your teammates respond. It's been kind of a tough transition for him."
Lynn said, "I don't think there's anybody happy with what I did last night. When I was out there, I was thinking, 'This isn't me.'''
Pitching coach Derek Lilliquist agreed. "Nothing was good. That was tough to watch."
Lynn allowed nine runners and four runs in the first three of his five innings Saturday, slowing his tempo to where he was working even more deliberately than San Diego's Edinson Volquez, a notorious slowpoke.
"I was over-thinking it," said Lynn, "and that caused me to be a little slower than normal. When you start going through rough patches, you try to make that perfect pitch."
Matheny said, "When things weren't going his way, he was trying to keep himself from exploding. Meanwhile, he slowed down the game and (it) came across as bad poise on the mound.
"I'm a big fan of Lance and I'm a big fan of his intensity. When you see some things that you know aren't right for him and how he's perceived on his team, which is a high priority for me being the manager ... how do you help guide him along and control his emotion but still try to bring out the best?."
Addressing the times when Lynn hasn't controlled his emotions, Matheny said, "He's a good team guy. We just bring it up, (saying), 'That was a real good game, but when a guy kicks one behind you and you're out there screaming, even though it's not aimed at them, that's when it comes across in the wrong way.'
"I don't want any of these guys to be choirboys but I do care very much about chemistry," Matheny said. "If he's got to be angry out there, I want him to be the angriest man on the planet. But keep in mind there's some things you need to do, as far as your teammates are concerned."
The bottom line on Lynn is that he still is 29-12 over the last two seasons.
"The last thing I want to do is take away the competitive spirit," said Matheny, who said Lynn could be an "elite" pitcher.
"But, as part of my job description, I have to figure out if something's going sour with the other guys — something that we can correct."
Matheny cautioned, however, "Let's not make this just about Lance Lynn. I had a conversation yesterday with (rookie) Carlos Martinez. So did about four other guys."
And he noted further, "This stuff constantly happens on a good team. On a bad team, the veterans let the young guys do what they want. The young guys run amuck."