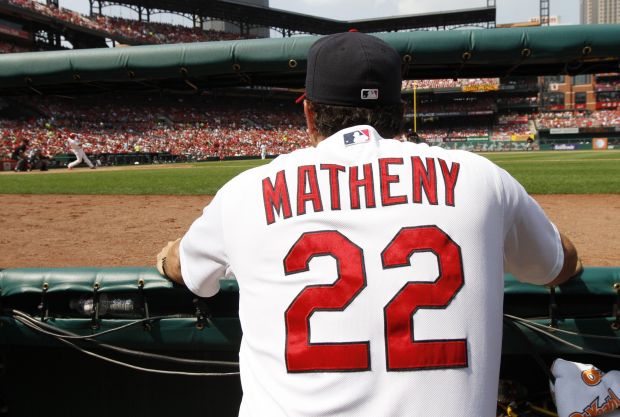 ST. LOUIS • It was within weeks of returning from the Dominican Republic and the memorial service for a player that Cardinals manager Mike Matheny attended a funeral for a friend and had a thought he couldn't shake.
How could he share this story? How could he offer a tribute?
First he had to have a conversation.
Matheny shed the No. 22 -- the number he's worn every day as a manager and one of two numbers he wore as a player for the Cardinals -- in order for newcomer to Jason Heyward to continue to honor a high school teammate who was killed in a car accident. This offseason, Carlos Martinez has received permission to wear No. 18, the number last worn by his teammate and close friend Oscar Taveras, who was killed in a single-car accident in the Dominican shortly after the season ended. Matheny intended to do something similar with his choice of number. He just had to ask closer Trevor Rosenthal if he wouldn't mind changing from No. 26.
The No. 26 was the number worn by Sean Glanvill during a short -- too short, Matheny has said -- time playing hockey.
For seven years, Sean displayed a toughness and fight for his life, while the rest of the Glanvill family displayed the kind of love, faith, support, and commitment that was truly remarkable.
The changing of numbers has long been a ceremonial thing as players advance in their careers, gain seniority, and claim an identity through their jersey numbers. Fans develop a connection to the number and the player that sometimes is impossible to separate. Stan Musial is No. 6. Ozzie Smith is No. 1. Michael Jordan is No. 23. John Elway is No. 7. Derek Jeter is No. 2 and so on ... Matheny's connection to No. 22 also influenced the name of his charity, Catch-22 Foundation.
He considered wearing No. 44, a number he wore as a player for the Cardinals. He eyed No. 21, the number his wife wore in college.
But the act of changing numbers has taken on a business edge in recent years.
Baseball, by rule, governs the changing of numbers for players and managers, especially high-profile ones. Why? Merchandising. The manufacturers of all those No. 22 Matheny shirseys don't want to be stuck with outdated inventory. There is a provision in the rules that actually requires a player to purchase that inventory if a number change happens without a trade or without the required notice. Martinez had to seek permission to move to No. 18 for two reasons: the team had to OK that this was the tribute they intended beyond a memorial patch for Taveras and baseball had to approve the switch from No. 44. Matheny had to clear the same hurdle once he received the OK from Rosenthal, who will now wear No. 44.
There are a lot of No. 22 Cardinals jerseys out there.
Those will, for at least the next year, be Heyward jerseys or shirts. And once Matheny handed that number over Major League Baseball has joined the chorus of people asking him what number he would wear.
He always had an idea of what he wanted the number to say.
"Sean lost his courageous fight against this devastating injury on November 10th, 2014," Matheny wrote in his explanation. "In honor of Sean, as well as his parents Derek and Penny, who are two of my closest friends, I am honored to wear the number 26."