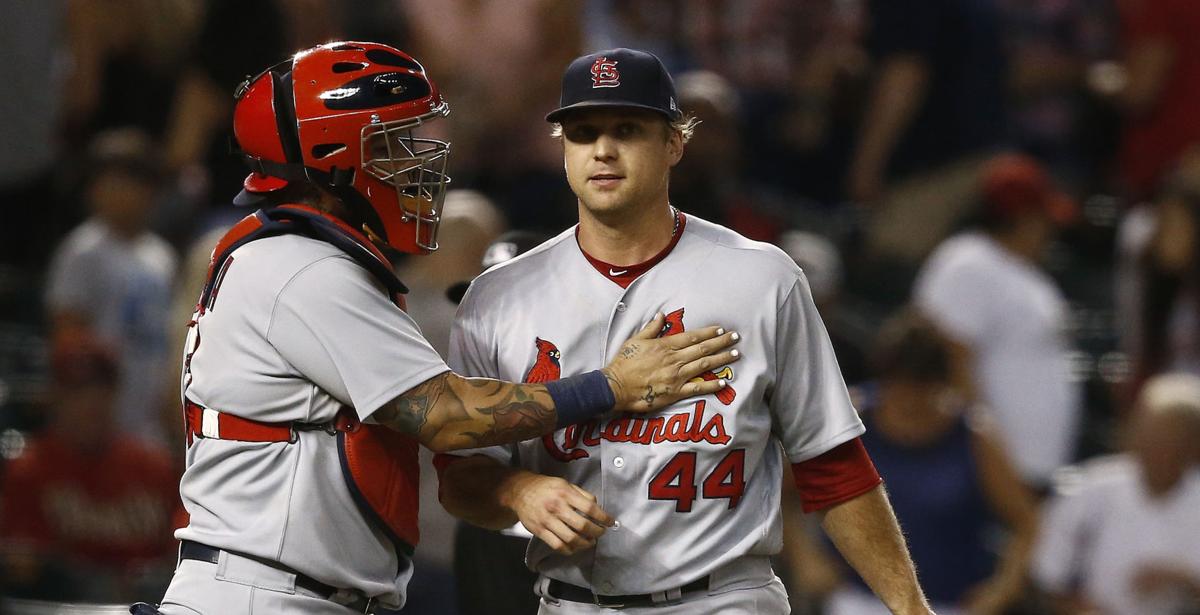 PHOENIX • Cardinals manager Mike Matheny has been pondering changing relief roles at the end of the game, i.e., flip-flopping current closer Seung Hwan Oh and normal eighth-inning man Trevor Rosenthal, who was the closer until he was removed from that role for Oh last year.
And that's what happened Wednesday night, at least with Rosenthal. He came in to pitch the ninth with the Cardinals leading 4-2, and got himself in a jam before collecting the save in a 4-3 win.
Both Oh and Rosenthal were ineffective Tuesday in a 6-5 loss in 10 innings to Arizona, and on a couple of other occasions lately.
"We've got a few of these guys who are all kind of going through the same thing at the same time, so all we'd be doing is to give them a different look," Matheny said. "Is that necessarily a bad thing? I don't think so. It's being talked about."
In June, Rosenthal has appeared in 14 games covering 11 1/3 innings. He has allowed 22 baserunners (eight walks) and has a 7.15 ERA. Oh has pitched 11 innings over 11 games and has a 5.73 ERA. He has not given up a walk but has allowed 14 hits, including three homers.
GARCIA WANTS BIGGER SAFETY NET
Cardinals infielder Greg Garcia, who lined a foul ball into the box seats behind the Arizona dugout behind third base on Tuesday, said, "My stomach dropped. My heart dropped. I hit it and I saw kids. You didn't know who you hit."
After some medical attention, including towels passed from the Arizona dugout, the injured adult man walked out of the seating area to be treated at a hospital for a laceration on his face.
"But that was not OK with me," said Garcia, who endeavored to call the man before Wednesday's game.
"Major League Baseball has got to step in and they need to make this a mandated law that you've got to have the net, just like most stadiums," said Garcia.
"I don't care if fans say that makes the view worse. That's not OK. I could have hit a little kid. I wouldn't wish that on anybody.
"At Busch Stadium, that one hits off the net and everyone's fine." The net at Chase Field stops at the near end of the dugout.
The commissioner's office recommended before last season that "clubs are encouraged to implement or maintain netting that shields from line-drive foul balls all field-level seats that are located between the near ends of both dugouts and within 70 feet of home plate."
Some clubs, including the Cardinals, have taken it farther than that, even to include netting the length of the dugout.
CARDS' TOP PICK SIGNS For $450K
Cal State Fullerton outfielder Scott Hurst, the Cardinals' top pick in the recent amateur draft, has signed with the club and is being sent to short-season State College. Hurst was a third-round selection but the Cardinals' top pick after they had to forfeit two picks to the Houston Astros because of a hacking scandal.
Hurst, a 5-foot-10, 190-pound center fielder, hit .328 with 12 homers and 40 runs batted in for 63 games for the Titans this year as a junior. The recommended slot value for the Cardinals' third rounder was $570,900 but the Cardinals, who had the lowest bonus pool at $2.176 million, signed him for $450,000, trying to remain flexible enough to sign a couple of high school players who were chosen in the top 10 rounds.