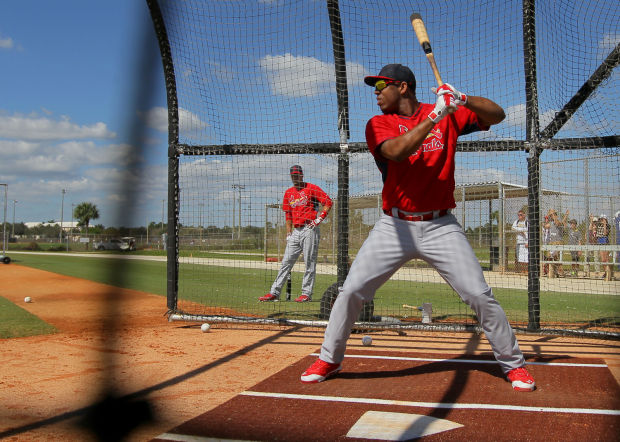 CHICAGO • Young Oscar Taveras, the top offensive prospect in the Cardinals' system, has hit his way into the conversation for a promotion, but one of the last steps before he reaches the majors is completely out of his control.
He won't go anywhere there aren't at-bats. Not now.
"Oscar is checking off all of the boxes," Cardinals manager Mike Matheny said Friday. "He's doing everything he can do right now. … They're just trying to keep him going not knowing what it would look like up here.
"Some outfielders are doing a pretty good job (in the majors). Knowing there probably wouldn't be an extended amount of playing time as far as everyday goes. For him, just keep going. Keep progressing forward."
Taveras, 22, has quickly answered any lingering questions about his health or reaction to a disappointing spring. Off to one of the best starts at Class AAA Memphis, the lefthanded-hitting prospect took a .316 average and five home runs into his start Friday night at Colorado Springs. He had an active 15-game hitting streak and he was set to start in left field and bat third. Taveras has hit .359 and slugged .641 over his previous 10 games and done so while walking as often as he has struck out (four).
The ankle tenderness that dogged him during spring has passed, and the Cardinals are working him in center field, a spot opened by Randal Grichuk's promotion to the majors.
With Grichuk's promotion earlier this week, the Cardinals did begin the roster machinations that would ease Taveras' move to the majors. They want to be sure there is playing time available to him when he gets there, be it in center or a corner outfield spot.
"I'd like to see our guys stay healthy," Matheny said. "If an opportunity comes up we'll figure out what's best for him."
Starter Joe Kelly has joined the team on this nine-game road trip so that he can continue to do drills and improve his strained hamstring under the watch of the team's trainers. Kelly threw off the mound Friday, though at the intensity of a game of catch. He said his left hamstring has not felt as sore in recent days, but it continues to fatigue quickly and experience weakness.
"I was having to think less of it," Kelly said after his workout Friday.
Available again out of the bullpen for long relief, Tyler Lyons took over in the seventh inning Friday. He could recover easily in time to start, as planned, when next the Cardinals need a fifth starter, Tuesday in Atlanta. Kelly has been able to maintain his arm strength by playing catch without issue for the past week. Asked if he saw a way for Kelly to contribute on this road trip, Matheny suggested Kelly's injury is one that will require more patience than a swift return.
He's eligible to come off the 15-day disabled list at any point now, but Kelly acknowledged it could be a week before he knows if a rehab start will be necessary.
"This is really a little more magnified with that hamstring," Matheny said. "There are just so many more levels you have to pass – even stretching, what kind of resistance you're getting. The pain that comes with certain movements. As he gets over one hurdle, there will be another one. We're not going to let him get too far too fast. It's going to be a progression."
Cardinals starter Adam Wainwright failed to become the first pitcher in the 100-year history of Chicago's ballpark to win seven games without losing any, but the Cardinals have had some of the other chief performers at Wrigley Field through the decades. Some highlighted standouts at Wrigley from the Cubs' archrival: Stan Musial had 28 home runs and 121 RBIs in 203 games; Lou Brock stole 42 bases in 130 games as a Cardinal at the ballpark he briefly called home; Bob Gibson had 15 wins and 166 strikeouts in 32 games at Wrigley; Todd Worrell saved 11 of the 21 games he pitched on the North side; Max Lanier had a 2.04 ERA in 21 games; and future Cub Rogers Hornsby hit .370 in 130 games with the Cardinals at Wrigley.
• Grichuk said he was fine after crashing into the brick wall at Wrigley Field trying to make a catch. The crash jarred the ball loose and left Grichuk with ice wrapped around his chest after the game. The ivy hasn't grown enough to cushion the outfielders. 
• Cubs outfielder Ryan Sweeney injured his right hamstring running down a fly ball in the eighth inning of Friday's game. 
• Shane Robinson had two hits in his first eight at-bats with Class AAA Memphis. Kolten Wong had two hits Thursday to up his average to .353 (six for 17) since the demotion Monday.