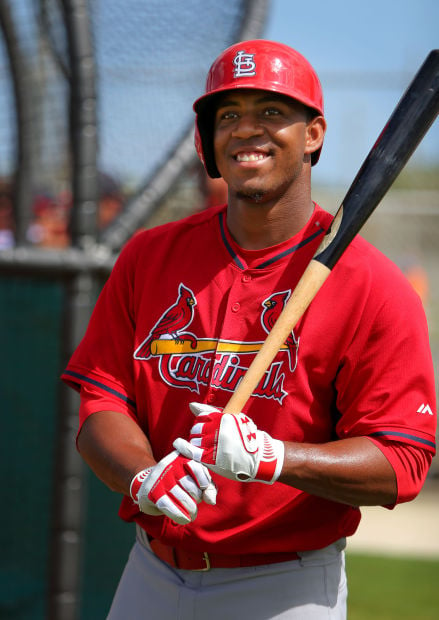 KISSIMMEE, Fla. • Before the Cardinals elected to option top prospect Oscar Taveras to Class AAA on Wednesday afternoon and end the young outfielder's chances of making the big-league roster before they truly began, manager Mike Matheny spoke with him.
Matheny urged the 21-year-old to see the demotion as a call to improve once he's healthy enough to get on the field.
"You've got to have that urgency to get better like all these other guys do," Matheny said this morning before first pitch of this exhibition game against Houston. "What's happened this spring is you couldn't get physically where you wanted to be. Once that's taken care of – which eventually it will – make sure you don't miss the opportunity to really push.
"You could easily ride on what you've done, but don't buy into a lot of stuff that you're hearing. There are other guys working everyday to get better. Make sure you're doing the same."
Taveras was unable to get on the field much this spring because of lingering distrust in a surgically repaired right ankle and then an issue with his right hamstring.
The latter injury, classified eventually as a strain, led to the demotion.
He could appear in a minor-league game as soon as Saturday.
That's also the day Aledmys Diaz could make his debut.
Taveras, 21, did come to camp with a chance to win a job in the majors, even though he was limited to 46 games at Class AAA Memphis last season. Matheny has said that things "would have had to go right" for Taveras to make the team.
That could have been as a part-time player off the bench, or he could have forced the team to rethink it's Allen Craig-to-RF and Matt Adams-to-1B plans. Taveras couldn't get the at-bats to show he was healthy, let alone ready.
"You want this, hopefully, to turn into motivation," Matheny said.