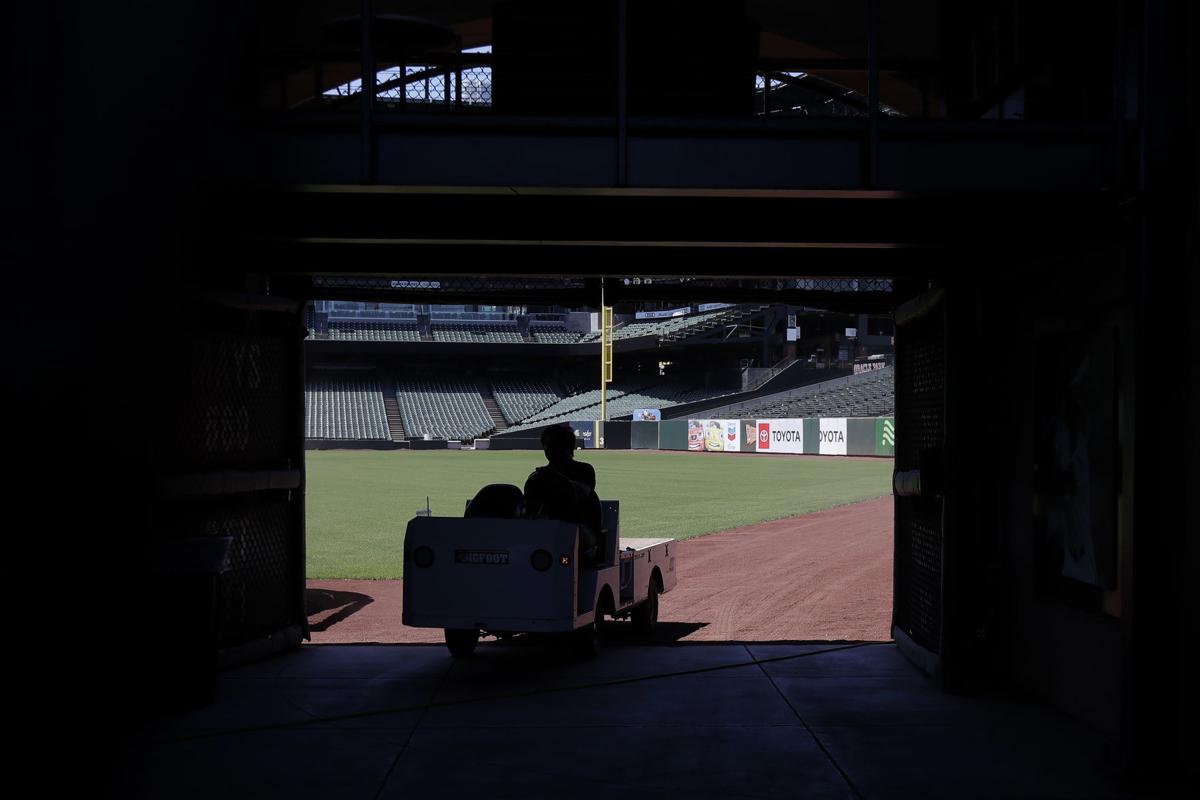 LeBron James doesn't apologize for his first NBA championship with the Miami Heat in 2012. John Riggins didn't give back his Super Bowl XVII MVP trophy in 1983 for the Washington Redskins. In 1995, New Jersey Devil Claude Lemieux hoisted the Stanley Cup the same as any other NHL champion. The Dodgers gladly slipped on their 1981 World Series rings.
What do all those champions have in common? Their teams seized the season's biggest hardware after labor disputes shortened their regular seasons but were crowned worthy champions with no disclaimer necessary.
The circumstances are different for Major League Baseball in 2020, but will the end game still matter just the same? Or will Rob Manfred hand over his "piece of metal" Commissioner's Trophy affixed with a clunky asterisk?
With the schedule condensed to 60 games thanks to the coronavirus pandemic and the ensuing labor squabble, MLB faces an unprecedented few months, left to squeeze the regular season into a 10-week mad dash to the postseason. Starting July 23-24, each team will play 40 games against division opponents and the other 20 against teams from the other league's corresponding division.
Provided the virus doesn't force another stoppage like it did during spring training, this promises to be the most unconventional baseball season of our lives. For now, forget for a moment about asterisks and looming CBA negotiations and let us count the ways 2020 will be worth watching:
Who benefits from shortened season?
Teams with deep reservoirs of pitching figure to have the best chance in a 60-game sprint. The Cardinals fit in here, as do the Braves, Yankees, Dodgers and Rays, perhaps the most creative pitching organization in baseball.
Don't overlook teams brimming with young hitting talent, teams that in a typical season we'd label too green to contend over the long haul. The Padres and White Sox have talented cores too young to know they're supposed to wait their turn. Chicago added veterans Yasmani Grandal and Edwin Encarnacion to rising star outfielders Eloy Jiménez and Luis Robert. That'll play on the South Side.
With the designated hitter coming to the National League, clubs with a surplus of bats will capitalize. Think about the Reds with the addition of Nick Castellanos and the Nationals, who re-signed World Series hero Howie Kendrick.
The unbalanced schedule is going to be a major factor, too. The Washington Post recently measured every team's strength of schedule, using the average of four different projection systems, and determined the teams with the easiest roadmap to October are the Twins, Indians, Dodgers, Yankees and White Sox. That's three teams from the AL Central, who each benefit from playing 20 games against rebuilding Detroit and Kansas City.
Can new managers make an impact?
After an abbreviated spring training then a four-month pause, how can a new manager possibly instill a clubhouse culture and build a team's identity over a 60-game surge? There are 10 new managers across MLB, including three taking over clubs in the wake of Houston's sign-stealing shenanigans: Dusty Baker (Astros), Ron Roenicke (Red Sox) and Luis Rojas (Mets). Seasoned skippers figure to face shorter learning curves, like Joe Maddon (Angels), Mike Matheny (Royals) and Joe Girardi (Phillies). The most interesting rookie manager is the least experienced, David Ross, who steps out of the TV booth and into the Cubs dugout. No pressure, Grandpa Rossy.
Free agent watch
Players in the final year of their contracts will have a brief body of work to enhance their value for 2021 and beyond. Mookie Betts, traded from Boston to LA, figures to have the most at stake. He'll be the top prize of the 2021 free agent class, but empty seats across MLB could curb offseason spending and compress the market, even for one of the game's biggest stars. Other high-profile players entering their contract year: Phillies catcher J.T. Realmuto, A's shortstop Marcus Semien, Reds starter Trevor Bauer and, of course, Cardinals catcher and future Hall of Famer Yadier Molina.
We're obligated to include Rockies third baseman Nolan Arenado in the discussion. He can't opt out of his mega contract until after 2021, but there's an unwritten rule that any talk of player movement must involve the perennial All-Star, whose heavy price tag complicates any escape from Denver, especially with lagging revenue around the league.
The Astros
Remember them? Nobody benefits from a global pandemic, but the coronavirus conveniently took the reigning AL champs off the headlines for a few months. Didn't it seem like years ago the sport's biggest story was baseball's uproar over the Astros' tainted 2017 World Series? Nope, that was March.
Here's one upside of the schedule change: The Dodgers and Astros weren't set to play this regular season, but under the new format, the 2017 pennant winners meet four times — four games for Dodgers pitchers to play target practice against Astros hitters. Trash cans will not be welcome.
Will there be crowds?
The season will start with no fans in the stands, but eventually fan attendance will be at the mercy of state and local regulations on social distancing. In other words, what's considered safe and legal in Texas might not be allowed in California. Would a smattering of fans give home teams a decided advantage? Maybe not on the field, but the boost in ticket revenue will make a difference. MLB hasn't set a blanket policy for fan attendance, which means crowd sizes could hinge on local politics and vary from park to park.
"My patience in that regard is in part based on the fact that there are so many different situations," Manfred told The Associated Press this week. "Some places there looks like there's no prospect, other places they're more aggressive. I think we need to be patient and even where we have the option, we need to make sure that we know exactly what we're doing before we jump into it."
MLB is about to get weird. Buckle up — and put on a mask.
Keep up with the latest Cardinals coverage from our award-winning team of reporters and columnists.