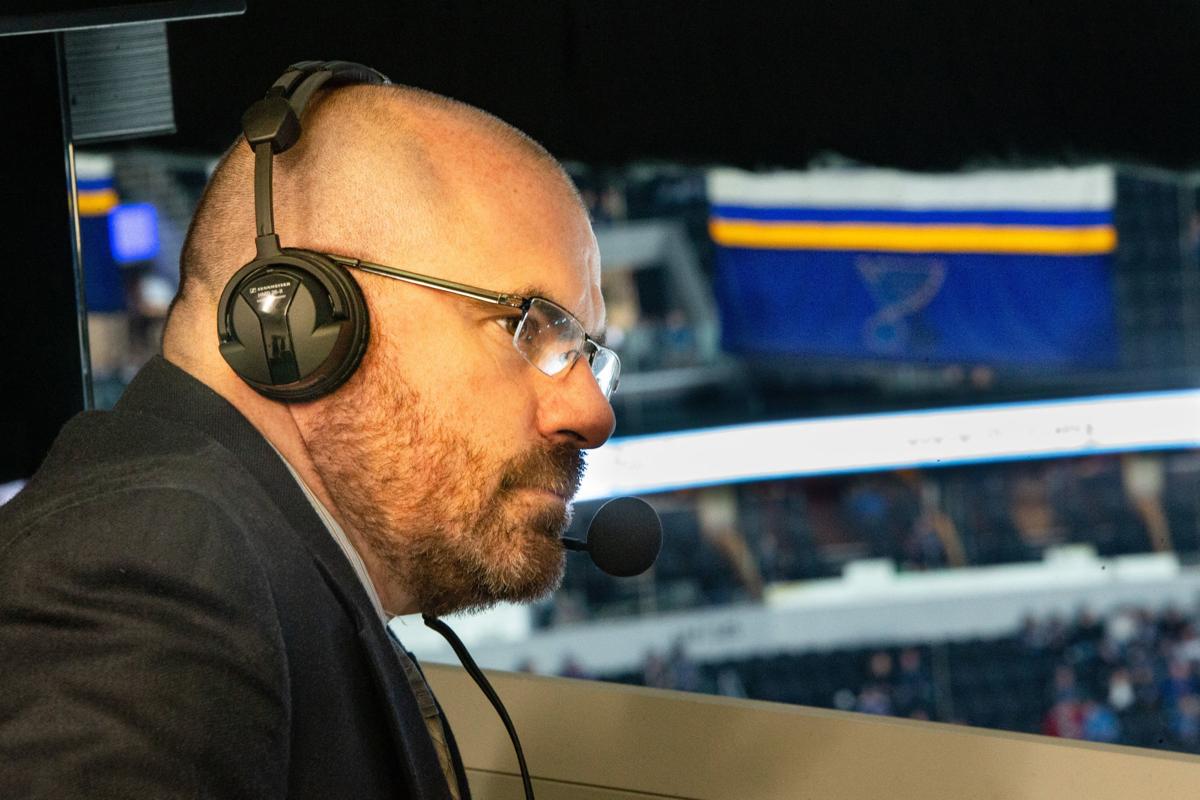 Chris Kerber, the radio voice of the Blues, did what he simply thought was the right thing last spring. He wasn't looking for recognition, he wasn't even seeking a pat on the back.
But his gesture of kindness, passing the play-by-play microphone for the second periods of the Stanley Cup Final games to colleague John Kelly, not only drew praise at the time but now is being recognized by those who present the Musial Awards. They are bestowed by the St. Louis Sports Commission and National Sportsmanship Foundation to figures in athletics "who embody class and character."
This year's honors will be presented Saturday night at Stifel Theatre in St. Louis in a gala hosted by KSDK (Channel 5) news anchor Mike Bush. Kerber, one of 10 to be saluted, reflected on the situation Thursday.
"I knew what it would mean to John and his family — and that's not even tied into his dad" — legendary former Blues broadcaster Dan Kelly. "I had never called a Stanley Cup Final game, and it was my 19th year in the league. John had never called a Stanley Cup Final game, and he'd been in the league even longer."
Kelly, the TV play-by-play voice of the team on Fox Sports Midwest, wasn't going to be on any Final broadcasts because local TV coverage of the NHL playoffs ends after the first round. (NBC/NBCSN have exclusive U.S. rights to the Finals.) But Kerber stepped in to give Kelly his opportunity.
Kerber mentioned the camaraderie that develops among those in the traveling party with the team.
"You get to know them, they become such good friends and they become such a part of your daily lives," he said in discussing what went into his motivation for relinquishing a third of the air time for games that were the apex of his career as the Blues won the Cup for the first time.
Kerber was praised at the time, although that wasn't his goal, and the act of kindness still resonates — much to his surprise.
"What I just didn't anticipate was the response from fans, fellow broadcasters — there are still people this week that have come up to me and said it was a cool thing," he said. "To me it was just the right thing. You look back on it and it makes you even happier that you did it knowing that it meant a lot more to so many more people than you ever would have imagined."
Kelly said Kerber's unselfishness still reverberates with him.
"Chris did an unprecedented thing in broadcasting," Kelly said. "For him to give up (the microphone), Chris didn't do it for the recognition."
But he received it at the time, and is getting more now.
"I'm so happy for Chris," Kelly said. "He's very deserving."
Getting the word
Kerber said he was notified by Blues president Chris Zimmerman that he was going to be honored.
"He called me into his office. I thought we were going to talk over some business-related stuff and he slid over a letter from the Sports Commission that they were going to give me a Musial Award and would like me to attend the presentation," Kerber said. "I was blown away by that."
The ceremonies Saturday at Stifel will overlap the Blues' game against Nashville in the adjacent Enterprise Center. The Musial festivities are to begin at 6:15 p.m, about an hour before the puck drops, and Kerber had thought he might be able to rush back in time to not miss much of the game. After all, he has been a bastion of consistency in the booth. In his two decades, he has missed only three contests — all in 2011, when his dad was hospitalized.
But he won't be zipping back and forth Saturday.
Kerber said: "Chris Zimmerman right off the bat said, 'No, we want you to enjoy this with your family. It's an amazing event, a real special recognition. We don't want you to have to worry about the hockey game. Figure out who you want to do the game and go enjoy the moment.'
"That's just how Chris Zimmerman, (Blues chairman) Tom Stillman and this ownership group are. They have such a very personal approach as to how things should be run. You appreciate that a ton."
Kerber was asked if he has been working on his acceptance speech.
"The good news is we don't have to give one," he cracked. "We just go up and Mike Bush interviews us. I can handle that."
Ferrario to fill in
With Kerber missing the game, Alex Ferrario will step in to the radio play-by-play job Saturday. Ferrario, 29, last called a hockey game in 2015 when he was a graduate student at Lindenwood University and broadcast one of the school's contests.
"We thought about different options," said Kerber, who also is the team's vice president of broadcasting. "Alex has worked with us for a long time. He started as our booth intern, he had done the play-by-play with Lindenwood and that has been his ultimate goal. . . . It seemed like a no-brainer to have him fill in for one game. What a cool experience it's going to be for him. I know what it was like to call my first NHL action. I know he's going to go through the same thoughts and feelings."
"It's kind of still a shock to me because most people spend five or six years in the minors before they get their call for the NHL," he said. "So I'm truly honored to get to do this."
Ferrario worked his way up from being an intern in the booth to hosting hockey shows on KMOX (1120 AM) before making the move with the team to WXOS (101.1 FM) this year.
"It's a dream come true. That's what got me into broadcasting — wanting to be a play-by-play guy," he said. "Sometimes careers take different turns. As I started my broadcast career I got to host and I love hosting. It just kind of altered (my approach). KMOX was the reason I was able get this far, but 101 has been fantastic, the people there are so fun to work with. I'm on the air pretty much every day through the hockey season. You've got to get reps in this business to continue to grow, and that's what I'm getting at 101.
"But play-by-play always was my first love."
And he's grateful that the Blues and Kerber are giving him that opportunity.
"It goes to show you what kind of guy 'Kerbs' is," Ferrario said. "Being able to work with (me) and help (me) grow, then thinking of me when he's getting this awesome award."
Kerber recalled his first NHL broadcast, when he had been tabbed to fill in as the analyst on a Phoenix Coyotes broadcast. But play-by-play announcer Curt Keilback told him that morning that Kerber would be calling the second period.
"In that period Keith Tkachuk scored a goal, from Jeremy Roenick, and I used some of those calls on my resumé tape to get this job with the Blues," Kerber said.
Now it's Ferrario's turn for his debut. He said he has been practicing calling Blues games into his phone while on hand, then also watching TV replays on Fox Sports Midwest to continue his practice broadcasts.
"I'm about as ready as you can be," he said.
And Kerber is ready, too, for the spotlight Saturday.
"I'm humbled that somebody felt it was that kind of example of sportsmanship and teamwork, which is what these awards are all about," he said. "I'm thrilled to be a part of it."