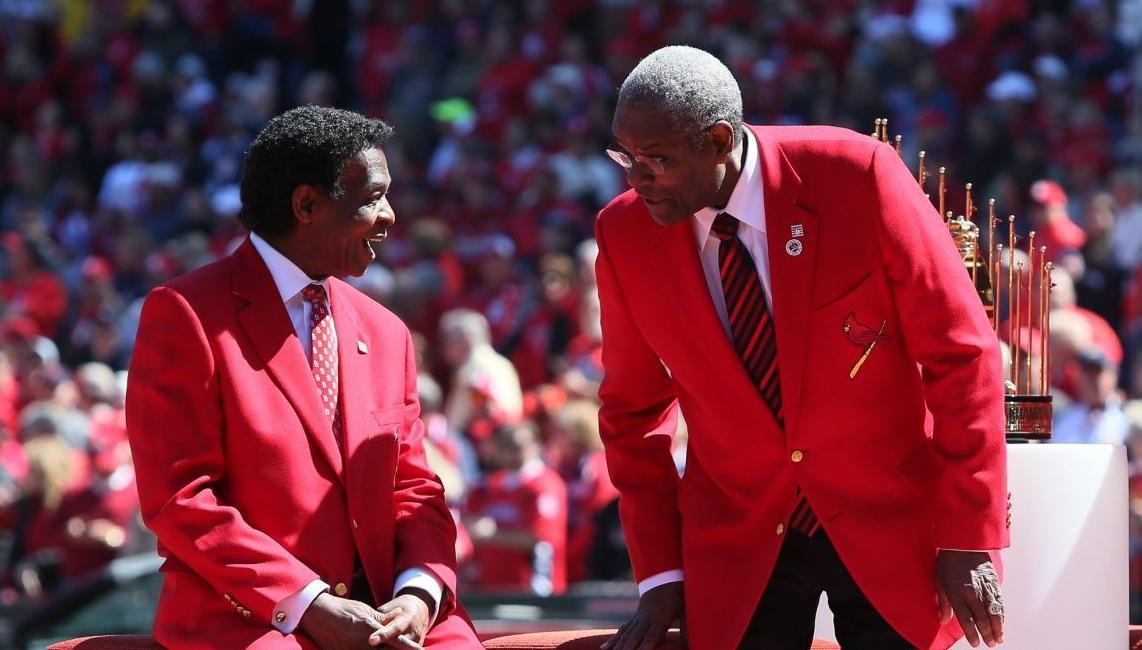 It's not a full-fledged return to normalcy, but what's planned for the Cardinals' home opener Thursday afternoon sure is a significant stride in that direction.
After the coronavirus pandemic-fueled shutdown of sports last spring and into the summer, followed by games being played in front of empty stands during a truncated schedule, the Cards will have about 14,500 fans on hand. And many of the traditional opening-day festivities that have become a staple of an unofficial St. Louis holiday will return.
For the throngs who won't be able to attend, Bally Sports Midwest (which was Fox Sports Midwest until last week) will be televising the ceremonies, as well as the game that follows. And the Cardinals' Radio Network (KMOX, 1120 AM locally) will provide the audio coverage.
The Clydesdales are set to return for their thunderous run around the perimiters of the field, Cardinals Hall of Famers are to be recognized (albeit not on the field), and the traditional motorcade bringing Cardinals players and other personnel onto the field is back. Those are welcome developments after a hollow season in which broadcasts lacked ambiance because of empty stands, and sounded artificial because of the use of fake crowd noise in stadiums.
"With the canned crowd noise, it could be 'ball one' and you'd hear cheering like it was a home run," Cardinals radio broadcaster John Rooney said Wednesday. "It was nice to have fans in the stands (for spring training), it made a big difference. It will add extra juice for me."
Bally Sports Midwest executive producer Larry Mago had a simple response when asked if the telecasts will be more energized with fans present: "Oh gosh yes.
"No question. Real people with real emotions … is so much better."
BSM Cardinals play-by-play broadcaster Dan McLaughlin concurs.
"I think the atmosphere will be electric even with limited fans," he said. "Also, I think it will be very emotional. We all have wanted to get back to some normalcy and this is a step in that direction. No better way than with baseball, fans, and a home opener."
Part of the emotions will be in saying farewell to a couple Cardinals legends, and baseball Hall of Famers, who died in recent months. Lou Brock and Bob Gibson are to be saluted during pregame ceremonies, which start at 2:30 p.m.
"I can tell you for sure that Lou and 'Gibby' will be on my mind," McLaughlin said. "I always have looked forward to seeing the Hall of Famers and red jackets. It's my favorite part of opening day. Those men have represented so much to Cardinal fans. So, without a doubt, I think we all will be thinking of them and honoring them on opening day."
The ceremonies will include a salute to Mike Shannon, who is beginning his 50th, and final, season as a Cards broadcaster. (See related story.)
Bally Sports Midwest's coverage begins at 1:30 p.m. Erica Weston anchors, with Ricky Horton providing analysis and reports from Jim Hayes and Scott Warmann. In addition to carrying the festivities that begin an hour later inside the stadium, BSM also has features planned on Cardinals players Adam Wainwright and Nolan Arenado, as well as tributes to Gibson and Brock plus other recently deceased former Cardinals Joe Cunningham and Ken Reitz. This is in addition to related remembrances in the ballpark.
BSM also has a reflection about the Blues' Bob Plager, who died last month.
Radio report
KMOX gets its coverage flowing at 11 a.m., with Tom Ackerman and Kevin Wheeler of the station's sports department anchoring the activities. That segment is to include interviews with Cardinals executive John Mozeliak and sportscaster Bob Costas, whose unparalleled national sportscasting career began at KMOX. He now works for MLB Network and contributes to CNN as he is semi-retired.
At noon, Ackerman will be joined by Dave Glover, the station's new mid-afternoon weekday host, and colleague Tony Colombo. Interviews with the Redbirds' Wainwright and Ozzie Smith are to air in that hour, with Cards chairman Bill DeWitt Jr. and former player Tommy Herr set to join after 1 o'clock.
At 1:40 p.m., KMOX joins the team's radio network pregame coverage, which in addition to regular elements such as Mike Claiborne's chat with manager Mike Shildt will include the in-stadium opening-day festivities and a Shannon segment.
That leads into the game broadcast with the Cards meeting the Milwaukee Brewers at 3:15 p.m.
App update
Fox Sports Midwest has a new name, but the mobile app many customers use to watch what now is Bally Sports Midwest has not yet changed. Access remains through Fox Sports Go, and that has led to outages for customers of AT&T U-Verse.
BSM said in a statement that it is "aware of the … streaming issue impacting AT&T U-verse subscribers" and is "working to resolve" the problem.
Once the app transition is completed, it should update automatically to the new service.